With the price of golf balls being as high as it is, it is hard to give up a golf ball that heads into the pond.
Sometimes you will have no way of retrieving your golf ball, but at least you can find a few others while you are in the process.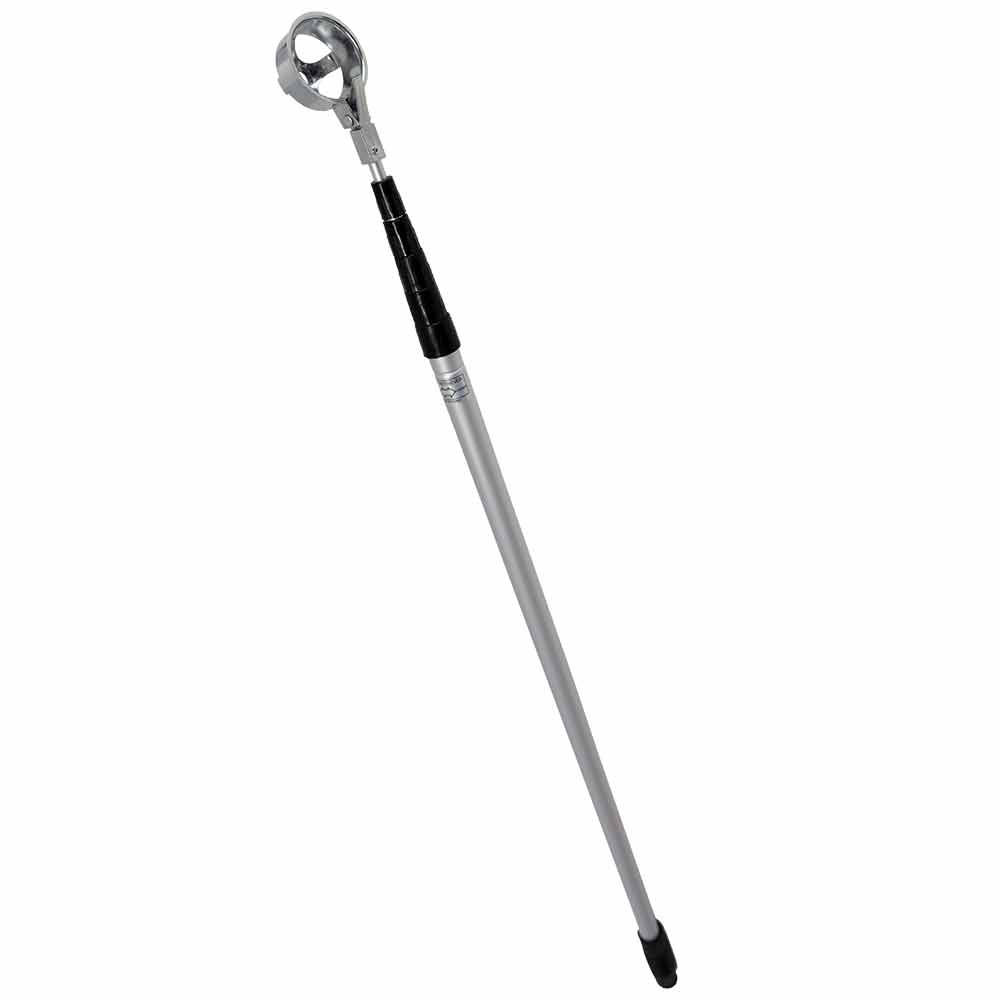 A golf ball retriever has an initial cost, but chances are long term it will end up saving you some money.
Here are the best golf ball retrievers on the market.
Our Best Golf Ball Retrievers in 2023
---
PROS
Long reach
Weather-resistant
Comes with head cover
Easy to grab the golf ball
CONS
Can be a little heavy if you are golf ball hunting for a long time
You will probably see the Search and Rescue brand golf ball retrievers show up a few times on our list. These ball retrievers are very easy to use, extend a long way, and golf up nicely to fit in your golf bag like any other golf club.
With the Search and Rescue Retriever, you can extend to reach a golf ball up to fifteen feet away. The durable stainless rings are placed over the ball, and then the lock bar extends to hold the ball in place.
We find that with the Search and Rescue retriever, you will be able to grab the ball and hold onto it quite well.
The outside of this golf ball retriever is covered in a coated aluminum. The aluminum helps to make sure that the ball retriever is weather resistant.
When leaving the retriever in your golf bag at all times, some resiliency when it comes to weather is important.
---
PROS
Very easy to see
ORange head traps the ball
Extends over 18 feet
CONS
Can be hard to balance the golf ball on the longer reach situation
The Search N' Rescue Orange Trapper can reach a little further than our top choice. This is the traditional orange head that you have very likely seen in the golf bag of a friend.
The orange head is a very simple design. There is no locking into place, and the ball seems to be picked up rather easily.
If you are searching for golf balls in an area where it is hard to see what you are doing, the orange head of the trapper is relatively easy to see in the water hazard.
The only trouble people tend to have with this style of golf ball retriever is that the ball will fall out if you don't have a steady hand.
However, if you are looking for a sturdy and durable golf ball retriever, you will be pleasantly surprised by the durability that the Search Rescue Orange Trapper provides.
---
PROS
Telescoping shaft
Aluminum to prevent rusting
Comfort grip handle
Flip hinged ball cup makes it easy to grab the golf ball
CONS
Hinge can rust after extended use in the water
JP Lann Golf Ball Retrievers are known for being a great value and very comfortable to use. With the JP Lann, you won't have any trouble searching for a golf ball for an extended period of time.
The comfort grip handle makes you feel almost as if you are holding one of the golf clubs in your bag.
The JP Lann is made with aluminum so that you won't see any issues with rust starting to destroy your golf ball retrievers. Remember that the majority of golf ball retrievers will be on the exterior of the golf bag so that it will be exposed to weather.
The JP Lann will reach up to 12 feet. Although this is not the longest of the golf ball retrievers, it does an excellent job of being stable the entire time. Even when completely extended, it is going to be easy to grab a golf ball.
---
Best Two Ball Retriever
PROS
Comes in four sizes (15-24 feet)
Sturdy wire cage
Orange Epoxy for easy visibility
Easy to use
CONS
Priced higher than the single ball retriever
If you are going to be taking your time to retrieve golf balls, you may as well try and get a few golf balls at once. A two ball retriever will help make each cast into the water that much more productive.
This is an excellent option if you live in an area with a lake or a pond near your home. You can head out to the pond and load up on golf balls to use for the next few years of play.
The two ball retriever features a sturdy wire cage that is coated in an orange epoxy. Not only is this one of the more durable retrievers on the market, but it is also highly visible.
Even when dealing with some murky water, you should have no trouble seeing this ball retriever.
The shaft on the two ball retriever is made of a lightweight aluminum. This helps to make the Two Ball Golf Ball Retrievers much lighter and easier to work with.
Considering you will be grabbing more than one golf ball at a time, this is important to consider.
---
Best Cheap
PROS
Comes with a rubber golf ball grabber as well
Folds up in the golf bag
Sturdy grip to help you hang onto the ball
If you want to save some money on a golf ball retriever, you may want to look at the Telescopic Golf Ball Retriever. This is a great option because it is very small and easy to use, yet it certainly gets the job done.
The rod on this retriever is made from stainless steel so that it won't rust even after getting wet, searching for golf balls. You can extend this model up to six feet, which is not as long as other models; however, it will fit inside your golf bag.
If you don't like the idea of your golf ball retriever sitting in with your clubs or hooked on the outside of your bag, you will want to consider this option.
It is lightweight, you won't notice it taking up any space in your bag, and it is long lasting as well.
As you are probably starting to see, the design of the scoop on the retriever is an important factor to consider.
Depending on the type of golf ball retriever you choose, it can be a little tricky to get the golf ball. This model comes with an automatic locking scoop cup. You should not have any trouble hanging onto this ball once you get it in place.
---
Best Premium
PROS
Made with high quality materials
Has a 15 foot reach
Comes with a headcover
Aluminum alloy shaft is lightweight
CONS
Priced a bit higher than others
Are you surprised that Callaway makes a golf ball retriever?
Callaway has their hand in so many different parts of the golf industry they sure understand what a golfer needs when they are on the course. This particular Callaway Golf ball retriever has a 15 foot reach.
One of the things that we like best about this particular model is that it has an ergonomic rubber handle.
You may not believe this, but there are plenty of people who not only lose their golf ball in the hazard, but they lose their ball retriever as well. Dropping a ball retriever into the water hazards is a bit more of a problem than just losing a golf ball.
The Callaway Ball retriever is made with an aluminum alloy so that when you have it fully extended, it will not bend.
When you have a retriever extended out fifteen feet, it is hard to make sure that it does not start to bend and cause you to lose your golf ball. The Callaway is very sturdy and effective at the same time.
---
Best Lightweight
PROS
Push button locks and unlocks the shaft
Great for hard to reach areas because it is so lightweight
Fits in a small pocket of a golf bag
When you first hold a non extended ball retriever next to you, the weight won't feel like much to handle. As you extend it and start to get it further away from you, the weight seems to increase.
This will cause the golf retriever to bend and make it difficult to pick up golf balls. The ProActive sports is exceptionally lightweight and even when fully extended to nine feet it does a great job.
The ProActive Sports golf ball pick up is also very compact and will fit in the apparel pocket of your bag.
The green on the head of the retriever is very easy to see and will help you grab the golf ball without ever losing sight of it. The green also stands out well in water hazards that are darker water.
The fluorescent head is also shaped a bit different than golf ball retrievers. You will notice that it happens to trap the ball in place and ensure that you can get it all the way out of the water without losing track of the ball.
---
Best for Length
PROS
Long extension
Fits inside pocket of bag
One of the more lightweight retrievers
Plastic retriever head
Comes in a package set
CONS
The plastic head can crack in rocky water
Last but certainly not least on our list is a golf ball retriever that is great when it comes to length. If you are one of those golfers that hate to let a golf ball go, even when it is a far away from the shore, this is a great option to consider.
You can extend out further than 16 feet with this extendable golf ball retriever. With the lightweight stainless steel material and durable plastic head, you will have no trouble getting the golf ball even when it is so far away from you.
This is a great option to consider not just for water but for grabbing your ball from the other side of a fence or when it is stuck in the bushes as well. This package set comes with a golf ball grabber and a device to help you draw a line on your golf ball as well.
This is a great package deal for a really good price. If you are new to the golf ball retriever world and you want something simple and usable, you will not be disappointed.
---
Best For Multiple Golf Balls
PROS
Very easy to use
16 Foot telescoping pole
Easy to clean
6 Golf ball capacity
CONS
Not the best choice for keeping in your golf bag
For those that live on a golf course, fishing for golf balls is often a great way to ensure you never have to purchase golf balls again. A golf ball retriever that can collect multiple golf balls, like the Talonz Golf Ball Retriever is a great choie. Make the time spent on the waters edge a bit more efficient using this 16 foot telescoping pole with a 6 ball capacity.
The injection molded nylon ball rake will hold up well over time, does not rust or corrode with exposure to the water and will help ensure that weeds and other grasses do not get stuck in the retriever.
If you spend some time looking for golf balls, simply rinse this retriever when finished and you can have it ready the next time you have time to search for golf balls. This particular model is a bit big to have on your golf bag at all times, but if you have your own golf cart, its a good solution.
---
Best Collapsible
PROS
Ultra compact design
Collapses to 15.5 inches
10 feet of maximum reach
CONS
Not as far reaching as other models
The Gotcha Jawz Golf Ball Retriever is the best collapsible design that makes it simple and stress free to collect a large number of golf balls. This is an ultra compact model that will reach up to about 10 feet. However, when you collapse the Gotcha Jawz it goes down to about 15 inches.
The rubberized surface of the grip helps you have control over the retriever to ensure that you can collect golf balls with ease. The close you are to the ball, the easier it is to grab it, but overall the Gotcha Jawz is highly effective.
For the golfer that just wants a clean and simple grab when they find their golf ball on the waters edge, the Gotcha Jawz Golf Ball Retriever is a great choice to consider.
---
Best Affordable
PROS
ed 115 inches
Comfortable grips
Fits in the apparel pocket in the golf bag
Champkey has been making more affordable golf accessories for several years. Golfers on a budget should take a look at some of the unique options that this company will provide. The Champkey Professional golf ball retriever can extend to more than 115 inches and it will retract to about 17 inches.
This model can be stored in the apparel pocket of your golf bag and has a comfortable grip to make the ball retriever considerably easier to use. If you are using the grip for extended periods of time it will reduce hand pressure and give you better control.
The rubber and plastic on the Champkey may not be as durable as some other options on the market but they should hold up for quite some time. Some of the aluminum golf ball retrievers have no ability to rust or corrode.
---
Best Locking Scoop Technology
PROS
Easy to use
Helps ensure you don't drop the ball
Lighweight stainless steel design
Max length of 80 inches
CONS
Can feel a little flimsy when fully extended
The Mazel Telescopic Golf Ball Retriever is the best locking scoop technology for golfers. This is a lightweight ball retriever that is retractable to 15 inches. The Mazel is easy to carry around and can be a good selection for those that walk the golf course. Whether you are in a pond or a bush the Mazel works well to get your golf ball out.
With this particular ball retriever, you will find that the locking technology helps to keep the ball in place, even when it is fully extended. The Mazel products are also offered at a very fair price, making them a good choice for a wide range of players. 
Golfers will enjoy the choice of colors that you can get when choosing a Mazel telescoping ball retriever. If you want to choose an option that will match with your bag that won't be hard to find. Overall this is a great golf ball retriver for the price.
---
Best 18 Foot Retriever
PROS
Very easy to use
Won't bend even though the pole is telescoping
Fair overall pricing
Non slip grip
CONS
May not have a premium feel like the Callaway Golf Ball Retriever
The best 18 foot golf ball retriever is the ToVii Golf Ball Retriever. This particular model extends up to 18 feet, and rarely bends to a point that you will notice any decrease in functionality. We noticed that taking the ToVii in and out was really easy to do and the telescoping design makes this a really good overall investment.
ToVii makes their rangefinder with an aluminum alloy pole to encourage increased longevity. This is a model that you won't need to worry about when it comes to rust or corrosion. The twist lock feature on the head of the retriever is also quite sturdy with little chance of breakage.
Overall the non slip rubber grip will also keep your hand from slipping and ensure you have a better overall grip on the golf ball retriever. This is a smart design with great value and a moderate price point.
---
golf ball retrievers Buying Guide
Buyers Guide
A golf ball retriever is not necessarily a big purchase, but it pays to understand what goes into a great golf ball retriever. If you know the features to look for, you can make much better investment and have a better overall experience grabbing golf balls from the water. 
Length
Most golf ball retrievers are about 12 feet in length but they range from 6 to 18 or more feet. Some of the longer ones that feature lengths over 18 feet will get a bit unsteady. It is also really hard to see and then grab a golf ball this far away. 
We do recommend something with a telescoping pole as it is easier to hold these in your golf bag and ensure that they are there when you need them the most.
Overall Size
Some golf ball retrievers will fold down to less than two feet in length. Others are longer and require a slot in your golf bag. If you have a cart bag with a 15 way stop, the overall size is not as important as you will always have the room. 
For those that walk the golf course, choosing a smaller and lightweight ball retriever is likely the better choice. The overall size that the ball retriever folds down to should not affect its functionality. 
Functionality
The top of the ball retriever can be a scooping cup, a ring or even a locking mechanism. There are several different ways to grab a golf ball out of the water and no one way is correct. The functionality of the ball retriever needs to be one that makes it easier for you to grab the ball. 
The basic ring style is quite simple as soon as you get used to the concept and the way to balance the ball.
Pricing
Golf ball retrievers tend to range in price from around $15 to more than $50. The best ball retrievers are typically between $25 and $40. This is hopefully not something you will need to use every day so finding something that is affordable is a good idea.
Frequently Asked Questions

Here are a few of the more common questions golfers asked about the best golf ball retrievers. As always with golf accessories these are not mandatory things that all golfers will need to have in their golf bag.
Are golf ball retrievers necessary?
If you play a golf course that has water hazards you will find the golf ball retriever to be really helpful. Losing your golf balls in the water is costly and will require you to purchase more rather quickly. When the ball is just a few feet away and can be reached with a retriever, the chance to save money is quite apparent.
Does a golf ball retriever slow down play?
A golf ball retriever will sometiems slow down play. When players get a little too excited about searching for golf balls it will likely slow down their round and cause some problems with the group behind. It's find to search for golf balls, but make sure that you are aware of the golfers around you.
Should beginners have a golf ball retriever?
Beginners can have a golf ball retriever to help them save money on golf balls. Unfortunately as a beginner you will likely lose quite a few golf balls, and having this retriever in place can ensure that your overall costs are kept down.
Do golf ball retrievers count as a club?
Golf ball retrievers do not count as a 15th club. Although some companies have cleverly named their golf ball retrievers the 15th club, it is not going to cause you to beak the USGA rule of having a maximum of 14 clubs in the bag.
Is It Worth Purchasing A Golf Ball Retriever?
A golf ball retriever is an excellent addition to your golf bag. When you consider that the average dozen golf balls cost more than $20, you will spend quite a bit of money a year on golf balls.
A golf ball retriever can help you find not just your ball but a few others along the way. Most people with golf ball retrievers will find that they have an abundance of golf balls in their bag.
Most of the time, a golf ball retriever will cost less than $40. If you found just two dozen golf balls, you would have made the retriever well worth the price. Chances are you are going to find well over two dozen balls.
Most people think of a golf ball retriever as being a way to get a golf ball out of the water. Golfers that have these in their bag will tell you that they can be used to get the ball out of a bush or from under a fence as well.
You will use a quality golf ball retriever to get to hard to reach places. Most golfers will be in these places at one point or another in their career!
Do All Golf Ball Retrievers Have To Fit In A Club Slot On My Golf Bag?
If you are worried that you don't have the room to fit a golf ball retriever in your bag, there are a few options to consider.
For starters, most golf bags are going to come with 15 slots. Since we can only carry 14 clubs on the course, the other slot is most likely built to house a retriever.
The shaft on a ball retriever is usually going to be the exact size it needs to be to fit in one of your slots. Choosing a model with a head cover is a good choice, so it does not bang against your other clubs.
Some golf bags also have an external pocket or well that is built for a retriever. If you don't have either of these spots available, you can always purchase a ball retriever that folds up.
The foldable ball retrievers do a great job of fitting inside your apparel pocket. Choose this when you want something lightweight and easy to keep.
What Is The Best Head For A Golf Ball Retriever?
When looking over our reviews of the best ball retriever golf has to offer, you probably noticed that almost every model has a different head.
Some models will be a simple circle that the golf ball sits on; others will have a locking mechanism. There is truly no model that is a perfect option.
If you happen to have a shaky hand or you plan on retrieving a golf ball that is very far away, you may want to choose something that has the locking mechanism. To balance a ball on a retriever that is more than 15 feet away can get a little tricky.
If you struggle to find golf balls in the water, choose a retriever with a fluorescent head. These will be easier to see and can help you pick up a ball even if the water is a bit murky.
Conclusion
Hopefully, you have enjoyed reading about the best golf ball retrievers on the market. We tried to make sure there was an option on our list for all players.
Each of the best golf ball retriever options is made with high quality and durable materials.
The Search and Rescue stand out as the best overall golf ball retriever because of its impressive construction and the hinged grabber.
This is a lightweight and easy to use model that will help you retrieve many more lost golf balls the next time you head out to the golf course.