As a golf professional, I can't begin to express how important it is to have an accurate yardage to the pin.
When you can compare this accurate yardage with truly knowing the distances you hit each club, you can make some great strides towards lowering your handicap.
Years ago, when I started the game, the golf GPS hadn't been invented. Golfers today need to take advantage of this tremendous technology that they have at their fingertips.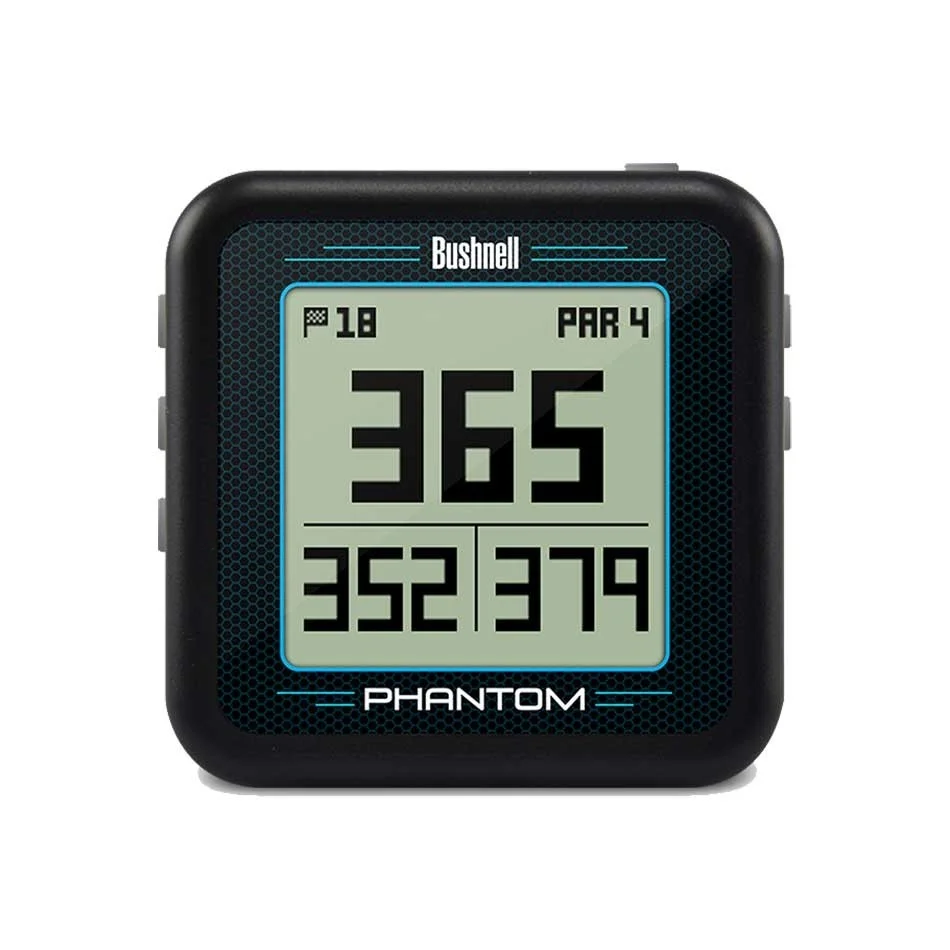 Here are the best golf GPS's on the market.
Our Best Golf GPS Devices in 2023
---
PROS
Very well priced
Easy to use
Magnetic device helps it stick to the golf cart
One of the simplest golf GPS devices on the market
CONS
No picture of the golf hole
Our pick for the best overall golf GPS may come as a surprise to some. The Bushnell Phantom is one of the best priced golf GPS on the market, but it offers so much for the price that it truly is the best golf GPS rangefinder.
The Phantom comes pre loaded with 35,000 courses. It is a smaller unit that has a built in golf cart magnet.
This means you can leave the Phantom on your golf cart, and it won't be interfering with your swing or blocking you from getting through the ball because of having a bulky handheld in your pocket.
When you purchase the Bushnell Phantom, you can also get a portable charger that allows you to make sure you always have some battery life left in your device.
In addition to getting the distance to the front, middle, and back of the green, you will also get four hazard distances as well.
The hazard distances will be things like the end of the fairway or to the left bunker. Let's face it golf is a challenging game, and sometimes technology can make it even more complicated.
The Bushnell Phantom takes things back to a more simplistic level, and it does so very accurately.
---
PROS
One of the best handheld visual devices
Pre loaded with 35,000 courses
High quality display
Long battery life
Zoom in on targets and alternate yardages
CONS
A new release, so it is still priced a bit high
SkyCaddie has been around the game for quite some time. They were one of the first Golf GPS handhelds to be offered to players.
In fact, they were the first ones I remember programming for members of the club years ago. They had lots of glitches, you needed to download each course separately, and it took a very long time.
With the old SkyCaddie models, you would have to connect them to a computer and go through an extensive registration process.
With the SX500, you won't have to connect to a computer at all, and your device will be up and running in a matter of minutes. The SkyCaddie has become very easy to use.
It's truly amazing to see how far SkyCaddie has come with this brand new SX500. The SX500 has the best touch screen that golf GPS's have to offer. This screen makes it nearly impossible for a golfer to miss how the hole is laid out and the proper way to approach it.
The SkyCaddie SX500 comes preloaded with 35,000 golf courses, and on a single charge, you will get about 12 to 14 hours of use.
With the SkyCaddie SX500, you are going to get more than just distances to the frog, middle, and back; you will get distances for hazards, carries, and layups as well.
One of the most advanced features of this golf GPS device is the way it adjusts and orientates itself to be in your position. If you are approaching a green from the left, the GPS will change the view, so it looks like exactly what you see.
---
PROS
Reads the yardages out loud
Comes with a protective pouch
Has the ability to charge your phone
Easy to use
The battery life of about ten hours or two rounds of golf
CONS
Can't see the yardages, must listen for them only
The Bushnell Wingman had to make our list, even though it is kind of a unique device. The Wingman is a golf GPS speaker.
You won't have to worry about getting bogged down with a handheld GPS in your hand. You can pull up to your golf ball, and your GPS speaker will give you the yardage to the front, middle, and back of the green.
The Wingman is truly your wingman while you get around the golf course. You can play music, keep track of your score and charge your phone with the Wingman.
This is a durable and affordable model, and it is one of the simplest GPS devices.
Golfers who don't want to be bothered looking at a phone or a watch while playing golf will really enjoy what the Wingman has to offer.
If you need to see a golf hole's flyover, you can do so by looking at the app on your phone. When you get home from your round, you can use the Wingman as a regular speaker while you sit on your back patio!
---
Best Value Golf GPS
PROS
Well priced GPS device
Press a button and get your distances
Comes preloaded with golf courses
Automatically moves from one hole to the next
CONS
Does not display graphic of the golf hole
The GolfBuddy Clip on Voice 2 is the best value GPS on the market. Golf Buddy makes some great products at very fair prices. This is again a simple model, similar to our top choice. It is a small GPS unit that will clip on to your hat or your belt.
When you are ready for your yardages, all you have to do is press a button, and the yardage will be read out loud for you. This feature is an excellent choice for those that just want something simple, and it's especially good for those with poor eyesight.
When you struggle with eyesight on the course, you may not be able to see a traditional GPS unit, and you may have trouble looking through a rangefinder. The GolfBuddy Voice is a great alternative.
You won't get a flyover of the golf hole when using the GolfBuddy Voice, but you will get about fourteen or more hours of battery life.
For the price, this is offered and the ease of use, you can see how it became the best value GPS on the market.
---
Best Premium Golf GPS
PROS
Golf GPS and a launch monitor
Premium handheld GPS device
Long battery life
Accurate distances
Color display
The Garmin Approach G80 is a very high quality golf GPS that is also a launch monitor. Getting a golf GPS and a launch monitor in one device is pretty impressive. This is a tool that will be a great investment in your game.
The G80 comes with a 3.5 inch screen that you can easily read even when out in the sun. The Touchscreen allows you to toggle between the different information that the Garmin G80 provides.
You will get over 41,000 courses already loaded into your GPS, and the color display makes this an enjoyable golf GPS device to look at.
The launch monitor that the G80 has integrated gives you clubhead speed, ball speed, smash factor, swing tempo, and your estimated distances.
With this technology, the G80 is able to tell you not just how far you are from the hole but which golf club would be the best to get the ball to the green.
The rechargeable battery will last for up to fifteen hours, even while using the GPS. This is a long battery life for a device that offers so much.
---
Best Hybrid Golf GPS
PROS
Accurate to one yard
Comes with laser rangefinder and GPS
Accurate distances to the front, middle, and back with the GPS
CONS
Dual battery source means you need to keep an eye on both batteries before a round
It can be hard to choose between a rangefinder and a GPS. Luckily Bushnell has made it so that golfers do not have to choose.
This is one of the only golf GPS devices that also have a rangefinder. If you are having trouble hitting the pin with the rangefinder, you can simply look at the unit's side and get the distance to the front, middle, and back of the green.
The Bushnell Hybrid comes with the PinSeeker and Jolt Technology for the rangefinder part of the device. It will help you lock onto the pin and then vibrate when the device is lined up exactly with the pin.
The accuracy for the rangefinder is within about a yard.
When you decide to use the GPS, you will get 36,000 courses already preloaded onto the device. This hybrid model has a unique battery situation.
The laser rangefinder uses a CR2 battery and the GPS is charged with the USB. It will take a bit of getting used to determine which way works the best for you, but this device certainly gives golfers the best of both worlds.
---
PROS
Long battery life up to 15 hours
Also tracks steps and daily activity
Easy to use screen
Very clear display for a GPS watch
CONS
No score/shot tracking capabilities
The Garmin Approach S40 is one of the best golf watches Garmin makes. The Garmin watches for golf come in all different styles, and they have varying degrees of technology. The S40 has some features that set this one apart as one of the best GPS watches on the market.
One of the essential features of a GPS golf watch is making sure that it is lightweight and does not interfere with the golf swing in any way.
When you put on a large clunky watch and try and take a swing, you may notice that it is in the way. The S40 is lightweight and stylish looking as well.
The screen on the S40 is one of the main reasons why this one wins the best GPS watches category. The screen size is two inches, and it is also in color. The screen is a touch screen which is really a necessity in a GPS watch.
When you are out on the course trying to get through a round, and you have to be pushing buttons on the side of your watch just to get an accurate yardage, you are going to slow down play.
Slowing down play is frustrating for you and your playing partners. The touch screens on GPS devices really help to keep golfers moving along at a much better pace.
The S40 comes preloaded with 41,000 golf courses. It will automatically record shot distances. Some Garmin golf watches will also track your scoring and your chipping and putting; the S40 will not do that, but it offers plenty of great features for the price.
---
Golf Buddy Clip On Voice 2
Best Golf GPS Hat Clip
PROS
Easily attaches to a hat or belt
Will give you information quickly
Has a 13 hour or more battery life in GPS mode
Several different languages
CONS
Although it provides a green view, it does not have a wide range of information
The Golf Buddy Clip On Voice 2 is the Best Golf GPS Hat Clip on the market. You can attach this directly to your hat and have it speak to you to give you the yardages for each of your shots. The Golf Buddy Clip On Voice 2 comes with 40,000 courses in 170 countries around the world. Chances are, the courses you play will be readily available on this device.
You can get the information to the center of the green, back, and middle. In addition, the Voice 2 has several different languages it speaks, and it will have an adjustable audio guide to help you set this up, so it's perfect for your needs.
---
Best Small Golf GPS
PROS
Strong magnetic hold
The external LCD Display is easy to read
Front back, and middle distances
Over 38,000 courses
CONS
No ability to move pin to the exact location
Some golfers like to have a large GPS unit that will allow you to see a full flyover of the golf hole and almost feel as though you are there. However, others find that this is unnecessary and that something small and to the point is a better option. The Izzo Sami Kiss is one of the best models on the market for something easy to use, small, and accurate.
This particular model has more than 38,000 courses pre installed, and it will auto recognize which one you are playing. In addition, the Izzo Swami Kiss comes with a score card tracker that will allow you to keep some stats and ensure your game is on the right track.
Lastly, our favorite part of this model is the fact that there is a magnetic holder for the golf cart. You can simply put this directly on your golf cart, and then it will stay and allow you to see your yardages without having to hold it in your hand.
---
Best For Stat Tracking
PROS
A great tool to take your game to the next level
Readable color screen
Handheld GPS with 16 performance tracking tags
CONS
The small unit can be tough for visibility
The Shot Scope H4 is one of the better GPS rangefinders for tracking your stats. Some of these units will allow you to see how you are progressing and make changes to your golf game. The Shot Scope H4 comes with 16 performance tracking tags that are attached to your golf club and provide statistics about strokes gained and other percentages that can help you get on the right track.
If you are serious about taking your game to the next level and need a fun and helpful tool to get you there, the Shot Scope H4 could do the trick. With more than 36,000 preloaded courses, you will not have to worry about spending your time downloading information. The front, middle and back green distances are accurate and helpful.
---
Best Pocket GPS
PROS
42,000 preloaded golf courses
Garmin Golf App can manage your stats and info
The Green View display will give you info on the size of the green
Pin placement movement is a helpful tool
CONS
Not the largest screen for viewing the hole and preparing a plan for it
The Garmin Approach G12 is a compact golf GPS unit that has almost all the same capability as a premium unit packed in a small and helpful GPS unit. This particular model is loaded with 42,000 courses and will keep your score as well.
If you are looking for stat tracking capability, you will have that with the Approach CT10 club tracking sensors. In addition, this is a water resistant model that will work regardless of your weather conditions. There are also rechargeable batteries that give you 30 hours of battery life even while in GPS mode. This will stay in play for many rounds of golf before you need to charge it.
The Garmin Approach G12 comes with a built in clip and lanyard loop to make attaching this to your golf bag considerably easier.
---
Best Hybrid GPS/Rangefinder
PROS
Easy to set up and work with
Impressive technology with high levels of accuracy
Smart Green touch pin placement
Putt view
CONS
Large watches have to get used to wearing at first
The Voice Caddie T8 is a great combination unit that will give you yardages to the front, middle, and back of any golf green. However, it also has a V Algorithm slope calculation as well as a feature called Active Green. You are able to put the pin placement in the proper location on the green and get a much better idea as to the actual yardage to the pin.
With this type of customization, as well as a color touch screen and green undulation data, you will have all the information you need to play a great round of golf; the key will be actually making the putts and pulling off the shots. The heat map that shows the break indication is a really neat feature to have on your wrist.
---
Golf GPS Buying Guide
As you can see, there are lots of choices to make when you decide to purchase a golf GPS device.
We will try and help you narrow down which of these devices makes the most sense for your game and your budget as well.
Now that you have a better idea as to which Golf GPS units are the best on the market, here are a few things to consider when choosing which one is the best for your game. There are plenty of them out there, so it makes sense to do a bit of research and know how to narrow down these choices.
Pricing
A golf GPS unit can be less than $100 or more than $500. If you want top-of-the-line technology that has really impressive features and compatibility to track your game and give you stats and information, then the expensive golf GPS is a great way to go.
Some GPS units will require an additional subscription to tap into all of their features. Make sure that you understand what is involved with this before you think you have all the final costs worked out.
GPS Type
A GPS unit for golf in the past was always just a handheld model that had the course information and some type of display showing the hole. However, it has changed quite a bit recently, and now you can get hat clips and even watches that work as a golf GPS. This makes it really easy to see what you are doing on the course and enjoy some time without having to pace off yardages.
As great as these small golf GPS units are, the larger ones like the Garmin or even Garmin watches are still the most popular.
Brand Name
Garmin does a lot of work in the golf GPS product space. However, names like Golf Buddy and Voice Caddy also have a lot to offer. With Garmin, be expected to pay a bit more, but also know that you will get some impressive technology and a really strong warranty.
Features and Functionality
Each GPS unit has different features like long battery life, pin placement, and even shot tracking. Make sure you are clear about what you are looking for.
A basic GPS unit gives information to the front, middle, and back of the green. More advanced units offer these extra features to help increase the effectiveness of the product. State tracking is becoming really important, and if you can find a unit that will do it for you, stat tracking is a great idea.
What Is Better A Golf GPS or Rangefinder?
The GPS and the rangefinder are both good at getting players more accurate yardages to the hole they are playing.
Years ago, when playing a golf course, you would look for an old sprinkler head and hope it had a yardage on it. Things are different now, and you can get so much more accuracy when you are trying to get distances.
Traditionally speaking, the rangefinder is going to give you a more accurate yardage to a pin, but it is also a bit harder to use.
The GPS device only gives yardages to the center of the green as opposed to the hole. The GPS does all the work for you and will load up the exact yardage without you having to find the pin.
This is why the better device is going to come down to a matter of preference. IT does seem that the lower handicap golfers tend to enjoy the rangefinder that gives the exact number while the higher handicappers just want the GPS even if it is a ballpark number.
What Is Better: A Handheld GPS or a GPS Watch?
If you are a watch person, the GPS watch is a great idea. You can purchase one of these GPS watches that also doubles as a fitness tracker and a regular watch.
This is something that you can leave on your wrist at all times, and when you are playing your next round of golf, it will be ready to work for you.
The handheld GPS units usually have a larger display, and they will be easier to see than the GPS watch. This is good for people who are very visual and need to see the entire golf course from their device.
This is also a good option for those who play a lot of new golf courses and need to know what is around every corner.
If you are one of those players who can't even leave a ring on while playing golf, then the GPS watch will not be a great fit. We love the versatility of the Garmin watches because they can be used both on and off the course.
How Accurate Are Golf GPS's?
Depending on the model that you choose the Golf GPS should be extremely accurate. It Is important to remember that even with the best handheld GPS devices you are getting yardages to the center of the green and not to the pin.
For people that think their GPS is having trouble with accuracy, this could be the issue that they are not realizing.
How Long Does A Battery Last In A Golf GPS?
Generally speaking, the more features that your GPS devices have, the shorter the battery is going to last. Most batteries will last anywhere from ten to sixteen hours. We like the GPS batteries because you can plug them in and charge them back up, just like your phone.
With a rangefinder, you need the CR2 batteries that go in cameras and other electronic devices. Although you should not need a new battery all that often, they tend to add up over time.
Can A Golf GPS Give You Yardage To The Hole?
A Golf GPS is not designed to give you a yardage to the hole. You will get yardages to the center of the green, the front of the green, the back of the green, and to some hazards as well.
The pin location changes daily, and the golf GPS devices do not have this information to give to the player.
If you are playing a course that puts out a pin placement sheet, you should have no problem getting the exact number to the hole.
Simply do the calculation on your sheet to see how far or back from the center the pin is located. Then use the number the GPS gives you, and you should be set with your distance to the hole.
What Is The Difference Between An Expensive Golf GPS and a Cheap Golf GPS?
You probably noticed that there is a large range in the pricing for the GPS golf devices. This range in pricing is largely due to the fact that there are so many different types of features that the GPS can have.
When you purchase a device with large clear graphics and shot tracking, you will spend quite a bit more than one that gives you three numbers on a tiny screen.
These features are a matter of preference. After all, the number to the center of the green is not going to change, regardless of how pretty the display is on your GPS.
Frequently Asked Questions
Here are a few of the most commonly asked questions about the best golf GPS units on the market.
Is A Golf GPS Worth It?
A golf GPS unit is well worth the price as you will have a much clearer understanding of which golf club to hit into the green. Many golfers struggle with whether to use a golf distance measuring device at all, but it can only help you become a better player.
Can You Use Your Phone For Golf GPS?
Your phone can be used as a golf GPS unit. The phone has several different apps that can be downloaded, like Golf Logix and others that give you GPS yardages and other important stats and info. If you would instead use your phone, there is probably a golf app that will work for you.
Are There GPS and Rangefinder Combinations?
GPS and rangefinder combinations do exist. These are typically going to look like a laser rangefinder, but they will have the capability of a GPS unit. The GPS unit gives you the front, middle, and back, and the laser rangefinder narrows things down exactly to the pin. The combination of technology is compelling.
What Is The Best Cheap GPS For Golf?
The best cheap GPS for golf is the Golf Buddy Clip-on Voice 2. You can easily install this on your belt or hat, it's accurate, and it gives you the information you need to have a really low round of golf.
Conclusion
Hopefully, our guide has helped you learn a bit more about the golf GPS, how it works, and why it can be helpful for your game. We gave you some really great choices for the best golf GPS, but the Bushnell products really seem to stand out.
The overall best Bushnell Phantom keeps yardages clean and straightforward. You won't have to mess with a device, your pace of play will stay fast, and you won't break the bank when you purchase the device.
For the traditional golfers that don't want the game to change, this Bushnell will keep golf as classic as it should stay, just a little more accurate.