There is a large market for used golf clubs and it is something that many players should be considering. If you are looking for the best play to buy used golf clubs, we have gathered some information that you may want to take a look at. Let's take a look at the best online stores to buy used golf clubs and how to save you money this year.
Top 5 Online Stores to Buy Used Golf Clubs
There are dozens of places online to buy used golf clubs, but you must be smart with where you are purchasing from. Here are our top 10 choices to consider.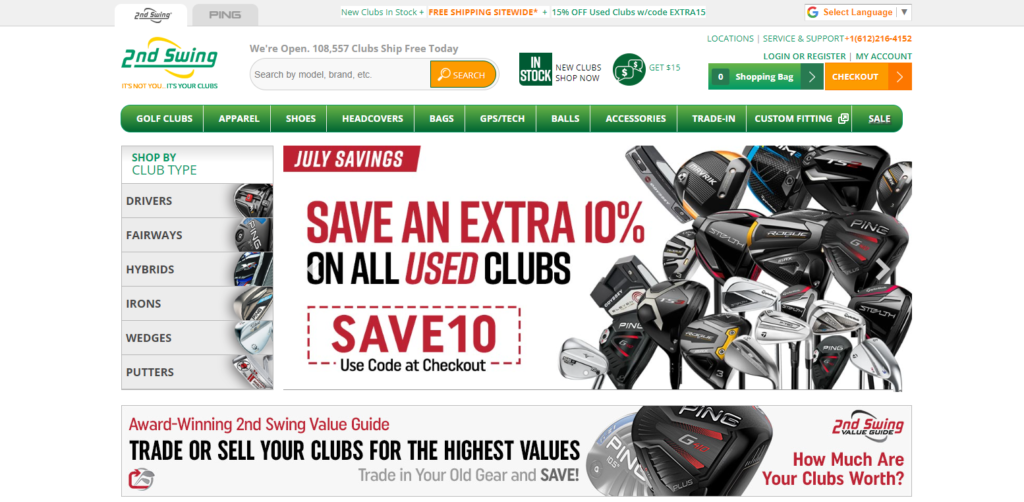 Features
Changes inventory frequently
Always new clubs in stock
A mix of new and used equipment
The 2ndSwing online golf shop is likely the most well-known when it comes to shopping for used golf clubs. If you like to have the option for both new and used equipment and a really fair rating system to see if these clubs are for you, then the 2ndSwing website is a great choice.
We really like the pictures that they have of the clubs and the fact that each of these golf clubs is rated by the 2ndSwing team before they are sold; this is not a bunch of independent sellers.
PROS
Very easy to work with
Offers free shipping often
Trusted golf club-quality
CONS
Quite a bit of used equipment to sort through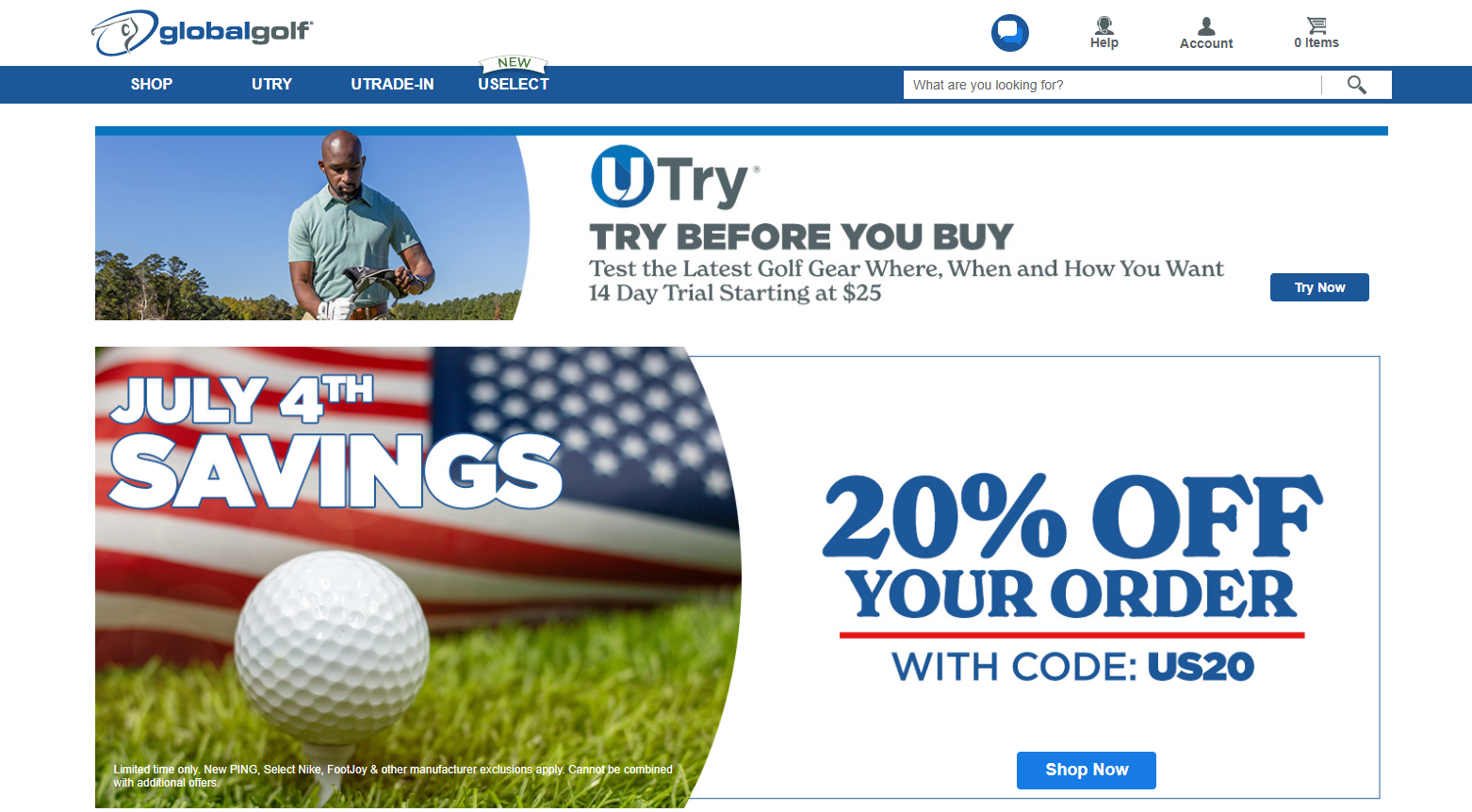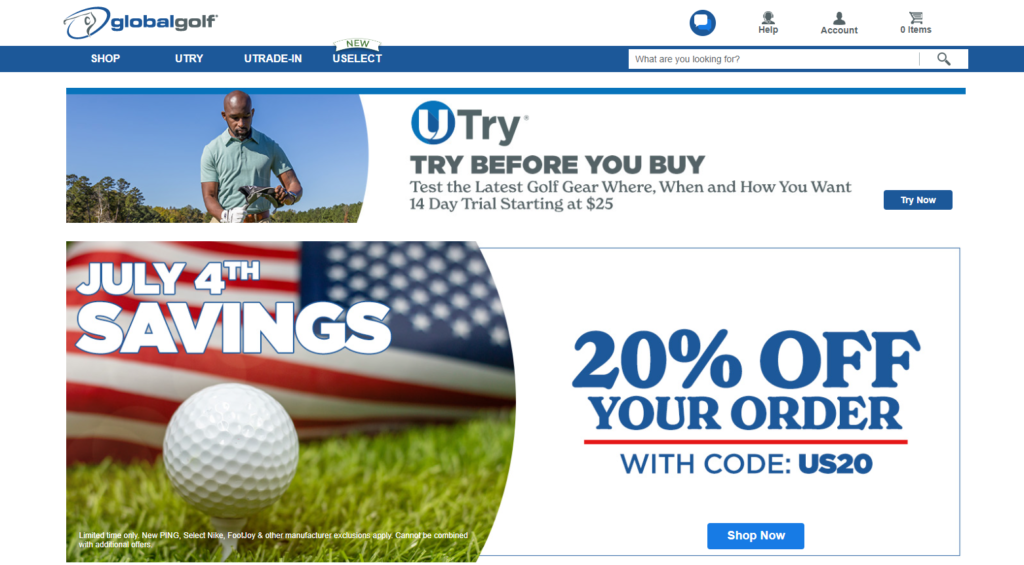 Features
12 month limited warranty
Many used clubs from manufacturer
Trade in program
Global Golf is another online retailer with a mix of both new and used golf equipment. If you are new to the game and want to compare your options, shopping with Global Golf is a great idea. This website has been around since 2001, so with 20 years of experience, you will be in good hands.
The clubs go through a 6 point inspection prior to being ready to sell, and you will have a good idea of the shaft condition, grip, and club head.
PROS
Some equipment has barely been used
Easy to deal with customer service
Warranty with used golf clubs
CONS
Won't see pictures of the actual club you are buying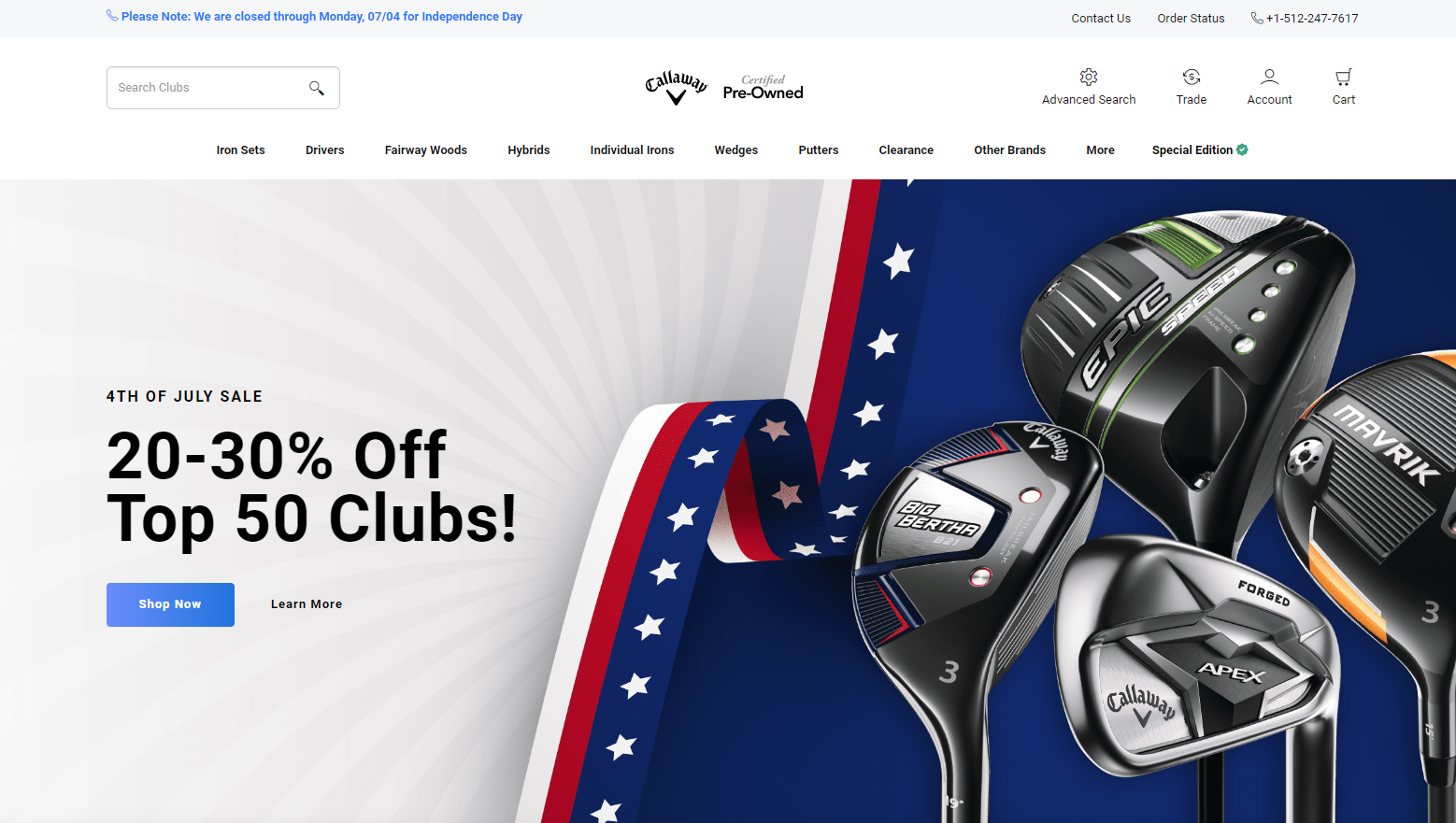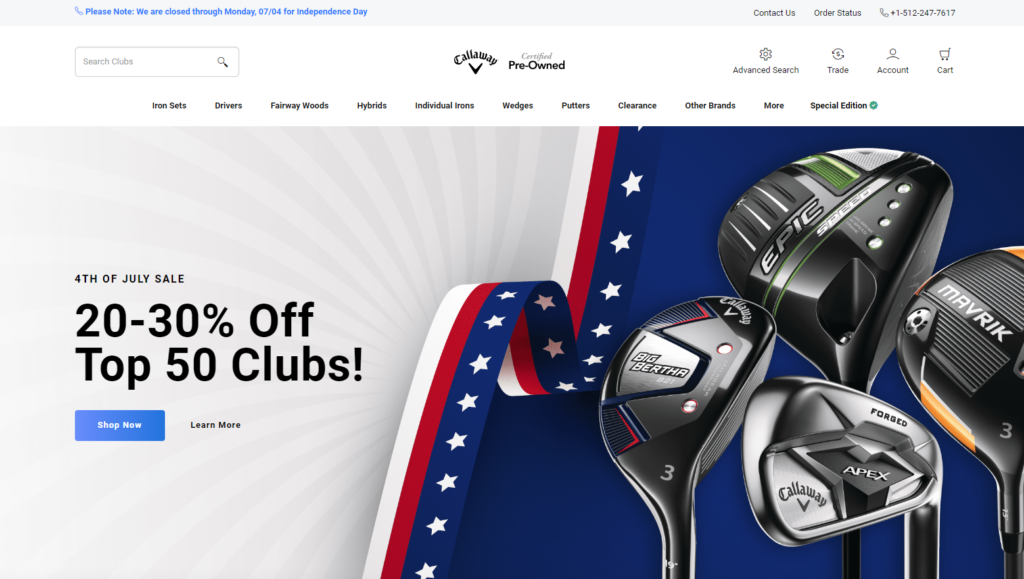 Features
15 day money back
Certificate of authenticity with each club
Price Protection
If you are a fan of Callaway equipment, than Callaway Pre Owned should be your first stop before purchasing used golf clubs. With the Callaway Pre Owned equipment, you will find that there is an excellent mix of options for anything from a wedge to a new driver.
All of the specifications for the clubs are clearly listed so that players can see if a golf club is the right fit for them. If you think the condition doesn't match or the pricing drops after you purchase, the Callaway Pre Owned team will help make things right.
PROS
Great option when worried about the quality
Can help those looking for custom clubs
Sales and events offer reduced pricing


Features
Wide selection
Ability to review the seller
Best pricing
eBay is not going to be your safest place to buy used golf clubs, but it can be really impressive as far as the number of options and the deals that you can get. Many physical golf retailers will unload their leftover equipment on the eBay website, giving you a big advantage when looking for clubs.
When shopping with eBay, you will also have the ability to find used golf clubs that are custom fit to your needs. Just be very careful buying from someone with no history, you could end up with counterfeit golf clubs.
PROS
Very large selection of used golf clubs
Some of the best pricing around
Buy now or auction options for equipment
CONS
Not all sellers are selling legit golf equipment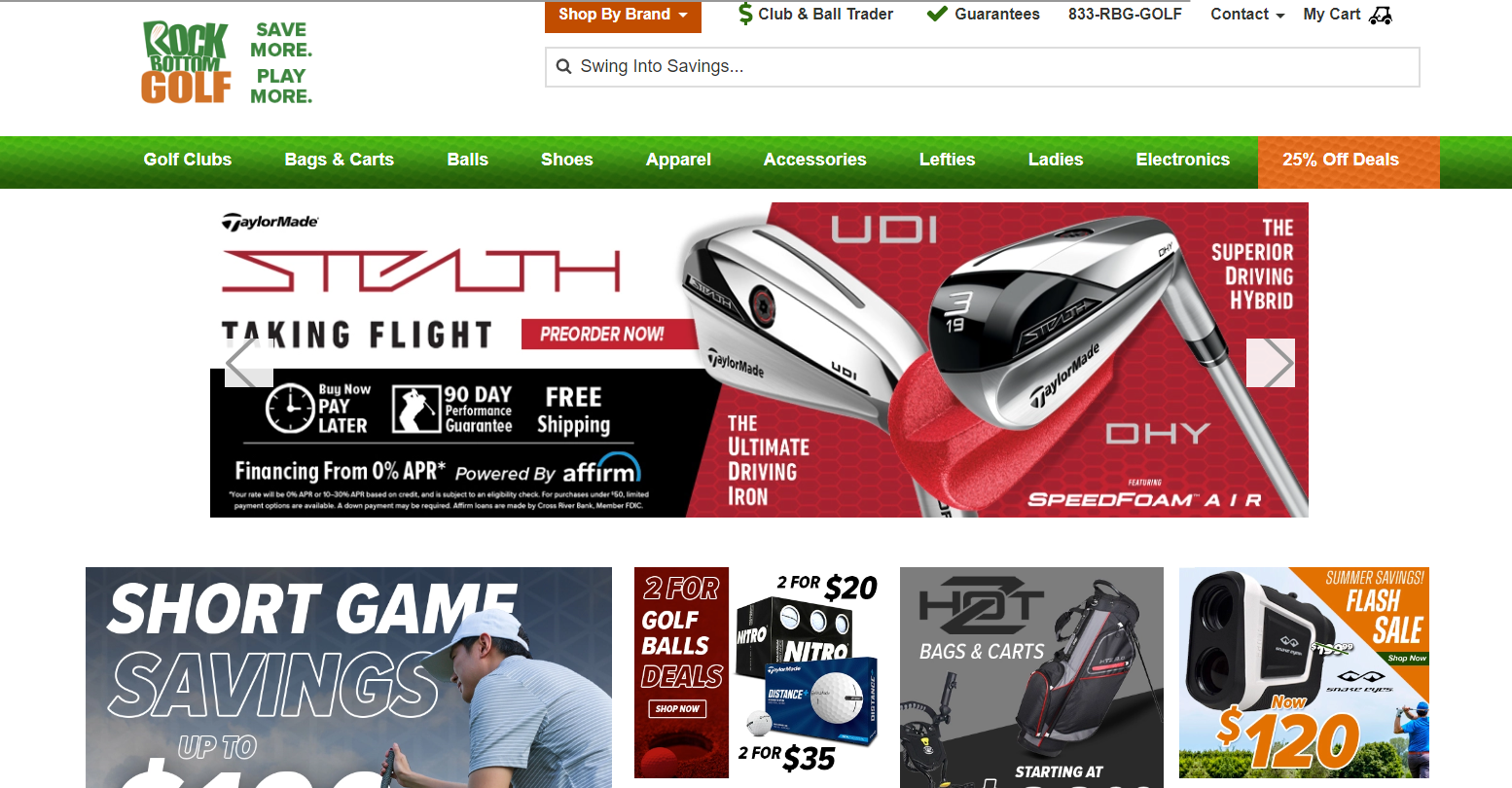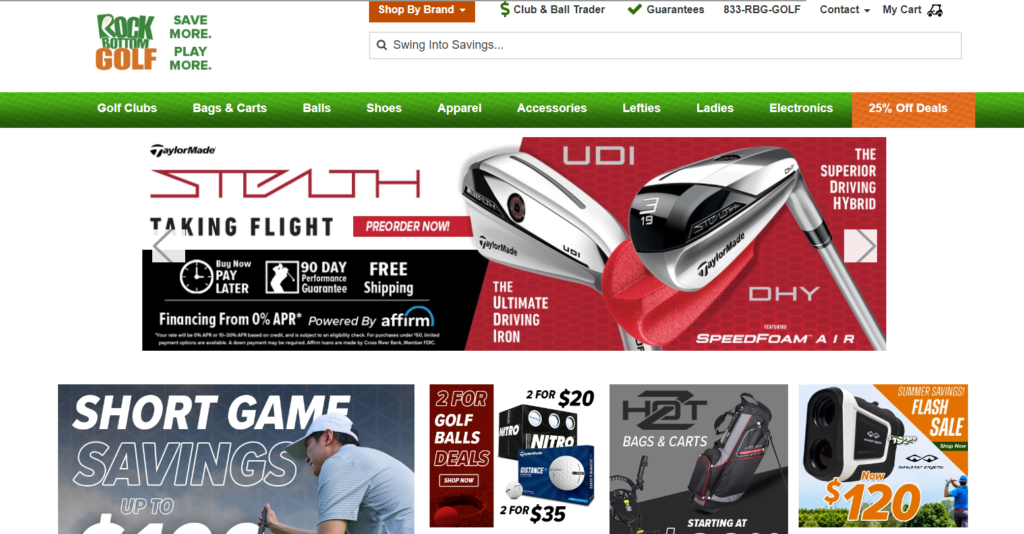 Features
30 day playable guarantee
Fair pricing
Pictures of the actual clubs
Rock Bottom Golf has a good selection of both used and new golf equipment for players to check out. The Rock Bottom Golf website offers a 30 day playable guarantee on all used equipment. In addition, they have their own clear pictures of the quality of the clubs you are purchasing.
We like the fact that Rock Bottom Golf also offers clearance items and very fair ratings on the quality and condition of the clubs.
PROS
Good sale items
Easy website to deal with
Trade-in used golf clubs and balls to get a discount
CONS
Not quite as easy to search as 2ndSwing or Global Golf
Safety Tips While Buying a Used Golf Club Online
Try to see pictures of the actual clubs
Don't buy from a website or seller with no reviews
Consider the grip condition as this can be a large additional expense
Always make sure that the clubs say they are authentic
Know what the equipment you are looking for looks like, and ensure that the clubs look legit
Do some price searching to ensure that you are getting a good deal; not all used golf clubs are a good deal
Check the condition of graphite shafts carefully
Always ask about how the clubs will be shipped and a playability guarantee
How Do I Buy Used Golf Clubs Near Me?
If you are a bit nervous about purchasing used golf clubs, then finding some near your home may be a better solution. Local golf shops, thrift sales, and even your local Facebook group can all be good locations to purchase used golf clubs near you. These golf clubs can have great quality, but you must know how to inspect them yourself and to ensure that you are getting a good deal.
Should I Buy Used Golf Clubs?
Used golf clubs can be a great solution for the player that likes to change equipment often. In addition, if you are on a budget, used golf clubs can help save a ton of money. Golf equipment changes so quickly that purchasing a used club in good condition that is just a year or two old will save you quite a bit of money.
How Do I Know if The Used Golf Club Is in Good Condition?
There are three main areas of the golf club to look at when you purchase a used club. These are the club head, shaft, and grip.
Check to see that the club head has no visible marks or dents
Look at the shaft to make sure it is perfect, and there are no marks or dents or splits in the graphite
Request new grips if possible, if not, ask when they were most recently changed
Scratches on the club head may or may not impact performance, but the club face should be perfect on a driver or fairway wood
Look at the grooves on irons and make sure they are still in good shape.
Frequently Asked Questions
Does it matter if golf clubs are old?
Typically speaking, as long as golf clubs are within about five to seven years of the latest equipment, you won't be missing out on too much technology. Beyond this point, we expect to be leaving some excellent performance on the table because of older technology and performance. 
How long should golf clubs last?
Golf clubs can last a long time if they are not used very often. Those used every day will likely last about 7 years. This is when you will start to notice some changes in overall performance and the ability to hit the ball as far as you would like. 
Who pays the most for used golf clubs?
Many golf retailers will take your used equipment and then sell it. The best way to make money on used equipment is to sell it independently, but 2ndSwing does offer some good trade-in pricing. 
What is the average price of used golf clubs?
Used golf clubs will vary in price, but you can typically purchase a set for anywhere from $300 to $1000. The pricing changes based on the quality of the equipment that you are attempting to purchase. 
Conclusion
Hopefully, you now feel ready to purchase used golf equipment at a great price. There are some wonderful opportunities to buy from high quality retailers. If it comes down to paying a few dollars more to buy from a trusted resource, than it is money well spent. Don't get overly concerned with the legitimacy of a golf club when purchasing from a source like 2ndSwing, Global Golf, or Callaway Pre Owned. These websites do the work for you to ensure you are getting a reputable and high-quality piece of equipment.