The Callaway Solaire is one of the top-selling women's sets of golf clubs on the market. The best thing about the Solaire is that it's not just for beginners or high handicap golfers. 
This golf club set will work for players of all handicap levels that enjoy quality design, forgiveness, and distance.
We love that the Solaire set comes in two different options accommodating the budget and the skills of all women golfers. 
---
---
In this Callaway Solaire review, we will explain exactly what you get with the Callaway Solaire sets and a few alternatives if this is not the best pick for your golf game. 
Features and Benefits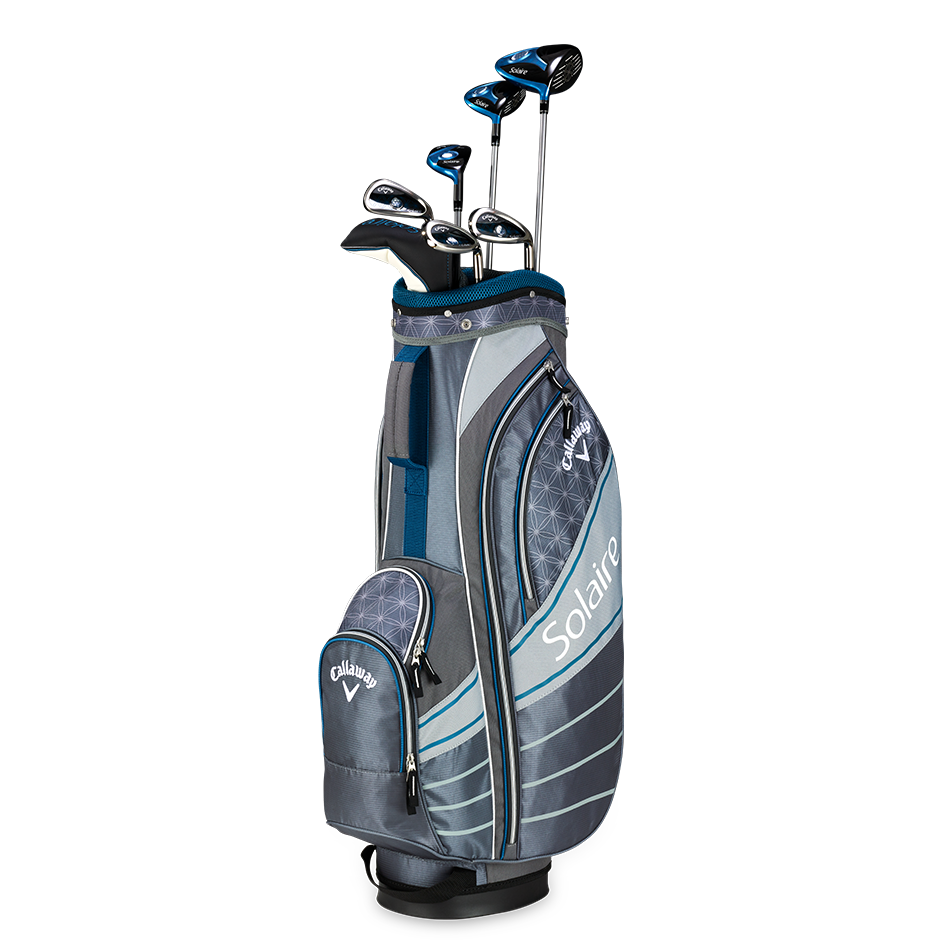 Player Handicap
The Solaire Callaway Women's Golf set is built for all handicap levels. Mid to high handicappers will notice the most benefits with the very forgiving and easy to hit golf clubs.
The 11 piece set will fit better for the mid handicapper who needs the extra club components. 
Shaft Options
Both of these Callaway Solaire women's set of golf clubs are going to come with a lightweight and forgiving ladies golf shaft. You will not have the ability to change the shaft out, but you wouldn't want to. 
The shaft is designed to help increase launch. On the driver, you will get decreased spin to help the ball roll further; on the irons; you will see extra spin to help you stop the golf ball where you want it.
Callaway Golf does a great job of making clubs that support the weaknesses in a golfers game. 
Look/Sound/Feel
Most package sets are not made with the same quality as an individual set of irons, or a single driver would be.
These Callaway Solaire golf clubs are an exception to that rule. Each of these clubs is made with high-quality components capable of helping golfers learn the game and improve their game. 
Forgiveness
Everything about the Callaway Solaire is built for forgiveness. This set of golf clubs is designed to make golf more fun and interesting for the female golfer. If you choose the eight-piece set or the eleven-piece set, you will see the same amount of forgiveness.
The eight-piece set is built more for the beginner looking for an affordable option where not all clubs are necessary. 
The eleven-piece set is built more for the middle handicap female golfer, but there is still plenty of launch and distance. This set has a very low center of gravity, and they make it in both right and left-handed and standard and petite length.
Whatever option you need to help improve your golf game, you should be able to find with the Callaway Solaire. 
Price
The Solaire set used to be priced higher than it is today. Considering the clubs' quality, the configurations, and the bag itself, you are going to get great value.
Keep in mind that you can also choose between the less expensive 8 piece set and the more expensive 11 piece set.
---
Callaway Solaire Alternatives
If the Callaway Solaire set is not the perfect fit for you, there are a few other options to consider. 
Callaway Strata Complete Golf Set
PROS
Great set makeup
Easy to hit
Easy to launch
Low pricing
CONS
Not as high quality as the Solaire
Should be used as a beginner set
The Callaway Strata women's golf set is a cheaper version of the Solaire. It is not going to be as high quality when you look at the individual components.
However, if you are shopping for a lower-priced women's golf set, the Strata is a great choice.
The Strata comes with a driver, five wood, five hybrid, 6-9 irons, PW, SW, Putter, and stand bag. This is quite a few clubs for the price that you get.
Overall it will likely not be as long as the Solaire, and it's a set that you will probably end up replacing in a few years. The Solaire is more of a long term solution.
---
TaylorMade Kalea Ladies Complete Set
PROS
Very high ball speed
Easy to align
High-end putter
As we mentioned in our review of the Callaway golf clubs, women looking for quality sets to last them a long time should not go for beginner golf clubs.
While the Kalea would work as a beginner set, it has a ton of technology and is probably the most advanced women's complete set option on the market. 
Of course, all of this technology, extra ball speed, and tremendous distance is going to come at a cost. The Kalea is quite a bit more expensive than the Callaway set. Our favorite part about this set is the fact that it comes with a TayorMade Spider design putter. 
Very often, putters are forgotten about in the making of a complete set. Putting is so essential to the golf game, especially for women, so the technology should be top of the line. 
The Kalea set comes with Driver, 3 Wood, 5 Wood, 5 and 6 Hybrids, 7-9 Irons, Pitching Wedge, Sand Wedge, Putter, Cart Bag and Headcovers.
This is a complete set, and all any golfer will need to be set up for success. 
---
Cobra Women's XL Speed Complete Golf Set
PROS
Comes in the right and left-handed
Clubs are great for faster swing speeds
Priced lower than the Callaway Solaire 11 piece
CONS
Not as lightweight as some other choices
Another alternative to consider is the Cobra XL Speed Complete Golf Set. This will be a bit better for the faster swing speed player than the Callaway Women Golf Clubs. If you happen to get some decent distance, this is a great golf club set to try. 
One thing that is nice about the Cobra is that this set includes three fairway woods. If you happen to be better with fairway woods than you are with hybrids or long irons, the Cobra set is a great choice. 
Every time we do a review, we try and make sure we choose options that work for a wide variety of players.
The Cobra is a great golf club set for the golfer that wants to work on becoming a lower handicap player. It has enough features and benefits to take your game to the next level.
---
Conclusion 
Hopefully, our review of this Callaway Women's golf set clarifies if this is a good option for your game. We love the long term value that you get with the Callaway Solaires.
These clubs will be part of your golf life for quite some time with no need to upgrade.