The Callaway Strata Complete Set is the top-selling beginner set of golf clubs on the market. It can also work well for high handicappers, so you won't have to worry if you are not a beginner.
There are several different types of Strata sets on the market, and each has its own positives and negatives.
In this Callaway Strata review, we will discuss everything you need to know about this set to make sure it's the right fit for you.
Callaway Strata Review
In this Callaway Strata review, we will explain exactly what you get with the Callaway Strata golf club sets and a few alternatives if this is not the best pick for your golf game.
What Is In The Bag: Driver, 3 Wood, 5 Hybrid, 6-9 Iron, PW, Putter, Sand Bag, 2 Headcovers
---
What's In The Bag: Everything in the Complete + Sand Wedge, 1 Additional Headcover
---
What's In The Bag: Everything in the Plus + 4 Hybrid, 1 Additional Headcover
---
Features And Benefits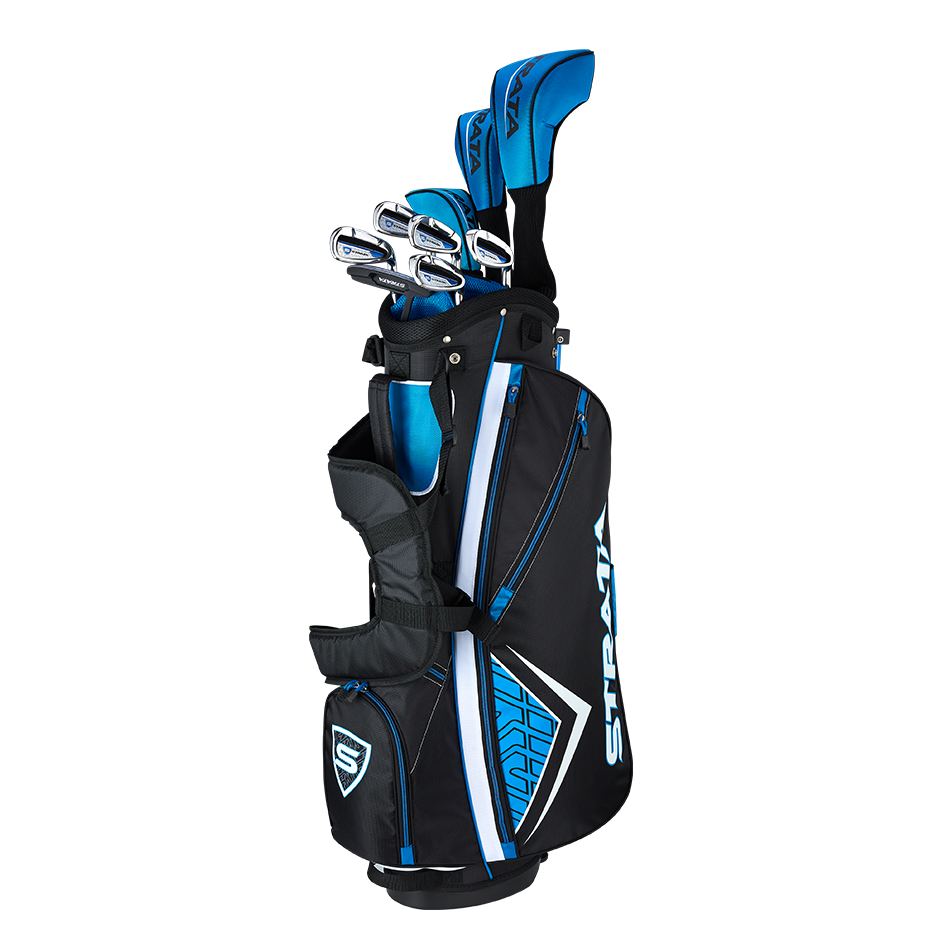 Player Handicap
The Callaway Strata set comes in four different options. You can choose between the Callaway Strata 12 piece Complete set, the 14 Piece Plus Set, 16 Piece Ultimate Set, and the 16 Piece Tour Set.
As you move from the Complete to the Tour, you will add both golf clubs and pricing as well. All of the Strata sets are designed for the beginner to a higher handicap player, except for the Tour.
The Tour model has a bit of different design when it comes to head shaping and technology. It will not be quite as forgiving, and it could be a good fit for a middle handicapper that doesn't get the chance to play golf all that often.
Shaft Options
With the Strata golf clubs, you will get a graphite shaft in all of the woods, hybrids, and the driver. With the irons, it will be a steel shaft. The shaft is a uniflex option that is designed to work well for slower swing speed golfers.
The Tour set does have one stiff shaft option as well for the faster swinging player. However, the Stiff shaft in this set is not going to be quite as stiff as it would be on other stiff shafted options.
Outside of that Tour set, you won't have many choices when it comes to the shaft.
Look/Sound/Feel
This set of golf clubs comes with a nice stand bag with a matching rain hood. The irons look like a traditional set of irons, and the driver has a large titanium classic looking head. Overall the look and sound of this set of clubs are quite impressive for the price.
Callaway makes excellent golf products. The Strata is not going to perform in the same way that the new top of the line Mavrik does; however, for the person that needs to buy the Strata set, that level of performance is not necessary.
If you can't feel what more spin, a hotter clubface, and artificial intelligence are doing to help your game, it is certainly not worth paying extra for it.
On the 12 piece set and the other smaller sets, the feel is going to be very much a beginner golf feel. There will be lots of forgiveness and distance with not much workability.
This is not a downfall of this set as most complete set options do not rank all that high when it comes to feel.
Forgiveness
The Callaway Strata are very forgiving golf clubs. From the driver to the three wood to the five hybrid everything is built to give you a large sweet spot.
All of the clubs have a low center of gravity and a wide sole. If you ever struggle to get a golf ball up in the air, this set will help you to get back in the game.
Price
One of the reasons we think this is such a great choice is that there are several different options. If you don't want something that is very expensive, you can go with the twelve-piece set.
If you want a more premium option and don't mind spending a bit more, you can go for the tour model.
---
Strata Golf Club Set Makeup
The Callaway Strata golf club set comes in a few different models. Golfers can choose between the 12, 14, or 16 piece set. Each of the sets comes with some tremendous technology but the set makeup does vary from one to the next. Let's take a look at some of the details involved with each of the individual clubs in the Strata golf bag. This information will give you a better idea as to whether or not the golf club set is a fit for your game.
The Strata Driver
The Strata golf driver is a high-performing 460cc club head that has tremendous forgiveness and distance. The Callaway golf drivers on the market that have Jailbreak Technology and Flash Face are going to go considerably further than the Strata golf driver. However, this does not make the Strata a bad choice. For slightly slower swing speeds, and those that are new to the game of golf, the Callaway Strata is a perfect choice.
Fairway Wood
The Strata fairway wood is a lightweight golf club that helps players from the fairway and even a slight bit of rough. The Callaway Strata fairway wood is an excellent alternative for those that struggle with the driver off the tee box. In addition, the Callaway Strata fairway wood is high launching to increase the forgiveness.
Hybrids
Depending on which golf club set you purchase, the Callaway Strata Set will come with either one or two hybrids. The hybrid ends up being most golfers' favorite club in the bag. The lower center of gravity and higher launch significantly increase the overall performance of the golf clubs. The Callaway Strata hybrids are very easy to hit out of the rough.
Irons
Callaway Strata irons are traditional cavity back-shaped irons that have an impressive feel and great distance. If you don't hit the center of the clubface, you will still get plenty of distance and forgiveness from the Strata golf irons.
The Wedges
A golf wedge is one of the most important clubs in the bag. If you are purchasing the Callaway Strata 12 piece set, you will only get a pitching wedge with the set. However, if you consider the 14 pieces of the 16 pieces, it comes with an additional sand wedge.

We highly recommend a golf club set with a sand wedge because of the precision and feel that you will get with that club. The sand wedge also has quite a bit of spin to help hit shots that stop on the green.
Putter
The Callaway Strata putter is a simple blade-style putter that has a good feel and precision. With the Strata putter, you will be able to easily line up your golf putt and have performance on both fast and slow golf greens. The golf putter is something that is easy to upgrade at some point should you find that necessary.
Golf Bag
A Strata golf bag is a lightweight stand bag. This bag will not have as much storage as a cart bag, yet it will work well for players that like to walk the course. The Strata golf bag is very easy to lift, and the stand is sturdy enough to accommodate the set and a few more clubs.
Pros and Cons of Callaway Strata Complete Set
Now that you have more of the details about the Callaway Strata Complete set, it's time to understand the pros and cons. With this Callaway Strata, you get great value for the money, but you must ensure that the golf club set is a match for your needs.
PROS
Very easy to launch
Lightweight golf clubs
Impressive ball flight
Lots of distance for slower swing speeds
Great value golf club set
Large 460 cc driver
Options for three different set makeups
Forgiving and easy to hit putter
CONS
Is not a good fit for very fast swing speeds
Longevity is not quite as good as other golf club sets on the market
Frequently Asked Questions
When purchasing a new set of golf clubs, it is essential to ask questions. With so many options on the market, it can be challenging to narrow down the right choices for your game. The more you know about these golf club sets, the better your chance of finding a perfect option for your game.
Is Callaway Strata good for beginners?
The Callaway Strata is an excellent option for beginners. The Strata set is a very fair value, comes with a perfect combination of clubs, and allows beginners to see if this is the best game for them. Overall the Callaway Strata is a smart choice for both beginners and high handicappers.
Are Callaway Strata clubs forgiving?
Callaway Strata golf clubs are very forgiving. The Strata has a large sweet spot and lightweight shafts. In addition, the center of gravity is relatively low and will promote a higher launch. Callaway Strata is a smart choice for those that struggle to get the distance and forgiveness that they need.
What is the difference between Callaway Tour and Callaway Strata?
The Callaway Strata Tour and the Callaway Strata are quite similar in that they are both fair value golf club sets. The Strata Tour was built more for the player with a better experience and some time in the industry as opposed to the brand new golfers.
Callaway Strata Golf Club Set Alternatives
If the Strata does not seem like the best option for you, there are undoubtedly other complete set golf clubs on the market.
These three sets are our favorite alternatives to the Strata.
PROS
Similar makeup with one fairway wood, one hybrid
Forgiving
Low center of gravity
CONS
Does not include a sand wedge
The golf bag is heavier than Callaway
The Wilson Golf Ultra Plus Package Set comes with a driver, three wood, five hybrid, 6- 9 iron, PW, and a putter. These clubs are priced right around the same price as the Strata, but some will say they have some different features to help get some extra distance.
The Wilson Golf Ultra Plus Package set is very easy to launch and has quite a bit of offset as well. As you move up towards the five hybrid the golf set gets more forgiving. Each of the clubs with a very large sweet spot to help improve your results.
---
PROS
Great pricing
Easy to hit
Lots of golf clubs
CONS
Not as forgiving
Very lightweight golf clubs
The Pinemeadow Men's Pre would be considered a budget pick. If you think the Callaway is a bit more money than you would like to spend, you can pick up this Pinemeadow for a great deal.
If you like playing with irons, this is a great choice. You will get a 4, 5, 6, 7, 8, 9, and pitching wedge when you purchase the Pinemeadow.
In addition to a wide range of irons, you also will get a fairway wood and a three hybrid. We like that this is a more traditional makeup as far as clubs are concerned.
If you have been out of the game a while and want to come back to something similar to what you had maybe 15 years ago, this is a great choice to consider.
---
PROS
Cooler pocket
Two fairways and two hybrids
High performing
Lots of distance and speed
Since we gave you an excellent option for a value alternative, it's only fair that we give you a premium choice. If you want to step it up a bit from the Callaway than you can take a look at the Cobra XL Speed.
This will come with a cart bag, a driver, two fairway woods, 3 hybrids, 6-9, PW, SW, and putter. You will not need to purchase another club to put in your bag for the rest of the time you own this XL Speed.
The technology is going to be a little more advanced with the Cobra option, so your pricing on this set of clubs will increase quite a bit. When you see the difference in the feel and performance, it may be worth the extra money.
---
Conclusion
Hopefully, this Callaway Strata review helped narrow down which of these clubs would be the best for your game.
There is no question that Callaway knows what they are doing when it comes to manufacturing a golf club. Choose a set that matches both your budget and your golf skill, and you will be ready for the course.
Overall we do recommend the Strata for the beginner golfer looking to stay on a budget. This is an excellent option if you are looking for a mix of value and performance in your first go-around as a golf club owner.