The current regulations from the USGA recommend that a golf driver cannot be more than 460cc. If something is larger than 460cc, it is going to end up being illegal for tournament golf.
There are some advantages to playing with a driver with a smaller head. Many lower handicapped players feel as though they get a better feel and can work the ball with the small golf heads.
As a PGA Professional, I can tell you that there are certainly some advantages to these smaller drivers.
If you are looking for something unique to add to your bag, take a look at some of these small head drivers we have gathered.
At A Glance: Our Top 5 Picks for Small Head Drivers On The Market In 2022
---
Quick Summary: Our Top Picks For Small Head Drivers On The Market In 2022
IMAGE
PRODUCT
<!——INSERT CODE BELOW——>

Best Small Head Driver

Callaway Mavrik Subzero Driver

Slightly smaller head size
Built for better players seeking more control
Adjustable head driver

VIEW LATEST PRICE →

Runner Up 1

Brand new technology
Very low spin
Plenty of distance

VIEW LATEST PRICE →

Runner Up 2

Honma Golf- TR20 440 Driver

Adjustable weights
Low spin
Aligned golf shaft

VIEW LATEST PRICE →

Best Value

14° GX-7 "X-Metal" Driver Distance

It comes with a one year warranty
Five shaft options
Legal for golf tournament play

VIEW LATEST PRICE →

Best Premium Driver

TaylorMade Golf M5 Tour Driver

Speed injected twist face
Highly adjustable
Hammerhead 2.0 technology

VIEW LATEST PRICE →
PROS
Slightly smaller head size
Built for better players seeking more control
Adjustable head driver
Very fast ball speeds
CONS
Club head size is not the smallest on the list
It may be hard to believe that Callaway would not take advantage of all 460cc that they have to work with when creating a driver.
However, when building the new Callaway Mavrik Subzero, they found that the performance was increased when the driver was made at 450cc.
Although this difference is going to be minimal, better players are going to see the difference when looking down at this club.
The great thing about the Subzero is that in addition to the added benefits for the better player, there are also some great distance and forgiveness attributes to this club.
Inside the club head, you will find the Jailbreak bars that have been helping golfers get a lot more distance in the last few years. The effect is almost like a trampoline when the ball makes contact with the face.
Callaway used Artificial Intelligence to create the Mavrik Subzero. The center of gravity is perfectly positioned, and the lightweight carbon crown helps players get plenty of speed.
This is also an adjustable driver, allowing players to feel as though they are getting a custom fit each time they swing the club. If you are tired of the large 460cc club heads, this one could help your golf game quite a bit.
---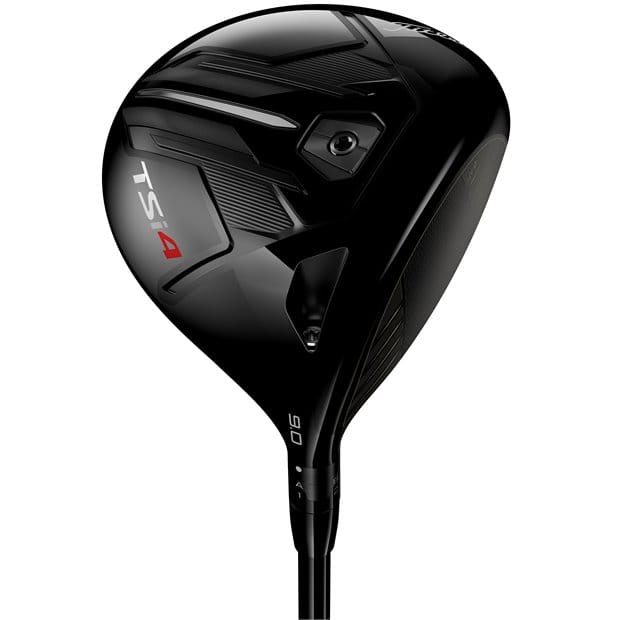 PROS
Brand new technology
Very low spin
Plenty of distance
Small driver head size
CONS
Brand new release priced a bit higher
Titleist does not always come out with new clubs each year. When they release an option, many people are excited to get their hands on it.
As we have seen with Titleist in the last few years, the options keep getting more and more diverse. If you have wanted to play a with a Titleist club for years but have not been able to find a good option for your game, the new lineup will certainly help.
Out of all the golf drivers in the new Titleist lineup, the Titleist TSi4 has the smallest head. This is a 435 cc driver club head built for the best players.
The compact shape has a low and forward center of gravity. This center of gravity placement in the driver's head will result in a lower spin and a straighter trajectory.
Typically those with higher swing speeds can struggle with spin rates that are a bit too high. These high rates can cause a driver to go too high in the air and lose some potential distance.
The new TSi4 makes it easier for golfers to hit straight and long drives, even with their high swing speeds.
---
PROS
Adjustable weights
Low spin
Aligned golf shaft
Premium materials
CONS
Honma golf drivers are very expensive
Honma Golf is a Japanese club manufacturer that is starting to gain a good sized market share across the world. The Honma TR20 440 driver is available in both the 440 and 460cc profiles. For those interested in a smaller frame golf driver, the 440 would be the best choice.
One of the things that will set the Honma apart from other golf drivers on the market is the feel. Honma works very hard to make sure that the feel of the clubs they produce is among the best on the market.
In addition, to feel, the Honma golf clubs also have quite a bit of ball speed. The TiCarbon fast frame makes for a very lightweight club head.
Golf drivers with a lighter head and premium shaft are a bit easier to swing faster. For those struggling with a lack of club head speed, the Honma is a very good choice to consider.
Although the Honma driver is adjustable, the non-rotating hosel makes sure that your driver's spine is perfectly aligned regardless of the loft lie setting.
There are some benefits to make sure that the Honma is aligned the way that it should be at impact. Shaft alignment is starting to become a crucial concept for players looking for maximum distance and forgiveness.
---
PROS
It comes with a one year warranty
Five shaft options
Great mini driver for a higher handicap player 
Legal for golf tournament play
CONS
14 degrees of loft is not ideal for long-distance
Many of the small head drivers on the market are priced higher than the larger drivers. This is partly due to the fact that the small head drivers are built for the golfers that have lower handicaps and need more control.
However, the GX-7 Driver is an excellent choice for those that have a limited budget as well. Although this club looks a bit like a mix between a fairway wood and a driver, it is a great choice to consider.
One of the things that really sets the GX 7 apart is the fact that the club length is shorter than some other drivers on the market. The shorter shaft length certainly helps golfers to control their shots quite a bit more. The longer a club is, the harder it is to control the golf ball.
For those that struggle to keep the driver in the fairway, the GX 7 is a great choice to consider. This is one of the best small head drivers for those that are mid to high handicappers in need of some more forgiveness in their golf swing.
The GX7 is offered in five different flexes, making it an excellent choice for a wide range of players. If your budget is short, but you have some money for a new driver this year, the GX 7 is a choice that you will likely end up being very happy about. 
---
PROS
Speed injected twist face
Highly adjustable
Hammerhead 2.0 technology
The large sweet spot for players driver
CONS
Not the latest TaylorMade release
The TaylorMade Golf M5 Tour is an excellent choice for a small head version of the M6 driver. This is the lower handicapper version of the M6, and it is a 435 cc club head.
With the M5 Tour, you will get lots of distance and forgiveness offered in the traditional size driver heads, but the driver has much more control.
The TaylorMade M5 is a speed-injected club head which means that it is as fast as the USGA will allow. Each club head is thoroughly tested before leaving the warehouse to make sure that it is as close as possible to the legal limit.
Another great feature of the TaylorMade Golf M5 Tour is the adjustability.
TaylorMade installed a T Track on the club head that allows two 10g weights to be moved around. The movement of these weights will greatly impact the spin and trajectory of the shots that you can hit.
With the revolutionary Twist Face Technology, tons of ball speed, and a slightly smaller head, this is one of the best golf drivers for the lower handicap golfers.
---
Small Head Drivers Buying Guide
Now that you have a better idea as to which small head drivers are the best on the market, it's time to think about which one could be good for your game. If you are a player looking for a small head golf driver, you will have to be prepared with the idea that the selection is going to be a bit more narrow than it is with other types of drivers. However, there are a few important things to keep in mind when doing your shopping. 
Small Head vs. Large Head
The biggest part of this decision is deciding whether or not a small head or a large head driver is the best choice for a player. The large head is typically 460cc, and it has a very large sweet spot and plenty of forgiveness and launch.
The larger head drivers or big head drivers are more about distance than they are precision, and they are maximized when it comes to distance performance. The small head driver is based more on accuracy and placing the driver where you want it. 
Try to consider what type of player you are and the areas of your game that can use the most work. The small head golf driver and the large head golf driver (or the big head driver) both have benefits that can help a golfer; you simply need to narrow down which is the best for your game. 
In the end, most golfers find that the large head 460cc drivers are the better choice because of those few extra yards of distance and the increased forgiveness. 
Shaft
The shaft that you choose in your driver will have a significant impact on overall performance. Golfers that go with a stiffer golf shaft will need to have the swing speed to accommodate it. 
Players that are looking for more accuracy from their golf driver should be very careful that the weight and the flex of the golf shaft are the right fit for their needs. Most times, the golf shaft will need to be mid weight and mid flex to feel as though you can place it around the golf course.
The shaft options on some small head golf drivers are limited simply because of the inventory selection of these drivers. 
Driver Length
Some drivers are slightly shorter than others. The shorter length helps to increase the overall accuracy that you can get with a driver. Try to think about how much easier it is to hit a pitching wedge straight than it is to hit a driver straight. This has quite a bit to do with the length of the golf driver.
When you have a longer golf driver, it takes more work to time the shot correctly and hit the fairway. When the club is slightly shortened, you will have more accuracy. The standard length driver is 45, but you may see some newer models coming out in the 44.5 or even 44 inch length.
The driver length is a specification that many golfers looking for small head technology will begin to experiment with. The driver length can have an impact on overall distance, so that should be considered when making your final decision. It should, however, be just a few yards of distance loss.
Loft
The driver loft that works for most amateur golfers is between 9.5 and 10.5 degrees. If you are purchasing a small head golf driver, this same range should apply. However, many of the small head drivers are not adjustable. When the head is not adjustable, it can be difficult for players to make that final decision about the proper yardage. 
When you look at the loft of your golf driver, you must decide on whether or not it makes sense to look for distance or forgiveness. The lower lofted golf drivers can help high swing speed golfers hit the ball further, but they are considerably less forgiving.
The drivers slower swing speeds are going to have more success with a slightly higher lofted golf driver because of the ability of the ball to launch and the increased distance a player can get. 
Pricing
The pricing of a golf driver will vary between $400 and $600 for most new models. However, some of the smaller head drivers can be under that $400 mark. Some of this comes down to the fact that these clubs are going to use slightly fewer materials. 

In addition, this type of club is not nearly as popular as the standard large head drivers, and companies will lower the pricing to try and get the attention of some golfers.
Some small head drivers are considered players models and are built for extreme precision, and this is important for golfers to remember and will sometimes increase the pricing of the driver by a bit. 
Small Head Drivers Frequently Asked Questions
Hopefully, you now feel like you know a bit more about the best small head drivers on the market. Although there are not that many choices to consider, the choices are all good ones.
Here are a few questions that you need to consider when purchasing a small head driver for your game.
Should High Handicappers Use A Smaller Driver?
Some high handicappers find that a small driver can help them control their shots much easier. The best thing about a small driver is that it can make a player focus a bit more on hitting the center or the sweet spot.
High handicappers looking to switch to a small driver should consider using something that is also a bit shorter than a standard length driver. 
What Are The Benefits of A Smaller Driver Head?
The biggest benefit of a small head driver is the control that it offers players. The smaller head typically offers a bit less spin and some lower trajectory as well.
One of the small head driver benefits is that the golfers with high swing speeds that want to be able to place their drivers or control the flight will enjoy the small head drivers.
When it comes to distance, most of the time, you won't notice that the small head drivers give up any distance for a golfer.
Are Smaller Golf Drivers Adjustable?
Just because a golf driver's head is smaller does not mean that it won't be adjustable. If adjustability matters to you in a club head, there are smaller driver heads that can still be adjusted.
Even though you will see companies mostly choose to make a larger head golf club, they are trying to appeal to the largest target audience.
Golf manufacturers with a large product offering try to make options that work for golfers of any swing speed or handicap. Luckily there are some excellent options this year when it comes to a small head golf driver.
Is A 3 Wood Better Than A Small Head Driver?
Should golfers consider a 3 wood instead of a small head driver? There are times that it can make sense for golfers to use a 3 wood instead of a small head driver. With the 3 wood, players can get plenty of control and many of the same benefits of the small head driver.
The decision here will sometimes come down to the size of the golf driver head that you purchase. For those looking for a really small driver head, the 3 wood may be a better replacement. If you are looking for something that is just 440cc as opposed to 460cc then it really won't make much sense to go with the 3 wood.
If you are looking for a smaller driver head because you need more precision in your game, consider putting a 3 wood in the bag as it could make a big difference.
Conclusion
The only thing left to do is put your new small head driver in your bag. The best small head golf driver on the market is the Callaway Mavrik Sub Zero.
This club has a ton of high ball speed, forgiveness, and impressive control. If you are a lower handicap player looking to control your driver the way you do your irons, the Mavrik Sub Zero is a perfect choice.