Now, don't get this mixed up with the Epic Driver, or the Epic Sub Zero Driver or even the Epic Flash Star.
Yes, it's probably time they put the Epic name to rest for a while, regardless of that fact, the standard Epic Flash driver is one that is certainly worth our review.
The Flash Drivers are some of the most talked about clubs in the golf market right now.
In this Callaway Epic Flash Driver Review, we will analyze how it compares to other Epic Drivers as well as how it compares to other Drivers on the market.
Callaway Epic Flash Driver Review
Similar to the Epic Flash Sub Zero this driver comes with a sliding weight. For the Epic Flash Sub Zero, you have a 12-gram weight and in this Epic Flash, it's a 16-gram weight.
The Epic Flash is designed for the mid to high handicap player. The Sub Zero is more for the lower handicap. The heavier weight will promote more of a fade or draw bias.
This Driver was designed to help players get faster ball speed, while still having some forgiveness and control over ball flight. A lot to accomplish in a brand new product release.
So how did Callaway pull this off?
They used artificial intelligence and machine learning to create these Flash Drivers. What this allowed is much more trial and error for Callaway, they could easily test different models to come up with golf equipment that puts them up there as the best of the best.
This Epic Flash Driver has higher spin and higher launch when compared to some other Drivers on the market. This is a Driver that will work for you if you shoot 100 and if you shoot 85. If you shoot 70 you are going to want to look at the Epic Flash Sub Zero.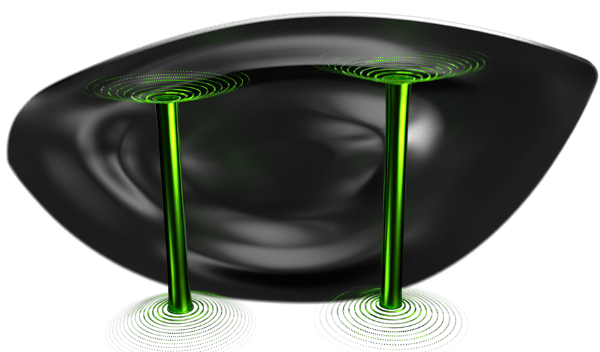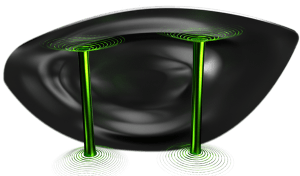 This Driver comes with the latest and greatest JailBreak Technology. The Jailbreak bars that were installed to stabilize both the crown and the sole of this Driver. Those bars will place more impact load on the face and therefore allow you to hit it further.
The name of the game in Driver design right now is Ball Speed. Anything and everything a company, especially a top golf company like Callaway, can do to increase ball speed will ultimately help their golfers hit it further.
Key Features
Flash face technology for higher ball speed
Artificial intelligence used to create high speeds
Higher MOI than previous models
New Triaxial Carbon crown
Lots of adjustability
Perimeter weighting allows for draws, fades, or launch adjustments
Very stable at impact
Premium golf shaft technology
New Jailbreak bar technology
Features and Benefits
Player Handicap
The Epic Flash Drivers get their name from the Flash Face.
Flash Face is new to the golf world. It's a brand new face design that has had a serious impact on the ball speed that it allows for on center hits.
The Epic Flash is truly designed for golfers that have swing speeds around 100mph or less. If your swing speed is faster than that, with the right combination of shaft and club settings you can make it work. However, you are probably better off with the Sub Zero model.
Lower Handicap players get lots of spin, they also get lots of carry on their drives. They need low spinning shafts and Drivers.
The Callaway Epic Flash provides technology to help improve spin rates for higher handicap golfers while still offering them plenty of forgiveness.
Adjustability
Some Drivers on the market today can be tricky when it comes to how to set them. You are left with a wrench and a chart and it can become kind of a headache. Especially without having a fitting system readily available.
This Callaway Epic Flash makes it super simple to adjust the weight. One side says "Draw" and the other side says Fade. Simply move it towards what you need and this flash driver will take care of the rest.
Now, in addition to the simple weight, you can also adjust the loft and lie on this Driver. There are combinations for players of all types.
Keep in mind when purchasing an Epic Flash Driver that the loft can be lowered by 1 degree and increased by 2. If you are wanting to experiment with low loft Drivers make sure to purchase the 9 degree as the lowest you will be able to get it to is 8 degrees.
Shaft Options
As we have mentioned in the past all major manufacturers did a great job this year of coming out with very solid stock shaft options. Years ago, Drivers came with a Stiff and a Regular. If you were lucky there was a Senior option offered.
This game has completely changed and the customization of clubs has changed the golf world.
This Callaway Epic Flash has 3 Shaft options (tons of custom options). The three options also come in several weights and flexes.
TT PROJECT X EVENFLOW GREEN 46g, 47g and 59g
TT PROJECT X HZRDUS SMOKE BLACK59g, 67g, and 70g
MITSUBISHI TENSEI AV BLUE65g, 67g, and 68g
If you are a higher handicap player looking for something easy to hit, that will help you improve your ball speed, take a serious look at the Evenflow Green. It's got a low to mid kick point that will help you get the ball up in the air a little easier.
Some amateur golfers think that hitting the ball lower actually get them more distance. You want the ball to carry for as long as you possibly can before it hits the ground if you want the most out of the club.
Look/Sound/Feel
This driver does not have a sound that stands out as being superior to others, nor does it sound annoying in any way.
The Epic Flash tends to sit a bit square to closed where the Epic Flash Sub Zero will be a bit more open.
The feel on the Callaway Epic Flash is very good. Similar to all the Flash Drivers but better than the Rogue Driver,Callaway cares about making a best driver of all time, that will work for all players.
Distance
These Flash Drivers are the longest Callaway has put out. The Callaway Rogue Driver, although good, is much more forgiving option than it is a distance option. The Callaway Epic Flash was also designed with distance in mind.
Since the introduction of the Callaway Flash Face the mishits are nearly as long as the dead center shots.
If you are a die-hard Callaway fan and have been playing them for years you certainly remember the old Big Bertha Series. If you hit a Big Bertha driver perfectly it was great, if you missed the center, you were losing 20 yards. Although you may lose a few yards with a miss on the Flash Driver, it's not quite like the old days.
Forgiveness
The Flash Drivers all claim to offer forgiveness. (What company wouldn't advertise forgiveness!)
The Callaway Epic Flash is forgiving, more forgiving when compared to the Sub Zero. Not the most forgiving club on the market, but with everything else that it offers it has plenty of forgiveness to go around.
Price
One of the most expensive out there. Same price as the Sub Zero option.
---
Callaway Epic Flash Driver Review
Check out the review video below:
Alternatives
About equal in length, not as easy to adjust or to feel a mishit, more geared to a faster swing speed player who is not a lower Handicap.
Read our TaylorMade M6 Driver review.
---
For players who want less spin, generally lower handicap, the Sub Zero is also more adjustable.
Read our Callaway Epic Flash Sub Zero Driver review.
---
Lower price point, similar adjustability, options for low handicap players with fast swing speeds and mid-handicap players with mid-range swings.
Read our Cobra F9 Speedback Driver review.
---
Frequently Asked Questions
If you are thinking that the Callaway Epic Flash Driver could be a good fit for your game, here are a few of the questions that you should keep in mind as you go through the buying process. The Epic series from Callaway is a large one and it continues to get upgraded and expanded upon each year.
Is Callaway Epic Flash Good For Beginners?
Callaway Epic Flash can be a good fit for beginners because of the forgiveness that you get because of the adjustability. The Epic Flash is very easy to adjust golf driver that can be set to a player's needs right from the start. 

This means that when a new golfer starts the game they can set the driver to be more forgiving and then make it a bit more lower handicap friendly as time goes on. 

Overall there are probably some better options on the market that could work for a beginner like the Big Bertha B21 golf driver.
Is the Callaway Mavrik better than the Epic Flash?
The Callaway Mavrik is a newer driver than the Epic Flash and that makes it more popular for some people. If you are someone that only wants the latest technology, the Mavrik could be a better choice. 

However, it is important to remember that the Mavrik features most of the same technology that you found in the Epic Flash driver.
Is the Callaway Epic Driver Forgiving?
There are many Epic drivers on the market from Callaway, and they all offer varying amounts of forgiveness. The Epic Flash Star is likely one of the most forgiving and will help golfers that are looking to hit the ball straighter and further overall. 

The Callaway Epic line is probably known more for distance than it is for forgiveness. The forgiveness is going to be seen more in the Big Bertah line of clubs.
Is Callaway Epic Driver Worth It?
The Callaway Epic driver is worth the money that you will pay for it. With all of the impressive features and this new high-performing face on the club, you are bound to see the ball fly towards your target and with lots more speed than in the past. Don't let the price of this driver keep you away, it is considerably lower in price than when it was first released to the market.
Conclusion
The Callaway Epic Flash has done extremely well for Callaway this year. The epic series of both Irons and Drivers are proving to not only have an increase in performance from the original Epic but they have raised the bar when it comes to competitors.
The one true downside to the Epic driver was the price point when it was first released.
This is the perfect driver for the weekend 15 handicapper and not all of those people have $550 to spend on one club.
As deals will come up and as the price lowers, I think even more people will be looking to add a Callaway epic flash to their bag.
It's important to keep in mind, and hopefully this was clearly expressed in the review, the time, work and effort that has gone into these flash drivers will most certainly impact the future of the game and the future of golf club technology.