When a driver has the word Hot in it, it better live up to its name.
Hearing the word hot makes me think distance, pure distance, and ball speed coming directly off the clubface. The Callaway X Hot does offer quite a bit of this speed, and some forgiveness as well. All of this for a really good value.
The Callaway X2 Hot Driver comes with the VFT Face technology that Callaway has mastered in the last few years. This technology allows for variable face thickness across the large sweet spot.
When the face offers you more forgiveness in the bad spots and less forgiveness and more performance in the sweet spot, this is a good thing.
As a company, Callaway has made great strides in producing lightweight titanium drivers that produce a great deal of distance.
You can read almost any review about a Callaway Driver and see "very high ball speeds" being mentioned throughout.
This Callaway X-Hot club is not Callaway's premium driver. It is a lower cost, forgiving option, offered at a fair price.
---
Features and Benefits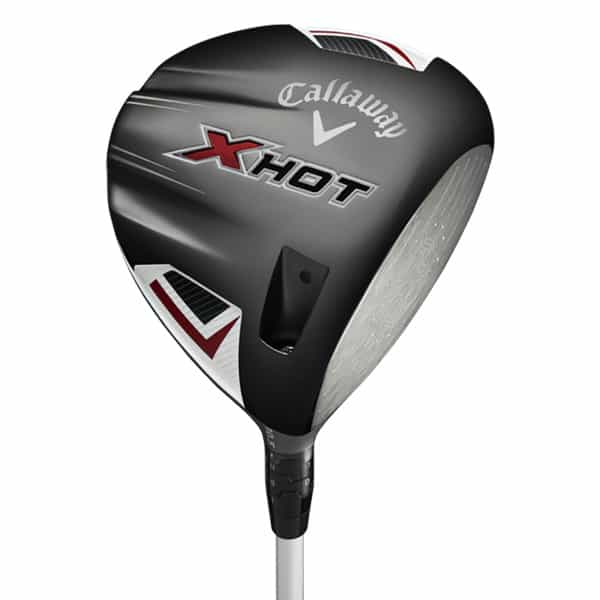 Player Handicap
The Callaway X hot driver has a very large sweet spot and lots of forgiveness. Generally, when a club is made like this it is for a higher handicap player. You will see plenty of mid handicappers choosing this golf club as well.
If you are a low handicap golf player, I would look for something with a little better feel, something a bit more adjustable and potentially a Driver with better sound.
Adjustability
Everybody wants an adjustable hosel on a club. Some want the weight to be adjusted as well but adjustability is a trend in drivers that is sure to stay.
The Callaway X Hot Driver is adjustable but not quite like some of the other Callaway models. The Lie can be changed from an open to a closed position. Setting it more closed at address would result in something slightly draw bias.
The Center of Gravity on this club is not adjustable. You will see that much research has been done to analyze the average golf players' swing.
Based on the results of this research the Center of Gravity is put in one spot to offer maximum forgiveness and launch.
One downside of this club is not having the ability to change the lofts. Adjustments in lofts can be really helpful for the player who is working on improving their game.
Of course the lower pricing helps make this less of an issue overall but it's something to consider when searching for a driver.
Shaft Options
Keeping in mind that this is Callaway's budget option so you aren't going to get a lot of premium shaft options, they did put a very good stock shaft in this club.
The Project X PXv Graphite (Project X Velocity Shaft). This shaft is a mid-weight, mid launch, mid spin offering, everything you would expect in a budget model release from Callaway. This is not to say that the Project X Shaft is not a good one.
The Project X Velocity Shaft is known for being very lightweight.
Look/Sound/Feel
This Driver has the look of all the modern drivers. Large forgiving titanium clubhead in a gray/black look. The club looks very playable at address.
The sound is disappointing when compared to the Epic Flash or the Rogue but it is not ear piercing or dull. Simply put it just doesn't sound like it is going to launch as far (even though it sometimes does!)
There are a few ways to look at feel. First is the weight, this club because of the titanium head, lightweight shaft and fixed center of gravity is light.
It feels like you can swing it faster, and you can! Feel as far as the ability to hit a draw or fade is not quite as good.
Any time a Driver is designed to be extra forgiving, you will lose a bit of workability, this has happened with the X Hot.
Another point to consider when talking about feel is the use of the word "Hot" in the title of the club. This driver does produce a feel that the ball comes off the clubface hot.
The name of the game is ball speed and when you can swing a Driver faster because of its weight, and you combine that with a VFT face, you should get a driver that feels hot.
Distance
The X Hot Driver is long.
It's going to be longer than previous Big Bertha Models put out by Callaway but not quite as long as the Epic Flash or Rogue.
Keep in mind that the technology in the Epic Flash (Flash Face Technology) is something that you are paying for when you buy the golf club.
Forgiveness
If I had to decide if the X Hot is longer or more forgiving, I would choose the latter.
There are lots of golf clubs out there that feature titanium clubheads, and an adjustable hosel, with plenty of launch but this club does have a very large and solid performing sweet spot.
When you are talking about how difficult this game is to swing a driver over 100 miles per hour and hit it in an area the size of dime, it's certainly worth considering a club that helps out with that.
Price
---
Alternatives
The TaylorMade M2 Driver has very Similar distance and forgiveness as the X hot. The M2 also features a price point right around that $249 mark.
It's important to keep in mind when reading any review that sometimes a club is just going to look better to you than another. There may be no other way to describe it than it just feels and looks better in your hands.
That's why we try to offer a few options for you to look into. Some people are just not Callaway people, even if this Callaway X Hot Driver Review has you thinking that it could be a good club for you.
Read our TaylorMade M2 Driver review.
---
The Cobra F9 would be an option if you are looking for increased adjustability.
There is no doubt that this club will fit more players, between the shaft and adjustability options the F9 can work for a scratch golfer or a 30 handicap.
The X Hot does not have that same range. The Adjustable hosel can be set to hit more of a fade or draw, as well as adjust the launch on your driver.
The F9 does have a slightly higher price point but you are getting a very versatile option.
Read our Cobra F9 Driver review.
---
Lastly, the TaylorMade M4 Driver could be another great option for a Driver in this forgiving, long and affordable category. The M4 will feature similar forgiveness, more distance, and the TaylorMade speed pocket technology.
The M4 has been on the market for a few years now and continues to sell very well. It's straight off the tee, has adjustable loft and golfers just enjoy hitting this club.
When TaylorMade introduced the M6 Driver, which has done very well, many who had the M4 found no need to upgrade.
---
Conclusion
Hopefully, after reading this Callaway X Hot Driver review, you can see that X Hot does features a great deal of positives.
Many beginner golfers will go straight for a boxed set of clubs to save money and get something forgiving.
After so many years in the game, I think its really a better decision to look into a driver like this, combined with a few irons and great wedge.
Get yourself something that rewards you for a great shot and will help you improve through the years. Don't waste your money on something that will snap within the first year.
I completely agree that as a beginner a $500 driver makes no sense, but getting an X Hot and having that adjustable lie and the extremely lightweight high performing shaft, is a much wiser decision.
Let us know how you like your X Hot Driver!