The Callaway X Hot is a model that Callaway released several years ago as a forgiving and easy to hit club. Luckily, even with all the new releases, there are still plenty of X Hot fairways available for purchase.
If you are someone that struggles to get the ball in the air on longer shots, the X Hot fairway is a great option. This Callaway X Hot fairway was released to replace the RAZR models.
The Callaway X Hot has an oversized head and claims to be quite a bit longer than the RAZR Fairway ever were.
As with all of our reviews, we will give you a more detailed description of the X Hot and provide some alternatives should this Callaway not be the perfect fit for you and your game.
Features and Benefits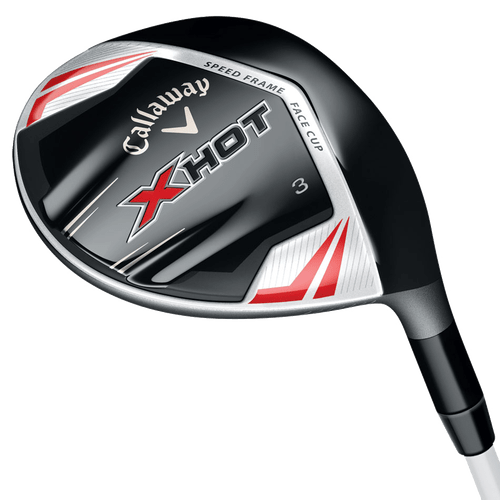 Player Handicap
There are plenty of low handicap players that realize an easy to hit 3 wood is essential.
However, when Callaway designed the X Hot fairway wood, they had the mid to high handicapper in mind. An oversized head combined with high launch makes this club not only long but also forgiving.
Shaft Options
Since Callaway is no longer producing the X Hot fairway wood, you will be stuck with the original stock shaft that it was manufactured with.
This is not a bad thing. The project x velocity is a lightweight and forgiving shaft that promotes a higher launch.
Don't be concerned about higher launching fairway woods, they will still fly plenty far enough, the launch is necessary for carry.
The Project X Velocity is offered in the light, regular and stiff flex. Project X is known for making high-quality shafts for both irons and woods; this project x velocity is no exception.
Look/Sound/Feel
Callaway described the Callaway X Hot as being similar to the old warbird woods. We aren't sure we agree with this, but we do believe this club, with its speed frame technology, has a solid look, sound, and feel.
The oversized head is going to make this more of a look for a mid to high handicapper. The extra size can give a player some confidence when standing 200 yards from the hole with six bunkers and a water hazard in front of you.
The Callaway X Hot Fairway has decent sound to it when the ball comes off the club face. Not a ping noise and not a thud, enough of a click to make you feel as you have accomplished something.
As with any forgiving club, the feel coming off the face of the club will be a bit different than the players model. Mostly we noticed the difference when it comes to workability; the ball launches off the club face so easily it's hard to feel exactly what the result will be.
Again, this is only a concern for a lower handicap player looking to move the ball from left to right on fairway wood shots.
Distance
The distance on this X Hot Fairway Wood is kind of a relative thing. When compared to fairway woods of five or more years ago, it is quite a bit longer.
Callaway claims that out of a lie in the rough, the X Hot fairway wood is, on average, twenty-four yards longer than the RAZR was. That is a lot of distance.
The next question would be, Is the X Hot as long as the newer Epic, Rogue, and now Mavrik models?
Indeed, with the speed frame technology in this club, it will launch plenty long enough for the average golfer. However, if distance is your main concern, you should almost always look and the newest releases of fairway woods.
Forgiveness
Very simple to hit out of a variety of lies. Callaway encourages you to try this club from lies of all types as it responds very well, even out of the rough.
The face is oversized, allowing a larger sweet spot and the ability to get the ball up in the air quickly, even with a 3 wood in your hand.
Price (5/5)
The price varies slightly, but generally, it can be found for considerably less than it was originally released a few years ago.
---
Alternatives
The Cobra F8 Fairway is another older release that has dropped in price. Generally sold for a very great value. The F8 is a highly adjustable and forgiving fairway.
Also, the F8 fairway woods feature the Cobra Connect technology to help you track your distance and accuracy with the club. Available in a 3/4 wood or a 5/6 wood, there is an option for everyone with the F8.
---
Very comparable to the Callaway X Hot Fairway, the RBZ is also offered at almost exactly the same price.
Extremely forgiving, hot off the club face and incredible ball speed. Not as long as the new Sim Max Fairway, the RBZ is a budget-friendly, easy to hit, high launching option.
The RBZ comes in a black finish, eliminating glare and giving it a clean and sleek look.
---
The Callaway Mavrik fairway woods are a brand new technology.
Using artificial intelligence and ball speed increasing technology, the Mavrik woods are as long and forgiving as you can get.
Of course, that means you will pay for that, almost double the price of the Callaway X Hot Fairway.
Read our Callaway Mavrik Fairway Woods review.
---
Conclusion
Callaway X Hot filled a need for some time when players needed something versatile and easy to hit.
The club has now dropped in price considerably as new models have been released, making it a great deal for a mid handicap player looking for a 3 or 5 wood in their bag.
The club is easy to get off the ground, carries a long way out of difficult lies and won't hurt the budget too bad to add it to your golf bag.