If you are looking for quality, precision, and feel, Mizuno is the iron to consider.
Many people say that once you go to a Mizuno iron, you will never choose another iron again.
These irons all have tremendous performance, control, and workability. Mizuno has expanded its product offerings, and they now make irons for all handicap levels.
Here are the best Mizuno iron sets and a sneak peek at the brand new releases for this year.
Best Mizuno Irons in 2023
---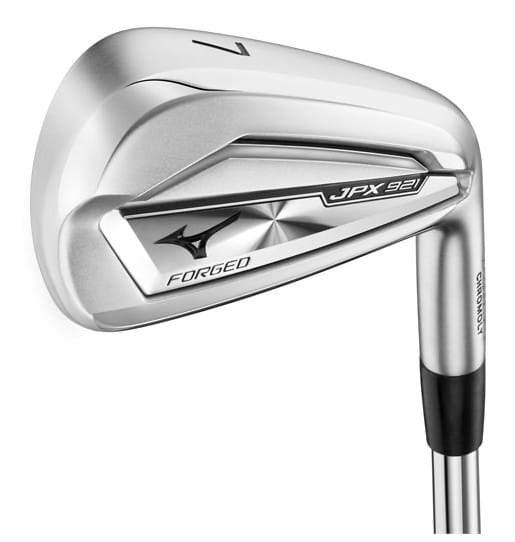 PROS
Pearl brush finish
Forged
Great feel and feedback
Lots of distance
CONS
Won't be as forgiving as a cavity back iron
At the top of our list is the JPX921 Forged Iron Set. The JPX 919 was the last release from Mizuno, and it did a tremendous job of giving a mid handicap golfer the ability to play an excellent feeling golf iron.
The entire JPX series offers an option for all types of golfers and allows you to find an iron that gives you distance and forgiveness as well.
With the new JPX921, Mizuno used its brand new Harmonic Impact Technology that helps to give players both feel and feedback.
The reason that better players want to feel what is happening at impact is so that they can make adjustments and changes in their swing to become better players. The JPX 921 forged allows that to happen.
Keep in mind the JPX921 Forged is still built to have a little extra launch and forgiveness. This is not necessarily the club for a scratch golfer, but it could be if they wanted that added performance and feel.
The JPX921 Forged irons are known for their ball speeds; the speeds can be attributed to the very thin face.
---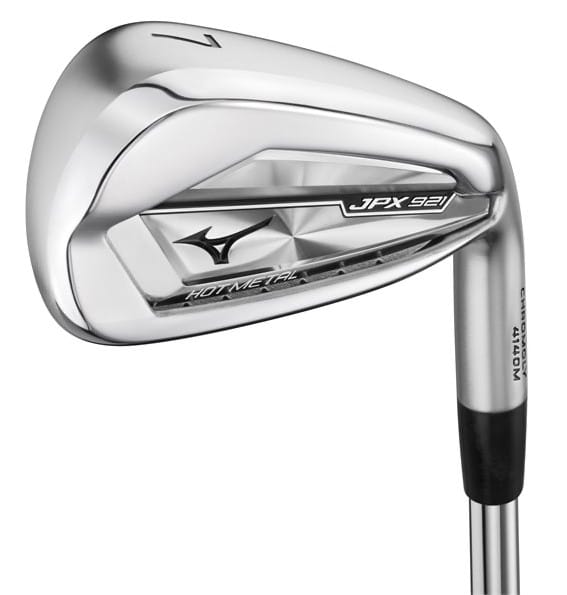 PROS
High ball speed
Forgiveness across the entire face
Lots of distance
Plenty of launch
CONS
You lose a little of the feel with the more forgiving face
The Mizuno JPX921 Hot Metal Iron set is built for golfers that need some extra forgiveness. In years past, Mizuno did not even produce a set of irons for this group of higher handicap players, but these JPX921 have some great feel and forgiveness to offer.
The same harmonic impact technology you will find in the forged and tour version will keep your shots feeling smooth and pure with the JPX921 hot metal.
The feature that sets the Hot Metal Irons apart is the Seamless Cup Face. This is a thin face but not only in the sweet spot area but around the entire face. This allows maximum ball speed and jumps off of the clubface.
The JPX921 Hot Metal also uses the Cortech technology, which helps make sure that the club is about as forgiving as possible.
If you are a higher handicapper but precision matters to you, this is a great set of irons to consider.
---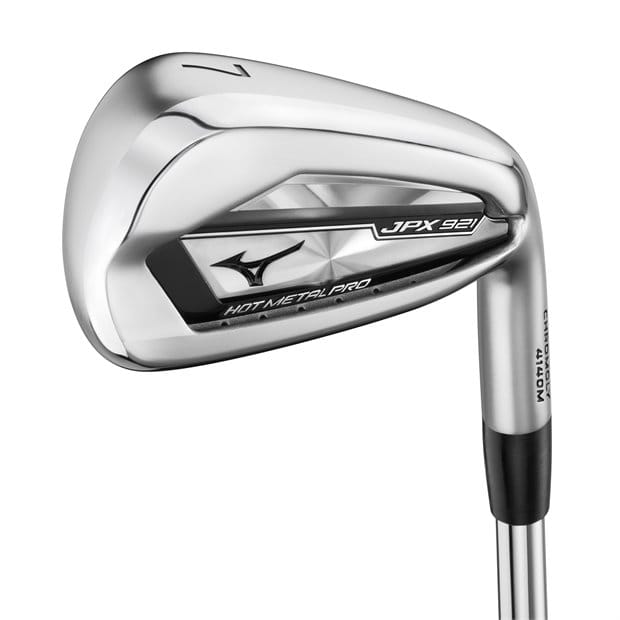 PROS
Good mix of feedback and forgiveness
Lots of distance with the thin face
Easy to adjust for custom fittings
CONS
The feel in the forged will be a little smoother
The Hot Metal Pro irons will offer a little more of that forged feel that the Hot Metal is missing. This is a set of irons that gives you the feedback that you need to improve but still helps you along your way.
The JPX921 Hot Metal Pro is for the golfer that can shoot 78 or 92. Golfers who have the ability to shoot low, but because of inconsistency, it does not always happen.
The JPX921 Hot Metal Pro will be your friend on the days that your game is slightly off, but it will also allow you to hit those draws and fades that you need to hit to score.
The Chromoly 4140M helps to make sure that you can get these irons fitted precisely to your specifications.
It is a very strong material that makes for a durable club head but allows for bending should you need to have these irons changed to be a little upright or flat.
---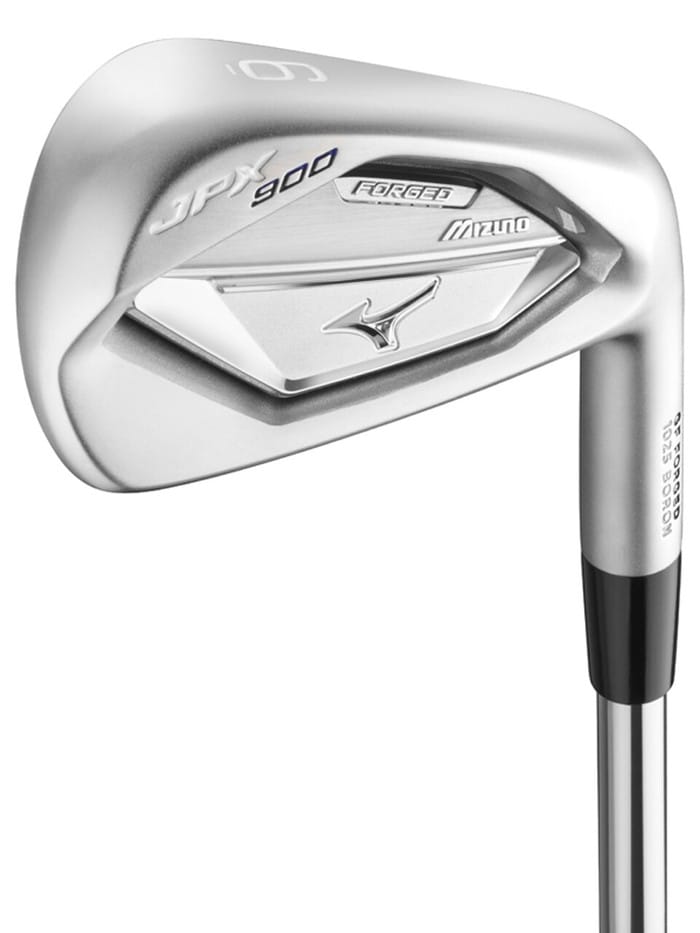 PROS
Great pricing
Lots of power
Built for mid to high handicappers
Plenty of launch
CONS
Not the latest technology
There is no question that some of the best Mizuno iron options are very expensive. This set of Mizuno forged irons is not the newest release, and because of that, the price has dropped considerably.
The JPX 900 Forged Set is very similar to the new JPX 921 Forged and has some great features.
One of the more impressive features of the JPX 900 forged is the power frame technology. With the Power Fram in place you are going to get a much higher moment of inertia and that ball speed we all need coming off the clubface.
Playing with a forged iron ball speed can sometimes be a concern, with the JPX 900 it is not a concern at all.
The JPX 900 forged are a perfect club for the golfer that is in between a blade and a cavity back iron. You will get improved turf interaction and that little bit of forgiveness even the better players need.
The wedges in this JPX 900 Forged set are particularly impressive as they have an even softer impact and milled grooves. If you want to be able to spin your wedges, you will certainly be able to do so. Making it one of the best forged irons for the money.
---
Best for Lower Handicapper
PROS
Improved feel from the JPX919 Tour
More forgiving than a muscle back
Lots of distance
CONS
Premium pricing
Less forgiveness
The newest release for the lowest handicappers is the JPX921 Tour. This is not a blade or muscle back iron set, but it will have some great performance when compared to the Mizuno MP series of golf clubs.
If you are a low handicapper that is looking for distance in addition to workability, the JPX921 Tour is a great choice.
The Grain Flow Forged HD technology combined with the Harmonic Impact technology allows players to get the feedback that they need from the long irons to the short irons.
We love the pearl brush finish on these that allows you great vision even when playing in the direct sunlight.
If you are ready to take your game to the next level, the JPX921 Tour is a great choice to consider.
---
Best Premium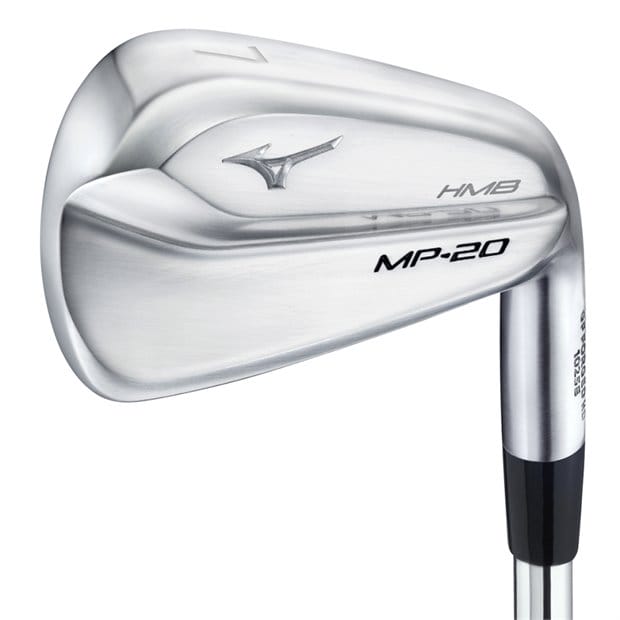 PROS
Brushed satin finish for low glare
Great out of the rough
Clean look
Great for a mixed set of irons
CONS
Fairly expensive when bought as a full set
If budget is not an issue for you then the Mizuno MP 20 HMB is a performance set of hybrid irons.
Not every company puts out a set of hybrid irons, and no other manufacturers have nailed the look of this hybrid quite like the Mizuno.
The Mizuno HMB greatly resembles the Mizuno blades but they have a thicker and wider sole that will allow golfers much higher launch and ability to hit these clubs out of thicker rough as well.
With the HMB golfers get lots of extra ball speed but they still get the performance of a forgiving and high performing golf club.
We love the idea of mixing the Mizuno HMB with some of the Mizuno MB clubs for a perfect combination set of irons. Including one of the Best Blade Irons.
---
Mizuno Irons Buying Guide
Now that you have the inside scoop on all the new Mizuno irons, it's time to figure out which ones will benefit your game.
Can Higher Handicappers Play With Mizuno Irons?
There are certain models of Mizuno irons that higher handicappers should absolutely use. It is not recommended for a higher handicapper to play with a Mizuno MP muscle back, but there are other choices.
We love the Hot Metal series as they are some of the most forgiving Mizuno irons on the market. These irons are slightly higher launching, have a more forgiving face, and have plenty of distance.
For higher handicap golfers that are trying to improve quickly and lower their handicap, then the Hot Metal Pro could be a great choice to consider as well. As long as you stay away from the Mizuno MP 20 Muscle back type irons, then you should be just fine.
Can You Mix The JPX919 Tour, Forged, and Hot Metal Irons?
This is a great question that many people ask about the Mizuno irons. If you want to have a blade type iron in your short irons and something more forgiving in the long irons, you can do that with the Mizuno set makeups available today.
The main thing you will need to watch out for is the lofts and the loft gapping. An eight iron in one of the models may not have the same loft as an eight iron in another model of irons.
As long as you are aware of the lofts and make sure that you have proper gaps between your clubs, you should be fine.
Why Are Mizuno Irons Considered Players Irons?
Mizuno has produced some of the best blade irons that golf has ever seen. They have been used by touring professionals and some of the best golfers in the world.
Mizuno produces all of their irons with enough feedback to let players work on their game and improve.
Golfers that are purists and want to work on the range to achieve the best results possible respect what these irons have to offer. This is a brand that people are very loyal to.
What To Look For In Mizuno Irons
Mizuno irons are not for every golfer. There are quite a few things about the Mizuno clubs that will stand out to only certain players. If you are interested in a set of Mizuno irons there are certain features of the golf club that you should be aware of. Here are some of the most important things to consider when choosing a Mizuno iron for your game.
Skill Level
In years past, Mizuno golf irons were made specifically for the lower handicap player. This has changed, and now golfers of all skill levels will enjoy what the Mizuno has to offer. If you are looking for a golf iron with a tremendous feel that will hold its value through the years, the Mizuno is the club to choose.
Age of the Club
Mizuno releases new irons every year or so, but this is not to say that a two or three year old iron from Mizuno is outdated. In fact, many of these clubs are going to be premium-feeling golf irons with a great feel and incredible consistency. Some people hold on to their Mizuno golf irons for ten years or more.
Configuration
If you are going with the Mizuno blades as your primary iron, you may want to consider something more forgiving in the long irons. Golfers interested in a more hybrid-like iron may like the HMB clubs from Mizuno.
Cross Sets
Since Mizuno has so many great iron choices with various options for all skill levels, they have some great cross sets. This means you can choose a club that is going to match with your skill level in the short irons and combine it with a club that matches with your skillset in the long irons. If you are a serious golfer that likes performance and feel, Mizuno allows you to fine-tune your golf club set.
Shaft
The latest releases from Mizuno are all available with a wide range of custom golf shafts. The shaft you choose will depend on your ability as a player and your overall swing speed. Faster swing speed golfers will go with a more stiff golf shaft.
Feel
Feel is one thing you will not have to worry about with Mizuno golf irons. The better an iron feels, the more responsive it is, the easier it is to hit the ball close to the hole. Feel with a Mizuno iron should be buttery and clean, and that is what you will get with any of these club options.
Length
The length of the Mizuno irons you choose should be dependent on your height and overall stature. The length of a golf iron is determined during a custom fitting. Typically speaking golfers that are taller than 6'1" are going to need an extended length golf club.
Frequently Asked Questions
As you can imagine we get a lot of questions about Mizuno golf irons and who should play with them. Here are a few of the most common questions that we are asked.
Why Are Mizuno Irons Considered Players Irons?
Mizuno irons are considered players irons becaues the forged players blades are among the best on the market. For Mizuno this has been the signature club that has helped them set their company apart from all the others on the market. The Mizuno blade is of course not the only option that is offered from Mizuno but it is enough to keep the name as a prestigous players brand.
Can Higher Handicappers Play With Mizuno Irons?
In years past it would be hard to argue that the Mizuno were a good club for higher handicappers. However, today, there are plenty of Mizuno options that work quite well for high handicappers. Golfers will enjoy the forgiveness and the extra feel that they get using a Mizuno iron. Higher handicappers do not need to use a premium Mizuno blade as it won't compliment their game.
What are the most forgiving Mizuno irons?
The most forgiving Mizuno irons are the Hot Metal series. Anything from Mizuno that is called a Hot Metal will be much more forgiving than the blade or tour iron.
Why are Mizuno irons so expensive?
Mizuno irons are so expensive because of the forging process they go through and the time that is spent working on these irons. With forged irons you are talking about a piece of metal that is crafted to be a perfect shape with these tremendous launch conditions and impressive overall performance. Mizuno irons are expensive because of this, but this is something that also makes the irons hold their value long term.
Conclusion
Hopefully, our guide to the best Mizuno golf clubs has helped you narrow down, which are the best for you. The JPX 921 Forged stands out as the best option because of the number of different golfers who can succeed with these clubs.
The Forged gives a great mix of everything a golfer needs in irons. You can get plenty of distance, lots of forgiveness, and the ability to work the ball if you so choose.
This is a set of golf clubs that will earn a spot in your bag for a very long time.