A single length iron will have each club in the set length engineered to be about the same length as your seven iron. At first, the concept of how ball flight and distance will work without the longer irons is a bit hard for golfers to contemplate.
Truthfully when these single length golf irons came out, I was a bit skeptical.
Being a PGA Professional for many years, I've become cautious of some of the modern technology. However, the single length irons surprised me.
There is no question they offer more consistency, one repeatable setup, and they certainly deliver distance. If you are in the market for irons that make the game more enjoyable, the one length irons are the way to go. 
At A Glance: Our Top 6 Best One Length Irons In 2023
Quick Summary: Our Top Picks For Mini Driver On The Market In 2023
IMAGE
PRODUCT

Best One Length Irons

Cobra Radspeed One Length Iron Set

Radial weighting technology for optimized speed
Very stable at impact
A thin forged face produces high MOI and ball speed

CHECK PRICE ON AMAZON →

Runner Up

Cobra Speedzone One Length Iron Set

Speedzone irons are known for easy distance control
Higher lofted clubs
A great option for medium swing speed looking for distance

CHECK PRICE ON AMAZON →

Best One Length Irons For The Money

Orlimar Golf Intercept Single Length Iron Set

Allows players to play single length irons for a low price
Very forgiving cavity back design
Low in price

CHECK PRICE ON AMAZON →

Best Premium Single Length Irons

Cobra King Forged Tec One Length Iron Set

Hollow construction
Compact muscle back shape
Foam microspheres for better feel and sound

CHECK PRICE ON AMAZON →

Best For Seniors

Majek Senior One Length All Hybrid Complete Full Set

Tighter shot dispersion
Low center of gravity
Rare to find a one length hybrid set

CHECK PRICE ON AMAZON →

Best Cheap One Length Irons

Comes with 4-PW
Very forgiving golf irons
Comes in different sizes

CHECK PRICE ON AMAZON →
---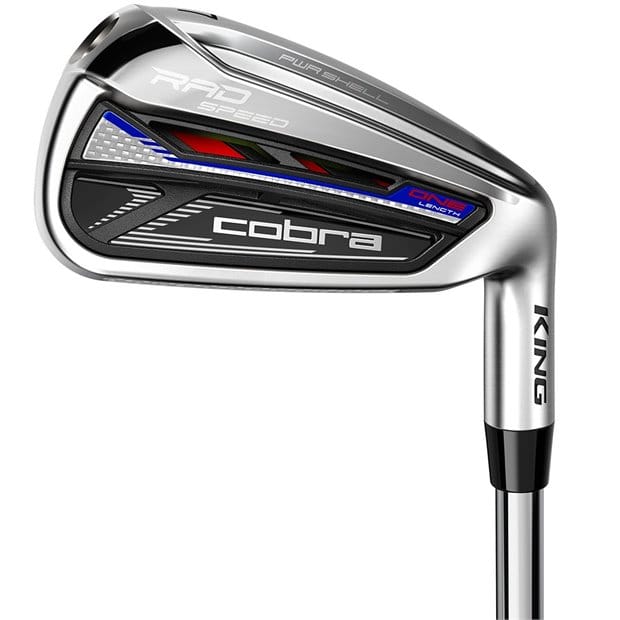 PROS
Radial weighting technology for optimized speed
Very stable at impact
A thin forged face produces high MOI and ball speed
CONS
The latest Cobra release, pricing is a bit higher than previous single length golf clubs
Cobra truly is the leader of the one length irons. They brought this concept to market, and it has since helped millions of golfers. Since their release of the first one length irons, they have continued to put out every model in the one length option.
Interestingly enough, some of their single length golf clubs outsell the traditional irons.
The newest Radspeed One Length Irons are an upgrade from the Cobra Speedzone set. They feature a Forged PowerShell Face with very thin material. The thin material ensures you get maximum distance from each swing.
Cobra learned how to incorporate some 3D printing in these single length irons. The 3D printed medallion cuts down on the overall weight of the club while increasing the feel that you can get.
These single length clubs are ideal for a mid handicap golfer looking for consistency, distance, and forgiveness.
---
PROS
Speedzone irons are known for easy distance control
Higher lofted clubs
A great option for medium swing speed looking for distance
CONS
New 3D printing technology on Radspeed makes them feel a bit more stable at impact.
Prior to the new Radspeed was the Cobra Speedzone. These irons feature a carbon topline that has made them lighter and better able to maximize distance. The short irons have the co mold medallion to help decrease vibration when you get to the impact position.
Since their release, the Cobra Speedzone Single Length irons have dropped in price, and they are currently an excellent value.
Golfers are always asking me whether or not it makes sense to update irons from one year to the next. The honest answer is that most of the time, it does not make much of a difference.
If you really want to see a change in distance, forgiveness, or feel you really should wait at least two years between iron replacements.
For instance, the only major difference between the Speedzone Single Length and the Radspeed is the introduction of 3D printing.
Although the printing has made the Radspeed feel a little more stable, it doesn't take away from what these Speedzone Irons already had to offer.
---
PROS
Allows players to play single length irons for a low price
Very forgiving cavity back design
Low in price
CONS
Feel will not be as good as other single length irons
Although Cobra makes some very fairly priced one length irons, you may still be interested in something that is even cheaper. If you can be a little lenient on feel and stability as impact, the Orlimar Golf Intercept Single Length Iron Set is a great choice.
The advanced undercut cavity helps promote tremendous accuracy from this iron. In addition, there is some face flex technology that will give you the extra distance you need with one length golf clubs.
Sometimes golfers need to seriously consider if they should play single length irons. One great way to do that is to buy a cheap same length set like this one and see how it works for your game.
I did this a few times throughout my junior career, and it ended up being a smart decision. I would use the lower priced set for a few years, sell it, and then buy the premium clubs for my game.
---
PROS
Hollow construction
Compact muscle back shape
Foam microspheres for better feel and sound
CONS
Forged tec is not the most forgiving one length irons
Don't be surprised that even the professional golfers and lower handicap players are interested in these single length irons. The King Forged Tec irons are truly my favorite option on the list.
If you liked the idea of the TaylorMade P790 irons, this is a very good alternative in the one length configuration.
The hollow construction gives these irons a muscle back shape and a low center of gravity. The forged face still gives you a much higher launch and very fast ball speeds throughout the set.
In addition, you get the Cobra Connect technology to help track your performance.
---
PROS
Tighter shot dispersion
Low center of gravity
Rare to find a one length hybrid set
Help golfers play the game more consistently
CONS
It takes a little time to be consistent with one length hybrid short irons
Senior golf can get a bit difficult. Your golf swing will start to feel like it is not quite as capable as it once was. One of the smartest things a senior can do is switch to a set that allows for one set up each time they swing.
The Majek All Hybrid Complete Full Set is a same length hybrid set. Hybrid golf clubs allow players to get better launch at of a variety of lies. Each of these hybrid irons lengths is the same as the 7.
I will admit there is a bit of a learning curve switching to an iron set like this. The lower lofted clubs feel great and help increase distance tremendously.
However, the higher lofted wedges are a bit difficult to adjust to. Once you get it down, you should notice that the single length hybrid set brings quite a few positives to your golf game.
---
PROS
Comes with 4-PW
Very forgiving golf irons
Comes in different sizes
Perimeter weighted club head
CONS
It does not have the same great feel and precision found in the Cobra irons
The AGX One Length Irons are one of the best cheap one length iron options on the market. Many golfers are unsure as to whether or not going to a one length iron is going to be the right fit for their game. This is understandable as this can be a really big change. Luckily with the AGX One Length irons, players can make the switch without breaking the bank.
These AGX golf irons are perimeter weighted and inspired by the Callaway golf Big Bertha irons. Many people would call this a knock off type iron head that looks very similar to a premier manufacturer, but the pricing will be considerably less expensive.
With the AGX One length, you will have your choice between a standard length one length set, one for taller golfers, or shorter golfers. Even though all golf irons in this set are the same length, it is still important to find an option that will work for your height.
---
One Length Irons Buying Guide
Now that you have a better idea as to which golf irons are the best one length on the market, there are a few things that you must consider. There are only a few one length irons on the market to choose from. However there are still mistakes that players can make by choosing the wrong clubs for their needs. Here are the most important factors to keep in mind.
Shaft
The shaft of your one length golf iron will either be steel or graphite. In addition, you will need to choose a flex for the golf iron that you are playing with. The shaft and flex will be directly related to the swing speed.
For faster swinging players, the steel golf shaft with a slightly stiffer flex will be the better choice. For the slower swinging players, the graphite shaft can help to increase speed and then give players some extra distance.
Shaft options may be slightly limited in the one length golf irons because they are made to be the same length for each club in the set. Most of the stock options that Cobra offers with their one length sets are quite good.
Length of the Club
When you hear about the one length club, you may assume that all of these sets will be the exact same length. The standard one length golf irons are all the same length as a standard six iron. However, this length can be adjusted to work better for an individual player.
For instance, a golfer that is a bit taller can get the six iron length that goes across all of the clubs to be extended by a ½ inch or even a full inch. The length of your golf iron needs to match your arm length and your athletic ability as a player.
Custom length one length irons can be ordered to match your weight. Just because all of the clubs in the set are the same length does not mean they will fit all players.
Brand
The brand of one length irons that you decide on will likely be a bit limited. Unfortunately, there are very few companies that have caught on to this technology and decided to incorporate it into their product offerings.
Cobra is the most well known brand in the one length golf club industry, and it is really the club that you should be thinking about using if you are a fan of one length irons. The Cobra clubs almost always come with a one length option, and they are great feeling, have high ball speed, and plenty of forgiveness.
Don't be too worried about the brand of the product because the technology of the products is considerably more important. Brand matters, but the fit for your game and the overall specifications of the club are more important.
Set Makeup
The set makeup of a one length iron set will end up being very similar to the set makeup of a traditional iron set. Essentially you will have a 4-PW or 5-AW just like you would in other golf sets. However, a golfer needs to make the decision about switching to a standard length hybrid or sand wedge or sticking with the one length.
Cobra makes one length hybrids and even one length wedges for the golfer that really wants to establish consistency throughout their entire set. However, the set makeup of the length golf irons does not need to be different if you choose for it not to be.
If you decide on a set of golf clubs that are outside the Cobra brand, it can sometimes be hard to find a club that will fill in the rest of the set.
Pricing
The one length iron sets are going to be priced exactly the same as the variable length iron sets. The only exception is that at times there are sales on leftover one length iron sets that can help you save quite a bit of money. Pricing on golf clubs can fluctuate from one season to the next. If you are serious about your ability to improve your game with one length iron sets, don't be afraid to get a premium option.
With the limited number of one length choices on the market, you may not find something in your price range. However, the technology featured in these golf clubs can certainly help and be well worth the money that you spend.
Frequently Asked Questions
The concept of one length irons is relatively simple, yet golfers still have lots of questions as to whether or not single length irons are the best choice for their game. Luckily we have a few answers for you.
Does Bryson DeChambeau Use One Length Irons?
One of the interesting things about PGA professional Bryson DeChambeau is that he worked with Cobra to create one length irons. Bryson has been manipulating his iron sets for years to work as a single length set.
Finally, he decided to take the concept to Cobra, and they now work together on many of their single length releases. Bryson still keeps single length irons in his bag for each round.
Do Single Length Irons Decrease Distance?
The biggest concern golfers have with switching to single length irons is that they will lose distance on the lower lofted golf clubs. Luckily because of the technology and the improved accuracy, we don't see this happen.
If you have variable length irons in your bag, chances are you hit a few bad shots with your longer irons more often than your shorter irons.
When you switch to one setup where the only thing that changes is ball position, you become a much more accurate player. This is the benefit of the one length clubs.
Most accuracy will lead to greater distance and control. Essentially the single length golf clubs make the game simpler, and therefore your shots are better.
Why Do Golfers Like Single Length Irons?
So many golfers struggle with getting their stance and setup right for each swing. We all worry that our feet are too wide or the ball position is off.
One length irons take these fears away. With one length irons, you set up precisely the same for each shot and simply move the ball position slightly.
Golfers can take the same swing regardless of the iron length. Overall, the consistency is there, and you will feel as though you have more control.
Is Cobra The Only Company That Makes One Length Irons?
Cobra is not the only company that makes one length irons, but they are certainly one of the most popular. Golfers that like the one length irons know that Cobra is a company they can rely on when it comes to this technology and performance. One of the things that help the Cobra irons stand out is that they ensure each new release is also available in a one length option.
Should Beginners Play With One Length Irons?
Golfers that play with one length irons are typically those that have been playing a long time and decide that they want some more forgiveness in their golf set. Luckily one length irons are a great option for these players, but it brings up the point of whether or not this is a club set that will work for the beginner.
Some beginners struggle with all that they have to learn as a new player. It can be quite a bit easier to learn the game when your stance and setup can be the same from one shot to the next. This is what helps the one length irons stand out as some of the best options for the beginner.
If you are new to the sport and have the money to spend on a one length Cobra iron set, we highly recommend it. Once you learn how to swing the iron and where the ball is placed, you will be ready to play great golf for years to come.
Skilled Golf also has a detail article on Best clone golf clubs
Conclusion
Single length irons are a smart addition to your golf equipment. It makes sense to look into the Cobra golf single length irons because they are the pioneers of this impressive golf technology.
The new Cobra Radspeed incorporates 3D printing in one length irons for the first time ever. This club has tremendous distance capabilities, an excellent feel, and enough forgiveness for the mid to high handicappers.
Don't be afraid of stepping outside the box and putting a one-length set of irons in your bag this year.