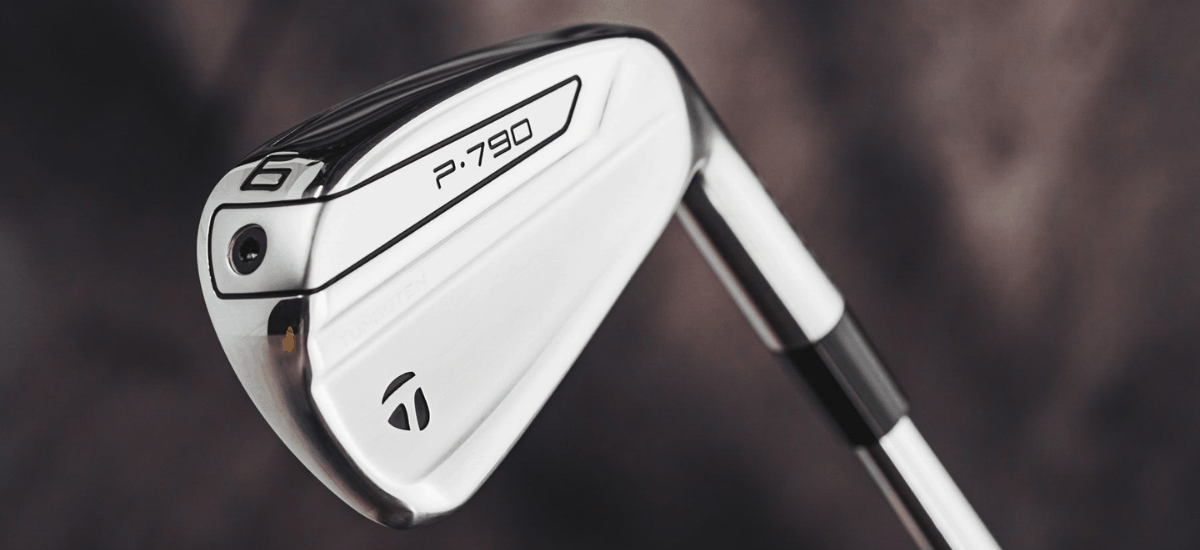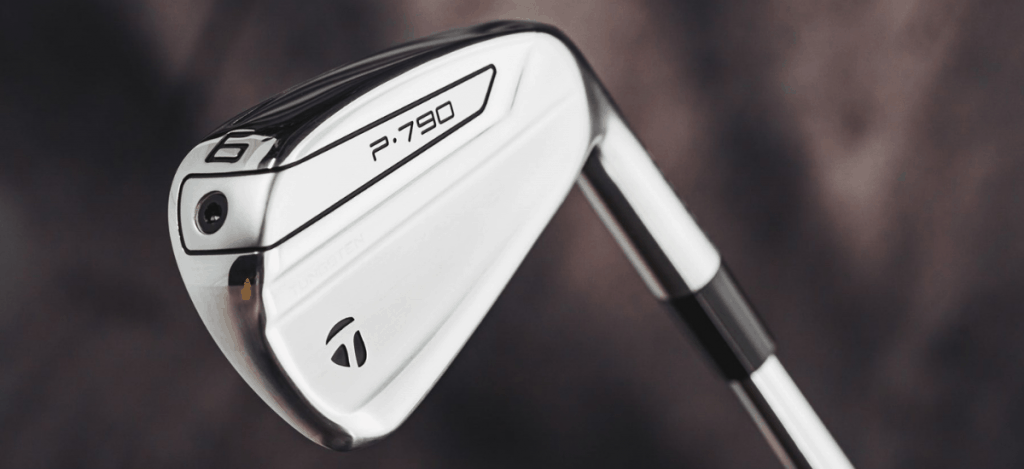 The original P790 was introduced in 2017 and it had a major impact on the golf club market.
Somehow TaylorMade was able to put out a set that not only rivaled the extremely expensive PXG, but it created a blade looking option for the mid handicapper.
Not all players who shoot 90 want a thick cavity back iron. Some are working every day to shoot 80 and want something that looks and feels clean.
The TaylorMade P790 irons filled this gap in the market.
In this TaylorMade p790 irons review, we are focusing on the 2019 release of the P790 irons and how that has changed from the prior TaylorMade P790 sets.
Speedfoam Technology is what makes this iron perform the way that it does. Although the P790 irons look a little like a blade they are a forged clubhead.
Injected inside the clubhead is a urethane foam that helps keep the face thin but the feel and sound good.
The weighting changed from the 2017 model in that the tungsten weight was pushed lower to help get a little higher launch and stronger center of gravity.
These changes did help increase both the ball speed and the distance.
---
Features and Benefits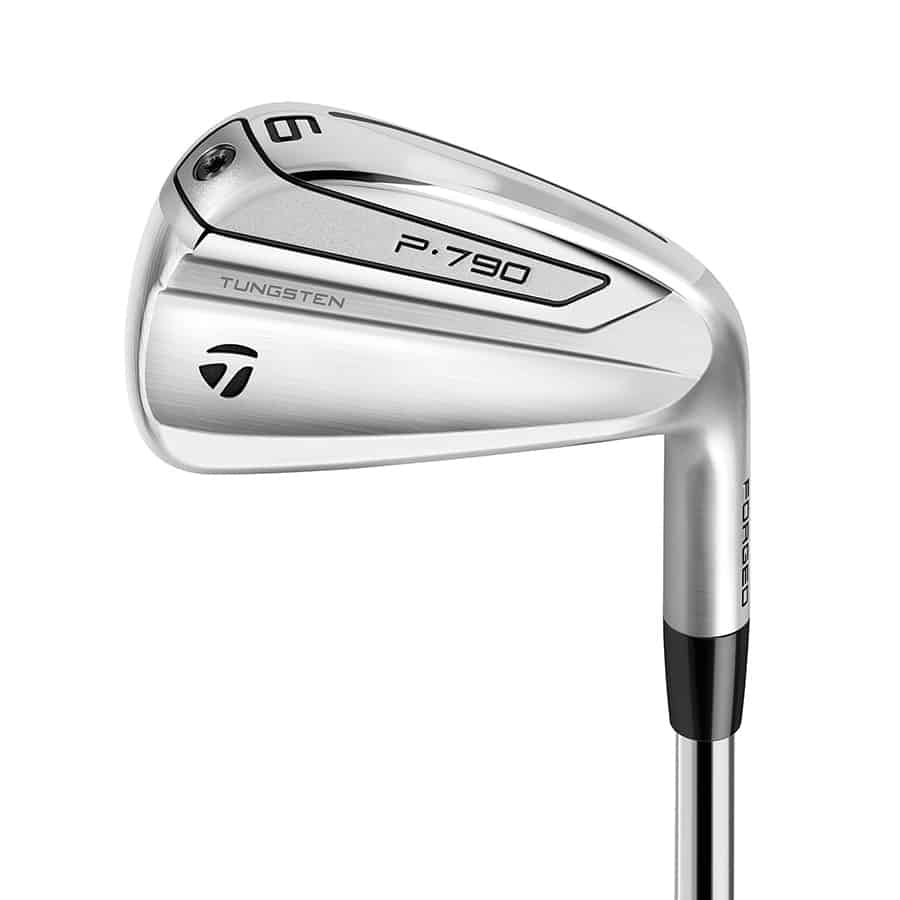 The beautiful thing about the P790 iron is that it is designed for a mid to low handicap player but a high handicap player can choose this iron. The rating on this iron is high in all categories, through all player types.
High handicappers like the look and feel they get without making the game increasingly more difficult.
Mid Handicappers will get a consistent launch, high ball speeds, and incredible feel from this iron.
Shaft Options
The TaylorMade P790 Irons are still being produced so it's very easy to get the shaft option of your choice in these irons.
The stock shaft option in the steel is the Dynamic Golf 105 available in the XStiff, Stiff and Regular.
The graphite stock options are Recoil 780 and Recoil 760 available in the Stiff, Regular or Senior shafts.
Look/Sound/Feel
One of the best looking clubs on the market. Classic players look but you don't have to work so hard to hit the ball solid. The top line is still not quite as thin as some of the true player's irons.
The SpeedFoam Technology has helped to make the club sound less hollow than other similar irons on the market.
The 2019 version has a slightly different look to the clubhead. To me it looks more like a players iron than the previous model but it still offers the same features and benefits.
Distance
These TaylorMade P790 2019 are longer than the previous models. I give TaylorMade some credit for not trying to change something that wasn't broken.
These clubs offer more than enough distance, the lofts are not completely out of whack as some other clubs get and they have an amazing look to them.
Forgiveness
If you look at the TaylorMade line up of clubs, the club that is going to offer the most forgiveness is the brand new SIM series (which is an upgrade of the M6).
So although the P790 are not quite as helpful on a missed shot than the SIM they offer plenty of room for a slight off-center hit. TaylorMade is proud of being a company that produces clubs to appeal to a wide range of players.
Price
Pricing, in my opinion, is high for a 4-PW set in the Steel Shaft. This is not a cheap set of irons.
The technology that is packed into this club is well worth the investment. It's not something that you will be looking to replace for quite some time.
---
New Technologies
The P790 golf irons are updated almost every year. When the new versions come out, the club face gets a little hotter, and players are able to get some extra distance and ball speed. Overall the new technologies offered from one year to the next will help to ensure that the P790 stays one of the top irons on the market for TaylorMade.
TaylorMade P790 Irons Review
Check out the review video below:
Best Alternatives to TaylorMade P790 Irons
Very comparable to the P790
Lofts are identical and launch and dispersion are very closely matched as well
Look is not quite as clean on the apex
Long and forgiving
Price point is slightly lower
Read our Callaway Apex Irons review.
---
Very similar feel
The look is not exactly a blade in any of these models but distance and forgiveness are on point with this series
Price point varies between models but the Hot Metal and Hot Metal Pro are considerably less than the Taylormade P790
Read our best Mizuno Irons review.
---
Looks almost identical to the P790 irons
Has very similar feel and distance performance benefits
Will be a higher launching iron built for mid handicappers, much like the P790
Some golfers find the P790 to be just a bit longer than this iron
---
Importance of a Good Iron to your game?
Golf irons are the clubs that make up the majority of your golf bag. Although you will have up to 14 clubs in your bag, typically, there are about 7 and sometimes more that are irons. Therefore, if you don't like the technology that you have in your golf irons, you are going to struggle to play well.
The best golf irons on the market are known for their incredible ability to help players hit long shots and improve their overall ball flight and trajectory. When you can be consistent with your golf irons, you will have an easier time scoring.
It can be hard for some golfers to get a golf iron that is a fit for their golf game. With all of the technology on the market, sometimes a custom fitting is necessary to ensure that players are ending up with the proper club.
Check our review on TaylorMade R7 Irons
Frequently Asked Questions
The P790 irons are some of the most popular golf irons on the market. From the initial release to the newest options made available to golfers, you really can't beat the technology that you find in this club. TaylorMade golf irons are some of the best known in the world, and before you decide on which one is perfect for your game, here are a few extra questions to consider.
Are P790 irons good for high handicappers?
The P790 irons can be a great fit for high handicappers. Even though the P790 may look like a player's type golf iron, they are not only for the lower handicap players. If you are looking for a golf iron with a large sweet spot that can still allow for an impressive feel, this is the club. 

Some high handicappers want a club that focuses on forgiveness only, and others are looking for something that combines a variety of performance attributes. The P790 can take you from the high handicap level to the low handicap.
Can mid handicappers use the Taylormade p790?
Mid handicapper can absolutely play with the TaylorMade P790. In fact, these golf irons from TaylorMade were specifically designed to help the mid handicapper. Mid handicap golfers often fall right in between the ideal concept of needing both feel and forgiveness in their golf clubs. 

With the P790, you can get high ball speeds, a great feel, and impressive overall distance. This is exactly what the mid handicappers need. 

Many mid handicappers will try and play with a better looking blade style iron only to find out it is too difficult to hit. This is the gap in the market that the P790 filled so well.
Are TaylorMade p790 blades?
TaylorMade P790 irons are not truly blades, even though they look like a blade iron. This is a hollow back golf iron that is designed for mid to high handicap players looking for an impressive feel and stability in their shots. 

Not all golfers that struggle to shoot low are going to want a golf club that is offset, with a huge sweet spot and a thick topline. Many of these players want something that is just clean looking and has a great feel; the P790 will deliver that.
What are the differences between TaylorMade p770 vs. p790?
The TaylorMade P770 and the P790 are unique in that they have the same general concepts to offer golfers. The overall club head looks similar, but you can tell that the P770 was built for the more mid to low handicap player. 

Essentially with the success of the P790, irons golfers of all handicap levels realized the impressive performance of the P790 and what it brought to the market. With the P790 golf irons, you get a bit of extra forgiveness than you do with the P770. 

The P770 irons allow golfers to hit shots that have a fade or a draw spin, and they learn to hit both high and low shots as well.
Is Taylormade P790 a Game Improvement iron or Players Iron?
The P790 irons are more of a game improvement iron than they are a player's iron. The P790 will allow golfers to get incredible distance, forgiveness, and ball speed. If you know that 2021 is your year to start taking golf seriously and hit the types of golf shots that you need then the P790 golf irons are the way to go. 

The P770 irons will be more of a player's distance iron if that is something that may fit your golf game a bit better.
Conclusion
As you have seen in this TaylorMade P790 Irons review, Taylormade has certainly closed a gap in the golf club market.
To create an iron that not only is aesthetically pleasing but also capable of producing high ball speed is no easy task. This is partly what makes this club a bit more expensive than others but you are getting what you pay for.
After years of teaching this game and working with all levels of players, I have learned some interesting things. One of them being that not all high handicap and mid-handicap golfers want to play with the club that was designed for them.
Some are looking to improve and need something with more feel. Some have played with their Dad's old blades for years and although they need to make a change, changing to a large head player improvement club is just not an option.
When you look at TaylorMade P790 reviews the trend that you will see mentioned over and over again is how good this club looks and how playable it still is.
Look at all of TaylorMade's iron options over the last few years and how much they change from year to year, yet the P790 remains the same with only a slight change to the body of the club.
Certainly an iron worth testing!