Beginner players will appreciate the Taylormade R7 irons for delivering straight and true hits that help them improve their game. What they may appreciate even more is they get this without having to go bankrupt for the equipment.
It's a reliable choice for players looking for a set that can dish out more accurate hits with more distance while offering some forgiveness on those inevitable poor shots.
Because the R7 is an older model, newer players looking for quality irons at a reduced price will find this option very attractive.
PROS
TaylorMade R7 irons offer Large sweet spot
Excellent forgiveness for off-center hits
Sufficient spin on each hit
TaylorMade R7 Irons are value for money
CONS
Older model
Less distance
Very large clubhead
---
KEY FEATURES
Inverted Cone Technology in the face provides better and faster ball speed for greater and maximum distance possible
Soft aluminum dampening web in the cavity absorbs vibrations and gives players a soft yet solid feel at impact
Extremely deep cavity design gives the clubhead a low center of gravity for more stability and higher ball flight
TaylorMade Launch Control (TLC) Technology gives the player the ability to optimize trajectory
Stock shafts come in either T-Step 90 gram steel or Reax Graphite (source)
TaylorMade R7 Irons Review
Performance
Like other game improving models, these TaylorMade irons are designed to add extra distance and height to each shot to improve confidence. Shots are packed with a heavy spring, and balls leave flying.
Newer players will appreciate features like the large sweet spot and low center of gravity that make it easy to use and handle.
The large clubhead and lower center of gravity toward the back give this iron the high-flying distance players are looking for.
But unlike a lot of other game improvement models, the ball flight won't balloon as much, and players will tend to see a more consistent curve across their long distance shots.
But because it's an older model, players may not see the same kind of distance on these as they would with models incorporating newer technology. Still, for the most part, players find gains to be incremental.
Forgiveness
The R7 was designed with the primary intent of making the ball easier to hit. The R7 was one of Taylormade's first irons to incorporate the Inverted Cone Technology which maximizes Coefficient of Restitution (COR) even with decreased thickness on the top line.
In layman's terms, it means a wider portion of the clubface will give the same amount of momentum transfer to the ball. This is important for newer players hitting the ball from a wider area on the face.
That, plus the soft dampening web of aluminum, creates a satisfyingly soft sound at launch. And poorer shots come out sounding less harsh as well.
It's a nice touch that allows the player to get the feedback they need to improve their swing and improve their skill without the jarring effect of a clanking ring.
The clubs come with a moderate offset that promotes more ball control and consistency, a benefit for newer players.
Build Quality & Durability
The shaft comes with good grips that can withstand the test of time and weather.
However, the shaft has the potential to rust even if it's well taken care of on a regular basis. If this happens, see if the retailer carries a policy for cleaning or replacing the shafts.
Look and Feel
This golf equipment comes with an eye-catching yellow and black color scheme against a silver background. While the cavity is deep on this beginner's golf club, it's also designed to be more on the discreet side.
This is a benefit for anyone looking to avoid advertising their beginner level to other players.
The clubhead runs a bit large even for a set of irons at this level. Some players might find it off-putting as it appears to dwarf the ball next to it.
The top line also runs a bit thicker than other models but is not dramatically so. Buyers looking for the most beautiful clubs might not opt for these.
Price
The retail price for this golf equipment series was once $499, but they're no longer sold by the manufacturer. This means it's a great option for people who are looking for the best value on quality clubs and don't mind going for an older model.
You can get a set used on Amazon.
These irons could make a great beginner set for those just entering into the world of golf and looking for a solid set of clubs to jump off with. Even being an older model, they could easily last in a player's bag for years.
---
How Does It Compare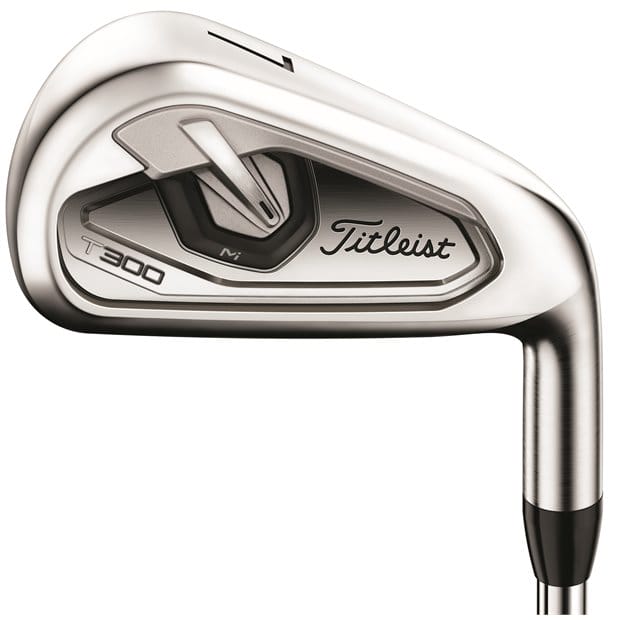 The T300 iron set is a game improvement set that focuses on both distance and forgiveness. For a cavity back golf club the Titelist has tremendous feel and workability.
One of our favorite features on the T300 Iron set is the progressive shaping and design. The wedges are going to look a bit more like a players club but as you move towards the long irons you get a much wider sole.
This is a perfect option for a player looking for forgiveness and distance throughout their entire game.
---
If you are a new golfer and you want a set that will carefully introduce you to the sport and then stay with you as you improve the Speedzone Irons from Cobra are a great choice.
This set is very long and has a feel that is going to be a bit better than the R7 irons.
If you have stayed away from Cobra in the past because of distance, they are now competing with Callaway and TaylorMade.
---
A major improvement from the R7 irons after years of technology and golf club changes. The SIM Max are going to be much longer and more forgiving than almost any other iron on the market.
This is the closest thing you will find to a forged iron in a cavity back design.
---
The Mavrik have a very similar look to the R7 they are just quite a bit more forgiving. These are a distance iron that mix in a bit of forgiveness as well.
The Mavrik Max will have lofts that are more traditional as well.
The Mavrik is going to be priced a bit higher than an R7 but the distance technology is worth the extra spending. Callaway is is one of TaylorMade's biggest competitors.
---
Check out our article on Best Graphite Shafts For Irons by Skilled Golf