If you have been around the game of golf for a few years you know the popularity of the Odyssey putters.
Odyssey makes a putter for every golfer, every stroke, every handicap and every strength.
Each release of Odyssey putters offers new and improved features and technology. They really do lead the way when it comes to putters and their importance. Many amateur golfers will be bothered by the price of an Odyssey putter.
If you consider how many times during the course of a round you use this club, you will certainly get your money's worth.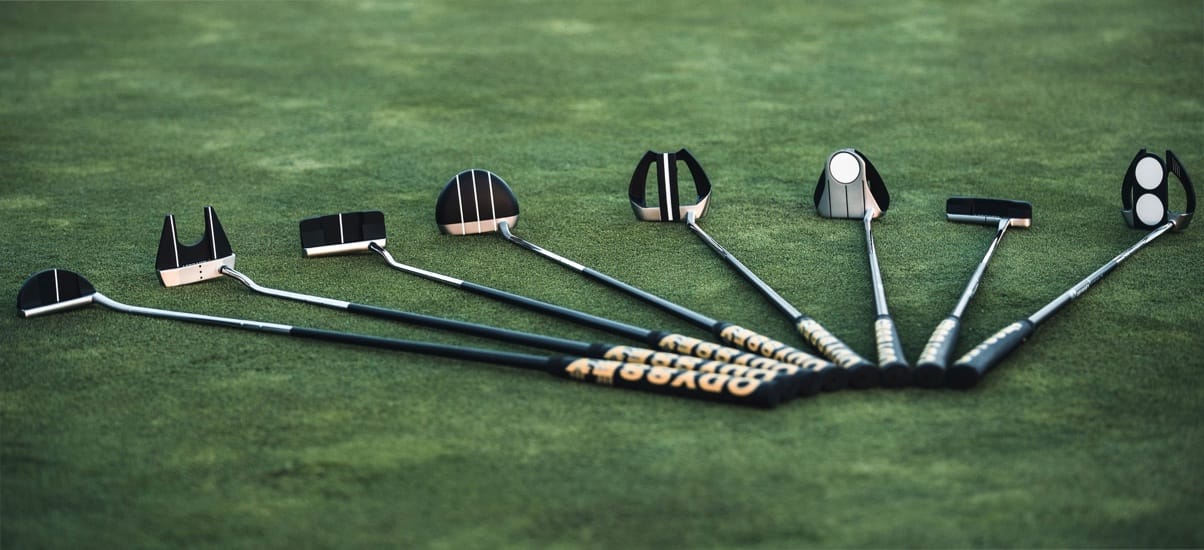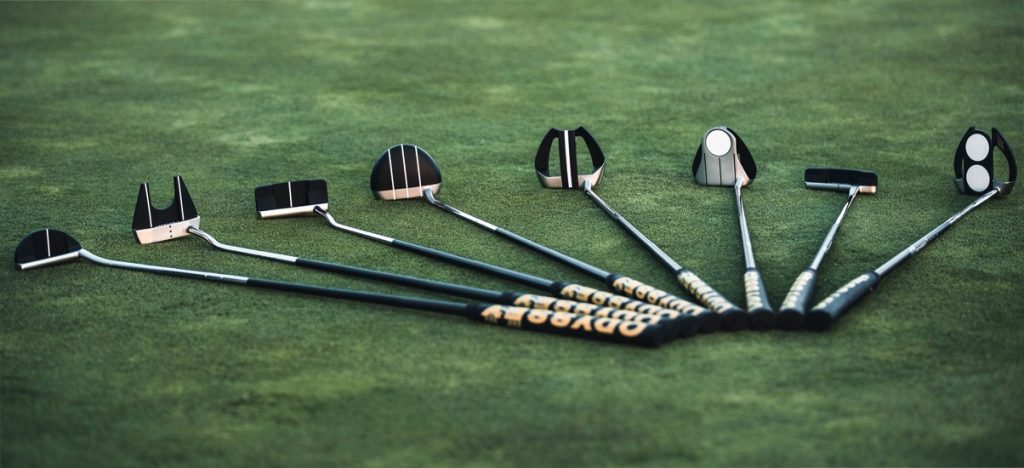 Odyssey Stroke Lab Putter Review
In this Odyssey Stroke Lab Putter review, we will help you understand what sets Stroke Lab putters apart and what information you need to have to choose the right one for your game.
Features
Within the stroke lab putters, there are quite a few options as to which club head will suit you.
There are blade putters, mallet putters, partial mallet, and several non traditional shaped stroke lab putters. Choosing the one that is correct for you will take some time and testing.
Player Handicap
Finding the correct Stroke Lab Putter for your game is more about your putting stroke than it is about your handicap.
Look/Sound/Feel
The Odyssey stroke lab putters have a beautiful and sleek black finish to them and a white face insert.
The face material is a white hot microhinge. The feel with the new lab shaft putter has improved significantly over the previous Odyssey putters.
All of these putters can be custom ordered but the stock grip options tend to mostly be oversized. The oversized grips will help take your hands a little out of your putting stroke and incorporate some bigger muscles.
Shaft
This is where the Odyssey stroke lab putter stands out. For the first time in the history of putters, Odyssey has revolutionized the shaft to change the weight distribution in the putter.
By changing the putter shaft to a graphite end with a steel tip Odyssey saved over 40 grams of weight.
That weight was put back into the putter in the head and the grip end to create an innovative new weight distribution. Putter weighting has been on the radar of several golf manufacturers for years, but the stroke lab putters take this to a completely new level.
Seeing a putter that is both graphite and steel in the shaft certainly looks quite different but the lab shaft is truly revolutionary.
Forgiveness
The entire foundation that these stroke lab putters were built on is performance. The Odyssey stroke lab putter with the lab shaft is supposed to help you gain consistency and feel with each stroke.
The innovative new weighting in the shaft has made this possible. If you are a terrible putter the odyssey stroke lab will help ( best putters for beginners and high handicappers) , if you are an amazing putter the odyssey stroke lab will help. Not too many putters have this kind of versatility.
Price
The Odyssey stroke lab putters are considered premium golf putters. They come with high-quality shafts, a premium grip, and top of the line putter heads and therefore their pricing will be higher than other models available.
With the performance, they offer you will be getting a quality club. If the current stroke lab putters are more than you would like to spend looking for an older model.
---
Key Features
As a recap, here are a few of the key features that you should keep in mind when looking into this Odyssey Stroke Lab series of putters.
New weight distribution to improve consistency in the putting stroke
Graphite and steel shaft combination will change the dynamics of the putter and therefore improve overall performance
Additional weight in the sole of the putter to improve overall accuracy
The Stroke Lab has some of the White Hot feel that golfers have trusted for years
The micro hinges across the face make it easier for golfers to get a smooth roll
Pros
Several different models to choose from
Great looking putter head designs
Increased performance and higher MOI
Several different grip options
Weight savings from previous Odyssey putter models
New Microhinge face for better feel and predictability
Cons
Putters have a higher price
Clubs can break easier with partial graphite shaft
Odyssey Stroke Lab Putter Models
Although our review of the best Odyssey Stroke Lab putters has helped give you a better idea of the technology available to players using this club, you will still need to consider which model will work the best for you. Here are a few of the Odyssey Stroke Lab putter models you should consider using.
2 Ball
The Odyssey 2 Ball Stroke Lab Putter is the standard 2 Ball presentation that we have seen through the years. This club first became popular because of the fact that you could use the two golf balls in a row to help line up a shot towards the hole. The 2 Ball is a putter that will likely stay in the Odyssey line up for years to come.
2 Ball Fang
For those that want something similar to the 2 Ball with slightly different technology, the 2 Ball Fang can often be a good choice. With the 2 Ball fang, there is a bit of an opening at the end of the club that allows for a less heavy look of the putter. This design tends to help players focus on their alignment and the smooth stroke.
R Ball
The R Ball looks a lot like the 2 Ball, except it just features a straight line and then a single golf ball towards the back end. If the 2 ball design was a little busy for your eye, this is a model that could work out quite well.
R Ball Slant Neck
Some of the putters in the Odyssey Stroke Lab lineup have the ability to change the way that they are connected to the hosel. If you are looking for something with more of a slant neck to make it easier to get your clubface squared at impact, the $ Ball Slant Neck is a perfect choice.
Turtle
The Turtle looks a little like a turtle's back, and therefore you will see it is a much more traditional mallet style design. With the Turtle, the simplicity can be a good choice for the newer player or the one that likes a more classic Odyssey putter.
Alternatives
If our Stroke Lab putters review still has you questioning if this is the right fit for you there are other options out there.
Also, Read – Pinemeadow PGX Putter Review
Here are three that we think could fill the void if you didn't like something about the Odyssey.
The Scotty Cameron Newport is a classic putter that has been around for many years. It gets an update every few years but older models of the Newport can still sell for a very high price.
This is a premium option and the pricing will run about the same if not higher than the Odyssey stroke lab putter.
When it comes to weighting and feel there is no question that Scotty Cameron knows what they are doing.
Although they have a traditional steel shaft as compared to the stroke lab putters there is plenty of science and technology incorporated into this putter.
Read our Scotty Cameron Newport 2 review.
---
Perhaps the most popular putter available at the moment the Spider is again a premium option. This putter has a non-traditional shape to it but incredible feel and distance control.
Most of the spider models are going to be quite funky looking. The plus side with the Odyssey Stroke Lab is that you can choose a more traditional putter if you want.
The Spider is available in several clubhead and grip colorations, making this a popular choice for those who enjoy custom clubs.
Read our TaylorMade Spider Putter X & Spider Tour review.
---
If all of these large putter heads and crazy technology are more than you want to think about, a Bettinardi may be a good option for you. Bettinardi putters have been known to great players for many years.
They are extremely well-produced, and 100 percent milled from the same piece of carbon. This is a positive for those low handicappers that don't enjoy the faces that odyssey stroke lab putters have.
The Bettinardi is still an expensive choice. It's a premium putter but it is more of a classic design, look and feel than the odyssey stroke lab models. It's quite interesting to compare a Bettinardi directly with a Stroke Lab and see the differences side by side.
For the mid handicapper, we believe the Odyssey stroke lab putters will give you greater consistency than a Bettinardi.
---
Conclusion
Choosing a putter is a very personal decision. With most other areas of golf, your equipment choices are dictated by your handicap, your swing, the years you have played the game and many other factors.
When it comes to putting all players are created equal. A forty handicapper can have a better putting stroke than a six handicapper.
In this review, we clearly showed that the Stroke Lab putters are built to give the better players the feel they crave and the game improvement players the forgiveness and consistency they need.
There is a stroke lab putter for every golfer out there, now go find which one you like best!