When it comes to putters, Scotty Cameron has long been known as the best of the best. The classic designs, incredible feel, and fantastic consistency make these putters some of the best ever made.
The traditional and classic Scotty Cameron model is the Newport 2. The Newport 2 has been redesigned several times in history, but the look never really changes.
In this Scotty Cameron Select Newport 2 putter review, we will break down what makes this putter enjoyable and why it may or may not be an excellent addition to your golf bag.
Features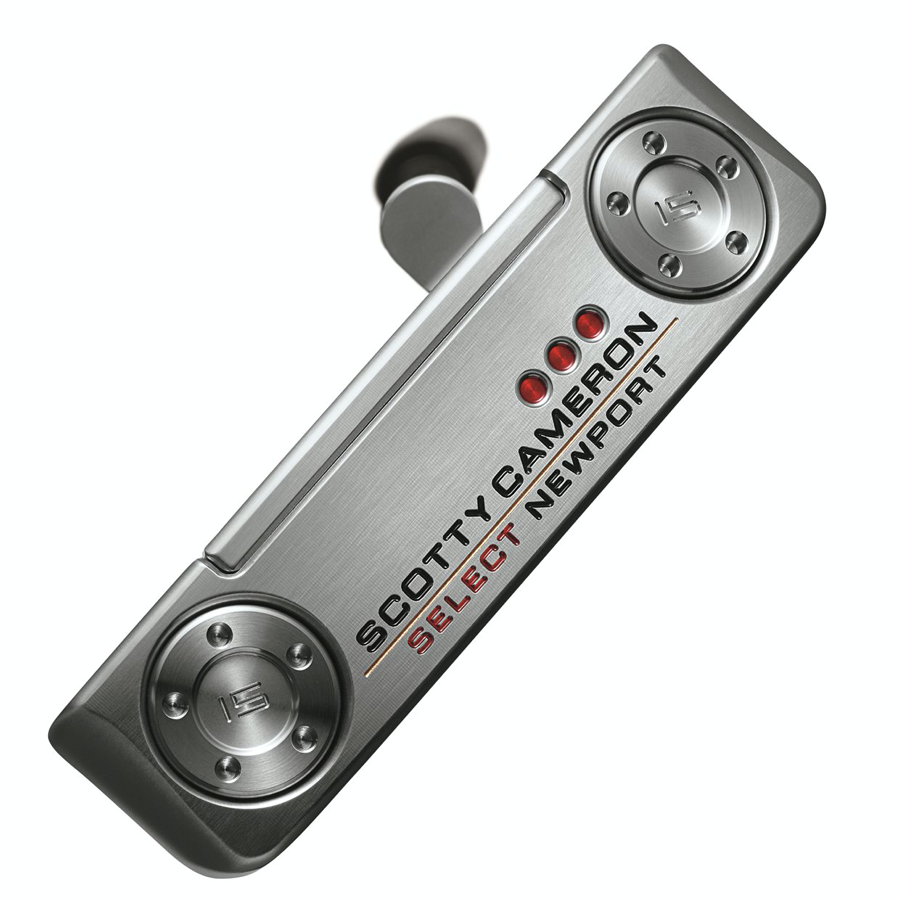 Player Handicap
Any golfer can use a Scotty Cameron putter. Regardless of your handicap the better golfers tend to end up with this club in their bag.
There are a few reasons as to why this is the case. For starters, Scotty Camerons are a bit more expensive than other putters. For the mid to high handicapper, it might not make sense to spend so much on a putter.
Additionally, higher handicap players won't always be able to tell how good the putter feels because of inconsistencies in their stroke.
Until you start swinging the putter the same way most of the time, you may not see the benefits of the Scotty Cameron Select putters.
Shaft
The Select Newport 2 putter has a traditional steel shaft and is offered in 33, 34, and 35-inch lengths. The shaft is offset the entire way on the Scotty Cameron Select Newport.
Weight in the shaft has been changed through the years to redistribute between the grip and club head so players get the perfect weighting.
Forgiveness
When golfers invest in a Scotty Cameron Select Newport 2 putter, they are not looking for forgiveness. Instead, the goals are precision and consistency.
The four-way balanced sole design helps the clubface stay square at address and then again at impact with this Newport 2 putter.
Look/Sound/Feel
With the new updates on the Scotty Cameron putters 2018, you will see a slightly different look from address. This new model is thinner on the top-down look and has a cleaner, more squared-up look from address as well.
The Scotty Cameron Select putters have a 303 stainless steel inlay and a 303 stainless steel body. The Scotty Cameron Newport 2 putter is heel to toe weighted and built as a blade putter.
The multi-material face construction helps to dampen impact by about 30% on this Select Newport 2 putter. If you thought the feel on a Scotty Cameron putter could not get better, it is worth looking at the entire select line of putters.
If you have seen or played with a Scotty Cameron Select in the past, the new model has some updated graphics as well. The Select keeps the three red dot theme on both the face and the sole of this model.
Price
When it comes to pricing Scotty Cameron Select Newport 2, putters are going to be at the top end.
If you want a value brand putter, look for a model that is several years old or search for a used Scotty Cameron.
---
Scotty Cameron Select Newport 2 Review
Check out the review video below:
Alternatives
The Odyssey Stroke Lab putters are quite similar to the Scotty Camerons in their feel and high-end design. One significant difference you will see between the Stroke lab and the select putters is the shaft.
While the Scotty Cameron Select putters have a traditional steel shaft, the Odyssey prides itself on a half steel half graphite shaft. The new shaft makeup helps to distribute weight making the Odyssey extremely forgiving and consistent.
Also, Read – TaylorMade Spider Putter X & Spider Tour Review
There are many Odyssey stroke lab models, but there is a blad version that will match the Scotty Cameron Select Newport 2 well if you want a blade style.
As far as pricing is concerned, the Stroke Lab will be slightly less priced than the Newport, but both are considered to be high-end putters.
---
If you are looking for a classic blade putter without spending the money that the Select Line of putters offers, the Odyssey White Hot Pro could be a good option. As most golf reviews we have done will tell you, choosing a putter is a personal decision.
Some of the greatest players will choose one that does not perform as well as other brand name manufacturers only because it feels good.
The White Hot Pro 2.0 features heel-toe weight placement, just like the Scotty Cameron. This model is priced at almost a third of the price, and a re-engineered face insert has helped to improve both feel and sound.
---
This is a brand new release from Cleveland, and although it hasn't had enough time on the market to prove itself as a competitor to the Scotty Cameron, it is an excellent option for a good value.
This Frontline has speed optimized face technology that will normalize ball sped across the face of the putter. This putter is easy to align and features an offset shaft just like the Cameron.
Also, Read – Pinemeadow PGX Putter Review
Available in the 33, 34, and 35-inch lengths, this is one of the better putters we have done a review for in 2023. An excellent upgrade for Cleveland from the Huntington Beach series of putters.
---
Conclusion
We have a hard time finding putters that can compare to Camerons. They have survived the test of time; they have held positions in the bags of touring professionals year after year.
They are here to stay, and people will continue to be tremendous supporters of the brand for years to come.
If you are a great player, you probably already know quite a bit about this brand. If you are mid handicapper looking for a substantial upgrade that may help you shave a few strokes off your score, give this Select line a serious consideration.
All golfers would like putting to be their favorite part of their game. That four hundred yard drive means nothing if you can't sink a two-footer.