If you are a frequent golfer and lover of the game, there is no question that you have seen or heard of the TaylorMade Spider X Putter.
The TaylorMade Spider X and Spider Tour are the newest models of this very performing line of spider putters.
If you watch professional golf, this putter is widely used on tour. Some of the greats swinging this club are Jason Day and Dustin Johnson. Hard to argue with the success of those two players.
Maybe you have found yourself wondering what the big deal is with the TaylorMade Spider X Putter or Spider Tour.
In this TaylorMade Spider putter review, we will break down for you the difference between the Spider X and the Spider Tour putter so that you have a better understanding of which one would work for your game.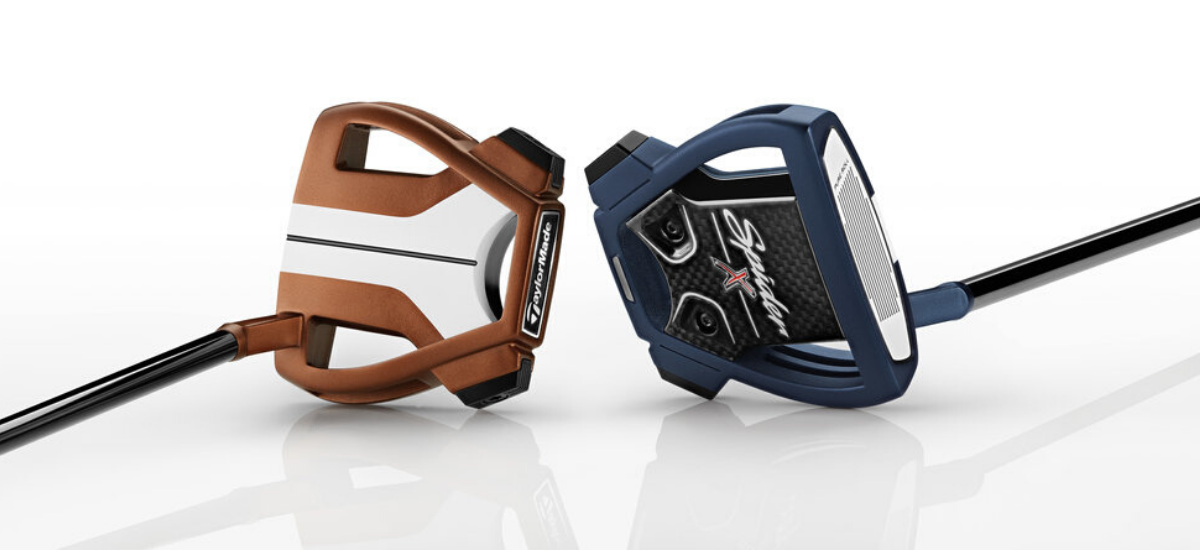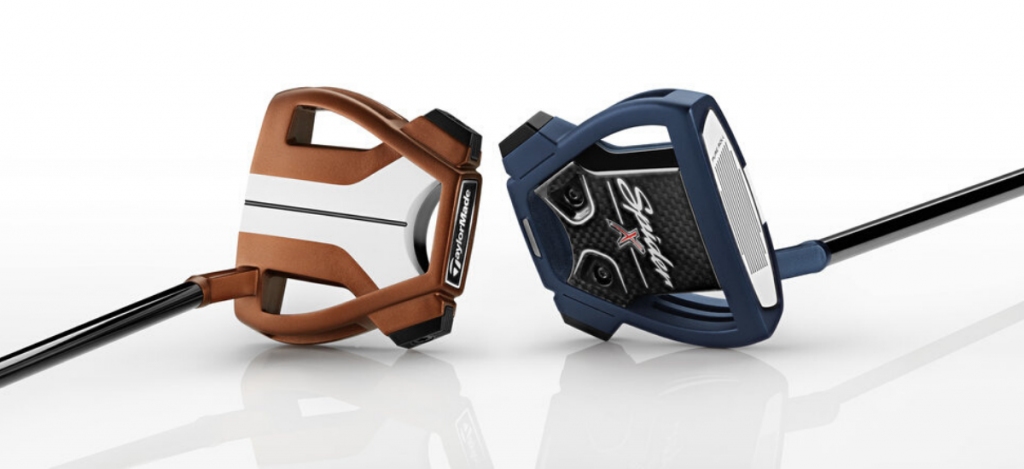 Features and Benefits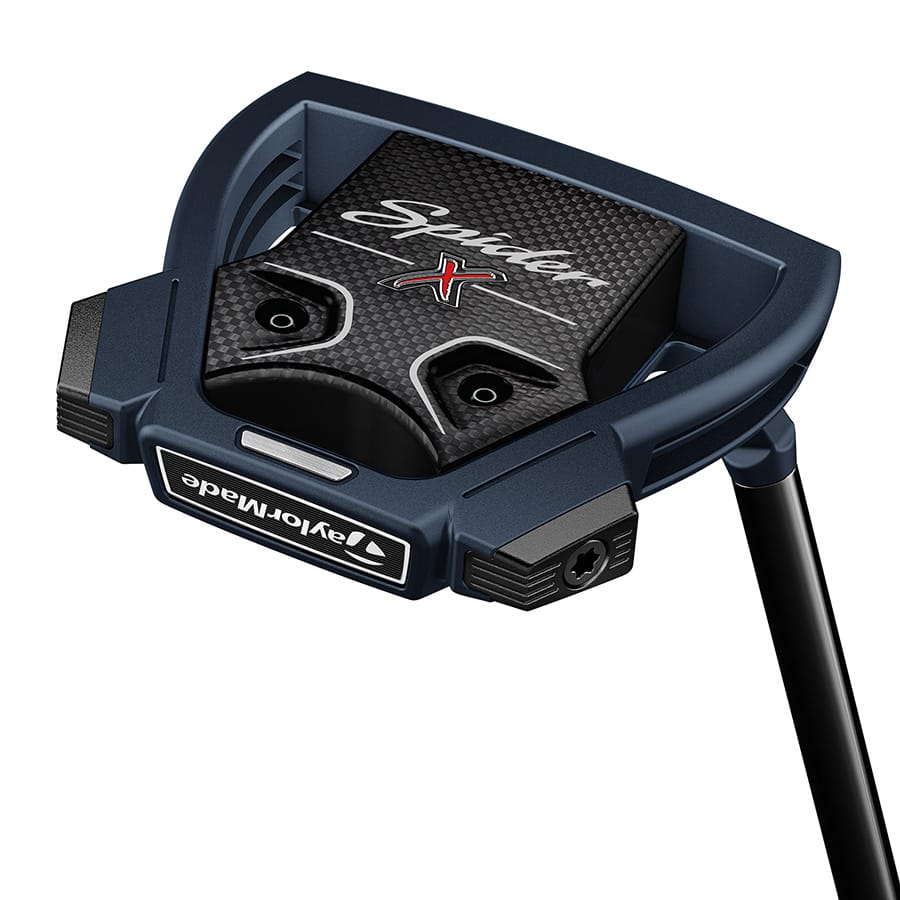 Player Profile
The TaylorMade Spider have a highest MOI putter, incredible feel, and a pure roll. If you are a player looking for any of these things in your game, this club will help you.
The TaylorMade Spider X Putter is not necessarily designed for a low handicap golfer; it is more so for a player that can understand the difference between a high and low performing putter.
If you don't mind spending several hundred dollars on a new addition to your bag, this is the club for you.
Look/Sound/Feel
The Spider X Putter has about a ten percent smaller club head than the Spider Tour model. Many lower handicap players loved the feel and the face insert on the TaylorMade Spider X, but they didn't like the size.
The Spider X Putter comes in some very nice looking head designs. There is a blue, copper, and white version with incredible sightlines to help you get the ball moving on the correct path.
Both the Spider X putter and Spider Tour Putter can be custom ordered to your exact specifications, and there is quite a bit of detail you can add to your putter as well.
Feel is where this putter wins. The face on the Spider is equipped with a pure roll insert. The insert is designed to produce a better sound and feel.
This face insert has 45-degree grooves to help increase topspin and get the ball rolling on the correct path. You will have a hard time finding a putter that will feel as good as these TaylorMade putters.
Shaft
Unlike the Odyssey Stroke Lab, the TaylorMade Spider X Putter and Spider Tour Putter have a standard steel shaft in them.
All of the TaylorMade Spider putters come with a SuperStroke Pistol GTR 1.0 grip. The larger grip on these new spider putters has proven to help increase stability and keep the hands out of the putting stroke.
Forgiveness
In this TaylorMade Spider X Putter Review, we have discussed all of the fantastic components and features this club has, but what good are those if your stroke can't be repeated. The most crucial part of becoming a great putter is repeating the same effective stroke over and over again.
TaylorMade has done two things to help improve forgiveness, and those are alignment and stability. If you look at the shape of the new spider putters, you can see that they use the X pattern as a way to create balance. Spider X has a heavy steel frame with a lightweight carbon sole to provide perimeter weighting.
The True path alignment system created on top of the putter head is what allows players to visualize the intended target line.
When your face is square, and you stay on the path, you will have a much easier time getting the ball to roll to your intended target. This putter has come a long way from the old Ping Answer putter with a small white line on the top.
If you struggle with alignment or path in any way, the Spider Tour and Spider X putter will make a difference in your game.
Price
All of these fantastic benefits that we have covered in this Spider X Putter review come at a cost.
I'm sure by now you figured this had to be too good to be true. The TaylorMade spider line is not inexpensive, but the value is there when you consider the effectiveness and performance.
---
TaylorMade Spider Putter Review
Alternatives
If the TaylorMade putters are not for you, we have done a quick review of a few other putters out there.
Cleveland has released a brand new line of clubs in 2020, called the Frontline.
The Frontline replaces and updates the old Huntington Beach collection. The new Frontline putter series is available in a sleek black finish, and they have about seven different putter head shapes to accommodate your needs.
Scotty Cleveland Huntington Beach Soft Putter Review
If you want to spend about half the money, you would on the TaylorMade but still get a high performing face, and a great roll take a look at the Cleveland Frontline.
---
Scotty Cameron has produced some of the higher-performing golf clubs for years.
There are many tour players still playing Scotty, and they have straightforward and clean lines at the address.
Read Our – Scotty Cameron Select Newport 2 Review
If the Spider Tour or Spider X options are a bit too futuristic looking for you, take a look at the classic Scotty, especially the Newport 2.
---
Where TaylorMade focused on their golf club head design, Odyssey leads the way in shaft design.
For the first time, Odyssey spent a great deal of time and money developing a shaft that they believe is the best option a struggling golfer could look for. The shaft is part graphite and part steel.
Admittedly it looks a little different, but when you start swinging the club, you can see that they may be onto something. The Stroke Lab series is priced a little lower than the Spider series but offers many of the same things when it comes to forgiveness and consistency.
---
Buyers Guide: What To Look For In A Putter
A golf putter is the most important club in the bag. This is why it is so important that players are choosing a putter that works for their specific game. It takes time to determine which putter is for your needs because of all the numbers out there. Here are a few things to keep in mind if you are trying to decide if the TaylorMade Spider Putter X or Spider Tour is a good fit for you.
Feel
Feel on the Spider putters is some of the best around. With the proper feel and confidence, a golfer can start making quite a few more putts. Overall the golf putter needs to be a club that you have complete confidence in.

Feel gives players the ability to judge distance and ensure that they get the ball close to the hole. With a great feeling putter, you will have more confidence in your abilities and make quite a few more putts.
Fitting
Putters need to be properly fitted in order to ensure that they are a good option for the player. Putter fitting is something that is becoming increasingly popular, and for good reason. Golfers know that with the number of putters on the market, there is no reason to play with a putter that does not work for the individual needs of the player.
If you are considering purchasing a golf putter, make sure that you get one that has been properly fitted. Spending $300 on a putter is one thing, but getting one that does not work for the needs of your game is a major issue.
Pricing
The TaylorMade Spider putters are more expensive than other putters on the market. With the engineering and design that TaylorMade put into this club, it is no wonder the putter is more expensive.
For so many years, the golf putter was one of the cheapest club in the bag. That is starting to change, and the pricing of the putters is going up and becoming closer to what they should be with the value they hold in the golf bag.
Consistency
Whatever TaylorMade Spider Putter you end up with, you must be sure that you are getting something that is extremely consistent. The consistency in the putter will allow for performance on both slow and fast greens.
The more consistent a putter is, the easier it is for you to repeat your stroke. The stability in the SPider putters is what makes them consistent. Choose a model that you feel comfortable standing over and ensure that it is also the proper length.
Is The TaylorMade Spider X Putter For Me?
The TaylorMade Spider X Putter is an excellent option for the golfer with a straight back and straight-through putting style. With a larger modern mallet like this, you will want to ensure your putting stroke is not an arc style stroke.
Essentially the Spider Putter keeps the club face very stable and square at impact. Therefore when you are trying to open and close the face as part of an arc putting stroke, it is much more difficult to do.
In addition, the golfers that do best with the Spider X Putter are typically those that need help with alignment. Lining up a golf ball to head towards the hole is sometimes a challenge because of the alignment lines. With the way the Spider X is designed, the alignment lines are longer and easier for a player to visualize.
Check our full guide to the best mallet putters by Skilled Golf.
Pros and Cons of Spider Tour Putter
Now that you have a general overview of the Spider putters and what they are all about, here are a few of the pros and cons that you should understand about this particular club.
PROS
Modern mallet design
Multiple materials
High MOI
Very stable at impact
Vibration damping club head
Large SuperStroke grip
CONS
Many different models to choose from
Can be expensive
Large club head takes a bit of time to get used to
Conclusion
You have been hearing about the Spider for quite some time now, but seeing that price tag can make anyone wonder if it is worth it. In each review that we write, we try and be as honest as possible.
When it comes to the TaylorMade Spider Tour and Spider X, we think you will be delighted with the results.
If you have the money to spend, if you have been struggling with making more putts (especially short ones) and you understand the technology behind this putter, this is the club for you.