Pitching wedges are generally sold as a part of an iron set. However, it is getting increasingly popular to buy a pitching wedge separately.
Also, when you choose an iron set, paying attention to the pitching wedge as a component of the full set is very important. Are you selecting a set with a wedge that has extra spin and tighter grooves?
Or are you choosing something with extra forgiveness built for the full wedge golf shots?
If you are looking for your first pitching wedge or replacing a wedge you have had for several years; you are in the right place. We will give you a breakdown of some of our favorite pitching wedges and a guide to help you choose golf wedges that are correct for your game.
Our Best Pitching Wedges In 2023
---
PROS
Amazing feel and distance
Tour Zip Grooves
Available in 46 or 48 degrees for a pitching wedg
CONS
Not geared towards a lower handicapper
The CBX 2 golf wedge takes our top spot for the top pitching wedges in golf. There are a few reasons that we love this club.
For starters, you can purchase this club individually, and you won't need to buy an entire set of Clevelands to get it. The Cleveland CBX 2 is offered in many lofts starting at the 46 degree, which is perfect for a pitching wedge.
If you happen to like this club, you can get it in several lofts and then have a complete set of these high-performance wedges in your golf bag. The Cleveland CBX 2 is a hollow cavity design, so it performs with the forgiveness of a cavity back wedge.
The sole grind on the CBX 2 is more of a universal option that gives you the versatility to hit shots from many different lies and types of turf.
When it comes to feel this wedge stands out as Cleveland put an insert in this wedge to decrease vibration at impact. These have the feel of a tour wedge with the forgiveness of a cavity back iron.
The grooves on this club are the traditional tour zip grooves that Cleveland has been putting in their wedges for several years.
If you are looking for a pitching wedge that is just as good around the greens as it is from the fairway, the Cleveland CBX 2 is a perfect choice. This is a wedge designed for the mid to high handicapper.
---
PROS
Groove in Groove technology
Four sole grinds to choose from
Soft carbon steel
Precise center of gravity locations
CONS
It has more of a blade than a cavity back look to it
The Callaway Mack Daddy CB Wedge is a brand new release to the market, and it is offered in the 46 and 48 degree pitching wedge lofts.
The Callaway Mack Daddy CB Wedge has four sole grinds to choose form and this can help ensure that you get a pitching wedge with the exact configuration you need.
We love that you can pair this Callaway Mack Daddy CB Wedge with other similar Callaway wedges so that your bag has some consistency to it. The Callaway Mack Daddy CB has a very satisfying feel because of the soft carbon steel body.
The feel combined with the seamless transition into the irons will make the Callaway CB an excellent choice for golfers to consider. You can get this in both a platinum chrome finish or a black matte finish.
---
PROS
Great feel
Available in many lofts
Can get as low as a 46 degree pitching wedge
Known as the best golf wedge out there
CONS
It can be hard to settle on a grind and bounce optionsA bit more expensive as it is newer technology
One of the hardest parts of finding an excellent pitching wedge is that not all of them are available in the proper lofts.
You will easily find sand and lob wedges, but many companies stop their lofts around the 50 degree mark. This makes it difficult if you are looking to add a pitching wedge that will match the rest of the irons in your bag.
One of the great things about the Titleist Vokey SM7 wedges is that they are available in a wide range of loft and grind options. If you want something that will spin well around the greens and give golfers spin and control over their shots, the SM7 is the way to go.
The Vokey Wedges are known for having a very impressive spin and versatility from any lie.
This is a wedge that is built with enough feel and performance for a low handicapper, but all handicaps will be able to see noticeable improvements in their game when using a Titleist SM7 wedge.
Read our Titleist Vokey SM7 Wedge review.
---
Best Pitching Wedge for the Best Price
PROS
Non-traditional but legal for tournament play
Not the best for long game
Used for short game shots
Golfers with high handicaps will do best with this wedge
CONS
Does not have the best spin rates on the market
When we get into the cheap category, the club choices sometimes tend to stray away from the traditional tour-level design. We will start by saying that this Mazel Golf Chipping and Pitching Wedge is actually tournament legal.
This is not one of the prettiest wedges golf has to offer, but it is beneficial for those that struggle with pitch shots.
Golfers who tend to hit thin or fat pitches from the fringe will enjoy the benefits of these wedges.
The best loft option for a pitching-wedge would very likely be the 45-degree choice. This club can be used for a full swing, but we highly recommend you keep it for use around the green.
The clubhead is quite heavy, helping players to develop their feel around the greens. The leading edge on this club is sharp, helping to promote better turf interaction. Although you can use the Mazel from a bunker, it is best to use something with a sand wedge loft to escape the bunker.
Sometimes a high bounce can work against a player, so the Mazel will not be a high bounce wedge.
Golfers who can handle the look of non-traditional wedges in their golf bag will be quite happy with these clubs.
---
Best Pitching Wedge for Senior Golfers
PROS
Easy to hit
Almost impossible to chunk it
Affordable option
CONS
Not great from the rough or a bunker
A very common mis-hit for seniors is hitting behind the ball and chunking it a bit. If you are looking for a wedge that makes the chunk shot virtually impossible this could do it.
This is a legal golf club and will make the short game in general that much simpler.
Although this is a non traditional club you will have no problem seeing why it is so effective. If you like the Square Strike it is also available in other loft options.
This club is best designed for players who like to pitch with a seven iron from time to time. It gives you that same feel but it is much easier to control.
---
Best Pitching Wedge for Low Handicapper
PROS
Available in a wide range of lofts
Progressive head shaping
Available with a stock graphite shaft as well
CONS
Not the most forgiving golf wedge
Quite a few options with grind to choose from
The Callaway Mack Daddy 5 Jaws Wedge is one of the best golf wedges that Callaway has ever brought to market. The great thing about the Mack Daddy 5 wedges is the feel and the number of options that are available between bounce and grind.
For the lower handicap golfer, the 8620 mild carbon steel design allows for an impressive feel. This club is very workable, allowing you to get the ball to do what it wants around the greens. In addition, we like the fact that they offer both a graphite and a steel golf shaft option for players to choose between.
The head shaping on the Mack Daddy is unique. They realize that for a golf set to function perfectly, it should gradually transition from the lob wedge to the sand wedge to the gap to the pitching to the nine iron. When all of your wedges look the same and all irons look the same, it is too much of an adjustment for golfers to make.
Even though this wedge wins our spot as the best overall golf wedge for low handicappers, we highly recommend this for the mid to high handicappers that are determined to improve their overall short game.
---
Best Pitching Wedge for Feel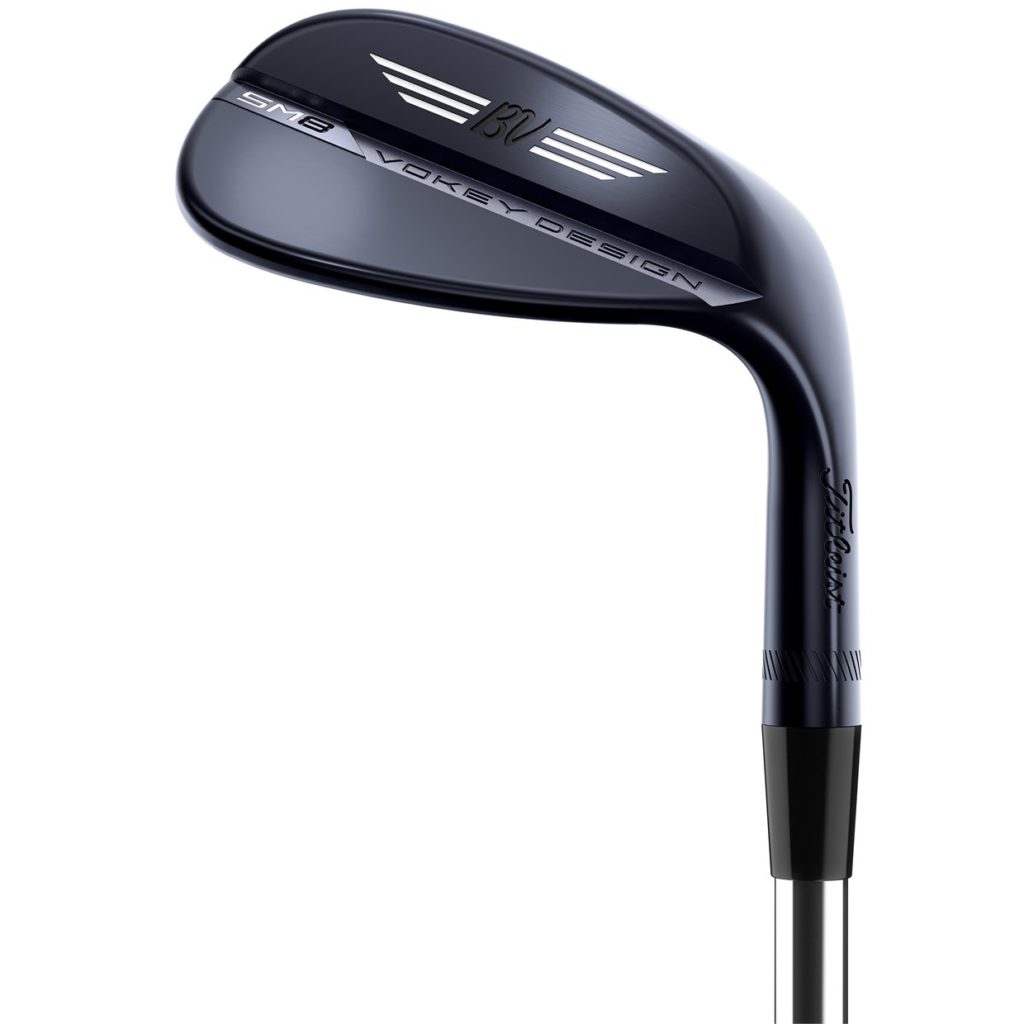 PROS
High spin levels
New refind sole options
Slate blue finish option
Tour-proven design
CONS
Limited availability with the upcoming release of SM9
The Titleist SM8 golf wedges from Vokey are some of the most premium, highest spinning wedges on the market. If you want to find a pitching wedge that is custom fit to the needs of your golf game, the SM8 is the perfect solution. For years Titleist has recognized the gap that exists between a golfer's irons and their wedge, and they have done a great job of producing lower lofted wedges to help accommodate.
WIth an SM8 in a golfers hands, you will be in full control of what happens around the green. Players can get tremendous backspin, impressive feel, and the drop and stop technology that Titleist is known so well for.
When you hit a shot on the green with a spin milled golf wedge, it will stop. Even if you are hitting out of the rough, the design still allows for precision and perfect interaction between the grooves and the dimples on the golf ball. If you're new to the game, the Titleist Vokey wedges are not the most forgiving on the market, but they will have some of the best performance.
---
Pitching Wedge Buying Guide
Now that we have given you some great options for the best pitching wedges, it is time to figure out which one would work for your golf game. As we have mentioned, most of the time, a pitching-wedge will come standard with your iron set, but it does not have to.
If you are looking to upgrade your short game and take the spin and ball flight control to another level, it may be time to upgrade to a better club.
Here are some essential things to consider before you make your final decision on your wedges.
Lofts
The lofts on pitching wedges have changed considerably through the years. The standard loft used to be anywhere from 46 to 48 degrees.
When golf manufacturers started competing to get people longer distances, the lofts began changing. Today with the way these clubs have changed, there is a huge gap between the PW and the sand wedge.
The gap causes some golfers to have a vast stretch of yardages that they do not feel confident in. Some players are buying a complete iron set and then adding in additional pitching wedges because the degrees of loft are adjusted so much.
Golfers need to pay very close attention to the specifications on their equipment before adding another piece to the set.
Matching
Does it matter if your wedges all match? Lower handicap golfers will tell you that it makes a huge difference to have consistency from one wedge to the next.
We tend to agree. The consistency in equipment can lead to consistency in feel. The consistency in feel will lead to much more confidence for golfers of all handicap levels. Confidence with wedges will lead to more confidence on the putting green.
You can see the cycle; wedges are essential for golfers, and just as much time should go into a wedge decision as one for that fancy new driver.
Some golf manufacturers do not offer wedges that don't match the iron sets when it comes to the lofts you need for a PW. For instance, Taylormade wedges will usually not be sold with less than 50 degrees of loft.
The 50-degree wedges are more for golfers searching for an approach wedge. It can be challenging to find a PW sold on its own, but these wedges are available if you look, especially if you stick with the Cleveland wedge.
Pitch vs. Chip
What is the difference between a chip and a pitch? This is a common question that golfers ask playing and teaching professionals.
The easiest way for golfers to remember this is that chips rolls and pitches stop. A pitch may be in the air for a long time, but when it gets to the green, it should roll a few feet (or not at all) and then stop. A chip, on the other hand, is something that will fly for a short time and roll the rest of the way.
Golfers need to perfect both shots to lower their scores. Chips and pitches can be played with a variety of tools from a sand wedge to a nine iron.
Shaft
You will want the shaft in your PW to match the shafts in the rest of your golf set. Golfers that play with steel shafts throughout should stick with steel when it comes to the wedges.
Golfers that use graphite shafts throughout should use a graphite shaft on the PW, but can switch to steel for a sand wedge and lob wedge if they prefer.
Price
When it comes down to the cost of any golf club, there are a few key factors that you need to take into consideration.
For starters, if the golf club is less than two years old, expect to pay much more.
Secondly, if the wedge has a graphite shaft in it, the price will be higher. This is not a golf manufacturer's way of ripping you off; graphite is just a more expensive material to use in a wedge.
You should plan to spend anywhere from $80 to $180 on a new wedge. If it works to lower your score, it will be money well spent!
Feel
The feel of a wedge is very important. Putting and chipping are two areas of the game that will be greatly impacted by the way a golf club feels in your hands. If you are not comfortable with your wedge or do not have complete confidence in what the club can do, your results on the course will not be nearly as impressive.
The feel of a plate style pitching wedge will typically help you feel as though you can work the ball quite a bit more. You may not get as much distance, and the forgiveness is not always there, but they feel will undoubtedly help you hit a draw or a fade when necessary.
One of the best ways to determine the feel of the club is to take them out and swing them. If this is not an option for you, try to get the feel of the previous model by trying out a friends or a golfing partners. Feel is something that matters across the entire set, but especially in the short game.
Bounce
Bounce in a wedge can help determine how much forgiveness it has. A very forgiving wedge will have quite a bit of bounce. For a pitching wedge, the bounce does not need to be quite as high as it would be for a sand wedge or a lob wedge.
Since the pitching wedge is used for a longer approach shot to the green, the bounce is not always needed to help with forgiveness on those short pitch and chip shots. Going with a golf club that has a mid-level bounce is often the best option for players to consider.
The bounce of a golf wedge is a good thing; however, keeping it to a minimum on the pitching wedge is likely the smartest option for golfers.
Spin
The spin on the pitching wedge will be what helps it stop on the green. When a golf wedge has spin, it will give a player more control. If you are purchasing a pitching wedge that is part of your iron set, chances are you will get more spin with a blade or forged style club than a cavity back golf club.
The cavity back golf club is good for forgiveness and distance, but it can often be difficult to stop on the green. Luckily paired with the right golf ball and when hit with a high and penetrating launch, it is much easier to get a golf ball to spin on the green the way it should.
The spin of a pitching wedge when you choose a blade style wedge can end up being a lot. Golfers with high swing speeds need to be aware of this fact and ensure that they are ready for a golf ball to sometimes roll backward and off the green.
Frequently Asked Questions
Choosing a pitching wedge is tricky. So many golfers wonder whether it makes sense to pick a wedge that matches the iron set or one that matches the wedges. Once you make that decision, there are still other issues with picking a wedge that has a great feel and one that will have good spin; it's just a lot to figure out. Asking questions before making your purchase can really help ensure you get a club that you will keep for years to come.
Should My Pitching Wedge Match My Irons?
For the most part, pitching wedges will match the irons of most amateur golfers. However, when you look at professional golfers' bags, the chance of finding a pitching wedge that matches the irons is much more rare.
These golfers realize that the pitching wedge can be customized with a certain loft, grind and bounce setting to work not just as a club for hitting approach shots but also for golfers that are hitting shots around the green.
The lower your handicap is, the more reason to purchase a blade style pitching wedges that matches with your golf wedges. The higher your handicap, the more likely you are to purchase both the pitching wedge and the gap wedge that will match with your iron set. Overall you must try to create some consistency between all the clubs in your bag.
What Loft Is A Pitching Wedge?
The pitching wedge loft is typically between 44 and 48 degrees. The higher lofted pitching wedges are typically older style wedges that were on the market before golf manufacturers started adjusting the lofts of golf irons and wedges.
Today more of the wedges are around 44 and 45 degrees. This is considerably lower and creates a big gap between the pitching wedge and the gap wedge. Golfers that want to bridge this gap will often choose a gap wedge with around 50 degrees of loft and then calculate the sand wedge and lob wedge accordingly.
The gap between that pitching wedge and the gap wedge is one that can make or break a golfers success on the golf course. There are so many shots that come up that feature this distance that you must be sure you can accommodate your needs with a pitching wedge that you have complete control over.
How Many Wedges Does A Golfer Need?
Most golfers need four wedges in their bag, but some will only carry three. For the new golfer that only puts two wedges in their bag, it can be a real mistake. Golfers should have a pitching wedge, gap wedge, sand wedge, and a lob wedge in their golf bag.
The pitching wedge will be around 44 to 48 degrees of loft and used for quite a few approach shots to the green. In addition, the pitching wedge ends up being a perfect loft for the bump and run type shot that travels across the green with plenty of roll to reach a back pin.
The gap wedge is a golf wedge that usually has between 48 and 54 degrees of loft. The wedge is becoming more and more popular as golf wedges, and their lofts are getting stronger. This wedge is good for approach shots, long bunker shots, and a bump and run.
The sand wedge is normally between 54 and 58 degrees, and many golfers assume it is just for shots that are hit out of the rough. Luckily a sand wedge is a good option for players that are trying to hit short shots, long shots, and bunker shots. This is typically the most versatile of all the wedges in the bag.
The lob wedge is the highest lofted golf club in the bag. Most lob wedges have around 60 degrees of loft, but some will go to 64. With the lob, wedge players can get the ball to quickly stop on a green and even spin back at times. Lob wedges offer great precision, and when better players get good at them, they will see lots of impressive shots.
Is A Gap Wedge Necessary?
A gap wedge is necessary if the difference in loft between the pitching wedge and the sand wedge gets too large. Gap wedges help to fill this gap and ensure that players have a club they can choose from any location on the golf course. If you are a player that has a hard time with certain yardage, it could be because you don't have a gap wedge in the bag.
Many iron sets are now sold with the gap wedge, which can also be called an approach wedge. If your iron set does not come with one, but you feel a large gap between the irons and the wedges, the gap wedge is the best overall option.
Should A Pitching Wedge Be Graphite or Steel Shafted?
The pitching wedge that you choose for your game should have a shaft that matches your swing speed and the rest of the clubs in your bag. Too many slow swing speed golfers are playing with a wedge that has a heavy steel wedge flex shaft.
These golfers have premium graphite shafts in their irons and assume that in the wedges, the graphite is going to do just fine. This is really not the case. Golfers need to use a graphite shaft in their wedges if they use them in their irons.
So many more wedges are being offered with graphite technology. Take advantage of this and get wedges that match your swing speed.
Conclusion
Choosing a wedge that works for your golf game should not be an exhausting experience. Find something that looks and feels good and is recommended for golfers with a handicap in your range.
Although there are lots of companies that produce pitching wedges, we feel as though Cleveland does the best job of appealing to golfers of all levels.
The Cleveland CBX 2 is a high performing wedge that provide plenty of spin and the right amount of forgiveness for the task at hand.
The Cleveland wedge is almost always one of the more affordable wedge options on the market.