The Titleist Vokey golf wedges are perhaps the most well-known wedge in the game of golf. Vokey Golf wedges have been around for many years, and players affectionately call them "vokies."
It's hard to find a low handicap golfer that hasn't saved a few spots for a Vokey wedge in their bag over the years.
The Titleist SM7 wedges have been out for a few years now. They followed the SM6 and have now been replaced by the SM8.
The great thing about the fact that the SM7 wedge has been around for a few years is that the pricing has gone down. The Titleist Vokey wedges are a great addition to the bag of most players.
Titleist Vokey SM7 Wedge Review
In this Titleist Vokey wedges review, we will break down who this wedge is for, why it's so great and which specs make the most sense for your game.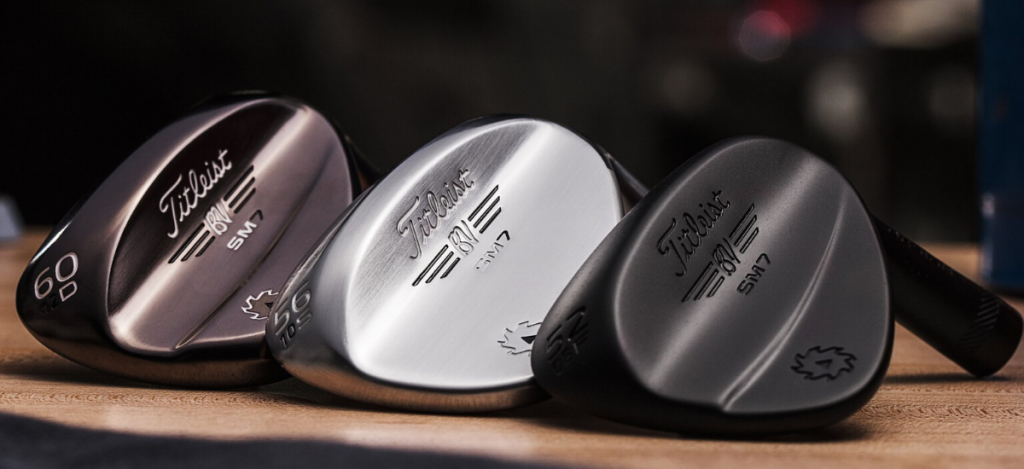 Features and Benefits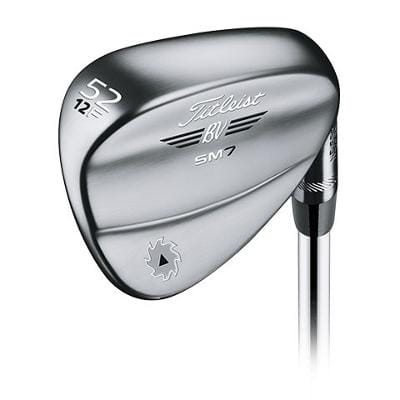 Player Handicap
Vokey Golf wedges are the player's golf wedges. If you demand performance, spin, control over launch, and fantastic feel, this is the wedge Titleist Vokey designers want you to have in your bag.
This is not to say that a high handicap player can't use a Vokey wedge. We will get into this a bit more later; if you are a high handicapper, don't give up just yet.
Shaft Options
The SM7 wedges are hard to find custom at this point. You will likely be stuck with the stock shaft unless you have it re-shafted after purchasing.
Don't think that this is a deal-breaker. The stock shaft on the Sm7 wedges is a True Temper Dynamic Gold S200. This is considered a Wedge flex and falls somewhere between a regular and a stiff steel.
The S200 is a standard option in the wedge Titleist Vokey SM7 design, and it should fit the majority of golfers perfectly.
Look/Sound/Feel
Let's start with the look. The look of the Vokey SM7 wedge is clean. Through the years, every wedge Titleist Vokey has put out has been high quality and clean.
The SM7 wedge is offered in a jet black, tour chrome, and a brushed steel finish.
Although the finish of the wedge plays more to the golfer's eye than the feel, many golfers believe the darker colors feel better.
As far as sound is concerned, the SM7 wedges have a perfect click that lower handicap players are looking for around the green.
Feel is probably the factor that sets any wedge Titleist Vokey SM7 puts on the market apart from the competition. You will notice that the reason these wedges feel so good is not just the spin milled grooves.
Although the grooves help give the SM7 exceptional performance, it is the variety of sole and lofts that set the feel on this Vokey apart.
There is an incredibly high number of combinations that you can put together with the Vokey SM7 wedge, and it makes these wedges feel like they were built specifically for you.
Forgiveness
Remember when we said we would get back to you about whether or not a Vokey SM7 wedge works for a high handicap player, well here we are.
In this Vokey SM7 wedges review, we have talked about how the variety of options make this wedge feel like a perfect custom fit choice. For a higher handicap player, all of these lofts and sole options may become overwhelming.
Do high handicappers feel the difference between an F grind and an M grind? (Most low handicappers don't even know this!).
The point is that if a Titleist Vokey SM7 wedge feels good in your hands and helps you to perform around the green, it should be in your golf bag.
Traditionally speaking, any wedge Titleist Vokey has put on the market is not extraordinarily forgiving and instead looks to provide the ultimate feel on shorter shots, high spin and low forgiveness on the full shots.
Low handicap players are not using a wedge-like this for many full shots and instead use them for a variety of short game options from bunkers to rough to awkward distance approaches.
Price
As we mentioned when we first opened this review, the Vokey sm7 wedges have dropped considerably in price from when they were first released.
They have not lost any of their shot-making capability since their pricing has dropped!
---
Alternatives
If the number of sole and lofts that you can choose from on the Vokey SM7 wedge has your head spinning, here are a few other wedges that you may want to look into.
All of these choices have their own benefits.
PROS
Great pricing
Clean look
Better for full swing shots
More forgiving than Vokey
CONS
Feel is not quite as good
If you are a player who wants to use your wedge for full swing shots, this is a better choice for you than the Vokey. The Cleveland RTX 4 wedges are quite forgiving.
In the black satin finish, they look quite similar to the Vokey jet black option.
Vokey has their spin milled grooves, and Cleveland has their Tour Zip Grooves. Both options provide amazing results around the greens—lots of spin to put the ball where you want it.
You can choose options with low bounce or higher bounce. There are four total bounce options with the RTZ wedge and ten different lofts to choose from.
Although this may still seem like a wide range of choices, it is a more straightforward system than the Titleist Vokey grind system.
---
PROS
Available in aged copper finish
Lower launch but higher spin
Loft and sole options to choose from
CONS
Priced higher than the Vokey SM7 wedge
The TaylorMade Milled Grind Hi-Toe wedges were very popular in the game of golf this year. These wedges are very simple in design but extremely high performing.
The Hi-toe design is all about the center of gravity. These wedges provide lower launch but more spin. Keeping shots lower around the green can help to make things a bit more accurate.
The Hi-Toe wedges have an aged copper finish. As you may remember from our SM7 review, Titleist does not offer this copper finish on the SM7 wedges.
Players say the Hi-Toe wedges are some of the most consistent wedges they have used to date.
---
PROS
Great looking wedge
Available in graphite and steel
Groove in groove technology for increased spin
CONS
More expensive than the SM7 wedges
Available in a graphite or steel finish, the Mack Daddy 5 Jaws wedge is a great looking club. Callaway offers several grinds in their Mack Daddy 5 wedges. The new W and C grinds are great for players looking for more variety.
The Mack Daddy 5 or MD5 wedges are available in both a steel and a graphite shaft. If you are a Callaway player with a bag of Callaways, this MD5 may have the feeling you are looking for.
Lofts and full sole options are not quite as extensive as Titleist, making these wedges appeal to a broader range of players.
---
Conclusion
If it would be tough for us not to recommend that you try the SM7 wedges.
If you are playing with technology that is several years old or a knock off a wedge of any kind, there is no question that you will see increased performance when you switch to the Titleist wedges.
In every review that we do, we try to be as real as possible with you. If you are a better player, the Vokey will give you everything you need.
If you are a higher handicap player, the Titleist Vokey SM7 wedge may be more than you need at this point in your game.
Choose a Cleveland option with more forgiveness until the feel is the most critical aspect in your wedge buying decision.