Do you ever feel like your golf bag needs a new wedge, but your wallet doesn't? Golf equipment gets expensive quickly.
A new sand wedge will likely lead to a new lob wedge, which will likely lead to a new gap wedge, you know the routine.
The Wilson Harmonized wedge may be the solution to the problem for your golf bag and your wallet. This is one of the lowest price golf wedges on the market, but it is NOT the lowest-performing wedge on the market.
In this Wilson Harmonized wedge review, we will give you enough information to decide if this one is the right fit for you and your golf game.
---
Features and Benefits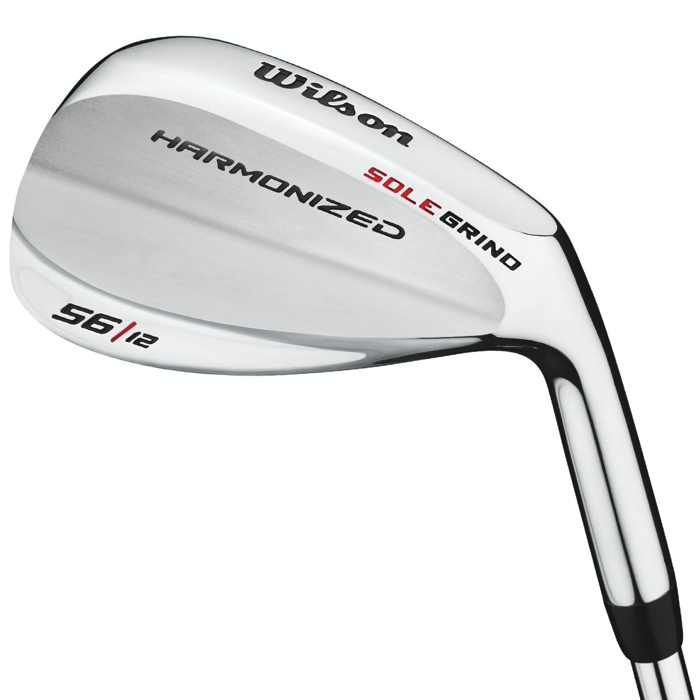 The Wilson Harmonized Golf wedge is a simple design, yet it is just what some golfers need to get their short game where it needs to be.
When you look into higher-end wedge and all of the bounce, spin, and loft options, it can get quite confusing.
Wilson keeps things very straightforward with this series of wedges, and this may be something that you appreciate in your golf game.
Player Handicap
The Wilson Harmonized Golf wedge is absolutely built for the mid to high handicap golfer.
This wedge has tremendous forgiveness and aggressive grooves. It's a great wedge for those that need more confidence in their shots around the greens.
Shaft Options
Let's remember that this is a value-priced wedge. You will not get your choice of high end shafts on this wedge. The Harmonized wedges come with a standard steel wedge flex.
It's a mid-weight steel shaft that is about as stiff as a strong regular steel shaft. For the majority of golfers playing with this wedge, this shaft is a perfect fit.
Look/Sound/Feel
The look of this clubhead is surprisingly clean for a golf club built for forgiveness and versatility. Although a Vokey or a TaylorMade Hi-Toe wedge is going to look a little sleeker than a Wilson wedge, the overall look is not going to be bad.
We really like the black finish option that this wedge is offered in. The black finish wedges offer less glare around the green and help players get the best look at their shot.
Forgiveness
The forgiveness category is where the Wilson Golf Harmonized wedge will take the cake. This club was built with aggressive grooves and very versatile bounce angles.
You can open the face on this Wilson Harmonized wedge and perform all types of golf shots. If you are a loyal fan who reads our reviews, you know that we tell it like it is.
If you are a lower handicap player, the Harmonized golf wedge series is not for you. This golf club will offer too much forgiveness and not allow you to dial in the shots that you need in your golf game.
These Wilson Harmonized golf wedges are offered in six different lofts from 50 degrees to 64 degrees.
Price
The Wilson Golf Harmonized Wedge wins the price category all day long!
You can put a few of these wedges in your golf bag for less than your greens fees.
---
Alternatives
Although we don't have too many options that offer as much performance as the Harmonized wedge for the same price, there are a few alternatives if you have determined that this wedge is not for you.
PROS
Clean leading edge
Great price point
Versatile and easy to hit
CONS
Grooves are not as good as Harmonized golf aggressive grooves
The Pinemeadow Golf PGX Wedge is in the same general price category as the Wilson harmonized wedge. This wedge comes with a midsize sole that allows you to play from any lie. Similar to the Harmonized wedge, the PGX claims to be very versatile.
This type of wedge needs to be versatile. It is only offered in a few lofts, and there are not bounce or grind options. The theory on this wedge is that you should be able to open the club up to hit the shots that you need.
The PGX does come with decent grooves, nothing that will spin like a Titleist or a Callaway, but they will work. The club does appear to be quite offset at setup, but it has a nice leading edge to it.
If you like to hit a clean wedge shot, you may like this one. The PGX wedge has some black and green coloring that makes it sort of a mix between the finishes of the harmonized golf wedges.
---
PROS
Three wedges for a great price
CONS
Not available in other finishes or bounces
Best for shots around the green and not full swings
The Pinemeadow wedge three-pack is an excellent option if you are looking to replace all three wedges in your bag for a low price. These do work out to be a little less expensive than the Wilson Harmonized wedge in our review.
The Pinemeadow Pre wedges are a bit different than the PGX. They are a classic and straightforward design. The Pinemeadow Pre are stainless steel and have a wide sole similar to the Harmonized wedge by Wilson.
You do not have the option of purchasing these in any other finishes, and you can't get more than just the 52, 56 and 60. If you have older wedge technology, these will undoubtedly be an improvement because of the more modern grooves.
---
PROS
More spin and feel around the greens
Great for full shots as well
Available in several lofts
CONS
More expensive than Wilson
The men's CBX Wedges from 2018 will make a great alternative to the Wilson harmonized wedge. This CBX is a bit more expensive, but this is a very versatile wedge offered in several different lofts.
These wedges were built for the player that uses cavity back irons. They are probably the most forgiving irons we have discussed in this review. You can use these irons both around the greens and for full swings.
They are designed to be an extension of your regular iron set. The Tour Zip grooves on the Cleveland CBX wedges will make this one of the easiest wedges to stop and spin on the green.
Although the Wilson Harmonized Wedge features aggressive grooves, the technology and the feel is not going to be quite the same as a Cleveland.
This is not the most high-end wedge that Cleveland puts out; if you are looking for even more greenside performance, take a look at our reviews on the RTX line of wedges.
---
Conclusion
In our Wilson Harmonized wedge review, we proved that several players would benefit from this technology.
If you are a mid to high handicapper looking to put a new wedge in your golf bag this season, the Wilson Harmonized will give you quite a bit of value.
If you are coming from a very high performing Vokey or Cleveland wedge released in the last few years, this golf club may lack the feeling that you are used to.
Our alternatives, especially the Cleveland CBX, can give you some softer feel around the greens if that is your concern with the Wilson Harmonized wedge series.