Many golfers will try and use a computer screen as their golf simulator. However, there is no golfer out there that will try and argue that this experience is just as good as having a full simulator screen and projector experience. The whole idea of owning a golf simulator is to recreate the experience that you have at a golf course. To do this properly, you need a really impressive and efficient projector. The great news is that in 2021, there will be projectors that will work for your simulator as well as your next movie night. There are, however, some important things to consider when choosing a golf simulator. We have put together a buying guide that helps you choose the best projector for golf simulators on the market.
---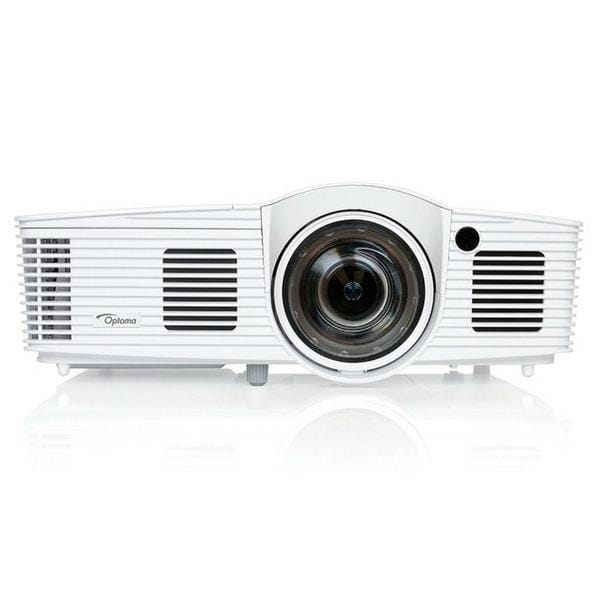 PROS
High performing short throw projector
4:3 aspect ration
3000 Lumens
HD Quality
CONS
Carefully check for compatibility with the current system
The Optoma EH200ST is the best overall projector for a golf simulator. The technology included with the Optoma and the overall quality of the image that it projects will make this one of the best golf simulator projects that the game has ever seen.
One of the first things that help the Optoma stand out is that it is a short throw projector. An ultra short throw projector like this one can project a clear image onto the screen in front, even without the projector being far from the screen. For smaller simulator rooms, this is a great option to have.
In addition, the projector is an HD 1080P resolution that makes it very clear and easy to see. If you want a simulator experience that lets you feel as though you are at the golf course, this 0.49:1 optimal throw ratio will be a great fit.
Some golf simulators are in basements or garages where the light is not all that good. This will not be a problem for the Optoma EH200ST; the model comes with a 3000 Lumen design for extremely bright light. If you are looking for an impressive golf simulator package and experience, this is a projector to consider.
---
Best Budget Friendly Golf Simulator Projectors: ViewSonic PJD5353LS
PROS
Easy to set up and use
Fair priced for the short throw projector technology
It comes with remote control
Eco-Friendly lamp
CONS
Build Quality is not as good
Some golfers struggle with the way these costs for a golf simulator projector start to add up. There is no question that golf simulators are expensive, and then when you start adding in all of the accessories and details that you need, the price increases significantly. Typically speaking, projectors are one of the most expensive pieces of this setup.
The ViewSonic PJD5353LS is more of a budget friendly simulator that still has plenty of impressive technology. The 3200 Lumens design allows your golf screen to have a very bright and clean image. There is a 0.6:1 Throw Ration that helps keep the price down but could end up causing some issues with the positioning of the simulator in a smaller room.
The HDMI Connectivity on the ViewSonic is quick and will ensure that your image is always popping up on the screen in real time. Overall, ViewSonic is a very good name and comes with a three year limited parts and labor warranty as well as one year lamp coverage. At some point, you will have to replace the lamp on your projector, but this is to be expected.
In addition, with the portability and ease of use of this golf simulator projector, you can use these short throw projectors for a business presentation or a movie night with the family. The image quality is very impressive, and the eco friendly mode will let the lamp shine for up to 10,000 hours.
Having 10,000 hours worth of golf is certainly going to be enough time to help you improve your game and get through a winter of not being able to play outside. With the flexible connectivity options provided with this model, you will have no issue getting it to be compatible with your Mac or PC.
---
Best Golf Simulator Projectors For Crisp View: BenQ MW632ST
PROS
Easy to set up projector
3200 Lumens and high contrast
Extended Lamp Life
Works in small spaces
Long lasting projector
CONS
Some are priced a bit high
Ensuring that you can really see the golf course you are playing is part of what makes the golf simulator experience so fun. If you can't really see the bright images or the way that the grass is rolling, you will not feel as though you are playing a traditional round of golf. Although this is likely fine for a driving range situation, for playing the course, more technology is warranted.
The BenQ Projectors are some of the best known in the industry. These projectors have a very bright display and high resolution. The end result is a crisp image and a real feel experience. The fact that this is a short throw projector will really make it work for any size golf simulator room or setup.
You won't have to worry about the image quality in any way. In addition, there is a 16:10 aspect ratio and HDMI Connectivity. Most of your devices are going to have no issues connecting to the BenQ and ensuring optimal performance.
Some projectors are simply known for movies or presentations, and others are known for gaming or golf simulators. The BenQ is an option that is known for its versatility and the impressive technology that it can bring for any level of golfer.
---
Best Golf Simulator Projector With Audio: Anker Nebula Solar Portable 1080p Projector, Full HD Smart Projector, 4K Supported
PROS
Can work without power (good battery life)
Plenty of bright light
Impressive image quality
CONS
May not have the longevity of other projectors on the market
Some projectors have better audio than others. For a golf simulator setup, it is important to have audio so that you can really get the full experience of being out on a golf course. This is an interesting model to consider if you are looking for a golf simulator for an outdoor setup. The Anker Nebula Solar Portable 1080 P Projector is very easy to move around, and you won't be restricted by power.
The Anker Nebula comes with a rechargeable battery that will allow for up to three hours of power with just one charge. You can very easily move this projector to your yard and get a round of golf in without having to recharge the projector.
You can trust us on this one; the less cables and wires you have to deal with during your simulator and projector setup, the better you will be. The HDR10 and 400 ANSI lumens help ensure that your picture quality is excellent, even if you're dealing with a situation where the lighting is a bit lower. The low light is a problem that many golf simulator rooms have to deal with.
Another thing we like about the Anker Nebula is that you will not need to worry about ceiling mount technology. The projector is easy to adjust and comes with a stand that can be easily adjusted and angled. Having that ability means that you will easily be able to get this projector for golf up and running.
---
Best Laser Projector For Golf: Epson EpiqVision Ultra LS300 3-chip 3LCD Smart Laser Projector
PROS
Impressive laser technology projector
One of the best projectors for picture quality
Digital light processing and impressive contrast ratio
CONS
Expensive shorter throw distance projector
Epson is a top name when it comes to projectors and technology solutions for your home. Although the majority of Epson projectors are for business presentations, this Epson EpiqVision Ultra LS300 is a Smart Laser Projector that will work quite well for golf simulators. One of the things that really helps the Epson stand out is the picture quality up to 120″.
It is one thing for a projector to have a picture quality in a smaller setting, but 120″ should give you plenty of clear vision and view when looking at a complete golf simulator screen. You can use this to play golf and also to watch your next Super Bowl with friends.
There is sound with this projector, and it will work as a Bluetooth speaker to help provide some even more durability and functionality to this purchase. It is not easy to spend the money on the projector, yet when it has versatility it can be easier to justify the total costs.
The Epson is an ultra short throw projector with a lot of brightness and great black density technology. One of the things that we have not mentioned before but will come into play for some households is the overall look of the projector itself. If your projector stays out all the time and you want to ensure that your room still looks great, this is an excellent looking projector.
One last feature that will help to ensure connectivity is a breeze is the Chromecast Built In Technology. If you want to display something directly from your Android or Apple device, you will easily be able to pull up the content. This is great for both the next round of golf using your simulator and also your next movie night.
Best Projector For Vivid Color: Epson VS250 SVGA 3,200 Lumens Color Brightness (Color Light Output)
PROS
Impressive contract ratio
Fast enough for a golf simulator
Bright image
CONS
Not the optimal throw ratio that all golfers want
As a golfer, you know that not all golf courses are perfectly green and bright. In fact, there are many different shades of colors that you can see when you play a round of golf. For those that are looking for a projector that gives the most vivid color and contrast, this Epson VS250 SVGA is an excellent option to consider.
The 3200 lumens help to ensure that brightness is never an issue. If you are in a well lit or low light room, the Epson VS250 can adjust and still project a very impressive image on the screen in front of you.
In addition, the Epson VS250 has a few different modes to help you save on electricity and keep the lamp life going as long as possible. There is an eco mode and even a fan noise mode to help keep the noise down if it is bothering you during a round of golf.
We are impressed with the wireless connections that you can get with the Epson VS250. If you don't want to be dealing with a pile of cords while setting up your projector, this is a great option to consider investing in.
When it comes to compatibility, this is a very new and modern technology option. You should have no issues getting this to work with any of your current golf simulator technology. Although this model tends to fall into place with long throw projectors, it still has the technology necessary to work with golf simulators.
---
Buyers Guide
We hope that by now you can see that there is some great projector for golf simulators options on the market. Each of these projectors for golf simulators has excellent images and a high contrast ratio; however, there are some other features that you should understand when investing in a projector. Let's take a look.
Pricing
The best projectors are going to add quite a bit to the cost of your golf simulator project. Although it is great to have these projectors and they complete the entire design, many people choose to skip this part of the project initially.
The higher the price of your projector, the more clear the image, the better the contrast ratio, and the more features that the projector will have.
In addition, some of the longer lamp life projectors for golf simulators will also be more money. For a home golf simulator, you can budget between $500-$1000 for a really great projector. Try to find something that will work for a movie night and gaming so that you get great value for the money that you put in.
Short Throw
The best projector for golf simulators typically tends to be the short throw projector. The throw distance has to do with how far the projector is from the screen that it is shooting. If you are really close to the screen, the projector can sometimes have a hard time displaying a clear image.
In addition, without the short throw projector, expect that there could be shadows or lighting issues that sometimes change the way that the projector and screen work together. Essentially the shorter the throw distance, the easier it is going to be to get the image to appear on the screen the way that you want it to.
Our top choice for a golf projector has excellent aspect ratios and the short throw technology that we highly recommend.
Image Quality
When you are purchasing a projector, it is important to consider the quality of the projector's image. The golf simulator technology and software will help to produce the image then it is the job of the projector to display the image on the screen.
If you are going to invest in golf simulation technology, it makes quite a bit of sense to purchase something that is higher in quality. If your simulator is not accurate or enjoyable to look at, the overall concept will be difficult to get people to be interested in. Better aspect ratios, better color, and the short throw distance all lead to better image quality.
Sound
The best golf simulator projectors will also have sound capabilities. In addition to being able to see the golf course, most of the software will have sound technology that helps you feel as though you are outside playing a round of golf. As quiet as the game of golf is, there is still some noise in the background. Hearing this noise helps make the entire project feel more real.
Some projectors have very high quality sound, and others simply offer sound technology. This is not something that should make or break a projector for you, but it is important to consider.
Setup and Connectivity
There are two basic types of projectors that you can get for your golf simulator. Some of these are portable, and others are more fixed or stationary. You have to decide which is going to be best for you based on the setup of your golf simulator room.
Some people will purchase a golf simulator projector floor mount enclosure. This enclosure is put in place to ensure that nothing happens to the projector that could potentially cause damage. Remember that most amateur golfers are swinging inside their home and the chances of them hitting something or a ball ricochetting is entirely possible.
When it comes to connectivity, you must ensure that your projector will easily connect to your other golf simulator technology. Most of these projectors will have an HDMI connection that will be easy to find with any device.
Some projectors will work with a mobile device, and others will not. Ensure that you understand the details of the HDMI connectivity and get the proper cables before ordering your projector. The last thing you will need is to get your projector and then have it not work because of the technology incompatibilities.
Screen
When you purchase a projector, you will also need to get a golf simulator screen. ENsure that you purchase a good quality screen if you are going to be purchasing a good projector. There is really no reason to have a great projector if your screen won't properly show the image. The impact screens are the best option because they can be incorporated into the net of the golf simulator.
Frequently Asked Questions
Hopefully, you now feel as though you can choose a golf simulator projector with much more confidence. Although these decisions are not always easy, there are plenty of good options out there for you to choose from. Let's take a look at a few of the questions that we are asked most often regarding projectors for golf simulation.
Do I Need A Projector For A Golf Simulator?
Technically you do not need a simulator for a golf simulation setup. However, if you don't have a projector, you will not be able to see the screen in front of you with the golf shots and ball flight that you are hitting. Essentially if you don't have a projector, you will be looking at a phone or a computer to follow what is happening on the golf course.
This is not ideal, and you will not feel as though you are on a golf course. You will need a projector to get a true real feel as though you are on a golf course. The projector is the missing piece that ends up pulling the entire simulator together.
For golfers that are going to use their simulator to play rounds of golf with friends, the projector is necessary. For players that are going to simply look for swing speed or club fitting aspect rations with their simulator, then the projector won't matter quite as much.
Are Golf Simulators Worth It?
Golf simulators are becoming more popular for the amateur golfer. Golf simulators are worth it because they make it so that you can enjoy and play golf any day of the year. For players that have long winter seasons or experience quite a bit of rain, the golf simulator will be well worth it.
In addition, there are many golfers that struggle with trying to find time to practice enough to improve their golf game. If you have a golf simulator at home, you can work on your golf swing whenever you find a few minutes to work on your game.
Does A Golf Projector Need To Be Short Throw?
A golf projector should have a short throw ratio if possible. The short throw ratio helps ensure that players can see what is happening on the simulated golf course. In addition, golfers will have less trouble seeing a bright image or a contrast ratio on a shot that they are hitting.
If you currently have a projector and you are wondering whether or not it will work for your golf simulator, give it a try and see if there are issues with speed, size of the image, and lighting. If you can't get things to line up properly, there are most likely problems with aspect ratios.
Conclusion
We hope that you now feel ready to purchase a projector for a golf simulator. There are so many great options on the market it can sometimes be hard to decide which will be best for your setup. We like the Optoma golf projector the most. This option has a short throw ratio, is easy to set up, and has a very long-lasting lamp life. You will not be disappointed with the money that you are putting into this project. Luckily the Optoma has a very long lifespan and will be the only golf projector that you need to purchase for a very long time. It pays to do your research before making a big purchase like this.