Putting is the most critical part of the golf game, regardless of your ability or handicap.
As a Class A PGA Professional, I can tell you that practicing putting is probably the most important thing you can do to lower your golf scores.
Having been around this game for more than 25 years and played at every level, it is the putting that makes the difference between a good player and the great player.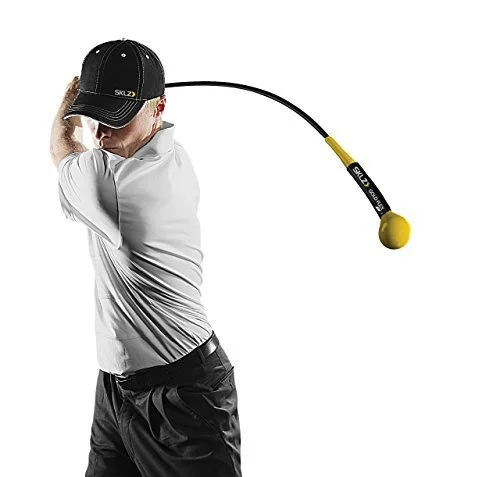 To practice putting effectively, a putting aid is a great tool. Here are the best putting aids on the market.
Our Best Putting Aids in 2023
---
PROS
Allows golfers to see what they are doing
Keeps your eyes over the golf ball
Helps with alignment and solid strike
CONS
Does not do much to help you practice speed control
The Genuine EyeLine Golf Putting Alignment Mirror sits at the top of our list. This Putting Mirror is one of the best ways for players to learn and visualize what it takes to make a putt.
One of the hardest things about becoming a great golfer is not being able to see what you are doing. With the putting mirror, you can start to learn more about your putting stroke and what makes it work.
The EyeLine is easy to set up, and it allows you to check your setup lines and your putter face alignment as well. The EyeLine also allows you to see if your eyes are over the ball when you make a stroke.
Most golfers don't realize how far off their alignment is. Even great players will practice their stroke repeatedly without realizing that they are not aligned properly at all.
The EyeLine is truly eye-opening (no pun intended!) when it comes to improving your putting fundamentals.
---
PROS
Unique shape
Returns putt the same distance that you may have missed
High quality feedback to make adjustments to your game
CONS
Narrow entrance means that your alignment has to already be pretty good
The PuttOut is a relatively new putting trainer, but it has really taken off and become one of the top putting training aids.
The most interesting factor about this trainer is its shape. The parabolic curved design helps simulate what it takes to get the golf ball in the hole and not leave your putts short.
Most misses in golf are players that hit the ball too short. You lineup to your hole, pick your line, swing and then let that little bit of hesitation keep you from getting the ball in the hole.
The PuttOut truly helps to give you the feedback you need to get your speed control down.
When you hit the golf ball too hard into the PuttOut, it will return the ball the same distance it would have gone past the hole. If you are getting putts back that are three and four feet long, chances are you are hitting the ball way too hard.
The PuttOut fits in your golf bag and is a great tool to pull out of your bag prior to a round starting.
---
PROS
Used by tour professionals
Helps with alignment
Makes sure your eyes are over the golf ball
CONS
Some people feel it is too restrictive on their stroke
Dave Pelz is truly one of the best putting experts that golf has ever seen. The Dave Pelz Putting Tutor is a tool used by some professional golfers to help players learn how to read a green.
As you have probably seen, putting aids to not all accomplish the same goal. Becoming a great putter takes lots of practice in many different categories.
The things that the Pelz Putting tool will help with include eye position, putter face position, and consistency in stroke. The tutor has guidelines in place that will help you aim and make sure that your eyes are over the golf ball.
One of the things we love most about the Pelz Putting Tutor is the two marbles on the front of the putting track.
If you hit a great putt, the ball will miss both marbles and travel towards the hole. If the ball comes off your clubface the wrong way, it will knock a marble off the track and cause you to miss the hole.
---
Best For Alignment
PROS
Helps to square up the clubface
Allows you to swing on the proper path
Can be used indoors or outdoors
Can use it to putt the ball through as well
CONS
The gate itself is a bit short
As we mentioned, alignment is such an important part of a great training aid. Golfers struggle to line themselves up properly because they are standing parallel to a target.
The Putt Trax Putting Gate Practice Tool will help players visually understand why alignment is so important.
The Putting Gate Practice Tool comes with a gate that you can set up just the distance that you need. You can set the gate up to practice your stroke, but you can also move it between you and the hole and work on putting the ball through the gate.
We like golf training tools that can be versatile because you can work in many different areas of your game at the same time.
This is one of the best putting path tools on the market for the straight back and straight through putting stroke.
---
PROS
A versatile tool for arc style strokes
Helps get the ball on the proper line
Affordable training aid
A tool you can use every day
CONS
Not adjustable for the straight back straight through stroke
As we mentioned, the Putting Gate Tool is a great choice for the straight back and straight through stroke.
For those that are using more of an arc-style stroke, the Golf Putting Arc is a a wonderful tool to have. This model has been used on professional golf tours, and it is proven very effective for putting training.
You can set up the arc to work sitting on the heel of your putter or on the toe of your putter. This is a nice option and will help golfers that feel as though putting training aids get in their way while they practice.
Simply line your putter up on the arc and swing back and through. Your putter face will square up, and you will learn how to properly putt on an arc. This putting trainer does the work for you and helps you keep the ball on line as well.
Many people report that after spending quite a bit of time with aids like this that they can almost feel the arc supporting their putter even when on the golf course. This is what makes this one of the best putting aids on the market.
---
Buying Guide
At this point, you have a wide range of different putting aids that can be used on the golf course or even at home. The putting aids we featured will make putting practice considerably more enjoyable and increase your ability to bring what you learned to the golf course. Here are a few of the most important things to keep in mind as you practice your putting.
Price
Putting aids tend to range in price from around $20 to more than $150. There is certainly no way to choose an excellent putting aid based on price alone as the different aids will vary in what they can accomplish based on the price that you pay.
Overall the highest priced putting aids are typically those that come with some type of app or a large mat to work with. Lower priced putting aids are typically portable options that can be placed in your golf bag.
Style
The type of putting aid you choose will vary depending on what type of player you are and the issues that you may have with your golf game. Some golfers like to work on their putting stroke, while others find distance control or alignment to be a bigger issue.
It's good to mix up the different types of putting aids you have. Choosing something that is like a putting gate and combining that with another tool like a putting mirror will allow you to focus on different aspects of your game
Portability
Golf putting aids are typically portable. However, you will want to consider whether you want to keep this putting aid in your golf bag or in your car. A putting mirror is a great tool but typically won't be small enough to stay in your golf bag.
However, something like a chalk line makes a good choice for storing in the golf bag.
Frequently Asked Questions
Finding the right putting aid may take a little time for you to figure out as there are so many on the market. Asking several questions before making your final purchase can make a lot of sense.
Conclusion
Owning a training aid for your putting is a great way to start lowering your scores on the golf course. The fewer putts you make, the lower you shoot; the formula is very simple. Putting in a little bit of time at home can make the days on the golf course that much better.
The Genuine EyeLine Golf Putt Trainer is the best tool to help the majority of golfers with their putting game. This tool gives you the line, the setup, the alignment, and the ability to learn about your own putting game.
The best putting aids are those that allow you to take what you learned and bring it onto the golf course with you. The Genuine EyeLine does this for you.