Sometimes putting a golf simulator in your home requires designing your own system and piecing together all of the parts. Other times a golf simulator company like Trugolf Simulators will make things easy on you and sell a complete golf simulator setup. Trugolf is one of the top names on the market for golf simulators, and it is easy to see why. Let's take a look at what sets TruGolf Simulator apart and whether or not this is an option that would work for your home golf simulator.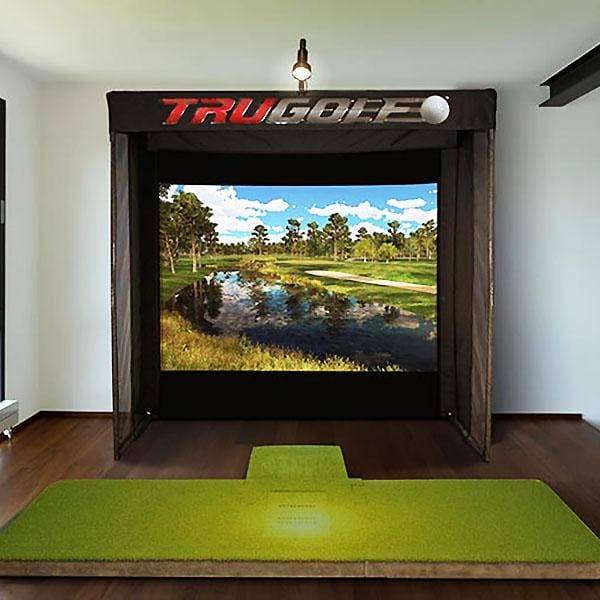 ---
Features And Benefits
In this Trugolf simulator review, we will talk about all three of the models that offered, the golf simulator software, and even the launch monitor that you get with your purchase. As you have likely figured, the golf simulator software that you get with your simulator is extremely important. Let's take a look at all of these features and benefits.
Models To Choose From
There are three Trugolf simulator models to choose from the TruGolf Vista 8, TruGolf Vista 10, and the TruGolf Vista 12. Depending on what your budget is and what you are going to use your golf simulator for, you will have to evaluate the overall value and Trugolf Simulator cost.
TruGolf Vista 8
The Trugolf Vista 8 is the most affordable of all the golf simulators in the Trugolf brand. For those that are just starting out with the golf simulator idea and want to invest in an affordable yet higher quality option, the Trugolf Vista 8 is the right solution.
With the Vista 8, you are going to get the E6 golf simulator software, as well as the TruTrack 2 technology that works as a launch monitor with your Trugolf simulator. The Vista 8 is the same size as the Vista 10 and Vista 12 the overall accuracy and player experience are not quite the same.
However, just because this is the lowest priced of the three models does not mean that you should cross it off your list. This is still a high quality, effective golf simulator.
TruGolf Vista 10
The TruGolf Vista 10 offers the same benefits that a TruGolf Vista 8 does, but the enclosure is a bit different. The enclosure is going to be deeper and a bit more like a real golf course experience. Players will feel as though they are really out on the course when standing inside this TruGolf simulator.
In addition, the flight of the golf ball seems to be a bit easier to monitor with the Vista 10. If you are looking for a golf simulator experience that can be picked up and moved from one room to another, the Vista 10 is the way to go. This is a very lightweight and easy to set up golf simulator.
TruGolf Vista 12
The TruGolf Vista 12 is the most expensive of the golf simulator options from TruGolf. If the Vista 10 gave you an outdoor experience, the Vista 12 makes you feel as though you are walking down a real fairway. The Vista 12 is quite a bit more money, and it is often an option that golf simulator businesses will purchase because of the technology and functionality.
Also, Read – Protee golf simulator review
Overall the Trugolf Vista simulators will come with golf simulator software, and they will work as residential or commercial golf simulators.
Components
The components of the TruGolf simulator are perhaps one of the main reasons it has become one of the best indoor golf simulators on the market. The reason is that this comes as a complete package delivered to your home, with everything you need to enjoy a golf simulator.
Whether you are a tech loving person or you struggle with knowing how to change the channel on the television, you should be able to set up your Trugolf simulator with ease.
The TruGolf simulators come with quite a few components, and it is a good idea to understand the way that these components will impact your final purchase. With the Trugolf Vista 8 Pro Version, you will get . . .
E6Golf Connect for one year
HD Projector
TruGolf Level 1 Computer
Touch Screen Display
TruTrack2
Deluxe Fairway Turf
Protective Side Nets
Containment Brim
Carry Bag
Limited Warranty
Many times when you purchase a portable golf simulator, you will have to purchase all of the components separately. Getting the golf simulation software, all of the components, and the easy setup all in one package really sets these Trugolf simulators apart.
With any golf simulator package, you must ensure that you have the proper room to place the simulator. However, you may be able to get it to work with slightly smaller spaces; we recommend a 15x10x10 space to be able to fit your TruGolf simulator package.
The most important factor tends to be height. If you don't have enough clearance for the top of your club, chances are you will start making adjustments to your swing that negatively impact your golf game. Be smart about how you are setting this up, and always ensure that you have more than enough space.
Accuracy
The TruGolf simulator is a very accurate golf simulation tool. The TruTrack 2 launch monitor technology can track everything from ball speed to ball flight to get accurate readings on the golf ball. You will have no trouble feeling as though the simulator is picking up on your golf game.
Some golfers will worry about the accuracy when compared to a Skytrak Launch Monitor or a Trackman. As we have explained in this Trugolf simulator review, everything from Trugolf is designed to work together. From the E6 Connect to the mat to the hitting screen, this all works as one efficient and effective package.
If you calibrate and set up your Trugolf simulator correctly, you will be very pleased with the overall results that you get from the simulator. In addition, the E6 Connect Software does a great job of making you feel as though you are truly on the golf course.
You will need to keep your E6 subscription renewed to have access to all the golf courses you want; however, this is a small ongoing fee to be able to use the simulator for years to come.
Setup and Connection
Even though looking at the TruGolf simulator will make you think that it is rather large and cumbersome when you receive yours, you will see that the package is rather lightweight and easy to maneuver. This is designed to be a portable golf simulator.
This means that you can set up the golf simulator in your living room one day and bring it to the office the next. Of course, it takes a bit of time to break down and sore the components correctly, but certainly much less than you may imagine.
One of the things that keep people from purchasing a golf simulator is the fear of the setup that they will have to deal with when it comes. Luckily TruGolf has made this one of the simplest processes on the market.
Even if you have never set up a golf simulator before, you should have no trouble putting the TruGolf together and getting it to calibrate. Since this is sold as one complete unit, you also won't have to worry about trying to get your current technology to work with the unit.
Software
In our TruGolf SImulator review, we have mentioned that the software included in this package is the E6 connect. The E6 Connect is one of the best-known software options for golf simulators. If you have an accurate launch monitor (like the TruTrack) and your setup has the proper lighting and design, the optical sensors will offer you some of the best indoor golf experiences possible.
The software is only as good as the date that you give it. Luckily when it comes to virtual golf, the Trugolf brand knows how to combine the system components and the software packages to make this a complete setup.
Of course, when you think about buying a new golf simulator, you probably think about playing a round of golf at a famous course. However, with the E6 connect, there is so much more you can do. You will be able to play golf courses located across the world, access real time tournaments, or even challenge and play with your friends in several different game modes.
The skills challenges offered by the E6 will give players lots of different ways to practice. The golfing community that enjoys the E6 software will be very easy to tap into, and you may end up making friends that also have a Trugolf Vista simulator.
This extremely accurate and life-like technology, combined with the touch screen monitor, makes the Trugolf set up one of the best simulators on the market.
Pricing
As you can probably imagine purchasing one of the Vista Series Trugolf simulators is not going to be cheap. However, when you look at the fact that all of the equipment is sold together in one complete package, the overall pricing is not all that bag.
Think about the process of buying launch monitors, projectors, screens, mats, and more to set up your own golf simulator. There is quite a bit of work involved in this process. With TruGolf, the overall process is much simpler, and it is not priced much higher than trying to put this together yourself.
With the hitting mat that is included, the frame storage duffel, cutting-edge tension system, and the touch screen monitor, you will have a hard time finding a golf simulator package that has a better value.
Make sure that you will invest enough time into your virtual golf round before making this purchase. However, for great players that have an off-season in front of them, this is a really great investment to make.
Conclusion: TruGolf Simulator Review
If you have the money to spend, there is no question that the TruGolf Vista series simulator is an excellent investment. Whether you are looking for a practice range or a golf course to use at home, the experience that you get with TruGolf is like nothing else on the market. In addition to the accurate data, competition modes, and impressive club fitting capabilities, you will have fun with the technology that this simulator offers. We particularly like the fact that you get the mat, net, and hitting screen with your purchase. There will be no issues with compatibility or longevity when working with TruGolf, and this should make the overall purchase quite a bit easier. Don't hesitate to order your TruGolf Simulator, with the winter season approaching it's important to keep your golf game sharp all year long.