As a golfer, you are only going to be able to put 14 clubs in your own bag.
The great thing about the 14 club rule is that it is fair for everyone involved. It does not matter if your handicap is a 30 or a two; you will still be able to carry 14 clubs.
The tricky part can be knowing what clubs are the must have golf clubs. Which are the ones that are worthy of having their own space in your own bag.
For an average golfer, these are the clubs that would typically be in their bag.
Driver
3 and 5 Wood
4 Hybrid
5, 6, 7, 8 and 9 Iron
Pitching Wedge
Gap Wedge/Approach Wedge
Sand Wedge
Putter
Here is some helpful information that will make sure that the clubs in your bag are actually helping you perform.
What Clubs Should Be In My Golf Bag?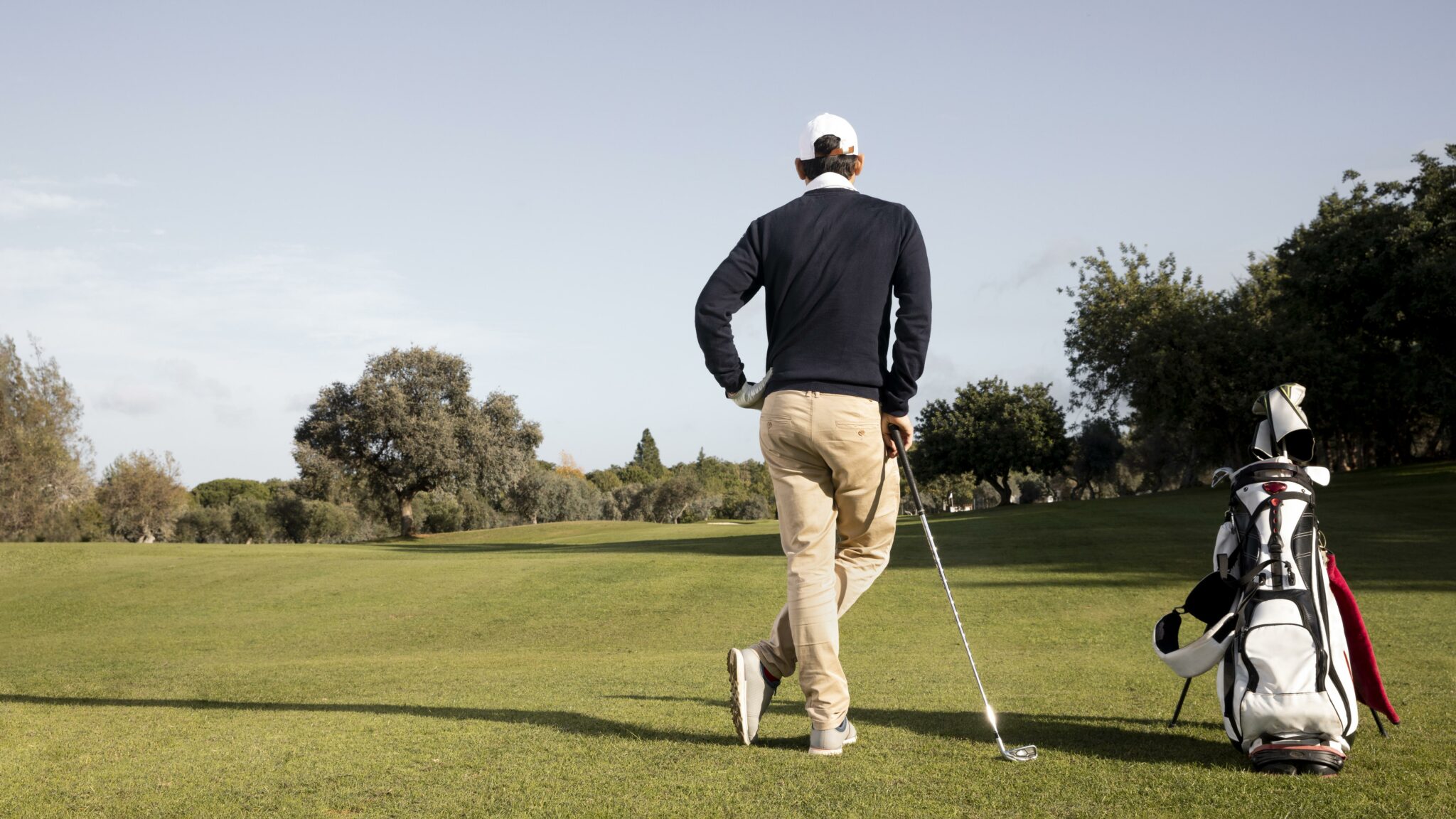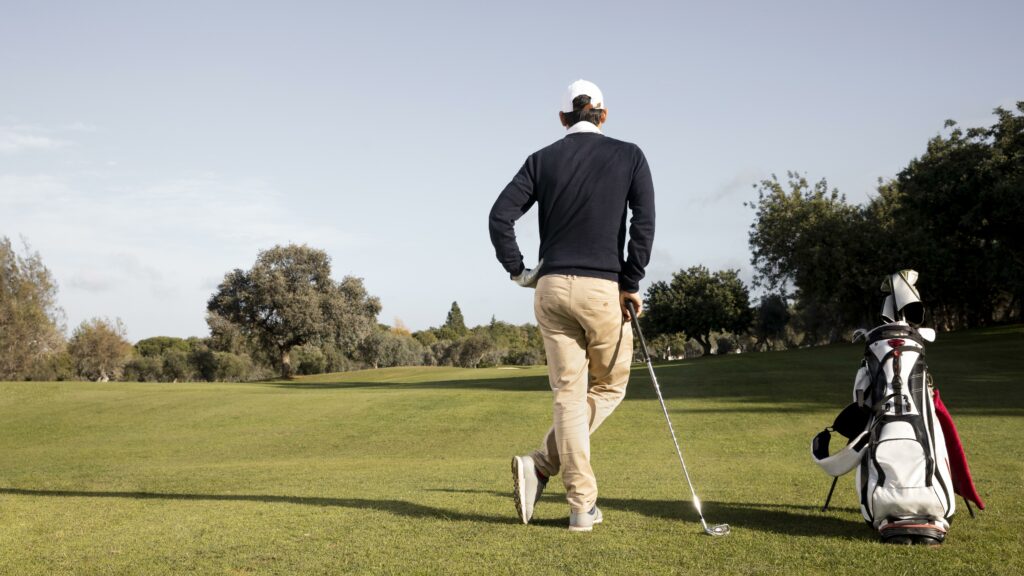 A golfers skill level is going to help determine the exact set makeup for their golf bag. A high handicapper and a low handicapper need to carry different clubs.
This is because of the different strengths and weaknesses they will have in their game.
High Handicapper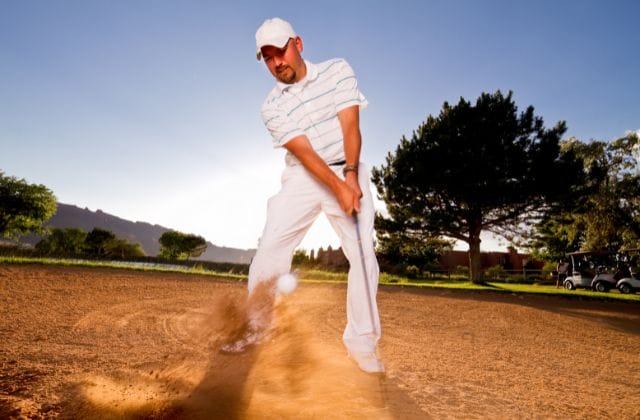 Driver
3 and 5 Wood
7-PW
Gap Wedge
Sand Wedge
High handicappers generally need to focus on two things, forgiveness and distance.
Golfers that have high handicappers should not put long irons in their bag, and they should rely on their fairway woods at times off the tee.
Many golf professionals believe that a high handicapper should not put a driver in their bag. This is not a theory that I believe in.
Most high handicappers are on a quest to become mid handicappers; eventually, they will have to learn how to release a driver and hit it straight down the fairway. Keeping it out of the bag does not allow for this.
Some high handicappers forget to equip themselves for the short game properly. These game is where all of the scoring shots happen.
Having pitching wedges in your bag is certainly not good enough. High handicappers need an assortment of pitching wedges and a forgiving mallet putter along with other necessary golf accessories like golf balls.
Mid Handicapper
Driver
3 and 5 Wood
4 Hybrid
5-PW
Gap Wedge
Sand Wedge
Lob Wedge
Mid handicappers need a mix of forgiveness and scoring clubs. Some of the long irons get a bit difficult for mid handicappers to hit the golf balls because many will lack the club head speed necessary to hit them consistently.
A mid handicapper should have a mix of irons, hybrids, and woods. Mid handicappers should consider their golf shaft choices very carefully.
This is where you may see that a golfers bag has stiff shafts in the woods but regular in the irons. Make sure that the shafts match the ability of the players.
When it comes to wedges, mid handicappers should carry the same number of wedges that the lower handicappers use.
Most of the time, a mid handicapper is looking to make it to the low handicap level eventually.
If this is the case, you will need to know how many clubs in your bag is sufficient that can help you score.
Putters for mid handicappers can be either blade or mallet style putters.
This is going to come down to a matter of preference at this point. Mid handicappers will want to look for golf clubs that are cavity back in style and have some forgiving features that make them easier to hit.
Low Handicapper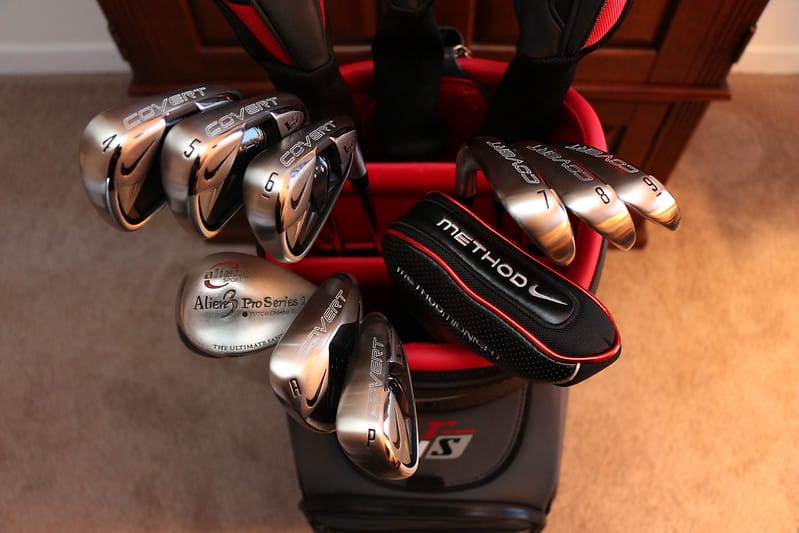 Driver
3 Wood
3 Hybrid
4-PW
52 degree gap wedge
56 degree sand wedge
60 degree lob wedge
As you probably noticed, the low handicappers are the only ones that we recommend carry long irons. In fact, our list says that a low handicapper should keep the four iron in the bag, but many will also keep the three iron in the bag.
It takes a lot of swing speed and precision to hit long irons properly. Lower handicap players tend to have the abilities necessary to hit these types of shots.
The types of clubs that lower handicap golfers use are going to be more of a blade style club. Their strong points will be precision, spin, and workability but not forgiveness.
Low handicap players need to use high performing wedges in their bag.
These clubs are going to be what helps them score and what makes the difference in the score should they get into some trouble.
Overall a lower handicap player is going to have more irons and wedges in the bag than both the mid and the high handicappers.
Some low handicappers don't enjoy hybrids, and they will carry two fairway woods instead.
We still consider a hybrid one of the essential golf clubs to keep in your bag.
What Clubs Should I Carry? – FAQ
Here are a few commonly asked questions about the proper golf clubs to carry in your bag.
Remember that each individual situation is going to vary, and you may have to make some tweaks to find the exact set of clubs for your game.
Should A High Handicapper Use A Driver? 
Yes, a high handicapper needs to learn how to hit a driver. In the beginning, if the higher handicapper feels more comfortable teeing off with a fairway wood, that is entirely acceptable.
However, when they go back to the driving range, the driver should come out of the bag and be worked on.
A golf driver is one of those clubs that can make you or break you. Putting the necessary time in to get better at hitting a driver will absolutely pay off. 
Are Lob Wedges For All Golfers? 
Not all golfers prefer to keep a lob-wedge in their bag. If your chipping and pitching fundamentals are not all that great, then you should probably be using the sand wedge and the pitching wedge for your shots around the green.
 
It can have very poor results if you do not hit them properly. Players get nervous that they are going to hit these clubs well over the green and cause more problems for themselves. 

Once your fundamentals are in place, this wedge is excellent for backspin and getting yourself out of a difficult bunker. 
Do I Really Need A Hybrid In My Bag? 
Some golfers are reluctant to carry a hybrid in their bag. When you first pick up a hybrid club, you will notice that it performs a bit like an iron and a bit like a wood. It takes a little getting used to, and that will discourage a few players. 

A hybrid is a very valuable club to keep in the bag. It will perform out of the rough better than any of the other golf clubs in the bag.

For long-distance shots out of the rough, people tend to try fairway woods and long irons, and the results are not all that good. With a hybrid, you will find that you still get plenty of distance and accuracy even out of a bad lie. 
What Clubs Should Beginners Carry? 
Beginners often wonder what clubs are necessary when they are just starting out. For a person who is heading out to the golf course for the very first time, it is not necessary to have all 14 golf clubs in a bag. 

Beginners should start out with some kind of a club to tee off, something for long shots from the fairway wood (hybrid preferably), three irons, a wedge, and a putter. This is plenty to work with until their game starts to improve.

In the beginning, the new player will hit almost all the clubs the same distance; this is why it does not really matter that they carry all fourteen clubs. 
Do I Need To Carry All 14 Clubs? 
Don't feel pressure to put fourteen clubs in your bag. Fourteen is the maximum amount of clubs that you can carry, but there is no minimum. If you feel as though you only need ten clubs in your bag, that is entirely acceptable. 

Most pros and better players are going to carry all fourteen because they want as many tools as possible within their set of clubs.

At a higher skill level, the distances that players can hit each individual club will be very well defined, making it more important to carry as many clubs as they can. 
Is Purchasing My Own Set Of Clubs Worth It? 
With a typical bag setup, you will want to have your own set instead of sharing it with a friend. The golf clubs will have the proper shaft flex and length for your game, and they can be designed to help you succeed on the course. 

If you are on a budget and wondering what 14 clubs you should carry, think about a beginner's set that has 10 or so clubs, it may be all that you need to have in the bag.
How To Find Perfect Clubs To Use?
A golf club fitting is the best way to find the perfect golf clubs to use. However, some golfers will do this through trial and error. The golf clubs that low handicappers use will be different from what 14 clubs should a high handicapper carry. 

Sometimes it takes an understanding of what your swing speed is and how solid your golf swing is to be able to find the perfect clubs. 

For some players, golf clubs are constantly changing. As your game improves or gets worse, you need to adjust the equipment to work for your needs. In the end, the perfect clubs to use will probably be something that develops over time and will be unique to each golfer. 
Conclusion
Deciding which golf clubs should earn a spot in your bag can be a difficult choice. There are many choices out there, and it can be hard to decide on just fourteen clubs.
As you can see from our breakdown, the higher your handicap, the more forgiveness you need in your set. Keep the woods and the hybrids in and take out the long irons.
As your handicap gets lower, you will need the scoring clubs in the bag. The clubs that will stop on a dime and allow you to hit a draw, a fade, or a cut. If you are having a hard time deciding on the right clubs for golf, check out some of our reviews and guides.
With over twenty-five years invested into this game, we know which equipment works for each skill level.