Playing golf with sweaty hands is very difficult. Even if you are using cord style grips that provide the ultimate grip, sweaty hands are frustrating.
Wearing a glove will allow you to better connect with the club, but they can make your hand sweat even more. There are several manufacturers that have gloves designed for the golfer with this exact issue.
Here are the best golf gloves for sweaty hands in 2023.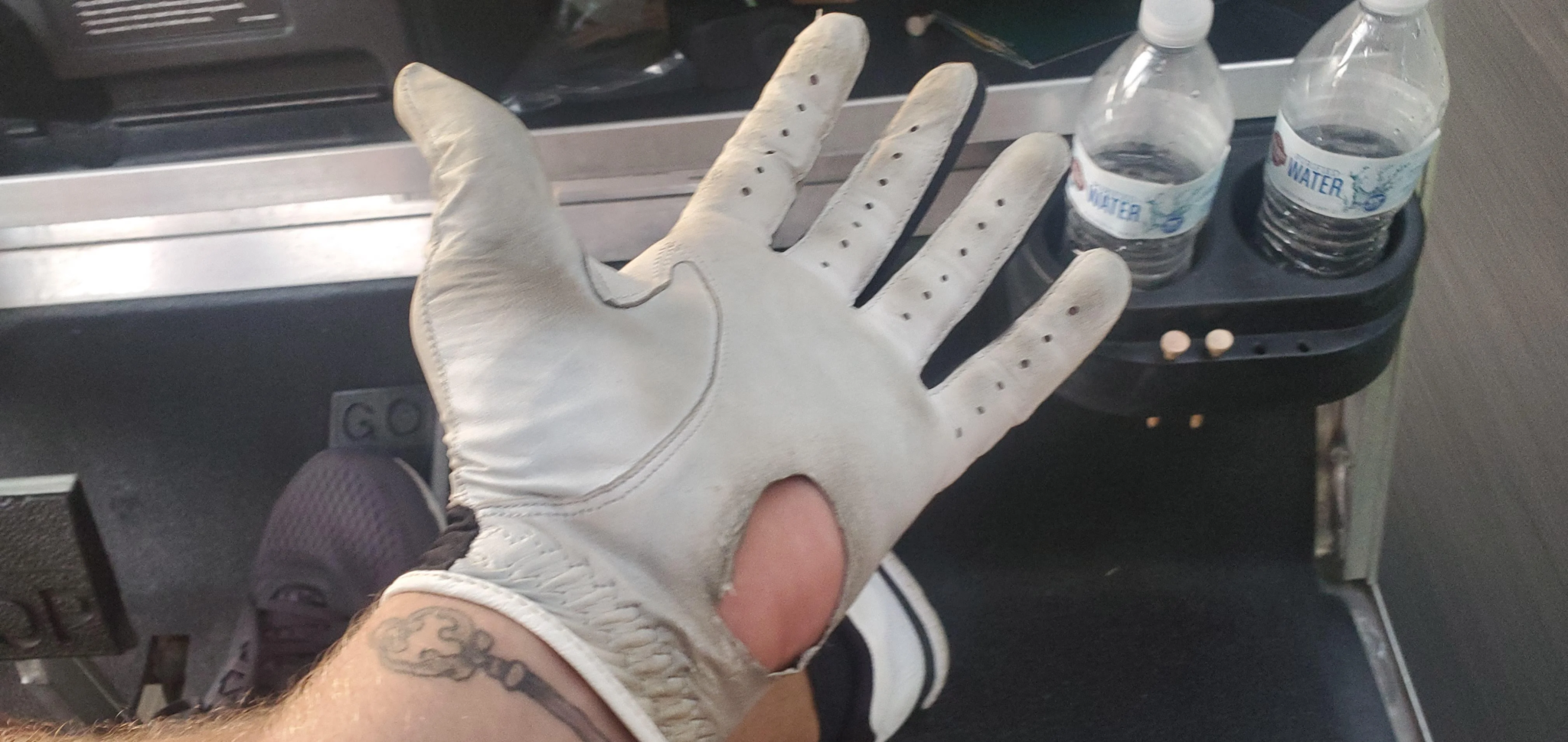 Best Golf Gloves For Sweaty Hands in 2023
---
PROS
Comfortable
Wicks sweat away and dries fast
UA Cool tour fabric
When you have sweaty hands, golf with a glove on can get uncomfortable. The Under Armour Iso Chill is a glove that works to keep you cool while also helping you hold onto the golf clubs.
With sweaty hands, it is even more essential to have a great grip on your golf club. That's what makes the Under Armour UA stand out as the best.
This glove is made with 84% polyester and 16% elastane. The hook and loop closure will help t make sure that you get a snug fit on your hand as well.
The thing that truly sets the Under Armour apart is the UA Tour Cool Fabric. The fabric pulls heat away from your skin while you are playing. When you put the glove on, you will feel cooler as soon as you close the glove.
Since this is a Cabretta leather glove, you also get very high quality and durability as well. Along the back of your hand, you will have micro perforations to help air get through to the back of your hand as well.
If you wanted the fastest drying best golf glove for sweaty hands, the Under Armour is a perfect choice.
---
PROS
Great for keeping your hands cool
Perforations in the back keep your hands dry
Excellent traction on the golf club
The WeatherSof glove has always been an excellent choice for a variety of weather conditions. Whether you are playing in heat or the cold, the WeatherSof is a great choice for golf gloves for sweaty hands.
The WeatherSof gloves provide a very good mix of durability and value. They are one of the lower priced golf gloves on FoodJoy's lineup of gloves. The FiberSof material helps golfers to have a comfortable feel but also a very soft texture as well.
The closure on the FootJoy Men's WeatherSof also helps to make sure that you get a very good fit. Considering the back of the glove has holes to help your hand get air, it also makes for one of the best golf gloves for hot conditions.
The only downside of the WeatherSof is that the pad of the glove is a bit thick. This can be a good thing for golfers who tend to wear out gloves easily from their hands being wet all the time.
---
PROS
Leather glove
Premium feel
Opti fit closure
Thin and lightweight
CONS
Tend to deteriorate a bit quicker than other gloves
The Callaway Dawn Patrol gloves are made up a premium leather construction. These gloves have a great feel, and they fit your hand quite comfortably as well.
One of the major reasons they make it on our list for the best golf gloves for sweaty hands is that they are built for moisture reduction.
The Dawn Patrol name comes from a golfer that needs help drying their hand a bit because of the moisture in the air. If the moisture in your glove is from your sweaty hands, the glove won't know any different.
This glove works to help dry your hand and increase breathability as well.
The Dawn Patrol features a stretch binding cuff that helps to absorb moisture as well. As a golfer, you know that as the inside of the golf glove starts to get wet, it will run down on your hand and wrist.
This is a frustrating and uncomfortable at the same time. Luckily the Callaway stretch binding cuff helps to absorb the moisture.
---
Best Women's Golf Glove for Sweaty Hands
PROS
Made of Cabretta leather
Holds up well over time
Great feel
Helps golfers not to grip the club too tightly
Available in many colors
CONS
Closure does not pull all that tight for larger handed player
Women golfers also need a solution for humid and warm conditions the MRX is an excellent choice to consider. T
his glove is a little thicker with a very structured palm. The structured palm helps golfers to maintain a good grip on their club without having to adjust grip pressure.
The MRX Women's Glove is made from premium leather, and is available in both regular and cadet sizes. You will notice with the MRX that even if your hand does start to get a little wet, you will not lose any traction on the club.
These gloves do not function as rain gloves, but they will be very close when it comes to the performance. If you are a golfer that plays in hot and humid conditions, the MRX will certainly do the trick.
---
Best Premium Golf Glove for Sweaty Hands
PROS
Superior non slip grip
Very durable
Long lasting glove
Pulls tight for a great fit
If you are not worried about pricing on your new golf glove, the CaddyDaddy could be a great choice. This Caddy Daddy glove is placed at the top of the market, but there are several reasons behind that.
If you are a golfer that struggles with grip pressure, this is a glove that you will want to check out. The Non Slip grip has silicone ridges to help make sure you always have control over the club.
If you are playing in humid weather and everything on the course feels moist, the CaddyDaddy glove will do a great job of providing stability and control.
The back of the glove has a lot of airflow. This airflow will help to keep your hands from getting overheated and sweating even more. Since the top is made from a mesh material, your hands will be able to stay cool as well.
Although you spend a bit more on this glove, you will notice that this claw glove will be around for quite some time. If you play in hot and humid weather, it makes sense to keep one of these in the bag at all times.
---
Best Lightweight Golf Glove for Sweaty Hands
PROS
Lightweight material
Low pricing
Stretchable materials for a great fit
Puma makes a variety of athletic gear that is known to be very technologically advanced. Puma works to make sure that golfers feel like athletes when they are on the golf course.
The Men's Flexlite is one of the best gloves for sweaty hands because it is so lightweight.
The glove is constructed with 52% polyester, 42% polyurethane, and 6 % spandex. You will find that you get lots of comfort and a perfect fit, in addition to being prepared for warmer and humid weather.
The back of the glove is made from a very lightweight material that will also dry quickly should the back of the hand get wet.
The Puma gloves are very affordable, and they are certainly worth a shot if you struggle with sweaty hands on the course.
---
Best Golf Gloves for Absorbing Moisture
PROS
Thin palm for great feel
Comfortable feel
Adjustable closure
Quick drying
Breathable
The Mazel Premium golf gloves are a great option for a moisture absorbing synthetic leather golf glove.
If your glove gets wet because you have sweaty hands, the air is a little humid, or you are playing early in the morning, the Mazel will work to dry things up a bit.
This golf glove is easy to adjust the closure, allows you get great performance in rainy or hot conditions, and it is breathable as well. If you want to make sure you have an ultimate connection with your golf grip, this is a great choice to consider.
The Mazel brand is also very affordable when it comes to golf glove pricing. You can purchase a few of these and be ready to take on an entire season of hot weather.
---
Best Golf Glove for Senior Golfer with Sweaty Hands
PROS
The strong grip, less finger flex necessary
Form-fitting LightPrene material
Best gloves for arthritis
CONS
Bionic gloves are always some of the most expensive gloves on the market
Senior golfers that struggle with arthritis will have a hard time finding a glove that is perfectly suited for their game. The Bionic Men's Relief Grip glove is a form fitting glove that will work for arthritis and a sweaty hand.
The back of the glove is made with a lycra motion material. This material is put together in what Bionic calls web zones. These zones help to provide more room for the fingers to move around, and the hands stay more dry as well.
The Bionic glove makes it so that players can loosen their grip pressure and have less pain during a round of golf. With a Cabrettal leather construction, the bionic gloves are built to last a golfer a long time.
---
Buyers Guide
Now that you have a better idea of which golf gloves are the best on the market, it's important to look at which are best for your game. Here are a few of the most important things to consider about the best golf gloves for sweaty hands.
Glove Size
The size of the glove should be very tight to your hand. If the glove size does not match specifically with your hand, it will have extra fabric and decrease the feeling that you have.
This reduction in feel makes it very difficult to control the golf glove. The first time you shop for gloves, make sure to try on several of them. In addition, be aware that not all companies have the same glove sizing.
Brand
The top brand in gloves is typically FootJoy and sometimes even Titleist. However, as the glove selections are increasing and improving, we see more options from brands like Callaway and TaylorMade. In addition, there are options from Vice, Zero Friction, and more.
The brand is not necessarily as important as the overall fit and functionality. However, golfers should be aware of the quality and longevity of the glove they are purchasing.
Features & Materials
The golf glove will be leather or synthetic material. The leather material has a really impressive feel and connection with the golf club, but it is more money and will deteriorate quicker. The synthetic material is a bit more durable and can be a good choice for those with sweaty hands.
Another thing to look for in a glove for sweaty hands is the ability for your hand to cool down. The back of the glove has a mesh material will allow your hand to breathe, and it significantly decreases sweat.
Pricing
Golf gloves vary in price from around $9 to more than $20. The average golf gloves are in the $12 to $14 range. Golfers with sweaty hands tend to go through gloves a little bit faster, making it important to look for specials and package deals on golf gloves.
Many providers will offer you a lower price per glove if you are able to purchase them in a pack of six. Once you find a glove you like in the size you need, this is a smart choice.
Frequently Asked Questions
Conclusion
If you thought you were the only golfer out there with sweaty hands, think again. Golfers struggle with the need to wear a glove and then the fact that the glove makes their hand too warm. It is hard to find the proper balance.
The Under Armour Men's UA Chill does a great job of keeping your hand cool while still making a great connection to the golf club. This is an affordable and high functioning glove you will keep in your bag for a long time.