If 2023 is the year for you to update your putter, you are in luck. The technology in putters has come so far in the last few years. For the first time ever, shafts are being made with different materials.
The inserts used in both mallet and blade putters have higher MOI and better roll than we have ever seen before. The only hard part is deciding which putter is best for your game!
At A Glance: Our Top 12 Picks For Golf Putters On The Market In 2023
We went ahead and picked out our favorite options for best putters across a few different categories. Each putter on this list is one to consider if you are looking for a putter facelift this year.
Quick Summary: Our Top Picks For Golf Putters On The Market In 2022
IMAGE
PRODUCT

Best Putter 2022

TaylorMade Spider X Putter

True Path Alignment System
Adjustable weights
Heavier club head, more stability

VIEW LATEST PRICE →

Runner Up 1

Odyssey O Works #1 Putter

Microhinge insert
Black clean and simple look
Available in several different styles

VIEW LATEST PRICE →

Runner Up 2

Cleveland Frontline Elevado Putter

Sleek all-black design
Variety of club heads to choose from
Proprietary aiming technology

VIEW LATEST PRICE →

Best Cheap Putter

Pinemeadow Golf PGX Putter

Very low price
Great alignment lines
Clean black and white look

VIEW LATEST PRICE →

Best Putter for Alignment

Nice feel
Easy to use
Legal for tournament play

VIEW LATEST PRICE →

Best Putter for Forgiveness

Odyssey Golf Eleven Putter

Very easy alignment
High MOI
Improved performance from previous putters

VIEW LATEST PRICE →

Best for Adjustability

Cobra King 3D Printed Putter

3D printed technology
Multi-material construction
Cobra connect grip

VIEW LATEST PRICE →
---
PROS
True Path Alignment System
Adjustable weights
Heavier club head, more stability
Used on PGA Tour
If you have followed any of the professional golf tournaments in the last few years, you should have a pretty good idea about the TaylorMade Spider series of putters. This putter is something that the golf world had not seen before, and it has changed the view of mallet putters for many people.
The latest version of the TaylorMade Spider is the Spider X. This has a revolutionary X shaped design to help increase stability at impact. The theory is that with a thinner, less heavy blade putter, it tends to wobble at impact.
The more a putter head shakes, the worse the results will be. Getting a ball to start and stay on a solid roll is what putting is all about.
The Spider X comes in a range of color options. Some will features a few lines on top, and others have just one solid line. Regardless of your visual preference, there will likely be a model that works for you. In addition to the color options, there are a few different choices for the hosel type on these mallet putters as well.
The True Path Alignment System is the result of TaylorMades research on what helps a golfer aim the face and return it to square at impact. It is very easy to align.
Even after all of these positives, we still have one more thing to add about this Spider X putter; it is adjustable. We know it is hard to believe! The Spider X comes with three weights that can be moved and positioned to give each golfer the feel that they desire.
Available standard in the 33, 34, or 35-inch model, it that will earn a spot in your golf bag for a long time. It certainly earned a spot on our best putters list. You can also go for the TaylorMade Spider GT putter. TaylorMade Spider GT is another positively reviewed putter from the Spider series.
Read our TaylorMade Spider Putter X review.
---
PROS
Microhinge insert
Black clean and simple look
Available in several different styles
Medium price range
CONS
Not the latest release
No stroke lab shaft
Next on our list, we had to choose something at a little lower price point. These Odyssey putters are what we consider to be the best value right now on a new putter. The O Works series is not the latest release from Odyssey, but it certainly deserves a good look.
There are several models available of the O Works putters. Our favorite option is the Marxman, but it is again a mallet putter. If you are looking for a traditional and classic blade putter, consider the #1.
This series of putters feature an all-black finish that helps to eliminate glare and make alignment easier. The O Works black putters have a clean and simple look at address. They all feature the Microhinge Insert technology.
The micro hinge insert is designed to provide a more true roll, and it does work.
If you have an older model putter Odyssey put out and are thinking about upgrading, this would be a great option to consider. The O Works has all the signature looks that Odyssey has always put forward with some new and improved technology.
Also, Read – Best Putters Under $200
A golf putter should feel like a best friend. You should be able to rely on it when things get ugly out there. We can honestly say that although we like some Odyssey putters better than others, none of them are bad.
Just like the Spider putter, this Odyssey comes standard in a 33, 34, and 35-inch length. With how good the weighting is on these putters, choose the right size from the start or go for a fitting prior to ordering.
---
PROS
Sleek all-black design
Variety of club heads to choose from
Proprietary aiming technology
Speed optimized face
CONS
Not as heavy in the head as the Spider
Next on our list is the Cleveland Golf Frontline Elevado. Although the Frontline is a complete series of putters put out by Cleveland, we like the Elevado option.
This putter offers tungsten forward weighting and the center of gravity much closer to the clubface. This weighting helps create that same stability that we said the X putter focused on so much.
Just as this game has become so focused on speed with the woods and irons, the same goes for putters. Cleveland Golf features its speed optimized face technology that helps to make the speed coming off the face more consistent.
Do you ever have a putt that you miss the sweet spot by a little and it seems to take off and roll forever, or only roll halfway to the hole? Cleveland speed optimized face with help with that.
Now that we have covered what Cleveland Golf did when it comes to distance control, what about alignment? Cleveland used their proprietary 2135 technology to help players achieve perfect alignment on each putt.
With the clean black putter head and shaft, you can easily see if you are lined up to your target or not. Even though there are several models of the frontline putter, all of them feature some incredible alignment technology.
Not only is it offered in three different lengths, but there are two different hosel configurations as well. One option is a slant, and another is a single bend. Each will have its benefits depending on the type of putting stroke you have.
It comes with a headcover, and it is priced around the same as the Odyssey O Works putters we reviewed.
If you are looking for a cheaper option but like the look and design of the Cleveland frontline, take a look at the Cleveland Huntington Beach model from last year. It has many of the same characteristics (although you will miss the all-black look).
---
Best Cheap Putter
PROS
Very low price
Great alignment lines
Clean black and white look
CONS
Feel is not as good
Roll coming off the face is not as consistent as others
If you love the idea of adding a new forgiving putter to your bag but hate the fact that it can cost a fortune, then this Pinemeadow Golf PGX putter could be for you.
To be transparent, the Pinemeadow is not going to have the same technological advances or feel that something like a Scotty Cameron or a Spider X would have.
One of our favorite things about the PGX is the coloring and design. This is a bright white club head with some black alignment lines. The putter head stands out on the putting green than many of the other golf clubs we have seen. If you struggle with alignment, this putter will help.
Usually, cheap golf putters are also quite light, making them difficult to use on faster greens. Fortunately, Pinemeadow made this mallet putter at 380g, which puts it in the same category as other tour weighted putters. It will absolutely work on faster greens regardless of your particular putting stroke.
The Pinemeadow PGX is one of the best golf putters for beginners because of its price, clean lines, and forgiveness. It won't come off the clubface quite like a Scotty Cameron, but it certainly won't leave you disappointed.
---
Best For Alignment
PROS
Best putters for alignment
Nice feel
Easy to use
Works for men or women
Legal for tournament play
CONS
Priced a bit high
Not as heavy as some players would like
When you look at some of the significant differences between the putting game of tour players and amateur golfers, the thing that stands out most is alignment. Amateur golfers struggle to get the putter face appropriately aligned to the target.
It doesn't matter if you are using a mallet style or a blade putter, making sure your golf ball is lined up with your target is difficult.
The new S7K putter does something that even Scotty Cameron has not done yet; this putter can stand on its own. You can line your golf ball up to the hole, step back and check your alignment and it will remain standing. This is undoubtedly something the game of golf has not seen before.
The S7K is capable of standing even on a sloped lie, and it is the perfect way to make sure your putter's face is lined up with your target. As far as the overall design of this putter goes, it will look like a modern blade.
The back end of the blade extends out further than a traditional blade but not nearly enough to call it one of the mallet putters.
This putter comes standard at 34 inches, making it a perfect height for the majority of golfers. The pricing of the S7K is a bit higher than a Cleveland and less than some of the premium options like the Spider or a Scotty Cameron Newport.
If you feel that alignment is the weak link in your putting game, give this one a chance.
Read our Pinemeadow PGX Putter review.
---
Best Putter for Forgiveness
PROS
Very easy alignment
High MOI
Improved performance from previous putters
The Odyssey Eleven Putter will make the game considerably easier for golfers of all handicap levels. These have a putters MOI high and very stable performance at impact. Even if you are known for being a little unstable at impact, the Odyssey Eleven putter can help you become more consistent.
The center of gravity in the Odyssey Eleven Putter is further forward than previous models of this putter. With the center of gravity forward, the MOI is higher but there is still plenty of forgiveness in the putter's head. In addition, you can get this putter head in the Stroke Lab model to have even better performance in the shaft.
The White Hot insert is featured in the face of the Odyssey Eleven putter, ensuring that the feel and sound are perfect every time. The Odyssey Eleven comes in a few different models, but the Tour Lined model is our favorite. For those that struggle with alignment issues, the Triple Track is a great option to consider for your golf gear.
---
Best for Adjustability
PROS
3D printed technology
Multi-material construction
Cobra connect grip
CONS
Large club head takes some time to get used to
The Cobra King 3D printed putters are a brand new option that is a unique release from Cobra. These use a variety of materials and even have a 3D printed piece that allows for players to get better weighting and more adjustability in the putter head.
One of the things that really sets the Cobra King 3D putter apart from others on the market is the adjustability in the weighting. When you can adjust the weights in the club, head golfers can get the putter to work perfectly for their needs.
The Cobra King 3D Printed putters come in a few different styles, but the large mallet heads are the most popular. These putters make it easier to manage distance and control the overall performance. With the Arcos Caddie App and the Cobra Connect Grip, you can easily capture the performance that you are getting from your golf putter.
---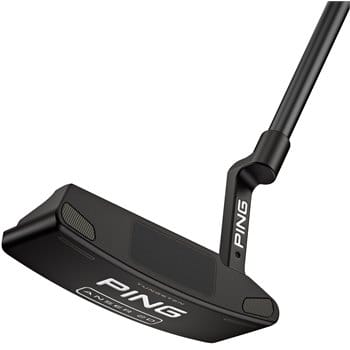 PROS
High MOI Blade
Precision putting performance from Ping
Tour-proven model
Stable clubhead
CONS
For straight-back and straight through putting strokes, the blade style is not always the best
The Ping Anser 2D is a new release to the market in 2023 and our favorite premium golf putter. Ping is jumping on the train with other companies that are determined to make high MOI blades. One of the things that I like best about the Anser 2D is that it's already proven on the PGA Tour.
This is a club that several players have been using, including Tony Finau. The new PEBAX insert helps to create a softer feel and a more consistent feel coming off the clubface. A soft feel is important because it allows you more control on the green, but Ping always ensures enough firmness to keep the ball on line.
Tungsten heel and toe weights give the putter head much more stability. In addition, the fact that this putter head is all black really helps it stand out from others on the market.
The Ping Anser 2D works for the lowest handicap golfers to the highest as it checks all the boxes for what golfers should be looking for from high quality and great feeling putter.
---
PROS
Anti-glare finish makes it easy to see
Counterbalanced technology
Consistent feeling at impact
CONS
Counter balanced putters are not great for arc-style strokes
The best center-shafted putter is the Wilson Infinite South Side. Many putter companies will make various designs in their putter heads, but very few make a center-shafted model. Center-shafted putters do a good job of allowing more stability and impact, and the Wilson Infinite South Side is no exception.
This putter features a double milled face that helps with consistency and distance control. In addition, some really impressive things are done here with the look of the putter.
The anti-glare finish is a new PVD dark color, so you can really see the contrast when on the greens. There are also alignment lines in place that stand out even more because of the anti-glare finish.
The lines for alignment are perpendicular and parallel to help various players. If you have ever struggled with alignment in the past, the Wilson Infinite makes things considerably easier.
This is a counterbalanced putter so that your feel is more in the hands than in the clubhead; most players find this to be more forgiving and gives them more control on the shorter putts around the green.
---
PROS
Forgiveness on off center hits
Precision milled face
Softer feel
Consistent speed control
CONS
Larger clubhead takes a bit of time to get used to
The Cleveland Huntington Beach Soft 11 putter is our favorite choice for the higher handicappers. High handicappers need a putter that simplifies things, and the Cleveland Huntington Beach Soft 11 can do just that.
This club features a speed-optimized face. Essentially as each golf ball comes off the face of the club, it is going to have a consistent speed. Players will notice that distance control is greatly improved, and it is easier to determine how far the ball will go when you make contact.
In addition, since this is a Soft model from Cleveland, you will get a softer feel that is easier to control. The 304 stainless steel makes it a crisp feel but is soft enough that high handicappers can learn to control their shots a bit more.
Another great feature here is the forgiveness on off-center hits. Most high handicappers do not realize the reason they struggle with putting is that they miss the center of the clubface. If you have a club in play that has a little more forgiveness, your chance of the ball going in the hole is a bit higher.
---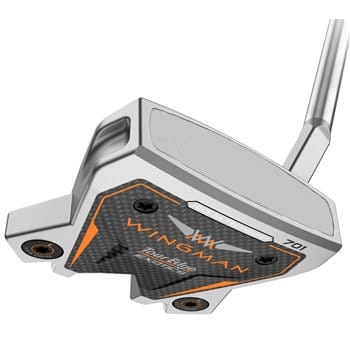 PROS
Micro Groove Face Technology
Higher MOI
Stable roll and feel
Fair pricing for the technology
CONS
Large putter head is a bit bulky at first
The best putter for a beginner is the Tour Edge Wingman 701. This is a new release to the market, and it will expand on the Wingman series that helped Tour Edge putters make their mark. What we love about the Wingman is that it has an extremely high MOI, perfect for the beginner player.
In addition to being forgiving, the club head is very stable at impact. Almost all new players have more movement in the clubhead than they should. The Wingman helps to stabilize and optimize the roll.
Golfers will notice the Lock On Alignment technology that is large and efficient. Essentially if you didn't know where to look at address, the Wingman makes it easy to determine.
A Hollow Carbon Sole Plate installed on the putter of the putter moves weight to the side and back of the putter to help with distance control. The 701 is a mid toe hang model that helps golfers who are trying to keep the face square during their putting stroke.
Even if you improve your scores and quickly become a great player, the Wingman 701 will be a great club for years to come. This is a better long-term choice for beginners than a cheaper Ray Cook putter.
---
PROS
Very high MOI for a blade putter
A very popular face insert is back in play
Forward center of gravity
Tungsten used for more consistency
CONS
Higher priced
Some golfers looking for MOI want a mallet
The Odyssey Tri Hot 5k is the best high MOI putter for golfers. What we love about this model is that it is a blade style, which is not something golfers typically expect to be high MOI. Blade designs are not generally as forgiving as mallets, but Odyssey wanted to change that.
There are a few technologies here that come into play. One of the first is a reduction in spin from the off center hits. In addition, a 303 stainless steel front section helps to keep weighting and center of gravity in place.
Looking at most golf clubs from Odyssey, you will notice that Tungsten is a major player now. In this putter, the Tungsten was installed behind the face and in the toe and heel. The result is an improved roll but still that focus on forgiveness.
The popular Odyssey insert is also in play here. If you liked the feel, sound, and performance of the old Odyssey putters, the Tri Hot 5K would stand out as one of the best putters for your game.
---
Golf Putters Buyers Guide
Choosing the perfect putter is difficult. There are so many great options on the market that golfers have to work hard to know which ones would be the right fit for their game. Luckily there are a few key features that you can look for between putters to decide which one is correct for you.
Mallet vs. Blade
The mallet and the blade putter both have unique performance attributes and can work for a variety of players. Mallet style putters are more forgiving and often have better distance control for golfers. The mallet putters are becoming more and more popular and are available in a variety of sizes and styles.
Blade putters are well known throughout history as being the classic design that better players go for. Blade putters are often good for fast greens and can be really helpful with an arc style putting stroke.
Just because more and more mallet putters are coming to the market, you do not need to rule out blade putters. The blade putters still have a tremendous feel and potentially a bit more workability than the mallet putter.
Pricing
The price of a putter has become a factor in recent years. Pricing is going up on these because of the continually improving technology and the different materials that are being used in these putter heads.
Putters are typically going to be priced between $100 and $400. The pricing of the putter is a consideration, but golfers need to consider how important a putter is and how often it will be used in the course of a round.
This is a very important club, and you need to have full confidence that you are playing with the best possible option for your game.
Putter Length
The length of the putter is another essential factor to consider when choosing the best golf putter for your golf gear. Putter length can vary from around 33 inches to over 35 inches. The rules of golf are very lenient when it comes to putter length.
The average length of a putter on the PGA tour is 34 inches. If you are over 6 feet tall, then the 35-inch putter will make more sense. You can cut putters down to match your needs, but you will have to pay close attention to the counter balanced putter designs on the market.
Putter Grip
Many golfers like to put a large midsize or jumbo grip on their golf putter. The larger grips help take hands and arms out of the equation and allow the golfer to focus on putting with their larger muscles like their shoulders.
Putter grips should be changed relatively often. You will not want to have a forceful grip on your putter, and when it is new and tacky, your hands are more likely to rest on the club without gripping it too hard.
Putter Shaft
For quite some time, the only shaft available in the putter was a stock steel shaft. However, as technology has changed, so has putter shaft technology. Today the Stroke Lab shafts available in the Odyssey golf putters have really changed the performance that golfers can get. The Stroke Lab is a combination of graphite and steel in the same putter shaft, and it makes a tremendous difference in overall feel and performance.
Frequently Asked Questions
Now that you have your list of the best putters on the market in 2022, it is time to answer some frequently asked questions when it comes to them.
Choosing the right putter for you does not need to be difficult, but there are some things a golfer should know before ordering the next putter for their game.
What Length Putter Do I Need?
Putter length is going to vary from player to player. Ultimately you need something that is going to allow you to get your eyes over the golf ball. If your eyes are over the golf ball at address and you are looking down the line, then your putter is the proper length for you.
For most players, the perfect length is going to be right around 34 inches. Putters are usually sold standard in 33, 34, and 35-inch lengths for men. A putter that is too short for you seems to be a better problem than one that is too long. Various retailers offer the opportunity to get a putter fitting if that is something you may be interested in.
What Is The Best Putter For A High Handicapper?
Most beginners like the mallet putter because of the longer alignment lines and the larger, more forgiving sweet spot. Mallets can help high handicappers have an easier time lining up and ultimately making more putts.
Another reason we like the mallet putter head for a high handicapper is the weight. The weight of the mallet seems to help with twisting and turning of the clubhead at impact. Cheaper beginner type putters always seem to be too light and cause trouble when it comes to consistency.
What Is The Best Putter For A Low Handicapper?
Traditionally a blade putter is best suited for a lower handicap player. Low handicap players look for ultimate feel and distance control, especially on fast greens. Most low handicap players like the look and design of a simple blade for their putting stroke.
As Odyssey and TaylorMade have made such significant strides in their putting technology, the great players have started to switch over to a mallet head. It comes down to choosing something that works well for your stroke.
What Is The Most Popular Putter on the PGA Tour?
The putter that seems to be showing up more and more on the PGA Tour is the TaylorMade Spider X. Last year the Spider X was responsible for five wins, and the Spider Tour was just right behind with three wins.
This Spider X putter has been very popular not just for professional golfers but for amateur golfers as well. The putter features a mallet head and extreme stability overall. If you need a change-up in your putting game, the Spider has some fantastic features.
A few other putters that led the way as far as money earned on the PGA Tour are the Odyssey Stroke Lab Putters and the Scotty Cameron Newport series.
Does Grip Size Matter In Putters?
Size always matters! Grip size is very important for putting but in a much different way than it is for your iron or driver.
When players use the wrong grip size with an iron or a driver, it can lead to a difficulty to square up the clubface, or the club face can close too quickly. Making sure that your hand size matches your grip size is imperative with all other clubs except the putter.
When it comes to a putter, the grip should be something that feels good and performs well. The thicker the grip, the easier it is to keep your hands out of your putting stroke. If you struggle to use your larger muscles when putting it can make sense to switch to a jumbo or midsize grip.
Even if you have small hands, you can use a larger grip, and it is completely fine. Many top name brand putters are being produced with the jumbo grip on the club as the stock grip. You will likely see this happening more and more. Players feel as though this thicker grip gives them more stability during the stroke and especially at impact.
Does Shaft Matter When Choosing a Putter?
Most putters are going to come with a traditional steel shaft, and you won't have much choice. The Odyssey Stroke Lab putters are partially graphite and partially steel. This shaft is the first of its kind used in a putter, and it has revolutionized the weighting capabilities in a putter.
If you think you need a specific shaft because of weight or flex, focus more on overall weight. Flex should remain constant among putters so that you won't have too much of an issue with that. A man with a swing speed of 120 mph and a female that swings at 70mph can easily use the same putters.
If My Putter Is Too Long Can I Just Cut It Down?
Yes, you can cut a putter down and throw a new grip on, but you will very likely throw off the weighting. Depending on how the weighting is affected, your game may get better or worse!
The best thing to do is have a qualified professional cut your putter down for you. They will be able to make sure the putter is still balanced. There are ways to combat the weight changes when cutting a putter down, but it will need to be done with the correct scales and a professional.
For something like the new Odyssey Stroke Lab putter cutting the shaft down can be quite tricky. If you know you need a shorter or longer putter try to order it custom right from the start. The combination graphite and stainless steel shaft make this club challenging to cut down and still achieve proper balance.
What Should I Expect To Pay For A New Putter?
Golfers tend to struggle with laying out more money on a putter after they have purchased a $500 driver. When you think about all the golf clubs in your bag and how often they are used, it makes the most sense to spend money on your putter.
Putters can range in cost from forty dollars to five hundred dollars. If you can spend somewhere in the middle of this range, you will be getting a high-quality option that should last you for many years.
Technology in putters does not change as fast as it does in irons and drivers. The purchase you make should stay in your bag for an average of five to ten years. When you think about how many putts you will hit in a five to ten year period, a putter is not an expensive club.
What Is The Difference Between A Men's and Women's Putter?
Some of the best putters on the market do not come in a female version. This may seem like it t is unfair, but it is not the case. Putters can be for men and women. Gender has no effect on a putting stroke.
Although you may see some putters explicitly manufactured for women, the only difference on these will be the coloring and the length. Most times, the actual technology in the putter head will feel and perform the same.
Conclusion
Getting golf balls to go straight off the tee is hard; getting them onto the green is harder, but rolling them into the cup is, without a doubt, the hardest part of this game. Choosing a putter that has the best feel and performance for your game can take some time.
The best golf putters for you may be a poor option for your friend. Choosing a putter is a very personal decision, but it should be made easier with some of our advice and suggestions.
We still feel very confident in our overall best golf putter choice of the TaylorMade Spider X. This putter will give you the feel, stability, and consistency that you are looking for. If you have yet to try the Spider X, 2023 is the year to do so. Which putter did you choose this year?
Check Price on Amazon