Now that the majority of new releases are out for 2023, it's time to break down, which golf irons are genuinely the best.
"Best" can mean different things to different people. We will break down the finest golf irons in several different categories to try and help you find exactly what you are looking for.
At A Glance: Our Top 11 Picks For Golf Irons In 2022
Overall an iron that is going to qualify as a leader will be a forgiving iron, that is long and offer features to make the game more enjoyable.
Sometimes irons that I choose are not clubs that are new for 2023, instead some fantastic irons that deserve to make this list year in and year out.
Quick Summary: Our Top Picks For Golf Irons In 2022
IMAGE
PRODUCT

Best Golf Irons 2022

One of the best looking irons
Clean forged design
Injected with Speedfoam

VIEW LATEST PRICE →

Runner Up 1

Cobra Golf 2020 Speedzone Iron Set

Carbon topline
Increased ball speed
Fair pricing

VIEW LATEST PRICE →

Runner Up 2

One of the softest feeling irons
360 Face Cup technology
Built with a 90-gram True Temper Elevate

VIEW LATEST PRICE →

Best Golf Irons for Fixing a Slice

Have a large sweet spot
Built for distance
Slightly oversized

VIEW LATEST PRICE →

Best Golf Irons for Distance

TaylorMade SIM 2 MAX Irons

Has an echo dampening system
Very stable face
Will last for the next five to ten years

VIEW LATEST PRICE →

Best Golf Irons for Forgiveness and Feel

Hollow and cavity back design
Increased ball speed
Fair pricing

VIEW LATEST PRICE →

Best Golf Irons for Feel

Has a slightly smaller sweet spot
Harmonic Impact Technology
Pearl Brush finish

VIEW LATEST PRICE →

BEST GOLF IRONS FOR ACCURACY

Harmonic Impact Technology
Pearl Brush finish
Gives great distance and launch as well

VIEW LATEST PRICE →

Best Mix of Forgiveness and Feel

Has a very thin topline
Inverted Cone Technology
It is more traditional

VIEW LATEST PRICE →

Best Deals of 2022

Speed Pocket technology
Hybrar Compression damper
Progressive design

VIEW LATEST PRICE →

Best Deals of 2021

360 Face Cup and VFT
Tungsten Weighting for Optimal Flight and Control
Urethane Microspheres for Phenomenal Sound and Feel

VIEW LATEST PRICE →

Best Irons For Mid to High Handicapper

Callaway Golf Rogue ST Max

Excellent option for the mid to high handicapper
New AI Face Optimization
With urethane microspheres

VIEW LATEST PRICE →

Best Irons For Low Handicapper

New aerospace aluminum insert
impressive feel
Increase in forgiveness

VIEW LATEST PRICE →

Best Irons For Fast Swing Speed

Fast swing speed
Pwr Cor Technology
Pwrshell Face Design

VIEW LATEST PRICE →

Best New Release

All-new feel
Impressive Echo Damping system

VIEW LATEST PRICE →
---
The TaylorMade P790 Irons are some of the best-looking mid handicap irons ever made. They have a clean forged design that will make any level handicap feel like a player.
Also, Read – Best mid handicap irons
This set of irons packs in a ton of technology and are aimed at the middle to low handicap player.
Initially released in 2017, TaylorMade has made a few subtle improvements to this iron in 2019. Mostly the shape of the club head has improved for a bit of a lower profile look.
The P790 irons are injected with Speedfoam. The Speedfoam is what helps dampen the blow at impact and make sure that these irons have the best feel on the market.
Distance irons are often kept hollow to increase speed. With the P790, Speedfoam offers a lightweight option that won't slow the club head but helps to produce a much better feel.
Forged irons are usually geared towards the better player. Taylormade wanted to produce an option that works for both average handicap and lower handicap players.
They were able to maintain high speed for ball and forgiveness while still giving tour like feel.
The P790 Irons retail for a very high price depending on the set makeup you choose. TaylorMade is still producing them so you can get these irons custom to your needs.
The stock steel shaft is the Dynamic Gold S300. The S300 is an excellent option, mid-spin, mid-launch, and slightly more substantial than the KBS Shaft that is offered in many other irons in this category.
Read our TaylorMade P790 Irons review.
---
The Cobra Men's Speedzone Iron Set takes the great distance from the Speedback F9 irons and adds quite a bit of feel.
This iron took quite a bit of engineering, and it has become one of the finest golf iron sets that Cobra has produced.
One of the most impressive benefits of the Cobra Speedzone is the carbon topline. This topline is 40% lighter than steel, and it saves a ton of weight on the overall clubhead.
When you save weight, players will be able to swing the club much faster. Increased ball speed and distance help make this one of the longer irons on the market.
Another essential feature is the Co-Mold Medallion. This is essentially used to help decrease vibration and improve both sound and feel at impact. Cobra has always had surprisingly great feeling, irons, considering their focus on forgiveness.
The Speedzone iron set will be geared mostly towards the player with mid to high handicaps that need that balance of distance and forgiveness.
Cobra puts out a fairly priced and high-quality iron that players should be considering closely when making an iron choice this year.
---
Although the Callaway Apex iron set is a 2019 release, it's going to stay at the top of the list in 2023. The Apex is one of the softest feeling irons on the market while still offering consistent distance and ball speed.
Callaway was able to add their urethane microspheres to a forged clubhead for the first time. These microspheres help to absorb the impact and give these irons better feel than many of their competitors.
Callaway's 360 Face Cup technology was also included in this incredible set of irons. The Face Cup makes these irons extra forgiving. The Face Cup Technology allows the face to flex and then spring back, giving it incredible accuracy and distance.
The tungsten center of gravity is carefully placed in each iron to optimize ball flight. Callaway is still producing Apex Irons so you can order them custom to your needs.
In the stock option steel shaft, they are built with a 90-gram True Temper Elevate. The stock flex options are stiff and regular.
If you have tried the new Mavrik iron and steel feel like you are missing the tour-level feel that you desire, these forged irons could be the perfect fit for you.
A set of 4-PW in the Apex Irons will run about the same as the P790. I think you will see that price drop throughout the year.
Read our Callaway Apex Irons review.
---
Best Golf Irons in the Game Improvement Category
Now that I have given you my three choices for the best of what is out there for 2023, I will now break it down a little further to provide you with some options more specific to player type.
This next group of irons are going to be for the player that needs both distance and forgiveness.
A game improvement iron is not going to focus on feel and a compact or thin look. These irons will have the features they need to help your game improve.
---
Best Irons for Fixing A Slice
The new Mavrik irons are the latest game improvement set from Callaway. This iron was produced to replace the Rogue set, one of the top irons for golf in 2023.
The Mavrik comes in two models, the Mavrik and the Mavrik Max. Very similar to how the Rogue came in the Rogue and Rogue X.
These Mavrik irons have a large sweet spot and are built for distance. The Max irons are slightly oversized, and the lofts are a bit higher. Technically higher lofts will decrease length but increase launch.
If you are a player that wants more traditional lofts and a bit higher ball flight, the Max is going to be the choice for you.
Callaway used Artificial Intelligence for the first time in an iron. They were able to create a specific design for each iron and the proper positioning of the center of gravity. Your eight iron will actually be built differently than your seven iron, not just loft.
Similar to the Apex irons, I already mentioned the Mavrik clubhead is packed full with urethane microspheres. They are able to keep the weight low while still producing incredible feel on solid shots.
If you tend to hit the ball slightly off-center, these cavity-back irons will at least make impact more pleasant. Your shot will also very likely be under control.
The Mavrik come stock with the True Temper Elevate 95 shaft. The True Temper is a 95-gram mid launch, mid spin, mid-weight shaft. Most golfers are going to be looking for a medium weight option that is easy to control and rewarding on a great shot.
The average player does not need an iron shaft heavier than 95/100 grams. If, however, your swing speed is above average, there are custom options to help you control the ball in the way you want.
A new set of Mavrik irons starts at medium to high price point, depending on what kind of a set makeup you are looking for.
---
Best Irons for Distance
The brand new SIM MAX irons also came out in January 2023. The SIM 2 MAX is for golfers looking for the best distance and forgiveness they can get with some feel that very closely resembles forged irons.
If there were any complaints about the M6 or SIM iron set for golf, it was that the sound was not perfect. TaylorMade worked with sound engineers to make sure that every hit with this iron sounds as close to a forged set of irons as possible.
The echo dampening system spans across the entire face of the iron, so even the mis-hit sounds excellent. For a cavity back iron, they did an excellent job with sound.
Taylor Made realizes that average golfers need a very stable face to promote control at impact. The new and improved Speed Bridge provides this stability while still keeping weight low and ball speed up.
As with all game improvement irons, the center of gravity is held low to make it easier to get shots in the air. Check out our list of the best driving irons to get even more istance in your shots.
With the Sim 2 Max, you will be impressed how the SIM irons were improved upon but not altered enough to take away from the impressive technology.
The new Cap Back Design gives the irons a slightly better look than previous TaylorMade releases. This is a set of irons that will last year for the next five to ten years and still have relevant technology. If you want something that is the latest and greatest, the SIM 2 Max is a great choice.
---
Best For Forgiveness and Feel
The Cleveland UHX Irons are the new release for the 2020 golf season. Cleveland did very well in 2019 with their CBX Iron set and they answered back.
This is a progressive set, something that can help even the best of golfers. The short irons in the set are a cavity back design, giving players control over their shorter shots. The long irons are a hollow, hybrid-like design for maximum distance, accuracy, and launch.
The UHX Irons are designed for a mid handicap golfer. The look on this set is impressive. On the shorter irons, the top-down look is a clean, classic iron that has you feeling like you can hit it pure.
As you get towards the five iron, the club gets thicker and helps you have the confidence you need for that long shot.
Cleveland makes some of the best wedges on the market. They are working continuously to improve shot control, and because of that, they are no putting their zip grooves on the irons as well.
If you are a feel player looking to improve, this is a perfect set for you. From the pitching wedge to the long irons, the set is constructed to increase the speed of the ball while maintaining control over your shots.
As always, Clevelands pricing is fair and will likely continue to drop as we move through the year. Currently, you can get a UHX Iron in a steel shaft for a great value.
Considering most companies launch their game improvement clubs at a higher price point per club, this is an excellent value for a long-lasting set of golf clubs.
---
Best Golf Irons in the Players Category
If you are less than a ten handicap and more worried about control, playability, and feel as opposed to distance and forgiveness, these are the mid handicap irons for you.
Mizuno JPX 921 Tour and Mizuno JPX 921 Forged
BEST IRONS FOR ACCURACY
When it comes to feel, lower handicap players can be very demanding. The feel of a club allows golfers to learn what they need to do to make corrections in their game and eventually learn to be better players. Great golfers will tell you that if you want really good feel, you should be swinging a Mizuno.
Both the JPX 921 Forged and the JPX 921 Tour are a great choice for players that want distance, feel, and consistency. The main difference between these two sets of irons is a little bit of forgiveness. The Tour has a slightly smaller sweet spot wrestling in players having to make a more precise connection with the ball.
The JPX 921 series features impressive harmonic impact technology. This helps to make sure there is very little vibration at impact. The face is CNC milled, so that the speed of the balls are not sacrificed when switching to the Mizuno JPX 921 irons.
The loss of ball speed is something that many golfers worry about when they switch to players' irons. With the Mizuno JPX 921 series, this will not be a concern.
Golfers get great distance and launch as well. These irons are fully customizable if you don't want the stock Nippon shafts in place.
To round things off, Mizuno installed a pearl brush finish on this new JPX 921 series. The pearl brush helps the irons be a bit more durable and easier to see in the sunlight. If you happen to be playing on a very bright day.
The JPX 921 Forged and JPX 921 Tour are irons you will have for quite some time, and they will undoubtedly help you lower your scores.
---
Best Mix Of Forgiveness And Feel
If you are working your way down our list of the best golf irons, you likely noticed that the P790 is the best overall choice. The P790 offers forgiveness and feel to a golfer, regardless of their handicap level. The only downside to the P790 is the fact that it is a bit bulky for the better player.
Luckily, TaylorMade picked up on this fact, and they put out the new P770 irons. The P770 takes all of that great technology and puts it into a compact player's shape head. This not only helps the iron to look better, but it promotes a bit more workability and feel as well.
The P770 has a very thin topline, a small amount of offset, and an overall shorter blade length than the P790. The same forged Hollow Body Construction allows golfers to get distance even though they want to feel.
Many better players struggle to find golf clubs that also allow them to have the distance that they need in their game.
TaylorMade also incorporated the Inverted Cone Technology to help make each iron built for its exact purpose. In other words, the long irons will have a bit more forgiveness than the short irons. This is something that all players need, regardless of their handicap.
One last thing worth mentioning is that the lofts on the TaylorMade P770 will be a bit more traditional. This is something that players are usually going to be looking for in a set of irons. With traditional lofts, you will have a much easier time working the ball.
If you loved the technology of the P790 but need something that feels a bit better and looks smaller, there is no question that the P770 is the way to go.
Check our Guide on the best blade irons
---
Best Golf Iron Deals of 2023
With new releases come price reductions in old versions. Is the older technology already outdated?
No!
Here are two of the best deals out there right now for a new golf iron that also has plenty of recent technology and upgrades.
If you are playing something more than five years old but don't want to break the bank on a new set, these irons need to be considered.
---
BEST DEALS OF 2022
TaylorMade has left the M series line behind for now, and it has moved on the Sim and Sim2. The good news for the golfers that are looking for a deal is that the M6 irons have started to drop in price.
There is nothing wrong with these irons; in fact, they were some of the best selling that TaylorMade has ever produced.
The M6 irons feature the Speed Pocket technology that helps golfers that need extra distance and ball speed. At impact, the M6 will feel a bit better than a traditional cavity back iron.
The improved sound and feel come from the advanced Hybrar Compression damper. Essentially there is less vibration at impact.
When it comes to forgiveness, the low center of gravity and large sweet spot will help you get the performance you need with this set of irons. Even if you miss on the lower half of the clubface, you still get plenty of ball flight and ball speed.
The M6 are a bit of a progressive design, so the longer irons will have a wider sole and a bit higher launch. Overall the lofts on the M6 are slightly lower than other irons on the market. This is done to give players the maximum distance that they need.
If you are a mid handicapper looking for a set of mid handicap irons at a great price, the M6 is the way to go.
---
BEST DEALS OF 2021:
Perhaps the favorite 2019 option for golfers within the Callaway line was the Rogue. It came in two models the Rogue and Rogue X. Rogue X had lower lofts and focused more on lower ball flight and increased distances. Both Callaway Rogue & Rogue X Irons are one of the best irons in the market.
Both sets used the 360 FaceCup technology and did everything possible to increase both distance and forgiveness. Simply said, this is an easy club to hit. It is most definitely a high or mid handicap irons.
The only complaint that people had about this iron was sound and feel. The Mavrik addresses both of those concerns.
If you are looking for a new set but not wanting to spend as much as the new Mavrik, I would first look for a set of these Rogue on closeout. You are going to get a club that is incredibly close to the brand new Mavrik for much less cost; it's certainly worth a shot!
---
Callaway Golf Rogue ST Max
Best Irons For Mid to High Handicapper
The Callaway Golf Rogue ST Max is an excellent option for the mid to high handicapper looking for great speed and impressive distance. The Callaway Rogue ST Max improved greatly upon the feel and overall performance of the original Rogue irons that you can now find for a much lower price.
One of the biggest improvements here is the new AI Face Optimization that works well to create high spin and consistency across the entire face. Golfers will get a higher launch and the benefit of tungsten weighting in the club head.
In addition, there are urethane microspheres in the club head to help improve the overall feel. These irons are similar to the Apex DCB but a bit more forgiving and high launching. If you need help holding greens but also want the forgiveness on the occasional missed iron shot, the Rogue ST Max can do it for you.
The club head is a bit large, but it does a good job of disguising that and making it useable for any player.
---
Ping i59
Best Irons For Low Handicapper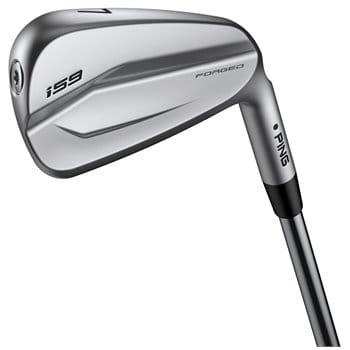 Low handicap players are looking for the best feel they can find from an iron. However, they are also encourage by the ability to get some extra help on those harder iron shots that require more speed and skill. The Ping i59 is an excellent option as it does a great job of combining long distance and impressive feel while still including a bit of forgiveness.
This is a three piece forged design that will help with consistent impact. Each time you hit the ball with the Ping i59, expect to have a more pure feel; it will be a bit buttery coming off the clubface.
Golfers will notice that the new aerospace aluminum insert has helped to improve overall forgiveness as tungsten toe and heel weights have increased forgiveness. The best news is that this increase in forgiveness did not impact the overall impressive feel of the golf iron.
If you like the tour preferred feel, impressive spin, and consistency in a golf iron, the Ping i59 has you covered. What low handicappers like best are that even on their worst days, the golf shot still has impressive results.
---
Cobra LTD x
Best Irons For Fast Swing Speed
The Cobra LTD x is a great iron choice for the fast swing speed golfer. With so much great power in your swing, you need a golf iron that will help you capitalize on it. The Cobra LTD x makes that possible. This iron features the Pwr Cor Technology, which has plenty of flex in the face and an elastic rebound for high ball speed.
In addition, there is also Pwrshell Face Design that makes it alot easier to increase overall ball speed and the ball flight on your shots. Add in the CNC Milled Face and Grooves, and now you can even stop these high flying shots where you need to.
One of the other great features of the Cobra LTD x is that it helps with forgiveness as well. You won't have to have a perfect swing just to be able to make solid contact with the Cobra LTDx instead; simply work on consistency and speed, and the Cobra LTDx can help with the rest.
---
TaylorMade Stealth
Best New Release
The TaylorMade Stealth golf irons are a great choice for the best new release in 2022. TaylorMade created an entirely different product that the world of golf has yet to see. With this all-new feel and the impressive Echo Damping system, the Stealth irons are longer and better feeling than the SIM series.
With the TaylorMade Stealth, you will get the Thru Slot Speed pocket design that increases overall ball speed and face flexibility. This means that players will have higher ball speeds than golf irons they have used in the past. The center of gravity is low, and so is the loft, but the end result is a high yet penetrating ball flight.
The new Cap Back Design gives the club a much better overall look, something that stands out when you see how sleek these golf irons look. We thought they were impressive and not nearly as bulky as golf irons in the past.
---
Steps to take when buying The Best iron Set in 2023?
Now that we have discussed some of the best options out there, how will you know what club is right for you.
This buying guide will help you realize what you need to know before purchasing and ultimately how to decide which irons to buy.
Step One: Determine Budget
Golfers almost always get sticker shock when they finally pick out the golf clubs that work best for their game. Unfortunately, with this game, the equipment prices add up fast. That's why it is best to set your budget from day one.
If $1000 is where you want to be for a set of golf irons, you are very realistic. If your top price is $350 and you want all custom graphite shafts and and arthritic golf grips, hopefully, there is a used set that meets your specs!
Keep in mind that the best irons 2018 and 2019 are still out there, and the prices are dropping fast. These golf irons are perfect for the golfer on a budget.
Step Two: Custom Fitting
Do you need to be custom fitted for these irons, or do you just need to try them out. Many golfers think they need a custom club when, in reality, the stock model provides them just fine, and often saves some money. Custom fittings and custom irons can add cost to a set of irons.
The average golfer will be just fine with a set of golf clubs on the shelf. This is not to say that you shouldn't try hitting some shots with the clubs you intend to buy. Just because the TaylorMade SIM MAX look amazing on TV, or in this review, doesn't mean they will feel perfect when you hit them.
As a general rule of thumb, golf clubs are designed for a 5'9″ average golfer. If you are 5'7″ or even 6'0, you are still well within the range for standard length clubs.
Having something that is the right length for you is the most critical aspect of a proper fitting. Clubs that are the correct length will help golfers with consistent distance and accuracy.
Step Three: Features and Options
Irons across several manufacturers are going to come with many of the same features. Low center of gravity, lightweight shafts, and increased ball speed.
There are, however, a few features that you need to decide if you want in your clubs are not.
One of them will be forged irons. As hard as a cavity back tries, it can not completely reproduce the feel of a forged iron. Then there are the blade irons which represent the classic route to take.
Another option you need to consider is graphite or steel iron shafts. Graphite is going to provide more distance and less forgiveness, and the steel will keep the ball more in play, but the shots won't likely be as long. Also if you are a senior for whom weight is also a consideration, refer to our comprehensive guide to the best irons for seniors.
Lastly, you need to consider the look of the club that works best for your handicap. I don't like looking down at a thick top line; this eliminates some options for me. If you are a golfer that wants pure forgiveness and doesn't care what the club looks like, this won't be an issue for you.
Step Four: Testing and Purchasing
One of the most prominent mistakes golfers make when going to hit new irons is not bringing their old irons with them. New clubs might feel amazing, but if your seven iron is going 152 yards and you are accustomed to hitting it 150, is that worth the $1000 upgrade?
It is very likely that if your clubs are more than a few years old, your ball speed will be quite a bit higher with new irons. This can lead to quite a bit more distance. As long as your shots are heading in the direction you want them, this $1000 upgrade starts making more sense.
When it comes time to purchase a set, the deals on the internet are almost always lower than the traditional golf stores. Look for Masters sales and Memorial Day Sales as well. That will be the first time you see manufacturers start to lower pricing even on the new equipment.
Check our guide on the best golf irons for women and the best Titleist irons.
FAQ
Which golf brand is best for irons?
The best golf brand for irons will vary depending on what type of player you are and what technology you need in your game. Many golfers like what Callaway, TaylorMade, and Cobra have to offer; better players often gravitate towards Ping, Titleist, and even Mizuno.
What are the best new golf irons for 2022?
The best new golf irons for 2022 are the TaylorMade Stealth golf irons. The entire Stealth line is really unique, and golfers are benefiting from it greatly.
What irons do the pros use in 2022?
Professionals will use blade-style irons from various manufacturers. Some of the irons that professionals use are prototypes, and they will not be available for consumers to purchase.
What irons are the easiest to hit?
The easiest to hit irons are typically game improvement or super game improvement style irons from companies like Cobra, Cleveland, and Callaway. These brands focus highly on forgiveness.
Conclusion
Golf equipment gets overwhelming. Companies continually add new acronyms and made-up product jargon to make their clubs seem more appealing. Honestly, it's a race between them to offer the best possible option for all golfers.
What average golfers need to remember is that even if a club has urethane microspheres, a Speed Pocket, and ECHO dampening, it may not be the perfect option to lower your score.
Follow my steps to carefully pick out a club that works for you and be aware that when searching for golf irons, everyone is competing for your business.