Investing in a golf cart is an exciting time.
As a golf professional, I had to drive golf carts around every single day, and I eventually learned to like a cart more than a car.
When I purchased my first cart, I remember how overwhelming the decision was to find something that works for golf, heading to the grocery store, and just a ride around the neighborhood.
We put together a list of the best golf carts on the market; some are gas, some are electric, but all are very high performing and impressive.
Take a look at our golf cart reviews and see which one could be your next vehicle!
At A Glance: Our Top 5 Picks for Golf Carts On The Market In 2023
Quick Summary: Our Top Picks For Golf Carts On The Market In 2023
IMAGE
PRODUCT

Best Golf Cart Overall

High performance tires
Options for two toned seats
Low maintenance golf cart

CLICK TO CHECK PRICE →

Runner Up 1

E Z Go is a good brand name cart
Available in both gas and electric
Has good speed and nice features

CLICK TO CHECK PRICE →

Runner Up 2

Smooth and stable ride
Great for golfing
Has golf accessories

CLICK TO CHECK PRICE →

Best Gas Golf Cart

Low maintenance golf cart
Yamaha is a top brand for gas carts
Very quiet gas golf cart

CLICK TO CHECK PRICE →

Best Golf Cart for Off-Roading

Club Car Onward Lifted Four Passenger

Lifted off the ground
High-quality engine
Available in two or four-seater models

CLICK TO CHECK PRICE →

Best 6 Seater Golf Cart

Club Car Onward 6 Passenger

Fits six people
Great for a larger family
Options for many accessories

CLICK TO CHECK PRICE →

Best Premium Golf Cart

Very high quality parts
Street legal electric cart
Long battery life

CLICK TO CHECK PRICE →
---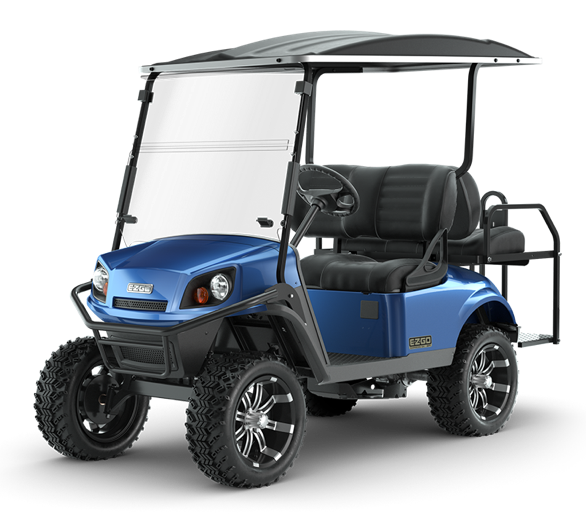 PROS
High performance tires
Available in Gas, lithium battery , or 72V battery
Options for two toned seats
The cart is slightly lifted off the ground for top notch off road performance
Low maintenance cart
Available in lots of colors
CONS
Has a more sporty look to it than a traditional cart style
At the top of our list is the EZ Go Express S4. The S4 is a cart that works for both the golf course and around your town.
We love the power and performance of this cart matches with its incredible cart accessories. Although you may pay a little more for the S4 than other E Z Go models, it will be well worth the price.
The S4 Express comes with a 72V AC Powertrain and the ELiTE Lithium battery. Lithium batteries are new in carts, and they are saving golf cart owners lots of time and money as well.
The initial costs of lithium batteries are higher, but they will not need to be replaced as often as standard electric carts.
You can also purchase the Express S4 in a gas model that is 13.5 HP. The EZ Go Express S4 is an elevated cart that makes it an excellent choice for street riding and going off-road as well.
The cart stands out as a modern looking cart with all of the necessary accessories and features that are needed in today's modern world.
---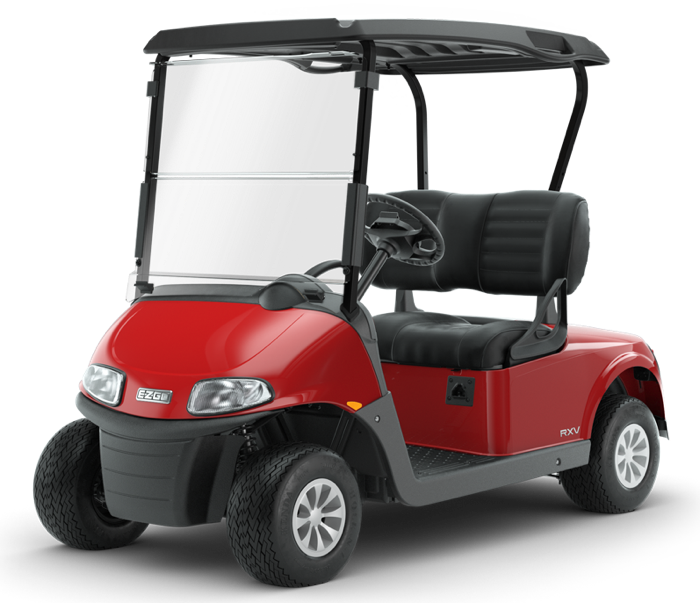 PROS
E Z Go is a good brand name cart
Available in both gas and electric
Has top notch speed and nice features
CONS
Considered to be more basic level and not a premium cart
With the EZ Go Freedom RXV you really do get the freedom to choose the cart that is going to be the best fit for you.
This cart comes standard as a two passenger cart, and it is available in many different colors. You can get the RXV in both the gas or electric model, but we really like the low maintenance abilities of the electric carts in this model.
The Freedom RXV has a modern dashboard and the ability to plug in and charge your phone while you are on the golf course or going for a ride around your town. The RXV has an optional rear facing seats and a long battery life.
The RXV also tends to be one of the more fairly priced carts on the market. New carts tend to get very pricey very quickly, but the Freedom RXV remains fair and holds its value quite well.
---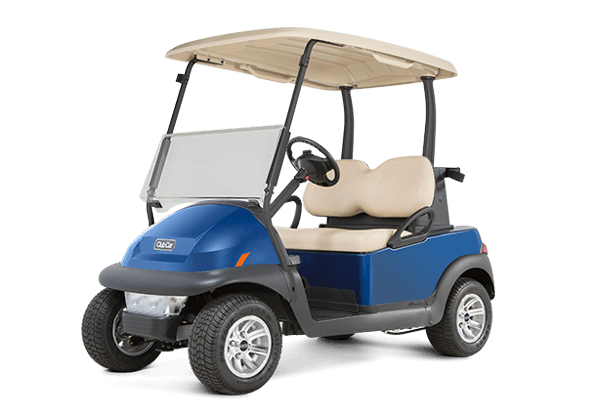 PROS
Smooth and stable ride
Great for golfing
Has golf accessories
Choice of gas or electric carts
Lots of colors to choose from
CONS
Might not be as luxury as other models
The Club Car Villager 2 is our favorite cart for golfers. It has everything that a golfer needs to get around the course in comfort and style.
One of the great features of the Villager 2 is that you can choose if you want to purchase this cart in either gas or electric. Some golf courses will have rules against gas carts, so having the option for electric is important.
The Villager 2 has a rustproof and corrosion resistant aluminum frame. The SportsDrive technology is built for golfers that want to get to their golf ball fast and enjoy a smooth ride along the way.
As with most of the club car golf carts, there are lots of choices for extra features and colors on this cart as well. With the combination of the wrap around bumper, the Pro Tour tires, and the color choices, this is a great looking addition to your golf gear.
The only downside of the Club Car golf carts is that they are usually priced a little higher than other carts on the market. The Villager 2 is one of the most affordable Club Car options, and it really is worth the price that you pay.
---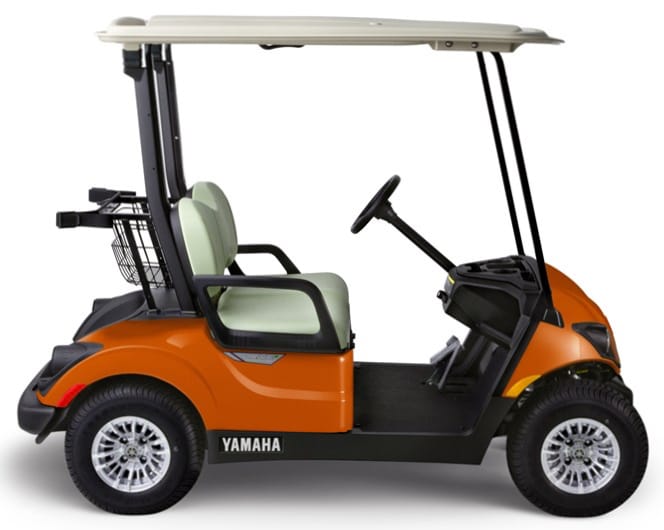 PROS
Low maintenance cart
Yamaha is a top brand for gas carts
Easy to find replacement parts if necessary
Works around town and on the course
Very quiet gas cart
CONS
Some golf courses and neighborhoods do not allow gas
The Yamaha Drive 2 PTV is one of our favorite options for a gas cart. Gas carts require a little extra work than an electric cart.
With a gas cart, you will need to do routine oil changes and make sure that your fuel tank is filled and in great condition at all time.
Gas cart offer lots of performance benefits but choosing a low maintenance cart like this Yamaha Drive 2 PTV will save you both time and money.
The Drive 2 PTV is offered in several different colors, and it is an easy to maneuver the cart. We like this cart for playing golf as it has all of the necessary requirements and features, but it works well for around town as well.
Make sure that your local golf course allows gas carts as they sometimes cause some issues to a golf course. The Drive 2 PTV is a very quiet gas powered cart that should last you for many years. Gas cart tend to hold their value for a very long time.
---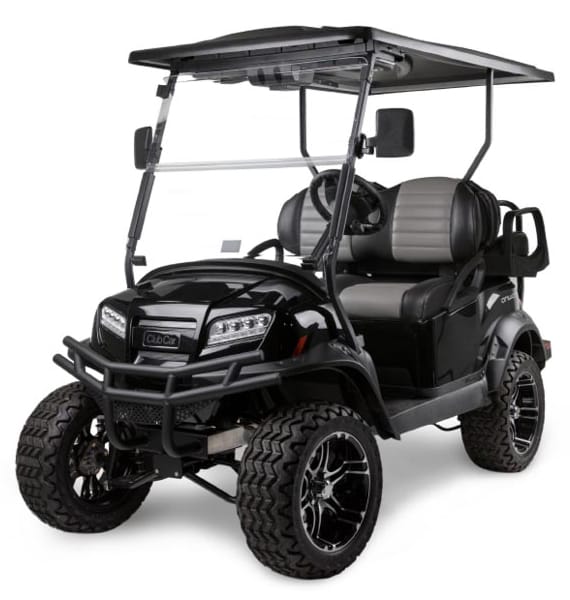 PROS
Lifted off the ground
High-quality engine
One of the best-known golf cart brands
Available in two or four-seater models
Easy to find replacement parts and accessories
CONS
Lifted carts don't always offer as smooth of a ride
When you want to take your cart off road, it makes sense to get something that is lifted. A lifted golf cart will allow you to go over some more rough terrain without damaging your cart or hurting yourself.
Carts that come lifted tend to have better stability and performance than those that are lifted after they are purchased.
The Club Car Onward is a well-known cart that comes in many different varieties, from two-seaters to four-seaters to six seaters.
We recommend the four-passenger cart for off-roading. Chances are you will have some golf gear with you, and the four-passenger gives you more room to store it.
If you do a lot of off-road travel, an electric cart can drain through its battery rather quickly. When looking for an off roading cart it makes sense to consider the gas-powered.
Gas carts can generally travel a longer distance without needing to be refueled. With the real flip seat for storage and the large fuel tank, you can set out for the day on your Club Car Onward.
---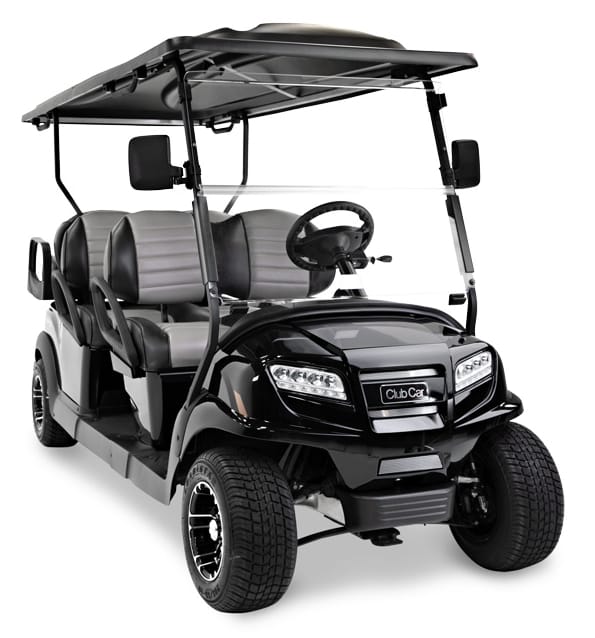 PROS
Fits six people
Great for a larger family
Improved suspension to support larger cart
Options for many accessories
Ability to customize many aspects of the cart
CONS
Because of the size and the features, this is an expensive cart
When you have a large crew to transport, a six passenger cart is going to be your best choice. The six passengers are the only safe way to transport a larger family.
Most of these types of carts come with many features and accessories to make for a smoother and easier ride. The Club Car Onward offers all of the great benefits of a Club Car in an extended cart.
The Onward has a very stable suspension and rides well, considering the fact that it is so large.
One of the things we love most about the Onward 6 passenger is that there is plenty of legroom in each row. Your passengers will not feel like they are trying to squeeze in place.
Another great feature is the fact that there are grab bars and cup holders on each row of this cart. You won't have to sit in the front to feel safe and stable during your ride.
As always Club Car has a wide range of accessories that you can add to the cart to make it the perfect fit for your family.
---
Best Premium Golf Cart In the market: Garia Via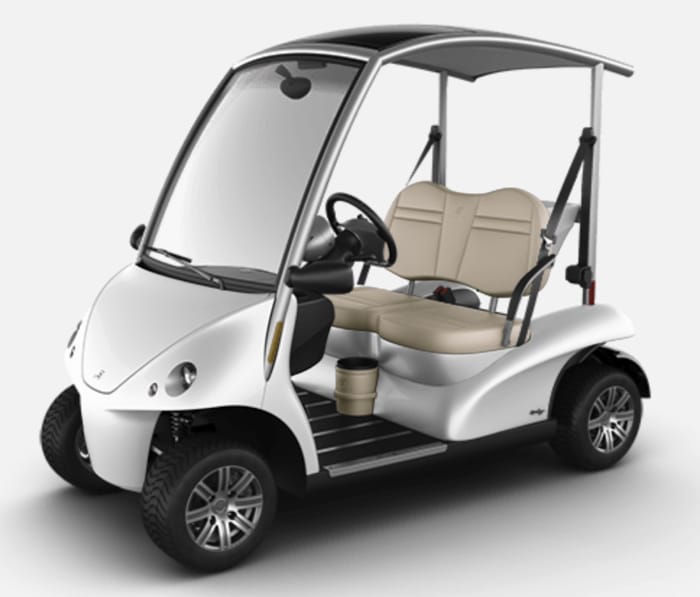 PROS
Very high quality parts
Street legal electric cart
Long battery life
Can take from the golf course to the store
CONS
Priced very high compared to other standard cart
Some people choose a cart because they need it to play golf, and others can use it to get around their community.
If you want to get around your community in style than the Garia Via is the way to do it.
This is, without a doubt a premium golf cart that has all of the high-end parts and accessories that a person could ask for. The Garia Via is offered in several different size models.
When you look at the Garia Via, you can tell that it is a high-end cart. It has gloss black rear mudguards, automotive-style shocks, and springs, and an air scoop in the roof to make it more aerodynamic. The cart is set up to use for playing golf, but it is also street legal.
For a cart to be street legal, it must have turn signals, operating lights, and a horn. These are all included with your purchase of the Garia Via.
Another important aspect of a street legal cart is the windshield. The cart must have an automotive windshield to make sure that nothing flies up and hurts the person driving the cart. The windshield on the Garia is heated so that you won't have to worry about visibility either.
If you want the best of the best when it comes to an electric cart, the Garia Via gives you everything you could need. You will be impressed with the automotive style touch dashboard and all of the features to make this cart both safe and high quality.
---
Everything that Golf Cart Buyers need to know
Buying a golf cart is a big decision. Not only do you need to choose a model, but you have to decide if you want something that is gas or electric.
You also need to choose a budget and narrow down the overwhelming number of accessories that are included when you make a golf cart decision.
Luckily, we have been through this process several times before. Here are a few questions that seem to come up during this golf cart buying process.
What Is Better Gas or Electric Golf Carts?
Gas and electric carts are different, but there is really not one cart that stands out as the best.
Many people will argue that the gas carts are not as good for the environment, and that can be true, but they are getting better and better with each passing year. Golf carts are more efficient today than they have been in many years.
For golfing, easy maintenance, and getting around town, the electric golf cart seems to be the best choice. If you are offroading, towing, or hauling a heavy load, the gas cart does a better job.
Sometimes gas carts will be more money initially, but you must remember that you won't have to replace the batteries in the cart after a few years. Having to replace batteries is the major downside of the electric golf cart. 
Read Also: How Fast Can a Golf Cart Go?
Are Four Passenger Carts Good For Playing Golf?
Some people worry that four passenger carts are not ideal for playing golf. This is really not the case. You can get an attachment on the back of your cart that easily allows you to store your golf clubs even though you have the extra seats in the back.
Choosing a golf club attachment that is removable is the best choice so that you can still have people sit in the back when you are not playing.
The four passenger carts are very versatile, and they have a rear bed that folds down so that you can do things like grocery shop or transport packages to a neighbor's house.
Most people find that the four seater actually provides even more function than the two seater, and it is worth converting or purchasing the four seater, to begin with.
Most people have a variety of needs for a golf cart when they purchase it.
When you switch to a six seater you may find that the cart is a little harder to maneuver and get around the golf course. The six seaters are best when you have to transport lots of people, but they are not ideal for golf.
Read Also: How Much Does a Golf Cart Weigh?
Who Makes The Best Golf Cart?
There are three main manufacturers for carts: Club Car, EZ Go, and Yamaha. As you noticed from our list, there are other options like the Garia as well, but these are a bit more unique and harder to find as well.
The Garia is a premium cart, and you may end up spending a bit more money on it and having a harder time finding replacement parts.
As far as the three top companies are concerned they are all equally as good. People become rather brand loyal and will end up choosing one cart over another because it is what they are used to.
Each manufacturer makes several different model carts, but here are the differences from a very broad level view.
If you want luxury and premium, go with the Club Car.
If you want a great value and the ease of adding accessories and features, the Ez Go is a great choice.
If you want the ability to haul combined with speed and strength, the Yamaha is a great choice to consider.
All three manufacturers make both gas powered and electric carts.
Is A New Or A Used Golf Cart A Better Purchase?
The decision to purchase a new or used cart will most likely come down to your budget. New carts are considerably more expensive than most used carts. T
here is really no saying which is better, but the used carts can offer quite a bit of value to a user.
We highly recommend that if you are going to buy a used cart, you understand how carts function and what to look for when you make your purchase. If you don't know what you are looking at, you could end up purchasing something that is not in very good shape.
Although the new carts are priced a bit higher than used, it is worth considering how long a golf cart will last you. Many people are still purchasing used golf carts that are twenty or thirty years old. If you purchase a new golf cart today, but it lasts you 30 years, you have certainly made a great investment.
If you purchase one of the electric carts, you will have to replace batteries several times in its lifespan, but this is still certainly must cheaper than a car.
The best golf cart batteries will last anywhere from 4 to 8 years, depending on the type and the way they are taken care of. Some of the new Lithium batteries can last much longer, but they are considerably more expensive than a traditional golf cart battery. 
Golf cart batteries need maintenance, and if you refuse or forget to do this maintenance, you will significantly decrease your batteries' lifespan. Each month you should be adding water to the batteries and making sure that not of the connections have any corrosion on them.
This process should only take a few minutes to complete, but it will be well worth it when it comes to the longevity of your golf cart. Golf cart owners should get in the habit of checking the batteries and the connections each month.
While you are at it, you may as well check the tires and make sure they are inflated properly. Simple steps like this will save you a lot of money in the long run. 
Read Also: How Long Does It Take To Charge a Golf Cart?
Can I Add Accessories To Golf Carts?
Just like almost every other golf product on the market (i.e., the best cart bags, golf balls, and adjustable golf clubs), golf carts can be customized. The features that they offer can include everything from fans to LED lighting to cup holders and heated windshields. Not to mention the best golf cart Bluetooth speakers.
The great thing about golf cart accessories is that they are relatively easy to add and can make your golf cart more enjoyable to ride on; especially with a great golf cart heater in the winter.
If you think you are going to be doing a lot of personalization and customization to your golf cart, then you should consider one of the electric carts. It is usually quite easy to tie into the systems on the electric cart and add some accessories.
Conclusion
Hopefully, our guide helped you to narrow down some of the best gas powered and electric carts on the market. Golf carts are getting more popular, and companies are coming out with efficient and affordable models each year.
The EZ Go Express is the best golf cart because it has a modern look to it, lots of great features, is slightly lifted, and can be customized to your liking.
The EZ Go has lots of great speed, and you can choose between 72V, Lithium, or Gas. This is a cart that you will have for a very long time, so be sure to pick a color that you like!