The importance of a great pair of golf shoes cannot be understated. Without the proper shoes, golfers lose balance, end up with back problems, and even damage the golf course.
The latest craze in golf shoes are the spikeless versions.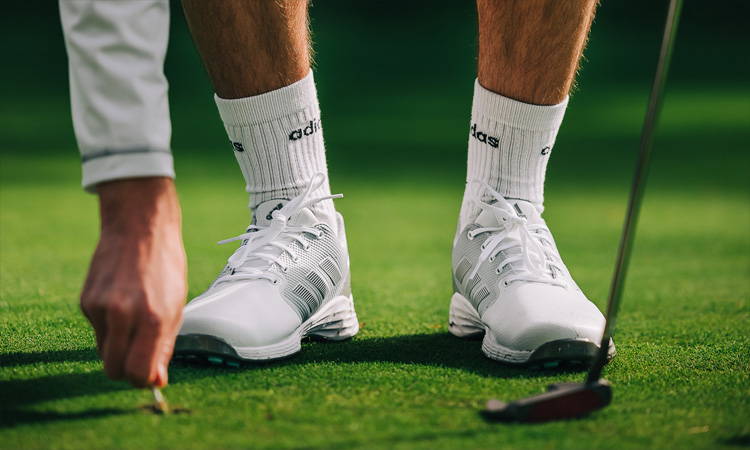 As a PGA Professional, I can tell you that the spikeless golf shoes are some of the best options available to amateur golfers. These shoes give plenty of versatility and stability. In addition, they look great.
We have put together some of the best spikeless golf shoes on the market.
Our Best Spikeless Golf Shoes in 2023
---
PROS
Lots of stability and traction
Enhanced comfort
Very stable bottom
Available in a few colors
CONS
It won't hold up all that well on a wet golf course
FootJoy makes some of the best golf shoes in the game, and their spikeless versions are also quite impressive.
The FootJoy Men's Flex XP is a perfect mix of comfort and performance. This shoe earned the top spot on our list of the best spikeless golf shoes.
With the FootJoy Men's FJ Flex XP, you can keep your shoe on after your round and head to the grocery store if needed.
This is a versatile shoe with some of the best traction you will find in a spikeless golf shoe. The Versa-Trax is engineered to give golfers more balance and stability, even for faster swinging players.
The shoe's midsole gives golfers lots of cushioning and will make it possible to walk a round of golf with these shoes on.
Overall this is a lightweight shoe that makes walking the golf course much more enjoyable. It's hard to go wrong with this Spikeless FootJoy design.
---
PROS
Built like an athletic shoe
Very comfortable
Just as much traction as spiked shoes
CONS
Codechaos shoes look more like a running shoe
Adidas makes golf shoes that are the best fit for an athletic golfer. If you consider your round of golf a way to burn calories, get exercise and promote a fast swing, the Codechaos is the way to go.
This shoe features a very impressive grip that will give even the fastest swinging players confidence in their connection to the ground.
The extended heel on the Adidas and a microfiber tongue continue to add stability and make the shoe a very good base of support.
These are truly athletic shoes, and they will look very much like running shoes as compared to a traditional golf shoe. With golf getting more technologically advanced, this has been a change many golfers have enjoyed.
Although these are not waterproof golf shoes, there is some technology built in to help keep your foot dry on those wet mornings out on the course.
---
PROS
Feel like a sneaker, but excellent traction
More versatile than a spiked golf shoe
Internal foam for a more comfortable feel
The Callaway Solana XT Golf Shoes are comfortable, stylish yet have plenty of stability and traction. With the performance mesh upper on the Callaway Solana, you will also get plenty of breathability in your shoe.
The outside of the Callaway Solana shoe is made with a dura rubber outsole. This area helps to make sure that when you swing, you are getting some great connection to the ground when you swing.
The areas of your foot that need the most stability will undoubtedly get them with the Solana XT shoes.
If comfort is your concern, there are 5mm of a PlusFoam insole. This is a bit like feeling like you are walking on a cloud.
Callaway spikeless golf shoes will have a very similar look to a more traditional FootJoy type golf shoe. If you are worried about the majority of spikeless golf shoes' unique styling, the Solana is an excellent choice to consider.
---
Best Spikeless Golf Shoes For The Money
PROS
It comes in a few colors
Just as comfortable as the rest of the Tech Response series
Priced very fairly
Lightweight Mesh fabric for warmer days on the course
CONS
Not the best for rainy days
The Adidas tech response golf shoes are some of their best selling golf shoes. The comfort is truly what makes this one of the best choices for a golfer with sensitive feet.
The Tech Response Spikeless also happens to be one of the best priced spikeless golf shoes on the market.
This is a microfiber leather design that also features a lightweight mesh area. The mesh helps to make sure your feet do not get too hot.
The only issue with a shoe that has mesh is that you will want to avoid wearing it on a rainy day. As much as we love staying comfortable on the course, you won't be comfortable with a wet foot.
The inside of the Tech Response has a removable insole so that you can put inserts in if you need to. You will see that the bottom of the shoe also features a great pattern that will you maintain better balance and performance.
---
Best Premium Spikeless Golf Shoes
PROS
Stable, durable, and capable of providing rotational support
Removable insoles
BIOM technology to bring the player closer to the ground
100% waterproof golf shoe
Ecco golf shoes are always going to have a price point that is quite high. However, you will get quite a bit of performance and longevity from these shoes.
The Ecco Men's Biom Cool Pro is a one hundred percent waterproof spikeless shoe.
Since many of the spikeless shoes are built for being lightweight and breathable, they are not always waterproof. It is much easier to find spike shoes that will keep water out.
The Ecco Yak leather uppers are durable and lightweight, and they will increase the shoe's breathability.
In addition to being the perfect choice for a rainy day on the course, the Ecco Spikeless also gives you some really good stability and rotational support.
Throughout the swing, there is quite a bit of twisting and turning that goes on. When choosing a golf shoe, you must consider the support, especially if you play quite a few rounds in a week.
---
Best Spikeless Golf Shoes For Walking
PROS
Great looking golf shoe
Has lots of stability
Available in a few colors
HOVR technology is great for walking the golf course
CONS
Not as sporty looking as some other choices on the course
Under Armour knows how to make athletes comfortable as they perform. If you have noticed, the Under Armour golf clothing is starting to make quite a name for itself in the golf world.
The Under Armour shoes are some of the best spikeless golf shoes if you plan on walking the golf course. With the Under Armour Hovr, you will feel as though you can walk miles without your feet being uncomfortable.
A golfer's feet have to work quite hard to carry a bag and a player more than four or five miles per round. The Under Armour Hovr has a zero-gravity feel to it that helps you feel much less fatigue when you are playing golf courses.
In addition to the comfortable feel you will have in this shoe, you also get plenty of support. When walking a golf course, you will go over quite a bit of rough terrain.
Stepping on spiked shoes the entire round can get quite uncomfortable; however, these spikeless provide consistent stability the entire round.
---
Best Spikeless Golf Shoes For Style
PROS
Very stylish shoe
Feel like an everyday walking shoe
Waterproof leather construction
Highly stable traction pattern
CONS
A bit heavier than other golf shoe choices
Some golfers are looking for spikeless golf shoes because they want something to wear from the golf course to work to home.
Changing shoes in the parking lot is a thing of the past when you introduce these Contour Casual golf shoes to your game. The Countour Causal are made with a waterproof leather and full grain leather uppers.
When you wear these Contour Casual golf shoes, you won't have even looked like you are wearing golf shoes. These spikeless golf shoes have a cushioned type fit, so they are comfortable if you are walking or riding the golf course.
The color options for the Contour Casual will be a bit more traditional, making them a good shoe to wear to the office.
Whether you seek style, performance, stability, or comfort, you will do well with these Contour Casual shoes in your golf game.
---
Best Spikeless Golf Shoes For Women
PROS
Breathable and lightweight
Classic looking design
Great support for walking or riding the golf course
CONS
Not for use off the golf course
There are not quite as many options for women's spikeless golf shoes as there are for men. The FootJoy Ladies Superlites are a good choice for a classic looking shoe that has excellent traction.
This is a flexible shoe that will also give female golfers the support they need on the golf course.
The FootJoy ladies Superlite are a very lightweight and flexible golf shoe, and they will hold up well over time.
The white and tan pattern on the shoe will match well with a wide range of outfits. Golfers will have no issues finding something to match with the ladies' Superlites.
The only problem with the FootJoy ladies spikeless shoes is that they don't have that same on and off the golf course feel. You will still look as though you are wearing golf shoes when you put on a pair of these shoes.
---
Most Comfortable
PROS
Great combination of comfort and performance
Waterproof microfiber
Fresh Foam technology for extra comfort
CONS
Not available in a wide range of colors
The New Balance Men's Links SL is the most comfortable spikeless golf shoe for golfers. These shoes feature waterproof microfiber towards the bottom of the shoe and a mesh upper. We are impressed with the overall fit and feel of a shoe that can be worn both on and off the golf course.
One of the things that help the New Balance Men's Links SL stand out as the most comfortable is the 10mm drop Fresh Foam. This is a layer of foam under the foot that helps it feel as though you are walking on a cloud. In addition, this will not feel too soft that you don't have the support you need.
Finding a golf shoe that combines the comfort players need while still having stability and support can be tough, but the New Balance Men's Links SL does a great job. Whether you walk or ride the course, this shoe is a good choice.
---
Best For Low Handicapper
PROS
Extremely stable shoe
Overall lightweight for added comfort and less fatigue
Performance leather technology
100% Waterproof
CONS
Priced a bit higher than other options on the market
The FootJoy Men's Pro/SI Golf Shoes were the best we could find for the low handicapper. Low handicap golfers are those that care quite a bit about their scoring, and they want to ensure that they have all the tools necessary to go low. The FootJoy Men's Pro/SI are very high-performing golf shoes with stability, support, and comfort, all while remaining spikeless.
With the FootJoy Men's Pro/SI, you will benefit from a Laser Plus Fit that has a slightly narrow heel and standard across the rest of the foot, with a rounded toe. Golfers find this is a good shape for both walking and riding.
The shoe is made with a performance leather material, both lightweight and durable. In addition, the 100% waterproof technology helps the Pro/SI stand out as the best in the industry for the lower handicapper.
---
Best For On and Off The Course
PROS
Comfortable for all day play
Durable grip for a spikeless shoe
Responsive overall feel
Fair pricing
CONS
Does not look like a traditional golf shoe, and may not work for all players
One of the best things about spikeless golf shoes is that you can wear them both on and off the golf course. Some of these shoes look like golf shoes, and it feels a bit off to wear them to work or the grocery store. Others will have really great designs that work both on, and off the course; the Adidas Men's FlopShot is a stand out, spikeless shoe design with impressive comfort and waterproof technology.
The Adidas Men's FlopShot has a waterproof upper, comes in a few different colors, and is even made with partially recycled content. Another great thing about the Adidas Men's FlopShot Spikeless is the fact that there is a TPU outsole for a durable grip. Even those with higher swing speeds can wear this shoe without issue.

If you are someone that likes to have the best style both on and off the golf course, we would recommend checking out this Adidas FlopShot Spikeless.
---
Best For Durability
PROS
Step in comfort
Plenty of support around the foot
Soft foam technology
Long-lasting shoe
Easy to wash
CONS
A sporty look is not for everyone
The Puma Men's Fusion EVO is a great pair of golf shoes for those looking for durability and comfort when they play. The shoe features a unique bootie construction that helps players feel complete comfort and support around their entire foot.
Golfers will notice the PWRStrap Fit System that allows for a more personalized fit around the foot and comfort that can be adjusted from day to day. In addition, the SoftFoam technology helps get that cloud-like feeling under your foot as you step.
We are impressed with the responsive rubber and the fact that it takes a long time to deteriorate. Washing these shoes is quite easy, and there are four great colors to choose from. In addition, Puma did a good job of making this an affordable choice for golfers that don't have hundreds to spend on the best spikeless golf shoes.
---
Best Lightweight Spikeless Shoes
PROS
Synthetic material
Spikeless design with plenty of stability
Water resistant upper
Ultra Go Foam technology
CONS
Does not have the same durability as other spikeless shoes
The Skechers Men's Pivot Golf Shoes are the best lightweight spikeless golf shoes on the market. These are water resistant, lightweight, and have a unique spikeless pattern on the bottom of the shoe. Players that are worried about switching from traditional golf shoes to spikeless will instantly be impressed with what the Skechers Men's Pivot Golf Shoes have to offer.
This is a water resistant shoe, making it a more natural choice for walking the golf course. In addition, when you look at the lightweight technology, you will be impressed with what it can offer. Golfers will not be fatigued from using this shoe as they walk the golf course. The synthetic upper is not a mesh material like we see in other lightweight shoes, but this helps with overall water protection.
If you are new to the spikeless golf shoe and want to understand what the craze is, the Skechers Men's Pivot Golf shoes are a great option to consider.
---
Buyers Guide
Now that you have the best spikeless golf shoes in the industry to choose from, let's take a look at some of the things you should be thinking about before making your final decision.
Stability
Some spikeless golf shoes are not as stable as a spiked version of the same shoe. Make sure you look at the spikeless pattern and see what the company has done to help keep players grounded as they swing. A stable golf shoe is incredibly important to reduce slipping and sliding as you turn.
Comfort
Comfort is essential in any shoe you wear, but especially one that you will have on for more than 5 hours and cover nearly 5 miles. Comfortable golf shoes are not hard to find with new foam technologies in place. If you wear orthotics, make sure to choose a shoe that will accommodate those.
Pricing
Spikeless golf shoes are typically priced a little lower than traditionally spiked golf shoes. This can be a good thing to help save you money, but keep in mind that they often need to be replaced quicker than a spiked golf shoe. Spiked golf shoes allow you to just replace spikes, but spikeless will need a complete replacement.
Style
Many of the spikeless golf shoes have a more young and high tech design. This is, without a doubt, a sportier way to make your way around the golf course. However, some options from FootJoy and Adidas will look like traditional golf shoes.
Durability
Take a good look at the reviews and ratings for durability on a spikeless golf shoe. As we mentioned, these will need to be replaced a bit more often than a traditional golf shoe, and if you don't have durability, the shoe may need to be replaced quite often. When looking at durability, also consider how the shoe is washed and whether or not it has waterproof technology. These are very good indicators of the durability a golf shoe may have.
Do Pro Golfers Wear Spikeless Golf Shoes?
Professional golfers are still going to wear spiked golf shoes. This is because they want to make sure they have enough support with their fast swing speeds. Another reason you will find the spiked golf shoes for professionals is that they are allowed to wear them.
Most golf courses are not going to allow amateur players to wear golf shoes with real spikes. The golf courses would get torn up quite quickly with players that don't have an idea of how to walk on the golf course while wearing spikes.
The majority of amateur golfers will not notice any decrease in performance from wearing a shoe that has a softer bottom, less spiky bottom.
Do Spikeless Golf Shoes Offer Enough Support?
The major concern with going to a spikeless golf shoe is the fact that the shoes are not going to give the player enough traction. This is a valid concern; however, the new technology is nothing like a typical flat-bottomed shoe.
The rubber design used on the bottom of the best spikeless golf shoes is just as effective as soft spikes at getting a player to feel comfortable and connected to the turf.
With the spikeless golf shoes, you will get more support than a sneaker and plenty of performance for an amateur swing speed.
Can You Wear Spikeless Golf Shoes Off The Course?
Perhaps the thing that golfers love most about spikeless golf shoes is that they can be worn on and off the golf course.
You won't have to worry about purchasing a shoe bag or stopping in the locker room after a round of golf. You can show up ready to play and leave the course without having to change your shoes.
It's important to remember that the more you wear your spikeless shoe, the quicker that it will need to be replaced. Wearing the shoe when on hard surfaces will break down the bottom at a much faster rate.
Why Don't Spikeless Shoes Last as Long As Spiked Golf Shoes?
Spikeless golf shoes can last just as long as the spiked golf shoe, as long as they are treated with the same care. If you wear your spikeless golf shoes to do yard work and walk around your office all day, they will deteriorate quicker.
Since these are spikeless shoes, you will end up having to replace the entire shoe and not just the spike. If longevity is your concern when purchasing golfing footwear, the traditional spike shoe is probably the best choice.
The good news is that most of these spikeless shoes are priced quite a bit lower than other golf shoes on the market.
If you need to replace them a bit more often, you will still get quite a few golf swings out of a great pair of spikeless golf shoes. 
Check our article on the Most Comfortable Golf Shoes
Frequently Asked Questions
Here are a few of the most commonly asked questions about the best spikeless golf shoes on the market. If you have not yet made the switch to spikeless, 2022 could be your year.
What do golf shoes look like?
Golf shoes are unique in that they don't look like a sneaker or tennis shoes. They have a unique style with a rounded toe and a design on the bottom that helps improve overall stability. Golf shoes are essential for players that are swinging golf clubs at a high rate of speed as they help provide stability, control, and balance.
Can you wear spiked golf shoes without the spikes?
It is not recommended to wear spiked golf shoes without the spikes. The part of the shoe you will be walking on was not designed for walking. This can cause damage to the golf course as well as set a player up for a potential slip or fall.
Are spiked or spikeless golf shoes better?
Spiked and spikeless golf shoes each have their pros and cons. More and more golfers are finding spikeless golf shoes to be a better choice because of their comfort and usability. Not having to change shoes when you head out to the golf course is a tremendous benefit. Golfers like the convenience, and the spikeless golf shoes help provide it.
Conclusion
You may have to do a bit of research to find the best spikeless golf shoes on the market. There are more and more companies releasing options for spikeless shoes.
One of the best spikeless golf shoes on the market are the Footjoy Flex XP. These Footjoy golf shoes have plenty of traction, a comfortable insole, and a durable outsole.
These shoes are reasonably priced and available in several different colors. If you are new to the world of spikeless golf shoes, the Footjoy is a perfect way to start.