Ask any pro the best way to save strokes during a round, and the answer will be – short game, short game, short game. Shots from one hundred yards in only count for 70% of all strokes, which tells you the importance of good wedge play. Professionals spend thousands of hours practicing to produce the fantastic shots we see on television. The average club golfer doesn't have the time to perfect their wedge game to the same level.
So what can you do to improve your short game quickly? Take advantage of the latest wedge designs. Golf club technology is evolving in leaps and bounds, and nowhere has the impact been more significant than in the latest wedge designs. They offer more spin, more feel, and more control than ever before.
That's why we have selected the best wedges for backspin. With these brilliant clubs, you'll make those impossible ups and downs more often. Check out our guide to inform yourself about which wedge would help improve your golf game.
At A Glance: Our Top 5 Picks for Wedges For BackSpin On The Market In 2023
Quick Summary: Our Top Picks For Wedges For BackSpin On The Market In 2023
IMAGE
PRODUCT

Best Overall

HComplete all-round performance
Terrific spin rates
Works for golfers of all skill levels

CHECK PRICE ON AMAZON →

Runner-Up

The forward center of gravity makes square impact easy
Milled grooves impart sizzling spin
There is a custom grind to suit your specific game

CLICK TO CHECK PRICE →

Best For High Handicappers

Callaway Golf Mack Daddy 5 JAWS Wedge

Beautiful design
Remarkable backspin
Combines feel and forgiveness superbly

CHECK PRICE ON AMAZON →

Best For Low Handicappers

TaylorMade Milled Grind Hi-Toe Wedge

Hi-Toe technology ensures consistent contact
Raw grooves deliver more backspin
Lower trajectory

CLICK TO CHECK PRICE →

Best For Seniors

Milled face with deeper/sharper groove adds 1000rpm
Less weight for more clubhead speed
Custom fitting

CLICK TO CHECK PRICE →

Best Value

Forged for soft feel
Great looking brushed chrome finish
Exceptional value

CHECK PRICE ON AMAZON →
---
PROS
HComplete all-round performance
Terrific spin rates
Head shape is more forgiving than a blade
Works for golfers of all skill levels
Excellent value for money
The Cleveland CBX 2 is our number one wedge for backspin in 2021.
Cleveland has kept the beautiful classic design but turbocharged the engine with a low density-core. The center of gravity is lower, giving the face unsurpassed stability. Now even miss-hits fizz of the club.
The cavity back head offers tremendous forgiveness without compromising on the crisp feel we all love. This wedge glides through the rough and handles all types of sand with ease.
These wedges are designed to have the same look and feel as most irons which instill confidence.
Cleveland has upped the game with its specialized wedge technology. Their unique hollow-cavity construction, with a hollow chamber by the heel and weighted toe, increases MOI dramatically. Cleveland estimates this results in 25% more strikes in the sweet spot.
If you are looking for a stunning looking versatile wedge that delivers loads of backspin, the Cleveland CBX 2 should be your first choice.
---
Runner Up : Titleist Vokey SM8
PROS
The forward center of gravity makes square impact easy
Milled grooves impart sizzling spin
There is a custom grind to suit your specific game
Excellent quality control with each groove individually inspected
Tour-proven grinds offer tremendous versatility
Titleist has been a premier golf club manufacturer for decades. Now, their wedge technology and designs are changing the way the short game is played.
The Vokey SM8 wedges are their best yet. The clubs combine the highest production standards with cutting-edge technology to create a set of wedges unsurpassed for feel and backspin.
Designed by the master himself, Bob Vokey, whose legacy includes designing wedges for Tiger Woods, the clubs are fantastic to look at. They make you feel like skipping work to do some chipping practice.
These wedges excel at backspin. The spin milled grooves are cut to the keenest tolerance. Each groove is then examined to meet the rules of golf specifications. The result is tour consistency and latent backspin that make the club golfer look professional.
The SM8's center of gravity is shifted forward making it easy to square the face. The result is solid connections which in turn creates more spin.
All in all, the Titleist Vokey SM8 wedges give you tour performance with effortless playability.
---
PROS
Remarkable backspin
Beautiful design
Combines feel and forgiveness superbly
Grind and sole options to suit all players
CONS
The carbon steel can reflect sunlight
Created with the experience of wedge expert Roger Cleveland, the Mack Daddy 5 JAWS wedge has a bite that matches its name. The backspin of these great wedges can give every high handicap golfer the ability to check the ball.
Full shots from 100 yards, fifty-yard pitches, chips from the fringe, and bunker shots will be checking on the green as if they landed in glue.
The Jaws groove design is extraordinary. The new 37 degrees wall angle in the grooves makes them much sharper, imparting the prodigious bite. Also, Callaway has devised groove-in-groove technology. These micro grooves placed inside the main grooves create 84x more contact points.
What more can you want? The answer is feel, and more feel. Constructed with 8620 mild carbon steel, the face of the Mack Daddy feels buttery on the ball.
The Mack Daddy 5 Jaws will motivate you to try shots you never imagined. The look of astonishment on your opponents' faces will be your reward for choosing these wedges.
---
Best Wedge For Low Handicappers: TaylorMade Milled Grind Hi-Toe Wedge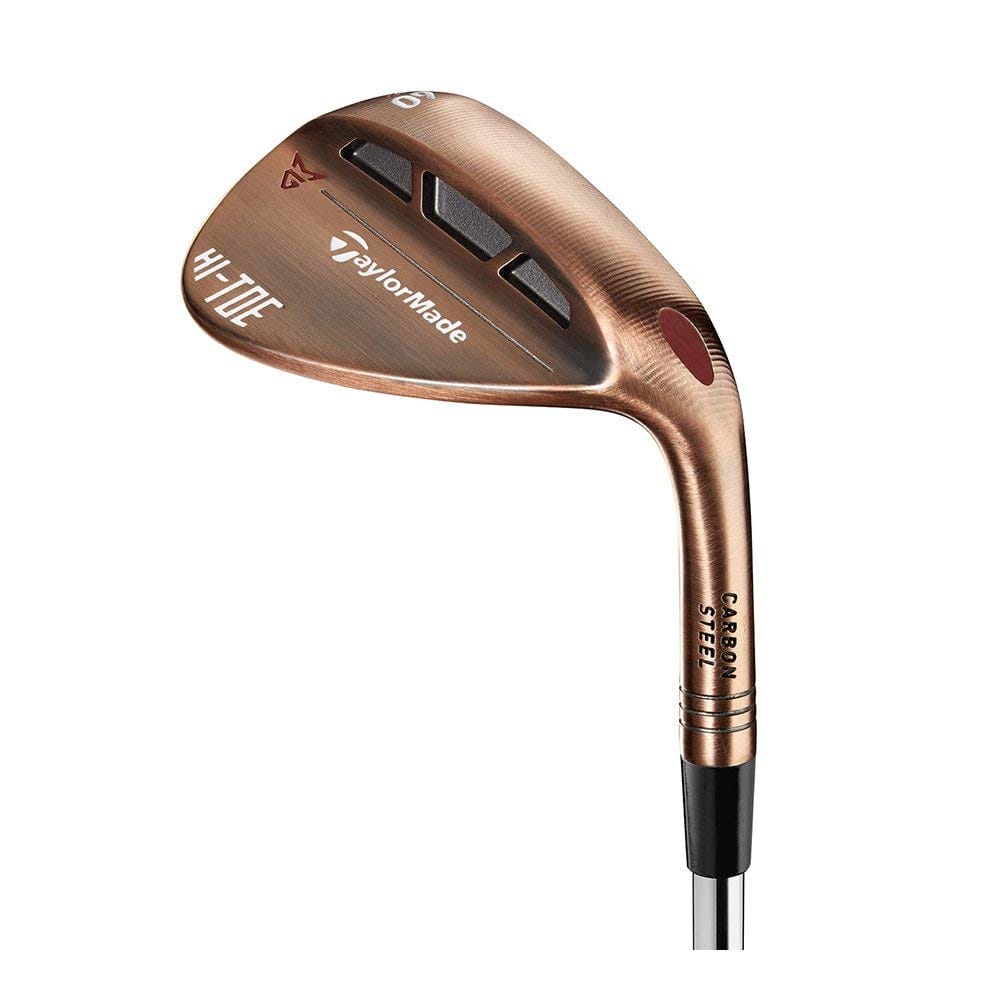 PROS
Hi-Toe technology ensures consistent contact

Raw grooves deliver more backspin
Lower trajectory
Full face grooves create spin from the rough
CONS
The wedges start with 58-degree of loft
Dustin Johnson and Jon Rahm choose the Hi-Toe for its incredible versatility and stopping power. This is the wedge for the good golfer who wants to get better.
No area of the golf game lowers your handicap faster than getting up and down. And no wedge offers more opportunities to turn bogeys into pars than TaylorMade's Milled Grind Hi-Toe Wedge.
The milled cut-out sole slices through thick rough and sand effortlessly. Add full-face grooves, and this wedge provides unparalleled backspin, even from the gnarliest lies.
The flop is the shot most amateurs want to emulate. One of the most exciting sights in golf is watching the pros take a full swing at a ten-yard shot, sliding the club under the ball so it flies straight up and then lands like a butterfly. With the Hi-Toe wedge, the flop shot can be in your arsenal too.
---
Best Wedge For Seniors: Ping Glide 3.0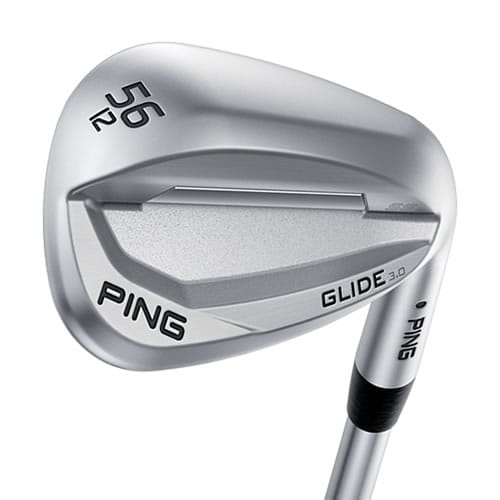 PROS
Patented cavity design gives fabulous forgiveness
Milled face with deeper/sharper groove adds 1000rpm
Hydropearl finish minimizes friction
Less weight for more clubhead speed
Custom fitting
Most seniors are straight off the tee but fall a little short. The ball ends up fifty yards or so short of the putting green, placing a premium on their short games. Seniors require more backspin and feel as they need to get up and down more often.
The Ping Glide 3.0 meets these requirements, transforming every aspect of the senior's short game.
To begin, let's talk about backspin. The Ping 3.0 uses patented wheel-cut grooves engineered to grip the ball on impact. With an additional half groove low on the face, the cutting-edge groove technology generates 1000 rpm, which is impressive by any standard.
Next, the cavity back design with an elastomer Custom Tuning Port inset moves the center of gravity higher, producing a low launch, high spinning trajectory – precisely what the senior golfer desires.
Lastly, Ping has shaved nearly twenty grams in weight off the grip, shaft, and clubhead. A lighter club means more clubhead speed and even more backspin.
The Ping Glide 3.0 delivers for seniors where it counts most – control, feel, and forgiveness.
---
PROS
Progressive spin technology adds spin as you add loft
A wide sole and low bounce work great in bunkers
Snakebite technology for precision grooves
Three grinds to match swing types and playing condition
CONS
Thick grips don't suit some golfers
When golfers talk about 'great hands' they mean the professional feel. They have imagination, the ability to manufacture shots others don't see, they are versatile. They can hit high spinning pitches, low checking shots, floating flop shots, and little bumps and runs.
Can a wedge help enhance your versatility? Yes, we think the King Cobra SB Chrome wedge with its state-of-the-art technology will open up new shot-making possibilities.
Different short game shots use varying degrees of backspin to get a result. Cobra's new Snakebit technology is an ingeniously simple solution to grinding the sharpest edged grooves with the deepest volume, perfectly every time. A re-engineered cutting method that replaces tools frequently, cuts grooves precisely so they are always engineered to precision tolerances.
Then progressive spin technology adds grooves as loft is added, creating different spin rates for different wedges. This gives the King Cobra SB Chrome wedges more backspin versatility than most other wedges.
If you are looking for versatility, and want to be a shotmaker, this is the wedge we recommend.
---
PROS
Forged for soft feel
Great looking brushed chrome finish
Superior backspin
Exceptional value
The Wilson Staff Wedge is inspired by professionals and offers professional performance at a great price. It is a versatile all round club, delivering high spin, soft feel, and crisp contact.
This classic design is beautiful. The sleek-shaped head, finished in brushed chrome, is one of the most attractive clubs on the market. The style makes you want to get out and play, to test its abilities.
The club is not just style over substance. Wilson staff has a long tradition of quality manufacturing for tour players. This carries through to the latest version made with soft-feel 8620 carbon steel, which is ultra forgiving.
This wedge has machine engraved score lines on the milled face featuring a high-density pattern for crisp consistent strokes, and high spin revolutions – over 10 000rpm.
Wilson Staff use progressive spin technology, The stronger lofts feature narrow tight grooves and the higher lofts get wide shallow grooves for superior backspin
This exceptional priced wedge will impress your four-ball with its premium looks and during the round with its overall playability.
---
Best Wedges For Backspin Buyers Guide
You have our recommendations for the best wedges for backspin. When looking to buy a new wedge, there are a few things you will have to consider to make the best choice. You will have to consider your golf game and take your particular strengths and weaknesses into account. These considerations are:
Wedge type (pitching, gap, sand or lob wedges)
Loft
Bounce
Sole and sole grind
Grooves
Leading edge
Finishes
FAQ
Here are frequently asked questions about wedges and how they can help you lower your handicap.
Who Are The Best Wedges For Backspin For?
All golfers can benefit from the new wedge technology on offer, Club manufacturers have broadened their product range to design wedges for golfers of all abilities,
Whether you're a high handicapper who likes to compete in the Saturday afternoon better-ball or a low handicapper who plays league for the club, there is a wedge that can enhance your skills and cut your scores.
The newest materials and engineering are bringing unheard-of performance to wedges. As driver technology revolutionized distance, wedge technology is revolutionizing backspin.
Some of the elder greats like Gary Player decry the use of technology to improve the game. We on the other hand don't see the harm in technology helping us play better and enjoy golf more.
Does Backspin Help With Accuracy?
Yes, it does, The technology that increases backspin is changing the whole wedge. To achieve the incredible spin rates that a modern wedge impart, manufacturers have come up with new materials and new engineering methods for the wedges club head.
Cavity backs, hollow construction, individually cut grooves all make a wedge more consistent, accurate, and forgiving. If you can achieve pure strikes as the technology allows more frequently, you will be more accurate.
How Important Is A Set Of Wedges?
Wedges have changed the way golf is played, wedges offer loft options that make previously impossible shots possible.
Players face such a wide variety of different shots in a round. They have bare lies, grassy lies, bunker shots, long pitches, short chips, high lobs, and so on. The professional option has four or even five wedges in their bags now, sacrificing other clubs so they have the right wedge for a specific shot.
Amateurs are following suit. They too want the equipment that can do the job in all circumstances. A set of three wedges offers way more shot options than all the other clubs in the bag combined.
Conclusion
You'll be hooked once you try the new wedges for backspin. Some of the most fun in golf happens when you save par from an impossible lie. Maybe you birdie with a 100-yard pitch or sink a bunker shot. These are the thrill shots, the most memorable ones.
Getting one of the best wedges for backspin opens up the possibility you will pull off a wonder shot.