If you are lucky enough to have the space for an indoor golf simulator, then you will want to ensure that you have a golf mat that you can use with it. An indoor golf mat has to have certain features and specifications to be one of the best golf mats for indoor use. If you are serious about ensuring your golf practice setup is perfect, then these are the indoor golf mats that you should consider purchasing. As a former PGA Professional, I can tell you that you will want a mat that is as close to a grass feel as possible. Here are the best choices for 2021.
---
PROS
Premium material
Can use it as an outdoor golf mat as well
Large hitting surface, available in several sizes
Good feedback
Allows you to insert a wooden golf tee
CONS
Expensive for some average players that won't use it all that often
When you start shopping for home golf simulators, you will quickly learn that there are many pieces to this puzzle. Unfortunately, purchasing a simulator is not quite as simple as buying one product and being all set.
The OptiShot 2 Golf Simulator is our top choice because it is the closest to an all in one solution that you can get for an at home golf simulator.
Making the commitment to put a golf simulator in your home can be as complicated or as simple as you would like.
With the OptiShot you can get some high quality performance for a very fair and reasonable price. Keep in mind that many people spend thousands of dollars to set up their home golf room.
The OptiShot 2 will come with an Infrared Optical Swing Pad, OptiShot2 Software with 15 Courses, USB Cable, Rubber Tees, Foam Practice Balls, OptiShot Hitting Mat, and a OptiShot Full Portable Hitting Net. The only thing you are going to need is an electronic device to pull the entire system together.
The mat's quality is very good and helps you feel as though you have a true golf driving range set up in your home. The size of the mat is also large enough that you will be able to stand on the mat while you are hitting a ball off the same mat.
This is an excellent feature because you always want to make sure that you have a level lie when you are working on an indoor golf simulator.
The mat is about 7' x 8' and will fit in more indoor golf setups. If you are worried about the wall behind the net, you can hang a sheet on the net.
You can use the simulator with a computer next to you or purchase a projector to project the golf course image on the wall in front of you. The projector is not sold with the OptiShot 2 package so you will have to consider that an extra cost.
The fact that the OptiShot 2 comes with 15 golf courses is a great way to vary where you can play all winter long.
In all honesty, even just using this as a driving range in your home is a great way to work on and improve your golf game. This is a model you will seriously want to consider.
---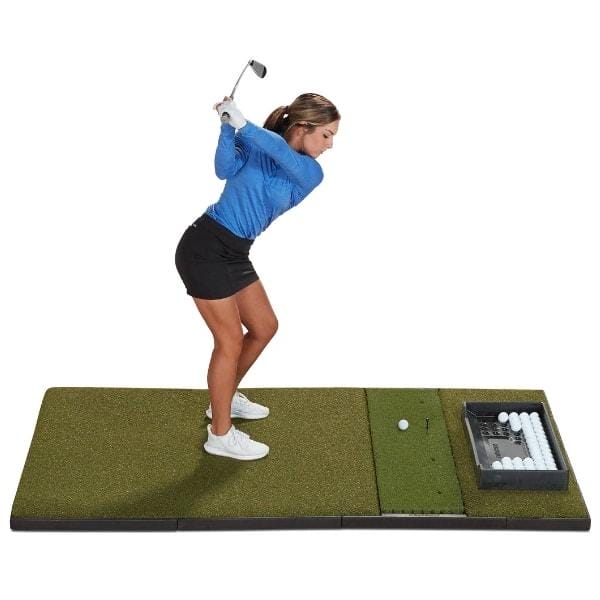 PROS
Four range mat sections
High-quality mat
Larger than other mats
Easy to assemble
CONS
Very heavy to move around or bring outside
The Fiberbuilt Single-Sided Launch Monitor Studio Golf Mat is one of the more professional golf hitting mats on the market. If you want to feel as though you are at the golf course while practicing your game, this is the mat to help you do so. The Fiberbuilt is 4′ x 7′, making it plenty large enough to work for any size golfer.
In addition to the large platform included with the Fiberbuilt, there is also a hitting section that will include four tee holes. You can move the tee around to help ensure that you are getting a variety of different tee shots, and therefore you won't wear your mat out quite as quickly.
Overall the FiberBuilt is known to be one of the most premium golf mats on the market. Other mats do not have this same real grass feel that the FiberBuilt has, but of course, this comes at a cost.
---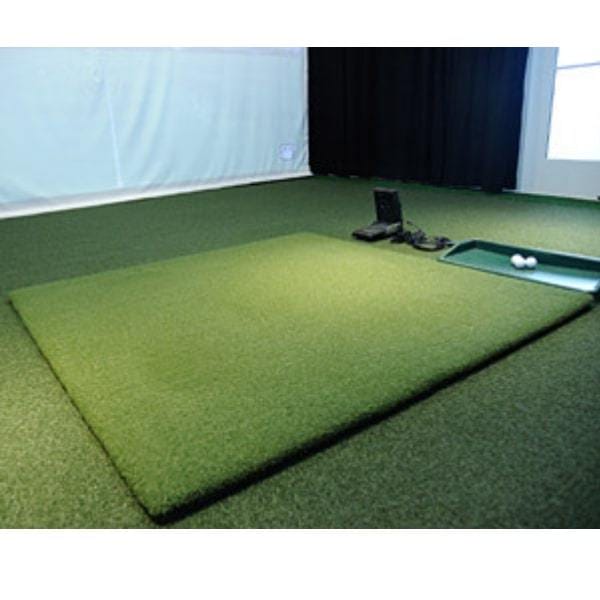 PROS
Fair pricing
Great feel
30 Day return for free
Long-lasting golf mat
CONS
No ball tray included with the purchase of the mat
In order to make your golf shots feel as they should for both indoor or outdoor use, the feel of the mat is very important. The Country Club Elite Golf Mat is an excellent option for those that are looking for the best golf mat for feel and even for longevity. The Country Club Elite Golf Mat will hold up for close to 3 years of heavy use at a facility.
If you purchase a hitting mat like this for your home, you will get well beyond three years of use. IN fact, this could be one of the only golf mats you need to purchase. It makes sense to rotate your golf hitting mats to avoid getting worn down in one area.
The Country Club Elite comes with a 30-day free return policy.
---
Best Value: DURA-PRO Commercial Golf Mat – 4×5 Feet Premium Turf Indoor/Outdoor Mat for Hitting & Chipping
PROS
Made to feel like a real golf course
Durable mats
A trusted brand in golf mat technology
CONS
Not as much cushion or padding on the bottom side of the mat
When you start looking at all of the accessories that a golf simulator will need, the pricing gets incredibly high. The ice mats as part of your is, of course, expensive, but the high pricing does not stop there. You will be spending a lot on everything and therefore having a golf mat that comes at a fair price is well worth looking into.
The Dura Pro Commercial Golf Mat is a top-rated outdoor golf mat that you can also use inside. The bells and whistles of this mat may not be as impressive as other golf-hitting mats on the market. However, it is still made of 100% nylon 3D Turf fibers. If you are worried about your wrist and elbows, there is enough protection associated with this golf mat.
Overall the mat has a thin pile height, so it will perform a bit more like real grass than some of the other golf mats on the market. Whether you are looking for an indoor golf mat for commercial or residential use, this option can work quite well for you.
---
Best For Versatility: DURA-PRO Commercial Golf Mat – 5×5 Octagon Feet Premium Turf Indoor/Outdoor Mat for Hitting & Chipping
PROS
It comes with rubber tees
Easy to move around, so it does not wear out
Thin pike height for a more dynamic feel
Trusted name for commercial golf mats
CONS
Not the most premium feel when compared to other indoor golf mats
The great thing about Dura-Pro Golf is that they do not just make one golf mat; they make a variety of mats that work pretty well for any player. The reason we like this particular mat is that it is a 5 x 5 octagon shape mat. You can really get some different angles when using this mat.
In addition, the best thing that golfers can do is turn a mat from time to time to ensure that it does not wear down in one area. WIth range mats that are square in shape, there are only so many ways you can turn the mat. However, with an octagon shape, you have lots of different arrangements that you can set up.
Overall we have come to know the Dura Pro Golf mats as being durable and also portable. If you want a golf mat that will give you realistic turf interaction and hold up well over time, the Dura Pro is the mat to go with.
Best Cheap Golf Mat For Indoors: Premium 4'X5′ Luxury Tee Golf Hitting Mat- Holds a Wooden tee
PROS
Large hitting area
It can be used indoors and outdoors
It comes with three rubber tees
One of the most affordable golf practice mats
CONS
It May not be as durable as some other options on the market
Last but certainly not least is the Premium 4×5 luxury Tee Golf Hitting Mat. This is an excellent option if you like to hit off of a real wooden tee. In addition, if your budget for a new golf mat is a bit low, you will love what this golf tee mat has to offer.
The overall size of the mat is a 4×5 foot space that gives you plenty of room to complete your golf swing. The 100% nylon material will hold up quite well over time, even if you do decide to use it outside. In addition, there is a 1.250″ thick backing that does not deteriorate even with a large amount of use.
If you want to have great practice mats as part of your golf simulator but don't have the budget, consider this to be one of your best options.
---
Buyers Guide
Hopefully, you now feel a bit more capable of choosing an excellent indoor golf hitting mat. The options on the market are quite impressive. The reason behind this is that golf simulators are getting more and more affordable, and homeowners have better access to them. Here are a few things to think about when selecting the best golf hitting mats.
Size
The size of the golf mat for an indoor golf simulator should be large enough for you to stand at the same level as the ball. You have probably seen those golf mats that are more like hitting strips where you just get a small patch of grass to hit off of; this is not ideal.
The problem with these small strips is that you are not on the same level as your golf ball. Although these are cheaper golf mats, they are not as effective and can cause issues with turf interaction and consistency.
Instead, choose a mat that allows you a large hitting surface with plenty of room to walk around. The larger surface also makes it easier to hit different angle shots and even practice some pitch and chip shots with different types of stances.
The larger the size, the better, as long as you have the space to accommodate it.
Left or Right Handed
Golf mats are typically made for players that are both left and right-handed. However, there are some mats that will have several different types of grasses to hit from, and those grass types are not capable of being moved from one side of the mat to another. If this is the case, the mat may not work for a left-handed player.
The best golf mat for left-handed players is really something that is going to stay stationary and has one consistent surface across the entire mat. This ensures that the overall functionality of the mat is quite good regardless of the side of the golf ball that you stand on.
We really like the octagonal shape for the left-handed player as it just seems to give better options for angles regardless of the side of the ball you are standing on.
Material and Thickness
The material of the golf turf mat should be made to feel as close to the actual turf as possible. The material of the golf mat is typically thick enough to be durable but also has a bit of feel or give to it. That extra padding and feel are supposed to give like the grass would on a golf course.
In addition to the material that golf hitting mats are made of, it's essential to also look at the mat's thickness. Whether you are hitting from an outdoor golf mat or an indoor golf hitting mat, it is essential to ensure you can't hurt yourself in any way.
Some cheap golf mats are like a golf putting mat, are very thin, and don't have any padding under them. If you hit the golf balls cleanly, this won't be an issue. However, if you hit behind the ball, it can be detrimental to your wrist on the elbow. Look for something with plenty of thickness so you can stay safe.
Pricing
The pricing of the best golf mats on the market will vary considerably. You will find that some are just a few hundred dollars and others are thousands of dollars. The best indoor golf mats are typically right around $500 or so. This will be a premium surface that will last you for quite some time.
The cheaper mats can be good initially, but many of them are lightweight, and they may slide around a bit as you use them. Try to consider the weight and durability when you compare the price of one mat to another.
Don't let pricing be your only decision-making factor, but remember that if a golf mat seems like it is too good of a deal, it very likely is.
Frequently Asked Questions
Setting up a golf simulator at home is a significant undertaking. Not only will you want the best golf mat, but you want something that works as a putting green, can be moved indoors and outdoors if necessary, and will give you the real feel of a golf course experience. Asking questions before you make this purchase will help ensure you are happy with your product long-term.
Is A 3×5 Hitting Mat Big Enough?
Most of the best indoor golf hitting mats are going to be 4×5 and larger. The larger the mat, the easier the time you will have being able to move around and feel comfortable when taking your golf shots. If your golf mat is not large enough, you may feel stuck in certain areas and like you don't have the balance and stability that you need.
Can I Buy A Commercial Golf Mat For Home Use?
Many golfers purchase commercial golf mats for their home use. With a commercial golf mat, you are going to get quite a bit of longevity. If you plan on using this mat for a long time, and you have friends and family that will come over and practice or play, this is a smart decision.
Remember that many of the non-commercial golf mats will tend to wear out in a certain area. Many players like to purchase mats that can be turned and repositioned. This helps players to hit from a variety of angles and still get the performance that they need.
Do I Need A Mat For An Indoor Golf Simulator?
Although you may be used to the living room carpet as a putting green or even a turf area for chipping practice, you will need a mat if you purchase an indoor golf simulator. Golf mats are worth the price you pay for a few reasons.
For starters, you will get a more consistent hitting surface. In addition, the best golf mats will protect your wrists and elbows from potential injury from hitting behind the ball. Most people are putting mats on the floor of a basement or garage, which is quite hard.
If you hit enough shots into a surface like this, it is eventually going to hurt quite a bit. Avoid this and purchase a smart and effective hitting surface to use for your golf simulator.
Conclusion
At this point, you should feel like an indoor golf mat specialist. There are many options on the market to choose from, and narrowing them down takes a bit of work. However, the Swing Turf golf mat has one of the best hitting surface areas and the best feel on the market. You will have a hard time realizing that this is not real grass when you get used to hitting off of it. Practicing using an indoor simulator is supposed to help when you get out on the course. With the Swing Turf Golf mat in place, this should not be an issue.