The Callaway Supersoft golf balls are some of the most popular that Callaway has to offer.
In fact, we will take that a step further; the Supersoft are some of the fastest-selling golf balls on the market.
If you have ever wondered what all the hype is behind this product, we are here to tell you everything you need to know.
As a PGA Professional, I will always give you an honest and detailed insight into these products.
The Supersoft is a popular golf ball for a reason, and you may want to know what those reasons are! Read our Callaway Supersoft review to find out.
Features And Benefits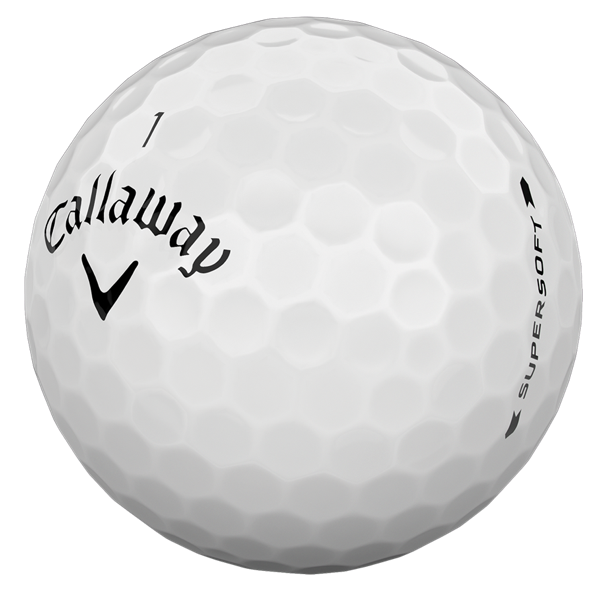 The Callaway Supersoft golf balls are an ultra-low compression ball with a soft feel and durable cover.
They are available in several different colors, and they even come in a slightly larger version called the Supersoft Magna. (Yes, a larger golf ball!)
---
Feel
Typically speaking, two-piece golf balls do not have a great feel. In fact, when I was playing competitively, I wouldn't even consider playing a two-piece golf ball; however, things have changed.
The feel on the new Callaway Supersoft is significantly improved with the new Trionomer cover.
Soft feel around the greens is essential for scoring, and this combination of materials allows you to get the feel you need while still have a rather large and solid core underneath.
Spin
The Supersoft Golf Balls have very low spin from the tee and mediocre spin around the greens. The very fast ball speeds you can get from the Callaway Supersoft golf ball are partially because of the advanced core material and design.
If you want to hit the golf ball a long way, you can do so with the Supersoft.
When it comes to greenside spin, the Supersoft will perform like most other two piece balls. They have a good soft feel, but they won't have that drop and stop technology like a Titleist Pro V1 would have.
Compression
Golf ball compression seems to keep getting lower and lower. At one point in the golf world, we considered 50 to be very low. The Callaway Supersoft golf ball has a compression rating of 38. Can't say we ever thought that was possible.
If you have a slower swing speed and worry about your ability to compress the ball, the Callaway Supersoft is a great choice. Making it the perfect golf ball for seniors. Mid swing speeds will also enjoy the lower compression.
However, high swing speeds may feel as though they leave a few yards on the table when hitting the Callaway Supersoft golf balls.
Distance
Most 2 piece golf balls are considered distance golf balls. The Callaway Supersoft Golf ball is no exception.
Golfers that want more distance (the majority of golfers) will find that the construction and material makeup of the Callaway Supersoft allows for ideal ball flight and tons of distance.
The low spin from the tee will also allow the ball to roll when it hits the fairway. In addition, the low drag simple pattern creates a bit higher ball flight as well. Certainly, the road to distance comes from keeping the ball in the air as long as possible.
Years ago, the concept was to get the golf ball to roll for as long as you could. This mentality has changed, and golfers finally understand that time in the air equates to more distance.
Certainly, this would have helped me spend a bit less time working on that knockdown driver shot as a kid!
Durability
Even though the cover of the Supersoft golf balls is quite soft, it is surprisingly durable. The new Trionomer material does an excellent job of reducing side spin and those nasty cuts that we are all known to put in a golf ball.
The Hex design dimple pattern that Callaway golf has had in play now for many years also seems to be very durable.
If you are afraid that the Callaway Supersoft golf balls are a soft feeling low compression ball that will rip open on the first tee box, you are mistaken.
Callaway golf was prepared for your swing speed when they developed this ball.
Price
If you are a golfer that shops for golf balls based on price, you will be pleasantly surprised by the Callaway Supersoft Golf Balls pricing.
The price is more than fair and, in fact, sometimes a bit cheaper than other similar 2 piece golf balls on the market.
We also like that Callaway Golf does not raise the pricing on the colored Callaway Supersoft Golf Ball.
If you think that pink, orange or green will help you focus and find the ball that goes astray, you can purchase these balls for the same price.
---
Callaway Supersoft Review
Check out Callaway Supersoft review video below:
---
Alternatives
If you are afraid the Callaway Supersoft Golf Balls are not the right choice for your golf game; it may be worth looking into a few of these other options.
This category of golf balls built for the mid to high handicapper is the largest one, and there are many options to choose from.
As we mentioned, the Callaway Golf Supersoft Golf Balls are a two piece choice with lots of distance and performance. However, with the Superhot, you are going to get three pieces.
A three-piece ball will naturally offer more performance around the green and some increased spin in the short irons.
The Superhot golf balls are great for golfers with a slightly more advanced game and can truly feel the difference between the golf balls they play.
The Superhot still features the ever-popular hex aerodynamics that Callaway believes in so firmly.
---
The TaylorMade Project S Golf Balls are a two piece ball with the same price point as the Supersoft. You will find that for a three piece design, the spin rates and feel are good for this TaylorMade.
A two-layer core adds quite a bit of speed, especially for a beginner or person looking for some extra speed on their shots.
The Project S also has an ionomer cover that helps keep the driver spin way down. The Project S's compression is not relatively as low as the Supersoft, and therefore it is not as soft feeling as the Callaway.
Overall you will find that if speed is what you are looking for, you get plenty of speed for the cost with this product.
---
If you have been golfing for a while, you know that Titleist golf balls are some of the best on the market. The spin rate, features, and soft feel of this ball are going to be very similar to the Callaway Supersoft.
When we do a golf ball review, we always make sure that we find products that perform as they are advertised. The DT True Feel claims to be the softest feeling ball that Titleist has to offer.
From playing with this ball, we can tell you that it certainly is a soft feeling product for a Titleist.
The Ionomer blend that Titleist uses for the cover of these golf balls helps players feel as though they have lots of control around the green. The good news is that this added control does not take away from the distance off the tee.
You can purchase the DT True Feel in a few different colors, making the overall performance aspects of this ball very similar to that of the Callaway Golf Supersoft.
---
Conclusion
As you probably picked up on in our Callaway Supersoft review, there are not too many negative things to be said about this golf ball.
If you are a golfer with a very fast swing speed, it may be best to look for something without such a low compression.
However, the majority of golfers will benefit significantly from the ability to compress the ball a bit more. Distance is something that even great players are looking for in their shots.
With Supersoft golf balls' price, combined with the feel and distance, this is a ball that is certainly worth trying this season.