Maybe you went for a putter fitting, and they told you center shafted was perfect for your golf swing. Or perhaps you tried out a friends putter and realized that the golf shaft is not always located in the heel of the club.
Whatever the reason, you ended up here looking for the most fantastic center shafted putters on the market.
Center shafted putters offer some great benefits to a golfer. They are straightforward to align, and they help to keep your putting stroke balanced.
Having everything centered is something that works for many players when it comes to lowering their scores. In this review, we will give you our top picks for best center shafted putters and some information to make sure that you pick the right one for your game.
Just because a putter won a couple of tour events does not mean it's going to help you win a few dollars from your buddies.
At A Glance: Our Top 10 Picks for Center Shafted Putters On The Market In 2022
---
Quick Summary: Our Top Picks For Center Shafted Putters On The Market In 2022
IMAGE
PRODUCT
<!——INSERT CODE BELOW——>

Best Center Shafted Putter

Odyssey Stroke Lab Versa VLine

Perfectly balanced weight
Partial graphite and partial steel shaft
Great feeling insert

VIEW LATEST PRICE →

Alternative #1

TaylorMade Truss Center Shaft Putter

More of a blade putter
Brand new technology
Very stable design

VIEW LATEST PRICE →

Alternative #2

Cleveland Huntington Beach SOFT Putter #11 Center Shaft

Very fair pricing
Soft feel
CNC Milling pattern

VIEW LATEST PRICE →

Alternative #3

Evnroll ER2 Satin MidBlade Center Shaft Putter

High MOI
Very consistent
Unique milling pattern

VIEW LATEST PRICE →

Best Value

Micro groove face technology
Extreme MOI
Very stable

VIEW LATEST PRICE →

Best for Feel

Ping Heppler Piper C Putter

Mallet style design
Extreme forgiveness
Forgiving and firm design

VIEW LATEST PRICE →

Best for Alignment

JAMESMILR TOPSPIN Mallet 3 Horseshoe Type

Very easy to line up
Soft feel
Anti Glare technology

VIEW LATEST PRICE →

Best for Beginners

Silver Ray SR500 Center Shafted Putter

Very low price
Easy to use
Good alignment lines

VIEW LATEST PRICE →

Best Cheap Putter

Very low price
Simple design
Contrasting colors

VIEW LATEST PRICE →

Best for Low Handicappers

PING Sigma 2 Kushin C Platinum Putter

Very solid on shorter putts
Stable design
A clean looking putter that appeal to the lower handicapper

VIEW LATEST PRICE →
Key Features
Micro Hinge Face Insert
Steel/Graphite golf shaft
Sleek black finish
CONS
Priced pretty high but it is a new release
Only one model with the shaft in the center
If you haven't already noticed, the Odyssey Stroke Lab putters are going to be at the top of a lot of lists this year. When it comes to putting, Odyssey has let the way for many years.
This Versa VLine center-shafted putter is going to look and feel like nothing you have ever hit before.
For the first time in the history of golf putters, Odyssey started focusing on the shaft and not just the head weight. They manufactured a shaft that is part graphite and part steel.
The weight savings created by doing this allowed Odyssey to redistribute the weight into the head and putter end of the club, making the weight balancing on this club virtually perfect.
The sleek black finish on the clubhead combined with the steel and black shaft make this putter very visually appealing. Odyssey is famous for their putter inserts, and the stroke lab series is no exception.
The micro hinge face insert is designed to increase topspin and give the ball more of a pop when it is hit. This initial boost in MOI will help the ball stay on track even after it leaves the clubface. Regardless of the putting stroke you use, the Versa V Line Putter will have you covered.
This model is the only one with the shaft in the center when it comes to the Stroke lab putters. Luckily it is a great option.
---
Key Features
Unique looking putter design
Adjustability in the club head
Stepless Stability shaft
PROS
More of a blade putter
Brand new technology
Very stable design
Suitable for straight back straight through stroke
CONS
New equipment priced high
Not useful if you are looking for mallet putter
Short alignment lines
As new as the Odyssey is, the Truss is even younger. This is a brand new option from TaylorMade, and the early reviews on it show that it is going to create some waves in the world of putters.
When you look for something with stability and balance, you often think of a center-shafted putter, but this club takes stability to an entirely new level.
The shaft on the Truss putter has two connection points to the club head, making it more connected than ever before. The connection takes place right in the center of the club, making this a perfect option for those looking for that type of club.
This club features a cobalt blue Pure Roll Insert that is designed for better sound, feel and roll. When it comes to feel and style, TaylorMade has traditionally done a great job.
The Truss putter is a little more of a blade style putter than a mallet-style putter, something that there is a shortage of when looking for middle shafted putters. Perhaps our favorite thing about this putter is the fact that it is adjustable.
This Taylormade option has adjustable head weights to fine-tune this golf club to fit your stroke and your style. Adjustability in golf clubs has completely changed the world of golf, and we are loving that this is happening with putters as well.
The Truss option comes standard with the KBS Stepless Stability shaft designed for less deflection. It is a 120gram shaft.
---
Key Features
Develops consistency in distance
Speed optimized sweet spot
Three length options for golfers
PROS
Very fair pricing
Soft feel
CNC Milling pattern
CONS
No insert for those that like an insert
Only one of the models has the shaft in the middle
If the higher price of our first two options has you a little nervous about your mission to find middle shafted putters, have no fear. The Cleveland Huntington Beach SOFT Putter is exceptionally affordable and super high performing as well.
This non-traditional putter comes in a 33, 34, and 35 inch options. The putter head is similar to a mallet, but it has a more modern design.
The face on this putter comes equipped with a speed-optimized sweet spot helping you get consistent distance. Of the three putters we have reviewed so far, this one will be the most forgiving.
The Huntington Beach SOFT putter has a very clear and distinct black target line on the head of the golf club.
If you are not a fan of face inserts and are looking for a club that comes as one solid piece, this Cleveland will check that box as well. The face has a diamond CNC milling pattern to provide an even softer feel than previous Huntington beach models.
Although this Huntington Beach putter is the one with the shaft in the center of the club, there are six total Cleveland Huntington Beach models to choose from.
If your overall mission is to find a putter that fits your game correctly, but you don't want to break the bank in doing so, the Cleveland is a great choice.
---
Key Features
Face milling for better roll
303 Stainless steel head material
Premium feel for the center shafted putter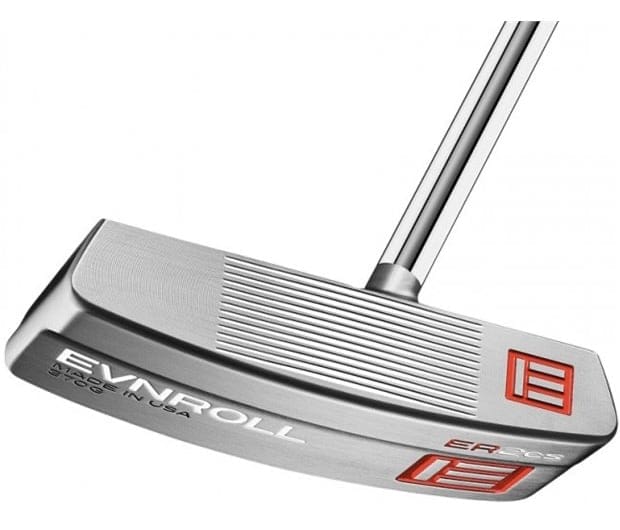 PROS
High MOI
Very consistent
Unique milling pattern
Highly stable at impact
CONS
Higher pricing, could require a putter fitting
The Evnroll putters are a unique addition to the market. This putter is known for its pure feel and the customized fit that you can get. Although most of the Evnroll putters are heel shafted putters, this particular option is a center shaft putter.
The ER2 Mid Blade has a patented face milling that helps to ensure the roll coming off the face will be pure. More energy transfers at impact, and the roll and consistency of distance is much easier to predict and plan for.
If you feel that consistency is one of the things keeping you from being a great putter, the Evnroll ER2 Satin Midblade is an excellent choice.
With a 303 stainless steel head material, the Evnroll putter will feel stable, and there will be very little vibration at impact. Although the price is high on the Evnroll putters, they are undoubtedly high quality choices.
---
Best Value Center Shafted Putter
Key Features
Soft feel at impact, yet no skipping
Fair pricing compared to other center shafted putters
High contrast design for easier alignment
PROS
Micro groove face technology
Extreme MOI
Very stable
Reduces skidding off the club face
CONS
Feels a little more lightweight than other options on the market
The Tour Edge Wingman Putter is an excellent option if you don't want to break the bank on a new center shafted putter; the Tour Edge is a great choice. Tour Edge provides high quality products for fair prices, making this Wingman Putter one of the best value center shafted putters on the market.
The Tour Edge Wingman has a lock on alignment technology that helps golfers to make sure they are properly lined up to hit their putter to the hole. Some golfers have a great putting stroke, yet they don't know how to line up properly.
With interchangeable weights, you can make sure that the Wingman fits you exactly as it should. With the Micro Groove Face Technology, you get a very soft feel, yet the ball does not skid off the club face.
The Wingman 03 is the center shafted option, and it stands out as one of the best options from Tour Edge.
---
Best Center Shafted Putter For Feel
Key Features
High MOI
Firmer feel at impact
Traditional mallet head design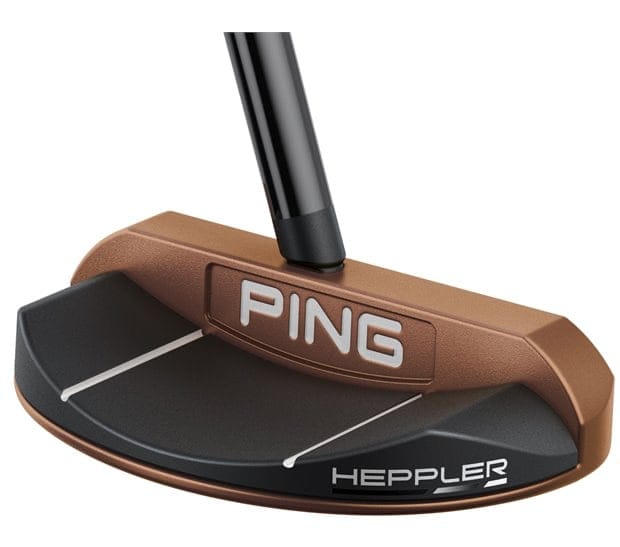 PROS
Mallet style design
Extreme forgiveness
Forgiving and firm design
Adjustable length shaft
CONS
Not great for an arc style putting stroke
When you are around the world of golf long enough, you start to see how well Ping stands out when it comes to high end golf clubs. If you care about looks, feel, and consistency, chances are you are going to like the Ping Heppler Piper C Putter.
This is a very traditional looking mallet style putter, yet it happens to be center shafted. The Ping Heppler is very forgiving yet still gives golfers high MOI and a firm feel at impact.
One of the things we like about the Ping Heppler is that it does not have an excessively large putter head.
Many of the putters on the market today are getting bigger and bigger. Not all players want to look at these large club head designs.
If you like a more traditional mallet head shape, the Ping Heppler is a perfect choice. In addition, you get to take advantage of the adjustable-length shafts when you purchase the Piper C Putter.
---
Best Center Shafted Putter for Alignment
Key Features
Unique putter brand
More true roll coming off the club face
Soft steel construction
PROS
Very easy to line up
Soft feel
Anti Glare technology
CONS
Role is not quite as pure as Odyssey or Evnroll
Jamesmilr is a putter brand that you may have never heard of; however, they make a great center shafted putter. This is a growing golf manufacturer that offers products at very fair prices for a wide range of people.
The Topsim Putter Mallet 3 Horseshoe is a great choice for those that are looking for help with alignment.
The top down look on the Topspin putter allows for long alignment lines and an anti glare finish. The ball will not skid or side spin off the face of the club with the impressive finish on the face.
Another great thing about the Topspin Mallet 3 is that it is made with a soft steel material. The soft steel and face balanced technology allows this to be a consistent choice for players as well.
If you have exhausted your options with the top manufacturers, it makes sense to look at the JamesMilr brand and see if this could be a fit for you.
---
Best Center Shafted Putter For Beginners
Key Features
Helps golfers develop a fluid stroke
No Face insert technology
Design promotes easier repetition of putting stroke
PROS
Very low price
Easy to use
Good alignment lines
Soft midsize grip
CONS
Lacking feel for some better players
Take outstanding care, or it will chip
We have to give you some credit if you are a beginner golfer who already understands their putting stroke and the club that will perform best for you. That is an excellent start to this crazy game!
As a beginner, there will be a lot of change, and it will happen fast. Never will there be another time in your golf game that you will see daily and weekly changes to your game to this degree.
All of these changes are great, and they are going to lead you to be the player you are destined to be, but the downside can sometimes be equipment.
As your game changes, so does your need for equipment. This can get expensive fast. One of the reasons beginner equipment is considered to be cheaper than low handicap equipment is because it won't be long before you need a change. When it comes to putters, the same will apply.
Fortunately, there is Ray Cook. The Ray Cook brand puts out some fantastic putter options for players of all handicap levels, and the pricing is more than fair. This Silver Ray SR300 is a perfect putter for a beginner golfer not just for the look and price but also for the performance.
Although this Ray Cook model comes in several different styles, this black version with the shaft in the middle will work best for the straight back and straight through putting stroke. There is a bit of head weight on this putter to help repeat a more fluid stroke. This putter even comes with a headcover at this price.
With all the expenses you will incur as a new golfer do yourself a favor and consider this Silver Ray putter, it will leave you room in the budget for some golf balls that you are going to need.
---
Best Cheap Center Shafted Putter
Key Features
Mallet design, clean lines
High MOI
Tour weighted for increased performance
PROS
Very low price
Simple design
Contrasting colors
CONS
Paint can chip

Feel is not as good as other high end models
Pinemeadow golf putters end up in the cheap category quite a bit, but it is not because they lack quality, they are just an excellent value option. This Golf Site 2 putter is no exception.
The Golf Site 2 is a very simple mallet design. It has contrasting black and white coloring that will help you with alignment and setup. This putter is priced at about an eighth of the price of some of the high-end putters on the market.
The Golf Site 2 will come with its own headcover, and we highly recommend using it. The paint on this club has known to chip after some time. This is not surprising considering the price, but if it is well cared for, there should be no issues in maintaining it.
This is one of the best options if you are trying to see if one of these middle shafted putters is going to work for your game. If you give this putter a try for a little while and notice that it makes a difference, start looking at more expensive putters with a bit of a better feel.
---
Best Center Shafted Putter for a Low Handicapper
Key Features
Adjustable length putter
Premium look and feel
Symmetry and stability are a perfect combination in a center shafted putter
PROS
Very solid on shorter putts
Stable design
A clean looking putter that appeal to the lower handicapper
True Roll face pattern for higher MOI at impact
The putter is durable and will hold its value
CONS
Ping putters are typically priced a bit higher than others
It's hard to fully put into words how great the Ping putters are and how right their history is. With a Ping putter, you are getting decades' worth of research, development, and design.
There is no questioning the fact that some of the best feeling putters on the market are those designed by Ping.
Golfers that look for center shafted partners are seeking stability and solidness at impact. The Ping Sigma 2 Kushin C Platinum Putter is a great choice to consider.
We like this option for the lower handicap player because of the clean symmetry and stability. Many low handicap players want something reliable and simple to help them achieve the highest performance.
One of the exciting things about this 2 Kushin C Platinum is the ability to adjust the length of the putter. If you are a shorter player that has trouble getting the right fit with your putter, then the Kushin C Platnium is a smart option to consider.
Where this putter really stands out is on the short putts. The ones that have our knees knocking and our hands shaking. Those two-foot putts to break eighty, the Ping will have your back. You will become so accustomed to the solid feel and clean look that you will inherently get better at making short putts.
---
What to look for when buying a putter?
When buying a center shafted putter, there are certain key features that you should consider. Each of these features will determine your overall success with the putter and the way that it performs. Don't choose a putter simply because it is said to be the best on the market. Always consider these features.
Grip
Putter grips are different from the grips on your golf irons or woods. With a putter grip you will get something that ensures your hands are in the proper position for repeating a putting stroke. Most of the grips are not rounded but instead of a flat front. This flat front helps to position the hands so that they are taken out of the equation a bit.
In addition, most of the grips for putters are larger than other grips on the market. The larger golf grips make it, so the player's shoulders and arms are going to be more active in the stroke, as opposed to the hands. These grips are often referred to as jumbo putting grips.
Shaft Length
Putters typically come in three standard lengths. These lengths are 33, 34, and 35 inches. The 34 inch putter is the standard length and tends to be the best choice for most players. However, if you are over six feet tall, you may need a 35 inch putter to get the proper performance.
Women golfers are going to need a shorter golf shaft because their average height is not as high as a male golfer. Custom fitting may have your putter length at 32 or 36 inches, and that is entirely acceptable. It is all about finding the proper shaft length for your stroke and putting style.
Forgiveness
Golf putters can be forgiving, just like golf irons or drivers. The forgiveness factors include the size of the sweet spot and even the offset on the golf club. If your club is more offset, you will have an easier time squaring the clubface up at impact.
Many players find that these modern mallet designs seen in many of the new center shafted putters will have lots of forgiveness.
Look/Feel
The look and feel of the putter are going to be more based on personal preferences. There is no denying that the modern mallet, large club head design is starting to become the more preferred option for many golfers. The problem with this club is that it is quite large and takes some adjusting.
Choose a club that has a feel that allows for a soft hit while still giving a player a high MOI.
Face Design
Some golf putter faces will be milled from one piece of metal, and others will be a face insert that goes in the golf club head. Regardless of the face design that you choose, make sure that you are comfortable with the results.
Many golfers like the insert as it provides a soft feel but still allows for that high MOI and consistency in the stroke.
Benefits of a Center Shafted Putter
The center shafted putter is known to be one of the most stable putters on the market, but there are some other benefits to putting this club in the bag.
Stable at impact
Great for the straight back straight through player
Develops more consistency for a golfer
Increased feel
Easier alignment
Stroke is easily repeatable
Lower dispersion on putts
Increased player confidence
For the most part, there are going to be more benefits to a center shafted putter than negatives. Players will enjoy how easy it is to repeat the stroke when working with a center shafted putter. The more you learn to practice and perfect the consistency of your putting stroke the better player you will be.
Disadvantages of a Center Shafted Putter
All great things in golf have a negative side to them. Center shafted putters are not the best fit for all golfers.
Does not work for large arc putting strokes
Depending on the putter chosen, a lower loft can make the putter less forgiving
It can be harder to get over the golf ball at setup
The main disadvantage of a center shafted putter has nothing to do with the putter itself. It is more an issue of choosing the wrong type of putter for your game. Ensure that you do not choose a center shafted putter if you are going to be an arc putter.
Frequently Asked Questions
Now that you have made the decision to go for a center-shafted putter, and you have a great list of options, how will you know which one is for you. Choosing the right putter has lots to do with feel, but some performance-based factors must be considered as well.
We will break down the decisions that go into choosing this type of putter and how you can make sure your next purchase earns a spot in your golf bag for a long time to come.
Is Center Shafted Putter Better?
A center shafted putter is better for people that need it; it is not better overall. If you are someone that swings the club straight back and straight through, you will do well with this type of putter.
People who swing the club straight back and straight through will keep the face square at setup, in the back swing, and in the follow-through. With a face-balanced putter with a shaft in center that is much easier to do.
What Does Putter Offset Do?
An offset putter helps to keep a players hands in front of the ball. If hands get behind the ball the face angle of the putter when it is delivered at impact will not be angled correctly.
The offset is a bit of a reminder, and some players like that feeling. Golfers of all levels can create the same feel and result by pressing their hands slightly forward at address and keeping them there throughout the entire stroke.
It is straightforward to create this offset feeling with a center shafted putter by doing that slight forward press.
What Is A Face Balanced Putter?
A face balanced putter has the same amount of weight on the heel as it does on the toe.
Most center-shafted putters are also face balanced putters.
Choosing The Correct Putter Length
One of the biggest problems when it comes to players choosing a putter is not getting the correct length shaft.
Most putters are sold in 33, 34, and 35 inch lengths. Just because those are the standard putter lengths does not mean that those are the only lengths you can get a putter in. Many players use a custom-fitted putter.
Although there are specific height ranges that line up with putter lengths, the best thing to do is grab a putter and see what length allows you to get your eyes over the ball. Depending on your putting stroke and stance, this will vary even within your height range.
Most people are surprised to find out that most tour players used a putter with a 33 or 34-inch shaft.
What Price Range Should I Expect When Purchasing a Putter?
Golf putters come in a wide range of prices. There are options for less than fifty dollars, and those that will cost several hundred dollars. Depending on the type of technology you want, the putter price will vary.
If you don't care about high end and high performing materials, then you can very easily get a putter at or less than one hundred dollars. For some of the leading putters on the market, like a Scotty Cameron, you will be looking at three or four times that.
Price does not always directly relate back to performance. There are plenty of reasonably priced putters that have done very well on tour. For a very long time, Odyssey had a putter called the two ball that was priced in the middle of the market, and players of all handicap ranges were swooning over this putter.
Generally speaking, the more expensive the putter, the better the player, but it doesn't have to be like that.
Blade vs. Mallet Putters
You will find when looking for a center-shafted putter that most of the options are mallet head designs. The reasoning behind this is that the blade style putters tend to be more traditional, and players are used to the shaft being located in the heel of the club.
When it comes to mallet putters, companies get more creative, and that's why you see the center shafted putter, usually being a mallet or non traditional head.
These mallet type head styles also look and feel better as far as weight is concerned when the shaft is in the center. The blade does not seem to perform quite as well with that center shaft location.
How Often Should I Be Replacing Putter Technology?
Putters will change from year to year as manufacturers race to compete with each other. As most golfers know, the change in technology between drivers and irons each year can be quite extreme. If you look a driver today and a driver from ten years ago, they don't look even remotely the same.
For putters, the change can be more subtle. A player may be using an old Ping or an old Scotty Cameron that they have had for twenty years, and when they hit the new technology, it just doesn't feel any better.
If you still have a twenty-year-old driver in your bag, there is no question you are missing out on some serious technology upgrades.
The new Odyssey stroke lab putters offer some advances in putter shaft technology that the golf world has not seen in the past. These types of advances are more revolutionary and will show noticeable differences.
Advances in putter head shapes are more to appeal to a player's preference than their true technological ability to sink more putts.
You know your playing partners are updating drivers and irons constantly, but the putter change can be rarer. If you have a putter that you like, don't change it because it is old. If you have a putter that you don't like, change it regardless of the age!
Who should use a center shafted putter?
A center shafted golf putter is the best for a golfer that needs more stability at impact. When you can keep the putter head from moving around as you swing through. The putter is going to end up being more consistent and give golfers the chance to make more putts.
Why choose a center shafted putter?
We all know that putting can be something that is mainly based on preferences. Sometimes you can even find a putter that is specifically fit to your needs, only to discover that you don't play well with it. You have to find a putter that looks and feels great in order to be able to take your game to the next level. Center shafted putters are perfect for the straight back straight through putter that needs more stability.
What does putter offset do?
Putter offset can help golfers deliver the club to the ball with a square club head. The club head being square will ensure that golfers can get the shot that they want to hit straight on a line. Putter offset is something that makes putters a bit more forgiving and should be considered by those that need help with their putting abilities.
Conclusion
Choosing center shafted putters is made more accessible by the fact that there are not that many of them available. Unfortunately, not every putter style is going to come in this option.
If your stroke is straight back and straight through and you are looking for some stability in your golf game, these types of putters should be the club for you.
Our overall best choice when it comes to the best middle shafted putters is Odyssey Stroke Lab Series. Not only is the putters face incredibly reactive, it has a very high-performing shaft and is one of the best weighted clubs on the market.
You will not be disappointed with an Odyssey putter in your bag.
Let us know which putter you decided was best for your game.